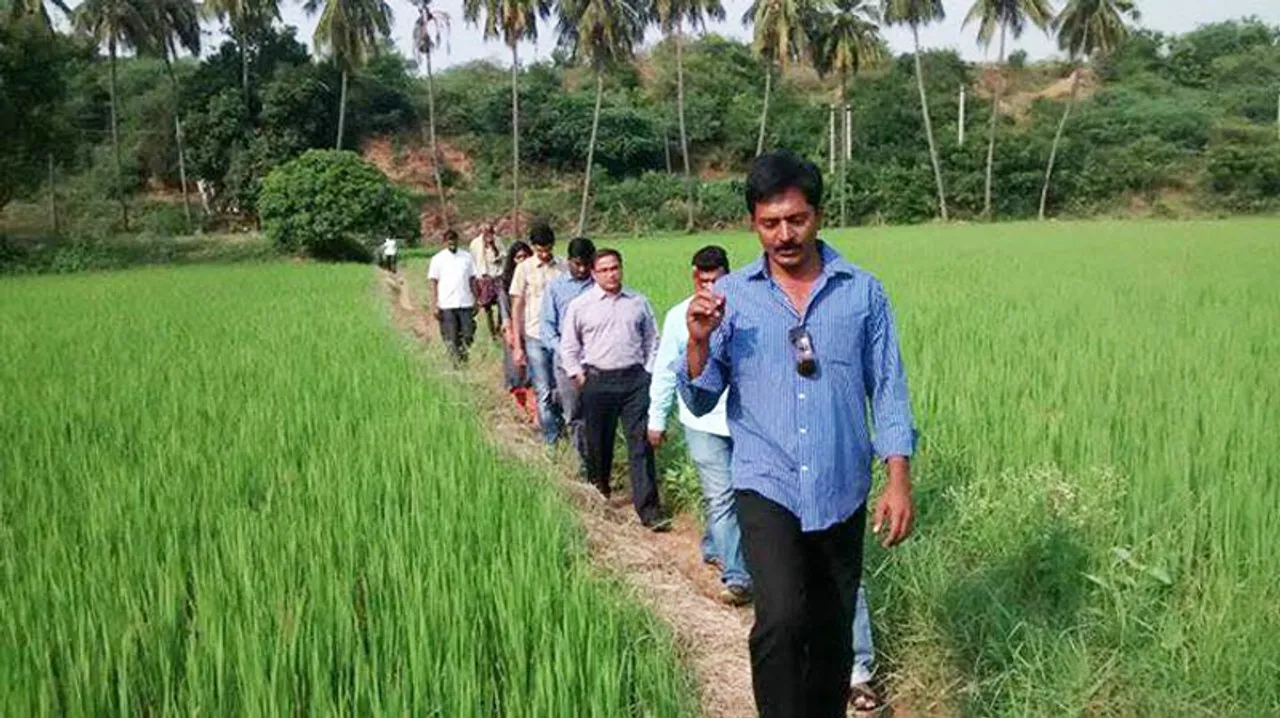 When Jagdeesh Reddy joined his family farm in Mogili Village of Andhra Pradesh's Chittoor district in 2011, he continued what his family was already doing - chemical farming of paddy and mangoes. But within a year, he knew keeping pace with the rising cost of fertilisers and pesticides besides growing water requirements was unsustainable.
Almost half of his family's 20 acre land was already barren due to use of chemicals and he was facing a financial crisis.
"It was in 2012 that I attended a seminar on natural farming, which uses crop rotation, cow dung, green manure and biological pest control for cultivation. I decided to switch over to it," says Reddy, who now cultivates paddy, mango, millets, pulses and groundnut on his ancestral land of 20 acres. He has taken another 15 acres on lease for farming.
Also Read: How Tamil Nadu farmer increased profits & cut costs by 30% through organic farming
How Reddy turned barren land fertile in one year
The switch from chemical to natural farming is a one-time process but yields benefits for generations to come. "It takes about 1 to 1.5 years to improve the soil quality and make it fit for natural farming," says Reddy. He began with converting the 10 acre land lying unused ready for natural farming.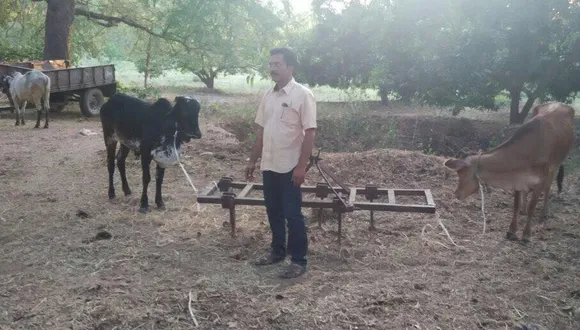 Desi (indigenous) cows are integral to natural farming. Pic: Facebook/@thenaturefarming 
"I enriched the soil by using desi cow dung and mulching the land," he says.
Natural farming emphasises the use of desi or indigenous Indian cow breed because its dung and urine have much higher concentration of microorganisms as compared to European Holstein and Jersey breeds.
Reddy's biggest allies in turning barren land fertile were jeevamrutha (jeevamrita), nine-leaf kashayam (formulation) and mulching. Jeevamrutha is made by adding cow dung, aged cow urine, jaggery, pulse and some soil to water in fixed proportions. The solution is allowed to ferment for 48 hours and is then ready for application.
Also Read: Jayant Barve: Maharashtra's organic farmer who became manure millionaire
"Jeevamrutha is only needed in the first three years after the transition from chemical farming. After this, the soil system becomes self-sustaining," he says.
Mulching provides humus to the soil biota which is activated by microbial cultures.
"Once mulching was done, soil naturally attracted earthworms, which made the soil healthy by increasing aeration. I first cultivated paddy on that land and then millet, practicing crop rotation," he says.
"I realised the naturally grown paddy crop was good and the rice tasted much better. At that time I had cultivated the Aman variety and now I cultivate desi varieties – Indrayani, Navara, Kullakar Arisi etc."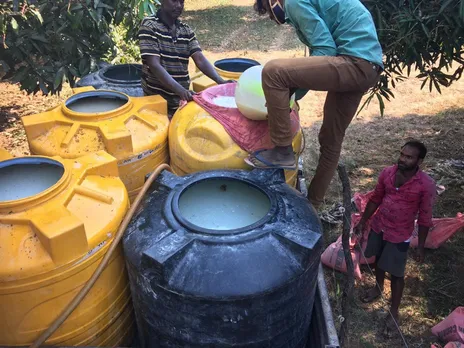 All the agri inputs in natural farming are made on the farm using available materials like cow dung, pulses, cow urine, jaggery etc. Pic: Facebook/@thenaturefarming 
The soil turned healthy with continued natural farming and after the second or third crop, it required less water and there was almost zero pest attack. "Under chemical farming, farmers spray urea thrice on paddy crop. In my farm, beneficial insects like ladybug beetles automatically checked the growth of harmful pests," Reddy adds.
Zero-budget natural farming
To achieve this, he says, a farmer just needs to have a desi cow.
Also Read: Organic farming of dragon fruit and lemon triples Punjab farmer's income
"One desi cow is enough to meet the nutrient requirements of 30 acres of land," says Reddy, who is a staunch follower of Maharashtra's agricultural scientist and Padma Shri awardee Subhash Palekar.
In the mid-1990s, Palekar developed zero budget natural farming (ZBNF) as an alternative to the Green Revolution's methodology of using chemical-based farm inputs. Palekar has also written over 60 books on the subject.
"I am highly inspired by Palekar sir. I learned from him how soil and cow are complementary to each other and that's what I practice on my farm," says Reddy who has done a diploma course in mechanical engineering.
Also called SPNF or Subhash Palekar Natural farming, the practice is different from organic farming.
In organic farming, while organic manures like cow dung manure and vermicompost are added to the soil fr Also called SPNF or Subhash Palekar Natural farming, the practice is different from organic farming. om external sources, in natural farming no external fertilisers are added.
Also Read: Rasika Phatak: Maharashtra's 23-year-old millionaire farmer & agriculture consultant
In natural farming, the idea is to let the natural biodiversity of each area thrive along with crops. This takes care of soil fertility as well as pests.
Organic farming requires farm practices like plowing and tilling etc. but these are not done in natural farming, where mulching is the only process undertaken apart from sowing and harvesting.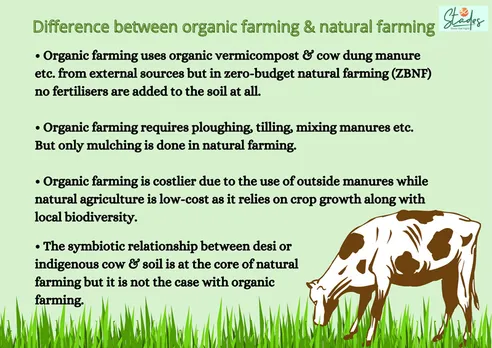 Reddy makes all agri inputs on the farm itself, including kashayams and beejamrutha or bijamrita, which is used as a treatment for seeds, seedlings or any other planting material. Bijamrita protects young roots from fungus and from soil-borne diseases, especially post rains. Its composition is similar to jeevamrutha. "Cow dung from desi breeds is a powerful natural fungicide while cow urine has antibacterial properties. Lime and soil are also added to the mixture," Reddy explains.
Also Read: How this Rajasthan farmer went from zero to millions with organic farming using his own manures & sprays
Farm to market – without middlemen
In 2012, he planted mango saplings, adding to the family's old trees. Today, his mango orchard is spread over 12 acres with Banganapalli, Neelam and Alphonso trees while the rest of the land is used for cultivation of paddy, pulses, millets and groundnuts on a rotation basis.
His annual mango yield is around 50 tonnes, making it an average of about 4.2 tonnes per acre.
In 2020, the average mango yield in Andhra Pradesh was 3 tonnes per acre, which shows Reddy gets about 25 percent extra produce at lower costs compared to chemical farming.
"Costs go down in natural farming as our only expenses are electricity and labour. Nothing else needs to be purchased from the market," he says. Reddy employs labour for manual removal of weeds from paddy and also for harvesting the crops. While he has two permanent farm employees, he hires up to 20 locals as and when needed.
Also Read: From pineapple to pepper, how organic farming is increasing farm incomes in India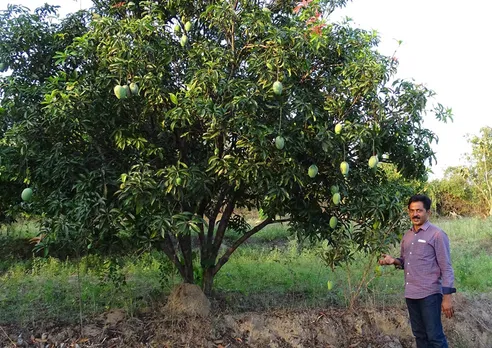 Jagdeesh Reddy's naturally grown mangoes fetch more than double the market rates. Pic: Facebook/@thenaturefarming 
"All these costs are easily recovered because my products fetch much higher rates (almost three times that of chemical produce) in the market."
While Reddy's mangoes sell for Rs 100-140 per kg, farmers using chemicals receive only Rs 40 per kg.
"Our mangoes are chemical-free and naturally ripened. Most farmers use carbide to ripen them. That's why customers are willing to pay a premium for our mangoes," he says.
Similarly, he sells de-husked Indrayani rice at Rs100-Rs120 per kg and Navara rice for Rs120-130 per kg while chemically grown varieties fetch a maximum of Rs40 to Rs50 per kg.
"My yield is slightly more than chemical farmers but I get much better rates for natural produce. Moreover, desi rice varieties are more nutritious and especially beneficial for diabetic patients."
Also Read: How this Rajasthan farmer went from zero to millions with organic farming using his own manures & sprays
Reddy has formed WhatsApp groups and sells all the produce directly to consumers and wholesalers without any middlemen.
Mangoes are sold to customers in Delhi, Hyderabad, Mumbai and Bengaluru and he also helps other farmers sell their produce by connecting them with buyers.
But his work is not limited to cultivation and sale of natural produce. He assists farmers in the Chittoor region in transition from chemical to natural farming and also shares his experience through various seminars and webinars at the national level. For Reddy, natural farming is the only way of living in harmony with nature.
(Rashmi Pratap is a Mumbai-based journalist specialising in financial, business and socio-economic reporting)
Also Read: Residue-free farming: How Nashik's millionaire grape farmer uses technology to get a yield of 10 tonnes per acre