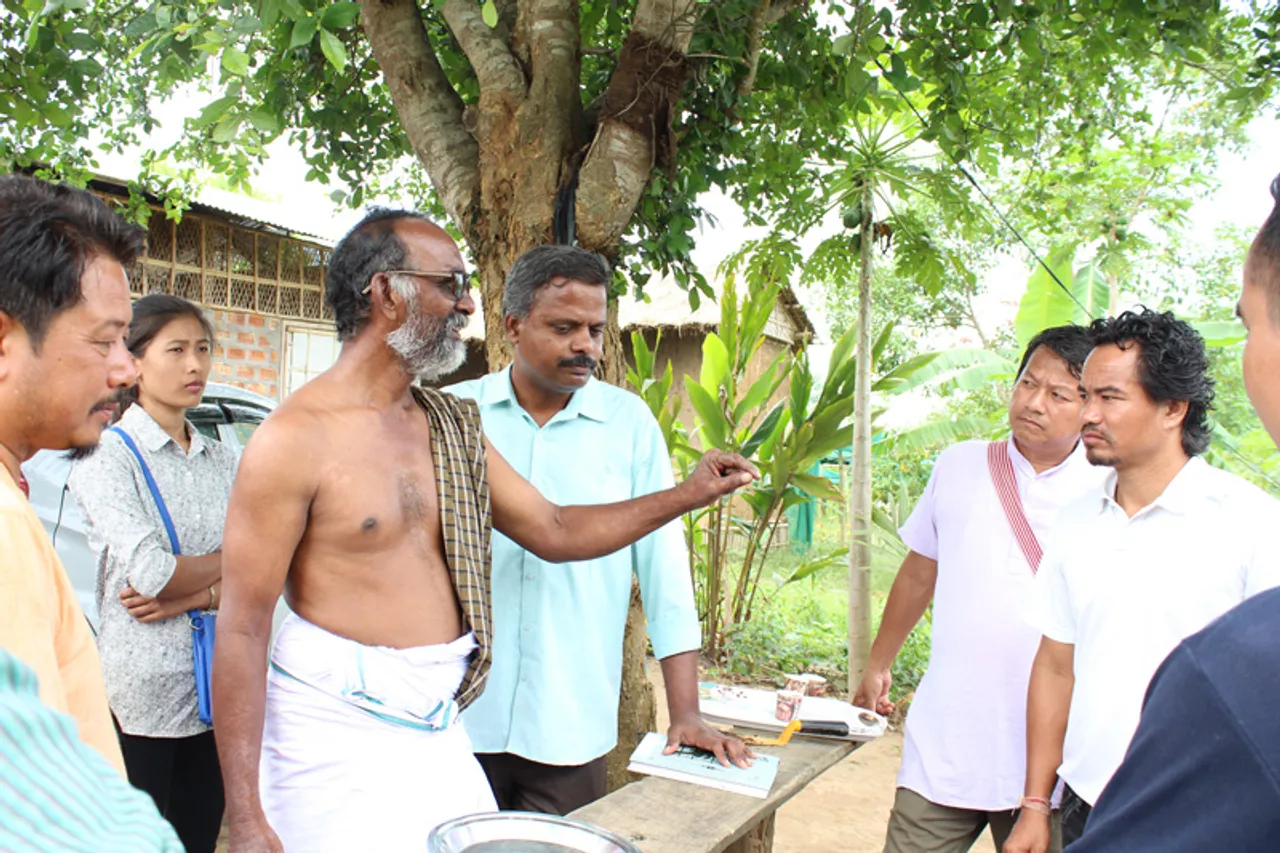 Ramasamy Selvam, an organic farmer in Thalavumalai village of Tamil Nadu's Erode district, has cut farming costs by around 30 percent after switching over to organic farming. Over a 16-acre farm, he cultivates paddy, sesame, groundnuts, mango and coconut besides other fruits and fodder for cattle.
Selvam is not only producing more per acre with the use of organic methods but also keeping costs under check as most of the agricultural inputs are generated on the farm itself.
"The cost of cultivation is low when you adopt natural methods. When we moved to organic farming, we began by opting for multiple cropping -- sowing 20-25 varieties of plants altogether. After harvest, we would plough them back to the soil to improve the micronutrient level," says Selvam, who has been practising organic farming for the last 24 years.
Also Read: Gujarat's MBA farmer Chintan Shah turns infertile land into organic farm of turmeric, ginger & wheat
Organic farming costs are lower
Chemical or in organic farming requires expensive inputs like special varieties of seeds, chemical fertilisers and pesticides. In the case of organic farming, costs are brought down by making the needed inputs using resources available on the farm.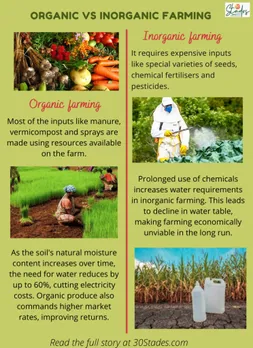 "Organic farming doesn't need many inputs. In fact, it is about creating or reintroducing the different natural cycles in the farm such as carbon cycle, nitrogen cycle through crop rotation, multiple cropping and restoring natural soil health," he says.
Also Read: How organic fruit farming made Rajasthan's Santosh Devi a millionaire
Selvam emphasises on soil health as it is the key to the success of organic farming.
"Soil health is the capital of the farm. Anything that decays is a resource for improving soil health."
Once the soil health is improved, the need for manual labour, another important cost component, reduces automatically. "If you improve the natural ecosystem of the farm, your work goes down," he says, adding that Tamil Nadu soil quality has become very poor due to extensive chemical farming for many years.
Also Read: Rasika Phatak: Maharashtra's 23-year-old millionaire farmer & agriculture consultant
"The organic matter is less than 1 percent. It may not be barren literally, but it is barren biologically. Organic farming can restore its health," he says.
How to improve soil quality
Selvam strengthened the soil quality by making his own vermicompost and panchgavya - liquid manure made using a mixture of cow dung, cow urine, milk, curd, banana, tender coconut and ghee etc. Vermicompost, made using biodegradable farm waste and worms, is a nutrient-rich fertiliser and soil conditioner.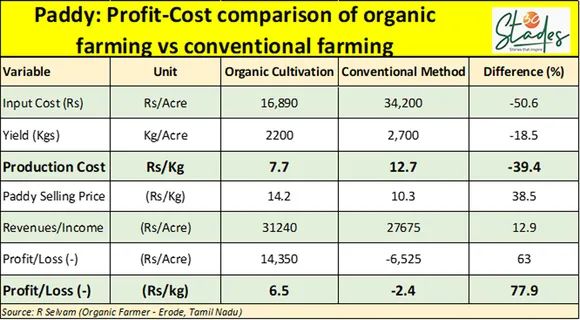 His wife Poongodi, who is also a trainer in vermicomposting, has developed a low-cost method to make the manure. Her open-bed method of vermicomposting in the open yard just under the sun is extremely successful and has prompted many farmers to opt for it.
Also Read: How mushroom farming is increasing incomes for women in Jharkhand
Selvam also used a combination of fish amino acid, buttermilk and coconut milk as a spray as it is rich in fish protein, peptides and biological polysaccharides.
Similarly, he would ferment leaves of Albizia Amara with buttermilk and spray it for better growth. "But now, the farm just needs an occasional spray of panchgavya as the soil quality has improved over the years," he says.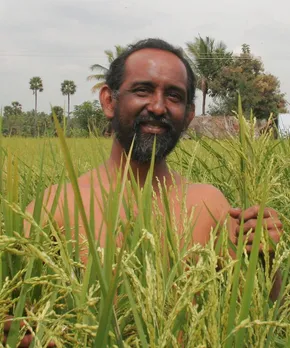 Crop rotation helps in natural weed management as various crops compete with weeds in diverse ways, keeping them in check. "Mulching using farm residues also greatly reduces the cost of cultivation.
However, some extra labour is needed but compared with other inputs costs, it is minimal," says Selvam, whose farm has a carpet of a multitude of grasses that feed the cattle reared in the farm.
Moreover, farmers have innovated and developed many kinds of organic inputs based on traditional knowledge as well as a modern understanding of science and ecology, making it easier to practice organic farming now.
Yet, initially, the yield goes down for every farmer who shifts to organic.
"Earlier, in the 1980s and mid-1990s, the transition period (from chemical to natural farming) was about two to three years as organic inputs were not easily available. Now this gap is reduced to about three to six months - just about two cropping seasons," says Selvam.
Organic vs. inorganic farming: cost-benefit analysis
The benefits of organic farming are not limited to just the reduction of input costs. The other benefit is that yields go up and the crop quality is better, which brings in better market rates.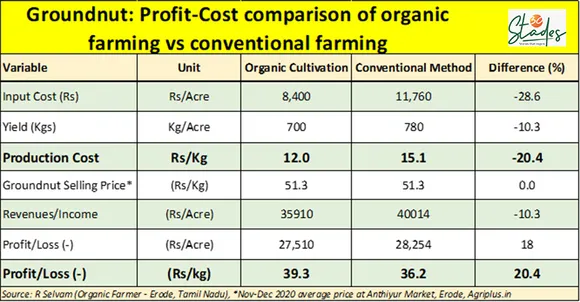 Selvam says he compared his organic paddy crop with his neighbour's IR variety paddy two years back. My cost was Rs16,890 per acre and his one was Rs34,200. I got a yield of 2200 kg while it was 2,700 kg for him. He sold it at Rs10.25 per kg and I sold it at Rs14.20 per kg," he points out.
Also Read: Organic farming of dragon fruit and lemon triples Punjab farmer's income
So Selvam made a net profit of Rs14,350 while his neighbour made a loss of Rs 6,525 as his input costs, including chemical sprays and fertilisers, was more than double that of Selvam.
Similarly, in groundnut, his yield was around 780 kg while a chemical farmer's yield was around 700 kg. "Expenses while using chemicals are Rs11,760 per acre while our expenses are Rs8,400 per acre, making organic farming a far better option both financially and environmentally," says Selvam, who had a 20-year association with G Nammalvar, agriculture scientist best known for his work on generating awareness about organic farming.
He also suggests that farmers should try to add value to products instead of selling crops directly which brings in lower market rates.
Like farmers get Rs 50 to Rs 75 per kg by selling sesame seeds. "We value-add our sesame and groundnuts as ready-to-eat rice mix (adding chillies and salt after roasting). These powders sell for Rs300 per kg each," he points out.
Also Read: Hukumchand Patidar: Rajasthan's millionaire organic farmer who exports to Germany, Japan & Switzerland
Similarly, sesame ladoos with jaggery sell for Rs300 a kg and groundnut ladoos at Rs 250 per kg. "We sell them directly to organic retail outlets only and don't supply to all those who want to sell our products," he says.
Unlike most other farmers, Selvam does not sell his produce at higher than market rates though he can charge more. "I don't sell at higher rates because organic farming anyways brings down my cost of cultivation, improving my net returns. Moreover, I believe, being organic is a way of life. It is not just about making money; it is living in harmony with nature," he says.  
(Rashmi Pratap is a Mumbai-based journalist specialising in financial, business and socio-economic reporting)
Also Read: Jayant Barve: Maharashtra's organic farmer who became manure millionaire