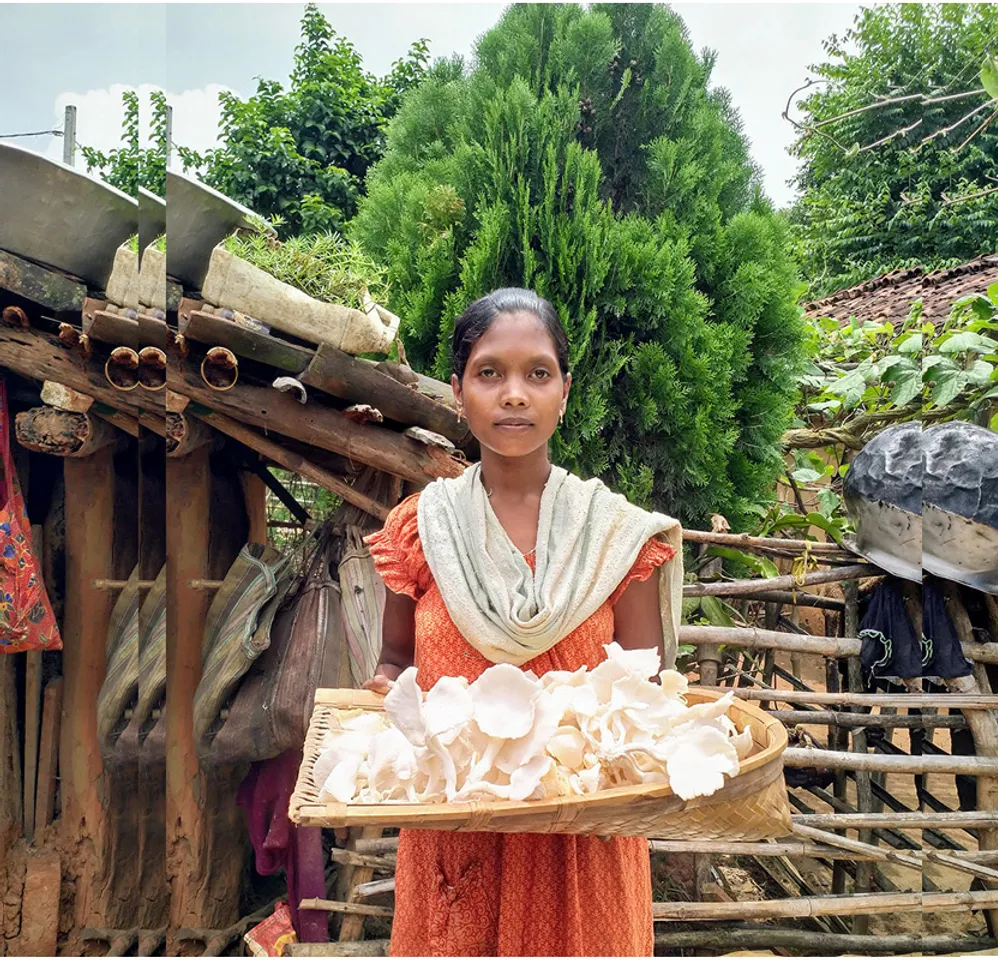 Kamla Devi is busy preparing 250gm-packets of oyster mushrooms at her home in Serengdih tribal hamlet of Naxal-affected Khunti district in Jharkhand. The packets of the much sought after mushrooms will sell for Rs50 each in Ranchi and Jamshedpur towns. Kamla, who lost her husband a few years back, is a mushroom entrepreneur, cultivating them in a corner of her house and earning enough to support her family.
"Unlike vegetables or cereal crops, mushrooms do not require much manual labour, financial investment or time. Mushrooms have a short growth cycle and its cultivation is a good option for women to become financially independent," says the 34-year-old.
Also Read: Rasika Phatak: Maharashtra's 23-year-old millionaire farmer & agriculture consultant
Mushrooming of women entrepreneurs
In Serengdih, a hamlet of 30 families, 20 women have already taken up mushroom cultivation to supplement family incomes.
And across four blocks of Khunti, oyster mushroom cultivation has turned 1,200 women into entrepreneurs.
They have been trained by Pradan (Professional Assistance for Development Action) - a non-profit working in rural areas, which began intervention in Khunti in 2016.
Priyanka Devi, another mushroom farmer, has been cultivating mushrooms since 2018 and says it is a low-cost high-returns proposition as they can be cultivated in any small dark area in the house. Besides, it is a sure shot and quick way for women empowerment in Maoist-hit areas where other income-generating opportunities are limited.
Also Read: Village in Jharkhand's Maoist hub transforms into eco-tourism spot reviving lost arts
"A kilogram of seeds, along with other inputs, costs Rs250 and yields about 12kg of mushrooms which sell for Rs2400," Priyanka says.
The produce easily finds a market as mushrooms are a part of indigenous food of Jharkhand's tribal communities including Munda and Oraon as well as non-tribals. Besides oysters, other varieties like button mushroom and the rare rugda, which grows under Sal trees during monsoon, are also integral to Jharkhand's food culture.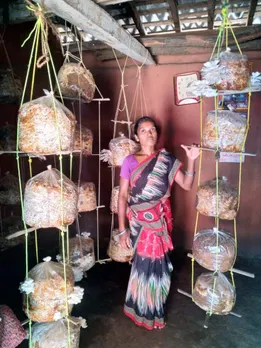 Kamla Devi with her oyster mushrooms in Serengdih, Khunti. Pic: courtesy PRADAN 
"With limited livelihood options in our village, mushroom cultivation has opened a new avenue for increasing incomes as it has a ready market. We find local buyers and are also able to sell it in Ranchi and Jamshedpur," says Priyanka, who is also a pashu sakhi - a community animal health worker providing basic medical care to livestock.
Also Read: LifeCraft: empowering Jharkhand's Kuiani women through fabric hand dyeing
Since mushroom cultivation is neither labour intensive nor requires high investment, so even single women can opt for it.
"The land in our area is mostly barren. Barring tomatoes and some paddy cultivation during monsoon, there is not much scope for growing other crops," says Kamla who is also an anganvadi worker.
"Besides, meeting the water requirements of crops is expensive as well as difficult, almost ruling out agriculture as an occupation for women in this region," she adds.
The Cooperative that changed lives
In 2016, Pradan helped set up the Khunti Torpa SHG Members Agri-Horticulture Cooperative Society Ltd, which is a registered cooperative of women self- help groups (SHGs) from Khunti, Murhu, Arki and Torpa blocks.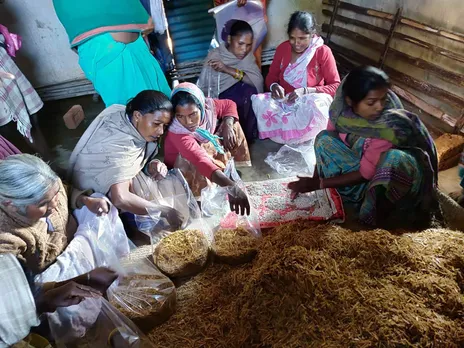 Mushroom farmers preparing paddy straw bags for spawns. Pic: courtesy PRADAN 
"The cooperative trains the farmers in mushroom cultivation and helps in the procurement of raw materials and and other inputs. We also provide marketing assistance to farmers who don't sell directly," says Vijay Kumar Viru, Pradan's Team Coordinator at Khunti.
Also Read: Lemongrass oil slowly replacing opium production in Jharkhand's Maoist stronghold Khunti
Mushroom production in India was 4.36 lakh tonnes in 2015-16, as per the National Horticulture Board. Its cultivation is growing at 4.3 percent a year against the global growth rate of 4 percent.
Initially, women farmers were sceptical about investing their time or money but with regular training and support, they started its cultivation because mushrooms are also a rich source of nutrition. 
Oyster mushrooms are a rich source of protein and fibre and contain iron, zinc, potassium, phosphorus besides folic acid and other vitamins. 
In fact, Pradan's intervention began with an aim to improve the haemoglobin levels among women and children in Khunti. "The incidence of anaemia is very high in the region, especially among women and children. So when we began, we told the members to improve their own diets and did not encourage sales," says Viru.
In Jharkhand, 70 percent of the children between the ages of 6 and 59 months are anaemic while the incidence is 65 percent among women, as per the National Health Survey-4. 
Also Read: Drumsticks could help tackle the deep-rooted scourge of malnutrition
After improving their own families' diets over two years, women decided to take-up mushroom cultivation as an entrepreneurial activity.
Oyster mushrooms can grow at temperatures upwards of 20 degree Celsius with humidity of 55-70 percent. "The cultivation season starts in August and lasts till March or April," says Priyanka, adding they are now able to cultivate it in summer also.  
How are oyster mushrooms grown?
The process begins with cutting paddy straw into 2-inch pieces. Then the straw is soaked in warm water for a few hours. Subsequently, it is air-dried while retaining about 70 percent moisture and spawn is mixed. This mixture is then filled in polythene bags on which perforations are made.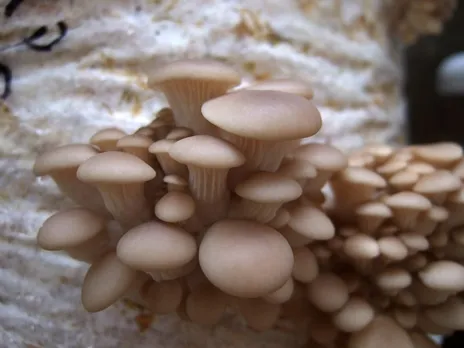 Young oysters growing out of perforations on polythene bags. Pic: Flickr 
The bags are tied and kept in a dark humid place with a temperature between 24 and 30 degree Celsius. In about 20 days, the straw is covered with hyphae and the bags are hung with a string at a minimum gap of 30 cm from each other. Small growth appears in a few days and the first flush of mushrooms is harvested in a total of about 35 days.
Also Read: Odisha women fight malnutrition through organic nutrition gardens
The second harvest is ready again after a gap of 35 to 40 days followed by the third and final harvest. The output declines with subsequent harvests, but a kg of seeds end up giving up to 12 kg mushroom.
"We keep preparing new bags at a gap of about 10 to 15 days so that there is a continuous supply of mushrooms," says Priyanka.
Paddy straw is available locally without costs and other inputs are subsidised by the cooperative, she adds.
Since the cooperative procures inputs in bulk, farmers can keep costs low. "We pluck mushrooms by slight pulling and twisting before they curl up. Whatever is not immediately used or sold can be dried and stored," Kamla says.
Dried oyster mushrooms are much in demand by restaurants as well as households in urban areas where they can sell at up to Rs1,000 per kg. 
Dried mushrooms can be rehydrated with warm water before use. Their nutty, subtle flavour makes them a good addition to soups, sauces and stews. 
Having tasted success with mushrooms, more and more women in Khunti are now taking up its cultivation. "We are looking at it as a full-fledged business going forward. We are going to every house and asking other women to join us," Kamla adds
(Rashmi Pratap is a Mumbai-based journalist specialising in financial, business and socio-economic reporting)
Also See: How Bihar's Lahanti Club is preserving Santhali culture