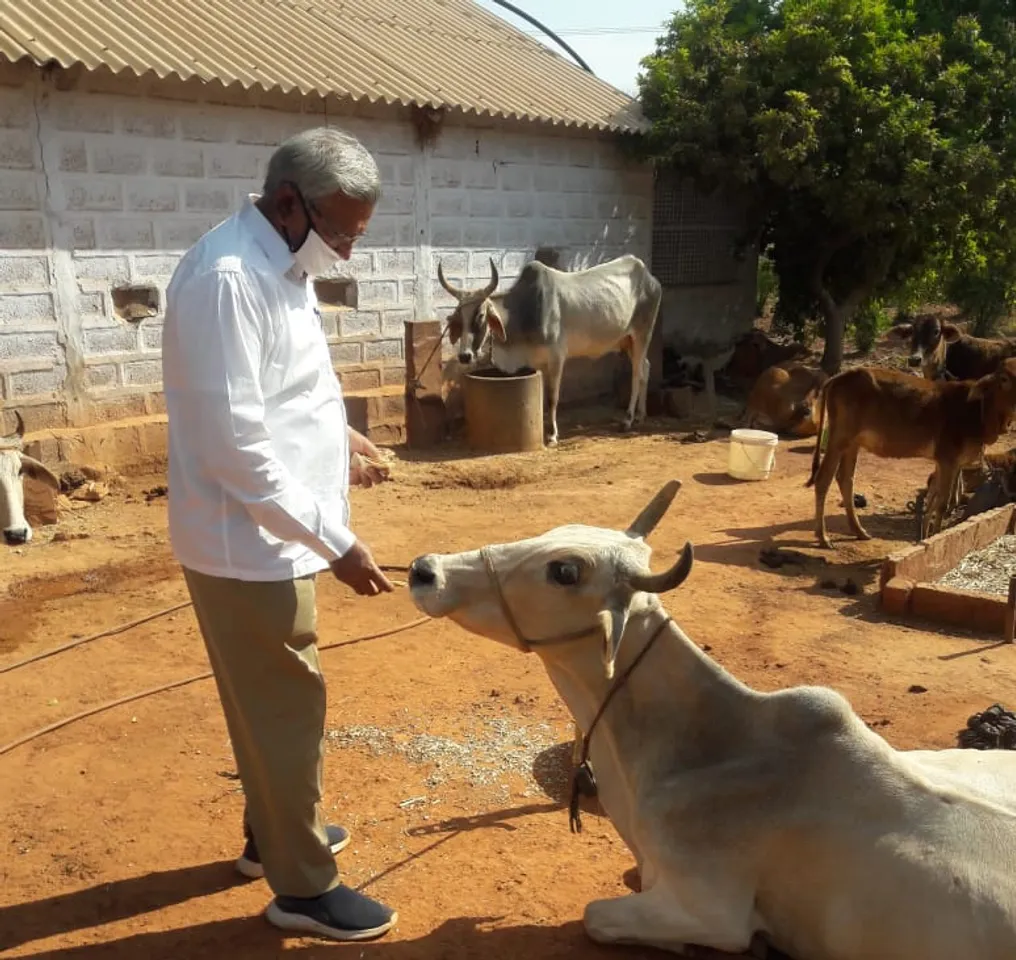 In 2000, when organic farming was still in its infancy in Rajasthan, Ratan Lal Daga from Jodhpur district converted his 60-acre farm to organic. He did away with chemical fertilisers and pesticides, resorting to only natural cultivation methods. In the first year, his entire crop failed because of the sudden jump from conventional to organic farming.
But that did not deter Daga who today earns handsome returns of Rs80 lakh a year, thanks to organic farming.
"When I started, there was little awareness about organic farming. In the wake of the green revolution, everyone was pumping in chemicals into the land to increase production," says Daga, now 70.
Also Read: How Tamil Nadu farmer increased profits & cut costs by 30% through organic farming
Chemical to organic farming
Daga's inspiration to go organic came from a talk at an agriculture university in Bengaluru.
"The vice-chancellor of the university spoke about the hazardous effects of conventional farming with chemicals. What he said made sense. I was using a lot of chemicals to keep up production and my costs were continually rising," says Daga who has a graduate degree in agriculture from Udaipur.
"I decided to change to organic farming but the switch was sudden and my entire crop failed. The overuse of chemicals had stripped the land of micro-organisms and micronutrients that keep the soil healthy."
So in 2003, Daga went back to chemical farming and slowly phased out chemicals from the land, reintroducing organic matter and micro-organisms that live below the soil and keep it healthy and fertile.
Also Read: Organic farming of dragon fruit and lemon triples Punjab farmer's income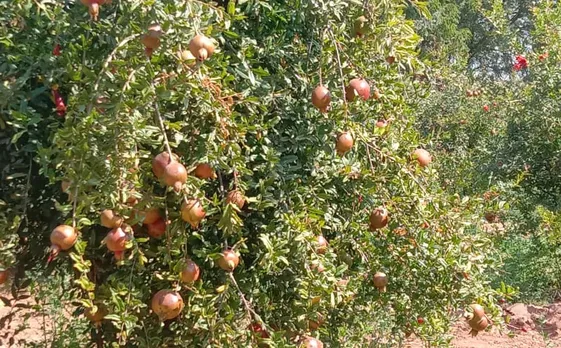 Daga's pomegranate yield is around 15kg per tree. Pic: courtesy R L Daga 
The acceptable level of soil organic carbon is 1-1.5 percent but in many parts of India, the level has fallen to 0.3-0.4 percent. Soil organic carbon is the carbon component of organic compounds, which improves oxygen in the soil besides improving water drainage and retention, reducing the risk of nutrient leaching.
According to a survey conducted in 2018 by CUTS, a consumer rights advocacy organisation, around 19 percent of farmers in Rajasthan practise organic farming.
By 2007, Daga completely switched to organic farming at his sprawling farmland in Bhansar Kutari village near Mathania, which is famous for its small, pungent chilli.
Also Read: Gujarat's MBA farmer Chintan Shah turns infertile land into organic farm of turmeric, ginger & wheat
The septuagenarian grows wheat, bajra, lentils, mustard, chillies, fenugreek, spices, vegetables, and fruits using organic fertiliser and pesticides that he makes himself. Vegetables and some crops that need lower temperatures are grown in green nets.
In Rajasthan, a farmer can reap around 15 to 17 quintals of wheat in one acre of land on average but with organic farming, Daga gets 20 quintal wheat per acre. A quintal is equal to 100 kg.
He produces 4-5 quintals of cumin seed per acre, 14-15 quintals of bajra per acre and 5 quintals of coriander in one acre.
Daga is something of a papaya specialist. He has been growing papaya for 15 years in around 2 acres.
"I get Rs10 lakh per acre from papaya crop," he says.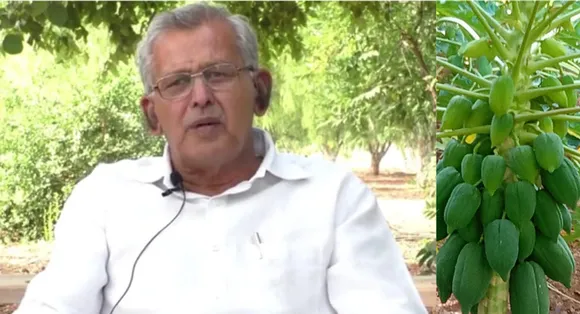 Farmers from far off places come to Daga's farm to learn organic cultivation practices. Pic: courtesy R L Daga 
He also planted pomegranate two years back and is getting a yield of 10-15 kg per tree. He has been growing amla (gooseberry) for the last 20 years and gets a yield of 100-150 kg per tree. Similarly, his bael (golden apple) crop which he has been growing for 20 years, gives an average yield of 100-150 kg.
Also See: Repora: Visuals from Kashmir's grape village
Organic fertilisers and sprays made on the farm
He makes his own fertiliser akin to jeevamrit but calls it 'turat furat khad' because it can be made quickly. "I use cow dung, cow urine, gram flour, jaggery, the leftover of fruits and neem leaves and chilka (outer coat) of lentils to make turat furat khad," he says.
Daga has also created a fertiliser using curd, which he calls 'doodh hariyali khad'.
"I set curd and store it in a copper vessel for 10 days. This is an alternative for DAP and it provides micronutrients to the crops. I mix 5 litres of this curd in 200 litres of water and spray it on one acre of crops. It gives a beautiful dark colour to the crops," he says.
He makes compost using cow dung, dry leaves, fresh leaves and a mix of curd and jaggery that helps in decomposing the matter. Twenty-one cows on his farm provide inputs for manures and their milk is used to make ghee, which also is sold in the market.
Also Read: Rasika Phatak: Maharashtra's 23-year-old millionaire farmer & agriculture consultant
To him, crop rotation and intercropping are important in organic farming as they keep the soil healthy and prevent diseases. He also conserves water as he uses drip irrigation on his farm. "Judicious use of water not only saves it but also reduces the diseases in crops."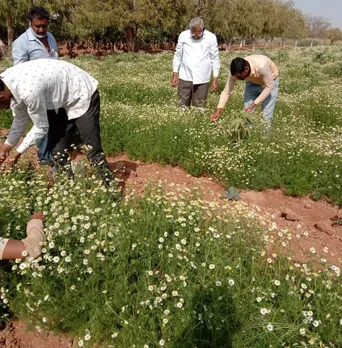 R L Daga working on his farm with others. Pic: Courtesy R L Daga 
He has also penned a book 'Safal Jaivik Kheti' detailing the entire process of organic farming and how farmers can utilise what is available on their farm for making fertiliser or organic pesticides.
On-farm processing
Daga is enterprising and also processes some of the produce. His daughter and grandson, who live in Mumbai, help him in processing and packaging. They live on the farm for two to three months and get the processing done.
About 25 labourers, who live on the farm, help in processing the produce. A grading machine is used to sort the lentils so that the smaller pieces can be used to make vada or mogar or korma, which are used in different dishes. Cumin, fenugreek and coriander seeds are cleaned and sorted by labourers. They also extract oil from sesame and peanuts.
Also Read: From pineapple to pepper, how organic farming is increasing farm incomes in India
Daga acknowledges that it was difficult to market the products initially. "People trust my organic products now. Initially, I used to call people and show them the farm and how I was doing farming. But now my products sell like hotcakes," he says.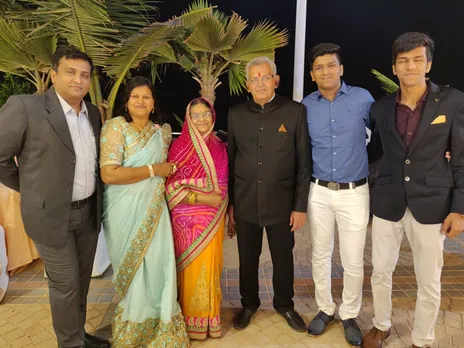 R L Daga with his wife, daughter and other family members. His daughter and grandson look after processing of farm produce. Pic: courtesy R L Daga 
People from Jodhpur, Pali, Nagaur, and Balotra towns are regular buyers. They place orders on Whatsapp and collect the produce from the farm.
Daga also supplies his organic products, priced 20-25 percent higher than market rates, to a store near his farm.
Given his rich experience of organic farming, Daga is a guru for local farmers keen to make a shift away from chemical farming. Institutions such as Central Arid Zone Research Institute (CAZRI), Jodhpur, NABARD, bring farmers to Daga's farm for practical knowledge about organic farming.
Daga has received several awards for his efforts in organic farming including the Mewar Gaurav Award in 2017 and the Swadeshi Gaurav Award from then chief minister Bhairon Singh Shekhawat in 2007.
He is happy to have switched to organic farming. "If done properly, organic farming is productive and remunerative. It is healthy for the environment, for people's health and sustainable," he says.
(Urvashi Dev Rawal is a Jaipur-based journalist specialising in development, gender, and political reporting)
Also Read: How organic fruit farming made Rajasthan's Santosh Devi a millionaire