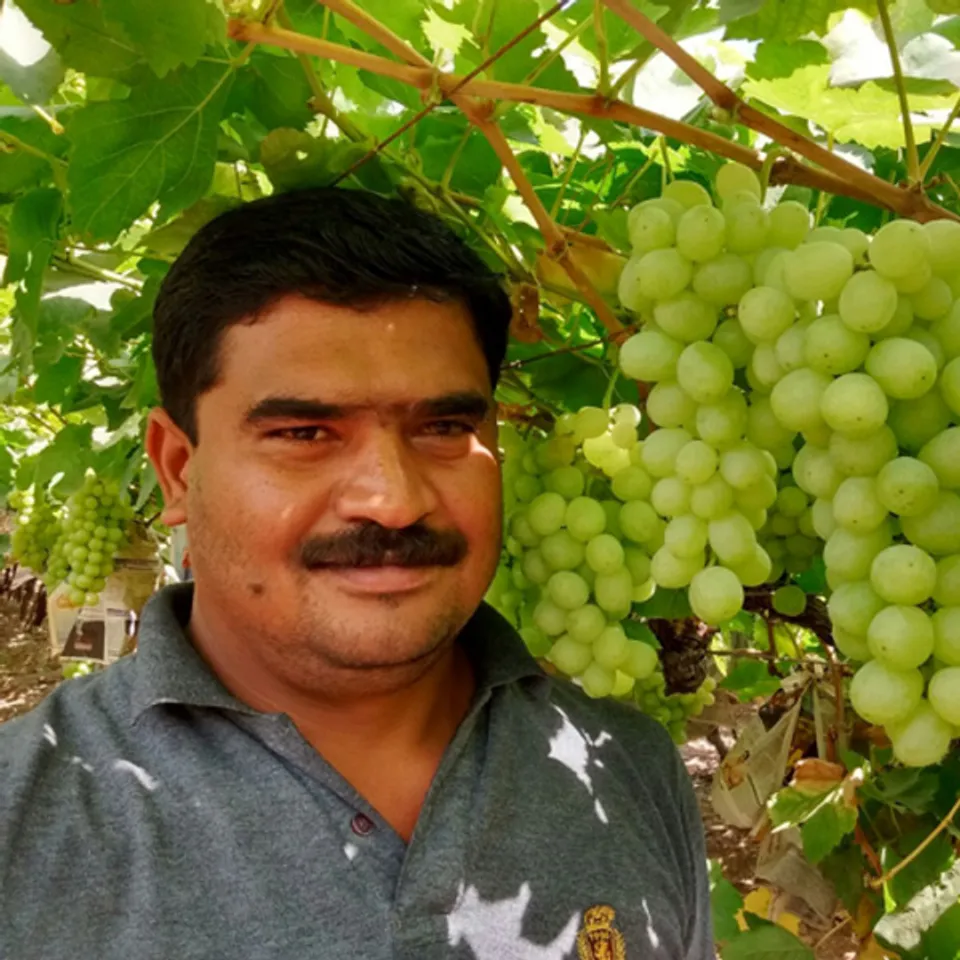 When Prashant Kshirsagar took over his family's three-generation-old grape farming business in Niphad, about 45 km from Nashik, he faced declining returns. But with the use of technology in residue-free farming and diversifying into the domestic market, he has made it a win-win for customers and himself. 
Today, he produces 10-tonne grapes per acre. This is 25 percent higher than the average of 8 tonnes per acre productivity of vineyards estimated by the Maharashtra State Grape Growers Association (MSGGA).
Grape farming gets hi-tech
By following simple technological innovations, Kshirsagar is lowering input costs and improving the quality of production over his 14 acres of grape farms near Nashik, the grape capital of India and accounting for over half of the grape exports from the country. 
Also Read: How this Rajasthan farmer went from zero to millions with organic farming using his own manures & sprays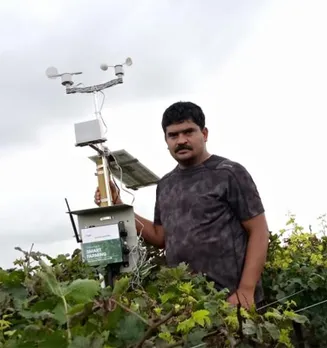 Prashant Kshirsagar has installed a weather station at his farm. Pic: through Prashant Kshirsagar 
His annual output is 140 tonnes. A tonne is one thousand kg and grapes sell between Rs65-110 in the export market and at Rs 70 in the domestic market.
"My USP is that the grapes are zero-residue certified and safe to eat. And I deliver as fresh as harvested. The grapes are priced 10 to 20 percent higher than market rates," Kshirsagar tells 30 Stades.
He has installed a weather station on his farm, which gives short-term as well as the long-term weather forecast. "It gives readings on nine parameters," he says.
Also Read: How Tamil Nadu farmer increased profits & cut costs by 30% through organic farming
He has tied up with Bengaluru-based firm Fasal. The data is captured by the company and sent to him through their app. This data helps him decide the next course of action. 
"The weather station gives readings of rain, wind speed, temperature, humidity, soil moisture. For instance, if I know it is going to rain in 2-3 days then I will not water my plants and I can save on water and electricity.
"Or, for instance, I have put on the irrigation system. Then I can check on my mobile the reading of the water level which is captured by the sensors," he says, adding that the weather station cost him Rs 68,000. 
Also Read: Gujarat's MBA farmer Chintan Shah turns infertile land into organic farm of turmeric, ginger & wheat Also Read:
Residue-free farming
He practices residue-free farming to cultivate four varieties of grapes on his sprawling vineyard – Thomson Seedless, Black Seedless, Crimson Seedless and Flame Seedless. 
Residue-free farming implies the use of organically derived bio fertilisers and biocides below the level that can cause harm to humans. This is ensured by maintaining a gap between spraying and harvesting. 
Kshirsagar exports 80 percent of his produce to European countries mainly the UK and Germany. Exports are lucrative for grape farmers as they get better rates than the domestic market.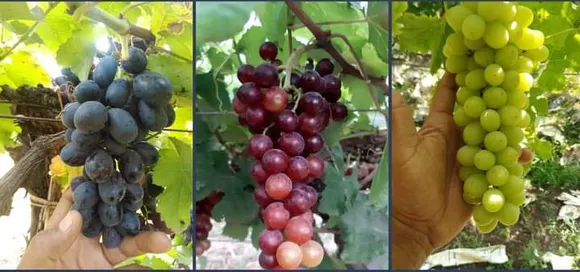 Prashant Kshirsagar exports 90% of his produce. Pic: through Prashant Kshirsagar 
India exported 193,690.54 MT of grapes in 2019-20, valued at Rs 217,686.82 lakh as per the DGCIS annual export data. Maharashtra accounts for over 80 percent of the total exports.
Also Read: How organic fruit farming made Rajasthan's Santosh Devi a millionaire
But adherence to GLOBALGAP certification guidelines is a must to export to European countries. 
For it, grape farmers have to meet parameters like traceability, maintaining the record of soil management, use of fertilisers, irrigation, crop protection, harvesting, handling the produce, management of waste and pollution, welfare and facilities for labour and environmental protection.
He says GAP guidelines are to be followed in the field along with the name and quantity of agrochemicals permitted to be used for growing the grapes. 
All the inputs have to be used judiciously. 
Also Read: Organic farming of dragon fruit and lemon triples Punjab farmer's income
"We do leaf analysis of the grape plant and monitor disease and then decide the actual molecule to be used."
Fertiliser and water are provided as and when required so that by the time the grapes are ready to harvest, there is no chemical residue left in them.
For fertiliser, he uses castor cake, neem cake, groundnut cake, cow dung, cow urine, waste decomposer and ash.
While Kshirsagar practices residue-free farming, he says the input costs are higher than conventional farming. "If you take the cost of labour, micronutrients, fertilisers, insecticides and transport and other agricultural operations it would work out to a little above Rs2 lakh per acre as against Rs1.5 lakh in conventional farming."
Also Read: Banker during the week, farmer over the weekend: How Prateek Sharma built Bhopal's Green & Grains organic grocery start-up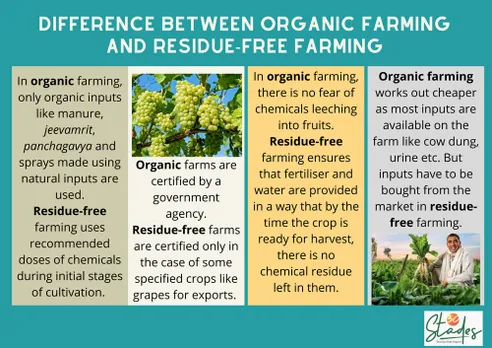 In the case of grapes, input cost goes up due to high labour and transportation costs. "Transport is not a smooth operation. Grapes are loaded and unloaded several times so handling has to be done carefully, which is not always the case. Sometimes there are thefts too."
Customer connect
Kshirsagar says while the challenges are many, there is the satisfaction that he is providing a healthy option to consumers. "A survey we got done in Gurgaon revealed that customers were willing to pay a higher price for the grapes because of better taste, quality, packaging and because they are safe to eat," he pointed out.
Also Read: How Bangalore's retail chain Humus is taking fresh fruits & veggies from farms to urban homes
Kshirsagar joined his family's viticulture business in 2005 after completing his graduation in agriculture from Gujarat agriculture university now named Anand Agriculture University.
"Initially our business was 100 percent export-oriented but from 2014, I started supplying to the domestic market too. The shift happened owing to the growing competition in the export market and the increasing scope of the domestic market as awareness about natural and organic foods improved."
He supplies 10 percent of his total output to the domestic market and while exports continue to be the mainstay of his business, the aim is to expand the domestic supply to 40 percent in the next three years.
"The grape season lasts six months from December to May and my total output is around 140 metric tonnes. So, I need a lot of outlets to use up the entire production," he says.
In 2008, when Kshirsagar forayed into the domestic market, he supplied to a Delhi-based firm, Farmer Uncle, which puts details of farmer's products online, allowing customers to place orders directly.
Also Read: Chennai couple's startup Carbon Loops takes urban food waste back to farms
He has tied up with other retail outlets in Delhi, Indore, Ahmedabad, Mumbai, Pune, Chennai, Bengaluru, Hyderabad, Bhopal, and Coimbatore to market the produce.
"Customers place their orders through different outlets and the grapes are delivered to them within 4-5 days," he says.
"Client feedback gives me ideas for value addition like grape juice or raisins," says Kshirsagar who began selling raisins in 2016.
He also produces 3,000-3,500 kg of raisins per season.
He says conventional raisins are chemically treated while his raisins are naturally sun-dried and free of any harmful chemicals. "In the raisins market, I am directly connected with my consumers. They can place orders through WhatsApp or e-mail and I directly deliver to them," he says.
"Feedback and appreciation from customers give me immense satisfaction. I feel my hard work is being recognised and appreciated. I have a loyal customer base for my grapes and raisins who look forward to my supply," he says.
(Urvashi Dev Rawal is a Jaipur-based journalist specialising in development, gender, and political reporting)
Also See: Repora: Visuals from Kashmir's grape village