wp:paragraph
Every day, about 10-12 tonnes of food waste from companies, educational institutions and some residential societies in Chennai, Chengalpattu and Tiruvallur is loaded onto trucks and taken about 80km away to Uthiramerur, a panchayat town in Kancheepuram, Tamil Nadu. There, the waste is segregated, shredded and composted at the biogas generating facility of Carbon Loops, a three-year-old social enterprise which is not only solving the problem of biodegradable waste disposal but also providing organic manure free of cost to farmers.
A tonne of food waste generates 70 kg of biogas, equivalent to five LPG gas cylinders, besides doing away with costs associated with waste disposal. 
Set up in 2017 by husband-wife duo Kern Agarwal and Ranjini Prabhakaran, both former banking professionals, Carbon Loops has been reducing the waste sent to landfills through biogas generation. Toxic gas emissions from landfills pose a threat to the environment and human health and the waste contaminates the surface as well as groundwater.
Also Read: Tamul's areca nut leaf plates travel from Assam to the world as plastic ban gets stronger
From banking to biogas
Agarwal was working with the Standard Chartered bank from 2007 to 2010.  He quit the job in 2010 to pursue an MBA from Loyola College in Nungambakkam, Tamil Nadu. The duo's startup was incubated at Loyola Institute of Business Administration (LIBA).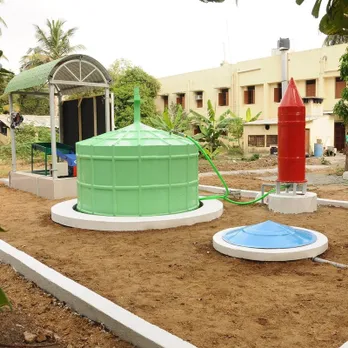 Loyola also has a 2-tonne capacity onsite biogas plant, set up, operated and maintained by Carbon Loops. About a tonne of food waste is generated within the campus, while another tonne collected from ITC Welcome, Hotel Savera and some other corporates is also processed at Loyola. The biogas that is generated fuels the institution's kitchen and the compost is used on the campus.
Carbon Loops works on two business models – one is the collection of biodegradable waste from clients and processing it at its biogas plants. The second one is setting up and maintenance of onsite biogas plants. The second model is adopted by entities, which generate in-house biodegradable waste in bulk like educational institutions or companies with large kitchens.
Also Read: Vistaraku: How Telangana's start-up is taking traditional Indian leaf plates to the world
In the last three years, Carbon Loop has generated nearly 292 tonnes of biogas.
Arriving at an optimum biogas plant design, however, wasn't easy. When Agarwal and Prabhakaran began their research, they analysed various models like vermicomposting and Bokashi composting (where input matter is fermented by specialist bacteria and not decomposed) besides others.
How Carbon Loops biogas plants are different
It was during this ideation stage that they came across the Khadi and Village Industries Commission (KVIC) model for solid waste management. This traditional method has been in use for some decades and helps in managing waste without generating any foul smell.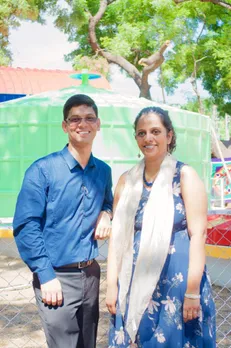 Carbon Loops, however, enhanced the KVIC biogas model design by making it economical as well as more efficient. One, it designed an optimised shredder that reduced particle size to 5mm and two, Carbon Loops innovated upon the hydraulic agitator to reduce solid settlement in the digester, preventing the formation of scum on top which otherwise has to be removed regularly for optimal functioning of the plant.
Also Read: Udaipur's Jovaki empowers tribal women by processing wild fruits & vegetable
"We have also set up plants in Poonamallee (west Chennai) and Stella Maris College," Agarwal points out.
Stella Maris College canteen uses the biogas in its in-house kitchen. In Poonamallee, the biodegradable waste is converted into electricity and the local panchayat is using it for common area lighting. "We are looking to replicate this model in seven other panchayats but nothing has been finalised yet," he says.
Before signing up a potential client, Carbon Loops team visits the premises and conducts a study on the amount of waste generated daily. "After collecting the data, the team offers solutions and then sets up a plant that is easy to operate. Multinational companies mostly have a budget allocated to manage their waste. So we reached out to these companies and began building our model," he says.
Reducing the waste burden
Its other initiative of biodegradable waste collection is helping Chennai, which is one of the largest generators of solid waste in the country.
Also Read: Bihar's Sikki grass craft finds global market amid rising demand for eco-friendly artifacts
Its environmental impact can be seen throughout the city as several water bodies like the Cooum have become polluted and are now toxic. Even the groundwater level is declining.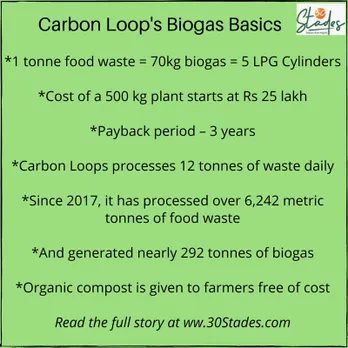 Carbon Loops collects waste from around 70 corporates, Chennai Municipal corporation and two educational institutions besides others. "We charge the generator of the waste for the entire processing and give manure free to farmers," says Agarwal. 
"The manure distribution to farmers is done regularly," Agarwal says.
It was, in fact, the plight of farmers in Kanchipuram that had moved the duo when they visited Salavakam village in Kanchipuram. They saw that farmers who produced food often slept hungry due to financial pressures. Sale of agricultural produce has been the Achilles' heel for farmers in India and Salavakam was no exception.
"Farmers found it difficult to sell their crops. The unsold crops were dumped in the open, generating methane - a greenhouse gas dangerous to the environment," Agarwal says.
Also Read: Jharkhand: Tech graduate duo's dairy venture Puresh tastes success amid COVID-19
"The second problem was unpredictable rainfall. To speed up the growth of crops, they used a lot of chemicals without realising that such food isn't safe for consumption," he says. So the duo decided to find a solution for recycling food waste, helping the farmers and protecting the environment by reducing the use of chemicals. This involved closing the loop, which is what Carbon Loops does.
And while COVID slowed down work in many ways, it also helped Carbon Loops. In the initial stage of lockdown, the team found it hard to manage the waste as the fear of the virus gripped everyone. But the pandemic changed the mindset of people, making them more aware of the importance of cleanliness.
"We are now returning to pre-COVID waste processing levels. Today, we manage about 12 metric tonnes of waste per day," Agarwal says.
The duo has other plans to scale up. "We want to provide end-to-end waste management solutions. Not just focus on organic waste but expand to dry waste too. Our focus will also be on finding solutions to generate energy when conventional fuels like coal get depleted," he adds.
(Mohammed Rayaan is a Chennai-based journalist. Find his writings at rayaanwriter.com)
Also Read: Rajasthan's Camel Charisma builds a superfood business with camel milk and cheese