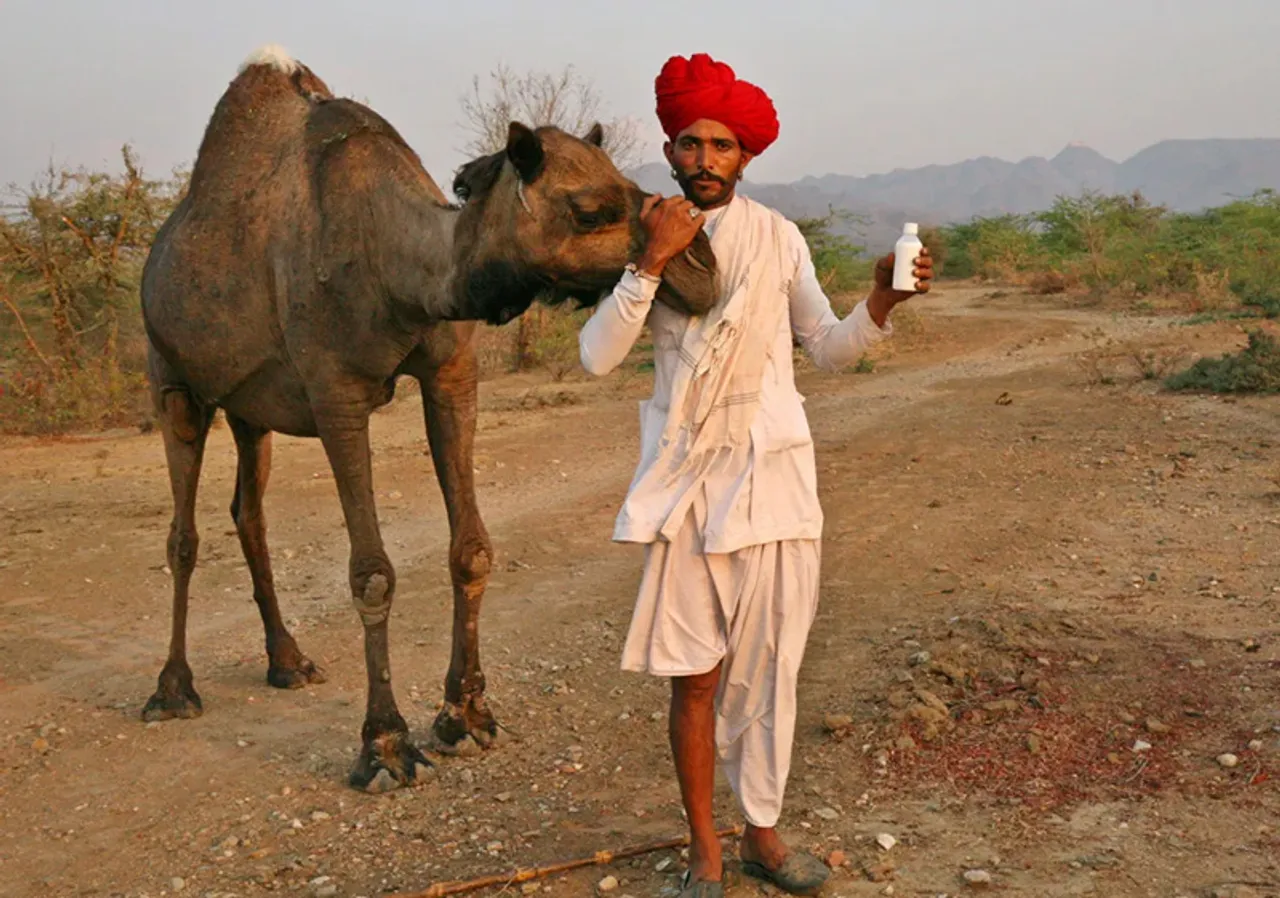 wp:paragraph
In April this year, camel milk made it to the headlines after an Indian Railways parcel cargo train from Ludhiana to Bandra Terminus made an unscheduled halt at Falna station, near Ajmer in Rajasthan, to pick up 20-litre camel milk and 20kg milk powder for a three-and-a-half-year-old autistic child in Mumbai. Neha Sinha had tagged Prime Minister Narendra Modi in a tweet requesting for camel milk as her child had severe food allergies and she did not have adequate camel milk supplies to last the lockdown.
What, however, went unnoticed was the company, based in Sadri, Pali district, which provided the frozen milk and powder -- Camel Charisma.
The sustainable business of camel milk
Founded in 2015 by Hanwant Singh Rathore and Dr Ilse Köhler-Rollefson, Camel Charisma is the result of the duo's 25 years of work with Rajasthan's Raika or Rebari community of camel herders whose traditional source of income – sale of male work animals – no longer provides them with a viable livelihood option.
Also Read: Jharkhand: Tech graduate duo's dairy venture Puresh tastes success amid COVID-19
"Pastoralists need to have the income to save the camel and if they can't earn, they will stop breeding them. The idea behind Camel Charisma is to provide sustainable livelihood to the Raika community by adding value to camel milk and other camel products," says Köhler-Rollefson, a trained veterinarian from Germany who has been working in Rajasthan for three decades now.
India's camel population halved to 2.5 lakh in 2019 from 5.2 lakh in 2007, as per the 2019 Livestock Census. Rapid modernisation has rendered them less and less useful, and camel breeders are unable to afford their upkeep, leading to a rapid decline in their numbers.
This impacted the Raikas as camel sales have been the only source of their income for many generations, especially during the annual Pushkar Fair.
"We had lost hope. But with Camel Charisma, I can earn some income. I sell about 20 to 30-litre milk at least 20 days in a month to them," says Bhura Raika, one of the herders working with Camel Charisma. He is paid Rs 60 per litre and earns between Rs1200-1800 on the day he sells the milk. The income has helped him increase his herd.
Also Read: How a daily wage earner set up Rs 250-crore breakfast company ID Foods
Camel milk vs cow milk
As per Grand View Research, the global camel milk products market was valued at $10.2 billion in 2019, with Saudi Arabia being the biggest per capita consumer at 33litre per year.
The milk is costlier due to lower production and higher camel breeding costs compared to cows. Moreover, camel milk works even for those suffering from lactose-intolerance.
Rathore and Köhler-Rollefson are highly focused on traditional and organic practices throughout their production chain. "We don't stall-feed camels as we want them to be part of the environment. They graze on the 36 varieties of traditional plants which are believed to have Ayurveda properties," says Köhler-Rollefson, who has more than 100 scientific publications in various journals and has published a number of monographs. 
"So their milk provides nutrients that are missing from modern diets. Besides, camel milk strengthens the immune system and studies show that it can help lower blood pressure and sugar level," she says.
Also Read: Udaipur's Jovaki empowers tribal women by processing wild fruits & vegetable
Early morning, herders bring the milk on motorcycles to Camel Charisma's Kumbhalgarh Camel Dairy, which has the capacity to pasteurise and chill 200litre milk in one cycle.
"The milk is handled hygienically and is traceable to each herd. We do not add any preservatives and it is totally natural. After weighing, the milk is checked for fat, water and non-solid fat content. After pasteurisation, the milk is bottled, deep-frozen and shipped out to consumers across India," Rathore points out. The bottle size is 200 ml as per the daily dose recommended by most doctors.
While Camel Charisma is doing its best to market camel milk and other products, it is only government push which can help demand take off.
"It is necessary to create awareness about camel milk to ensure effective marketing. People don't know about its benefits but as they become aware, demand will increase," RS Sodhi, MD of GCMMF, which owns the Amul brand, had told 30 Stades earlier. Amul offers camel milk in bottles of 200ml and 500ml.
Also Read: Vistaraku: How Telangana's start-up is taking traditional Indian leaf plates to the world
Beyond milk – camel cheese and more
Camel milk and its powder are not the only products in Camel Charisma's portfolio. It is also processing milk to make cheese, which is currently sold directly to niche customers, mostly restaurants and hotels.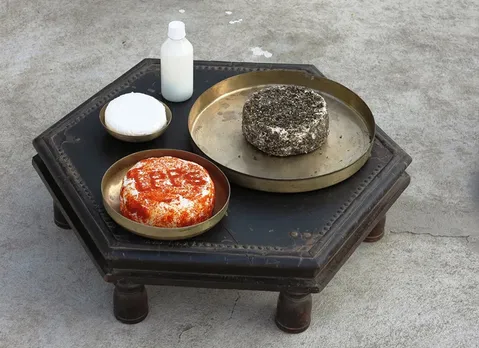 Camel Charisma roped in experts from Austria and Kenya to develop the cheeses and train their staff on the cheese-making process.
The cream cheese, which lasts 4 to 5 weeks, is available in three flavours. "We are working on introducing new flavours soon," she adds.
Also Read: How Gwalior's iTokri became international e-tailer of handcrafted fabrics & artworks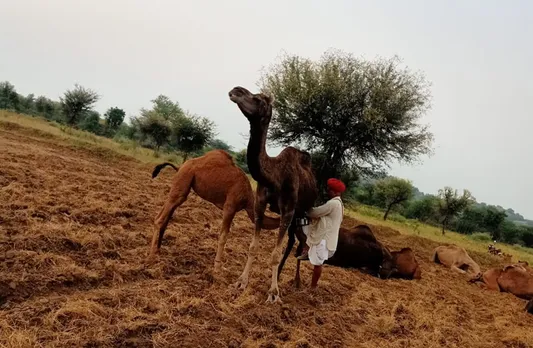 The Kumbhalgarh dairy, located on the Butibagh Campus of Lokhit Pashu-Palak Sansthan, also houses the company's other facilities to process raw materials from camels -- a wool carding unit and another one to make paper from camel dung. Local women process the dung to make eco-friendly and natural paper.
Interestingly, Camel Charisma is also making sustainable products from camel wool. The Raikas shear their camel around Holi and give it to local weavers for turning into the traditional baql, a heavy-wear rug that they took along on migration. "We are trying to revive this craft, introducing some new designs. On our campus we have a wool carding unit in which the wool is cleaned and separated into fine and coarse fibres," explains Köhler-Rollefson.
The coarse wool is used for dhurries and shawls are made using the fine fibres. "But this is being done at a very small scale right now," she adds.
Camel Charisma and its breeder partners are currently busy preparing for Diwali orders for flavoured cheeses, which will be corporate gifts for many this year. And Bhura Raika is happy that he will be able to earn more by selling more milk this month.
(Lead pic courtesy of Camel Charisma)
(Rashmi Pratap is a Mumbai-based journalist specialising in financial, business and socio-economic reporting)
Also Read: Last Forest takes honey & beeswax products from Nilgiri forests to global markets