It's 10am and Munni Devi in Raiyam village of Bihar's Madhubani district is sitting alongside a pile of Sikki, a golden coloured grass that grows in the wet and marshy area around rivers and ponds in the state. Her deft fingers weave the pliable grass into an organic and biodegradable toy elephant, which will travel to London. A Delhi-based supplier has placed an order for Sikki toys, which will keep Devi busy for many days to come.
In Bihar's capital Patna, Jeevan Singh, a 25-year-old Sikki artist, is cutting the dried golden grass into triangular and diamond shapes and thin strands using a surgical blade. He will paste them on black paper to make a wall hanging with Lord Gautam Buddha sitting under the Bodhi tree. The framed wall hanging will adorn the home of an art connoisseur in Mumbai.
Sikki's resurgence
Bihar's Sikki folk art, which traces its origin to the Vedic period, has got a new lease of life as artisans are not only contemporising the designs but also the art form itself. 
The fact that the artifacts are eco-friendly is adding to their popularity.  Not surprisingly, the art is travelling globally, thanks to online platforms like Okhai, Amazon and many other vendors, who are selling a range of Sikki products.
Also Read: Bengal's Natungram: Craft village where wooden dolls come alive
That's why thousands of women, and now even men, in Madhubani, Sitamarhi, Rampur and other places in Bihar are creating Sikki artifacts to cater to the growing market in India as well as overseas. 
"We work with wholesalers who supply our Sikki handicrafts to buyers within India as well as London, Paris and other places, " she adds.
Sikki is a 4-feet tall lush green grass that grows independently along ponds or lakes. Earlier people, especially women, would create dolls, containers, toys, storage boxes, bangles and other articles with the grass. Grains were stored in Sikki containers and young girls were judged based on their skill in the art. 
But the craft is no longer limited to villages or to making items of daily use. Its scope has become as wide as one's imagination! Devi herself made a 10-feet mango tree on order and a 4-feet elephant, which brought her national acclaim.
Also Read: Chettinad's masons slowly revive centuries-old lime-egg wall plaster technique
The process of creating Sikki artifacts
The craft has minimal requirements. Sikki, which grows during the monsoon season, is harvested along with other grains. It is split into two and left to dry for 20-25 days. Upon drying the grass attains its signature golden hue, which scintillates under the sun.
Artists use the grass in its natural colour or dye it into vibrant hues of purple, magenta, green, and bright yellow. For dyeing, Sikki is put in boiling water to which natural food colour or gulaal is added. "These basic colours are easily available in the local market. The grass absorbs the colour after boiling for about 15-20 minutes. It is then washed and dried. Sikki is then ready for use," points out Devi.
Weaving or coiling is the age-old practice in which Sikki grass is woven to create cups, lampshades, dolls, containers, accessories, etc.
Since Sikki is not very sturdy, other strong grass varieties such as Raffia, Munj and Khar, which are comparatively cheaper and widely available, are used as the base. The base grass forms the core of the rim and edges of most products, around which Sikki grass is woven.
Also Read: A quaint village in Hooghly becomes manufacturing hub for string instruments

The cut-paste method has played a huge role in popularising the craft in recent times. The Sikki grass is either flattened and pasted or cut into various shapes before pasting it on even surfaces like wood or paper. Wall hangings, diary covers and other articles are now being created using this method.
Attracting the artists
With increasing options to sell products, especially online, many artists are getting drawn to the craft.
Jogira India Foundation in Patna is among organisations working to revive the folk arts of Bihar, especially Sikki. It has employed around 200 artists in the state. Suriya Kumar, a 28-year-old artist who hails from Begusarai, says he came to know about Sikki  six years ago, when he was trying to learn Madhubani painting.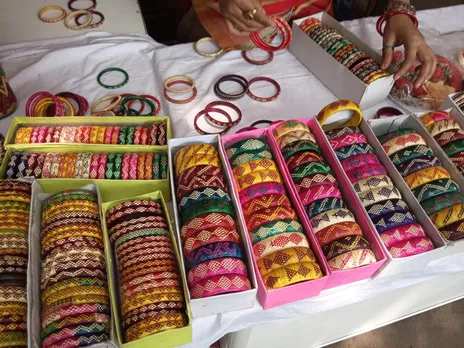 "It instantly caught my eye and soon I became a full-time Sikki artist. The art is time consuming but it pays off. Many people are interested in buying these artifacts. I am excited about appearing at the state level competition," says Kumar.
Also Read: CtoK: Empowering Kashmiri artisans to turn entrepreneurs
Sunni Gupta, a NIFT alumnus, is the brain behind the Jogira India Foundation. "Campaigns like 'Make in India' have helped bring attention back to our roots but we still have a long way to go. Most of these campaigns do not benefit the artists. Art is not dying a slow death; it is very much alive. Our job is to present it to the youth in a more appealing way."
Devi says many women in her own village are now practicing the craft. "I have also trained about 100 girls in Sikki as youngsters are now showing an inclination towards learning and earning from the craft," Devi says.
So the state government and other institutions are now organising state- and national-level competitions to promote the art. Other institutions training young artists and spreading awareness include the Upendra Maharathi Institution and Sikki Jivika Gram Sangathan. Bindeshwari Devi, Sudhira Devi and Dhirendra Kumar are among those artists who have received national awards for their rendition of Sikki art.
The wild grass comes home
Thanks to the increasing demand for Sikki handicraft, people have started cultivating Sikki.
Also Read: How Nizamabad's 500-year-old black pottery is regaining lost glory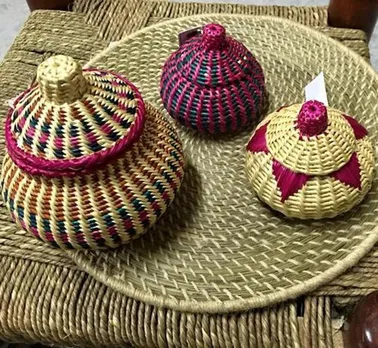 Institutions such as Upendra Maharathi and suppliers from metro cities source products from local artists. They take orders from national and international buyers and ship the products. Devi says old customers also directly call her to place orders. 
However, the COVID-19 pandemic has brought things to a halt. "It has been devastating. Many of the artists have lost their livelihood and there is no one to look after them. Some have returned from distant places with no source of income," Jogira's Gupta says.
"If we come together and to bring about a change, then the future of the art form and its artists will be bright," Gupta adds.
(Rishika Agarwal is a Patna-based writer specialising in art, culture and human interest stories)
Also Read: Meet India's ancient board game hunters