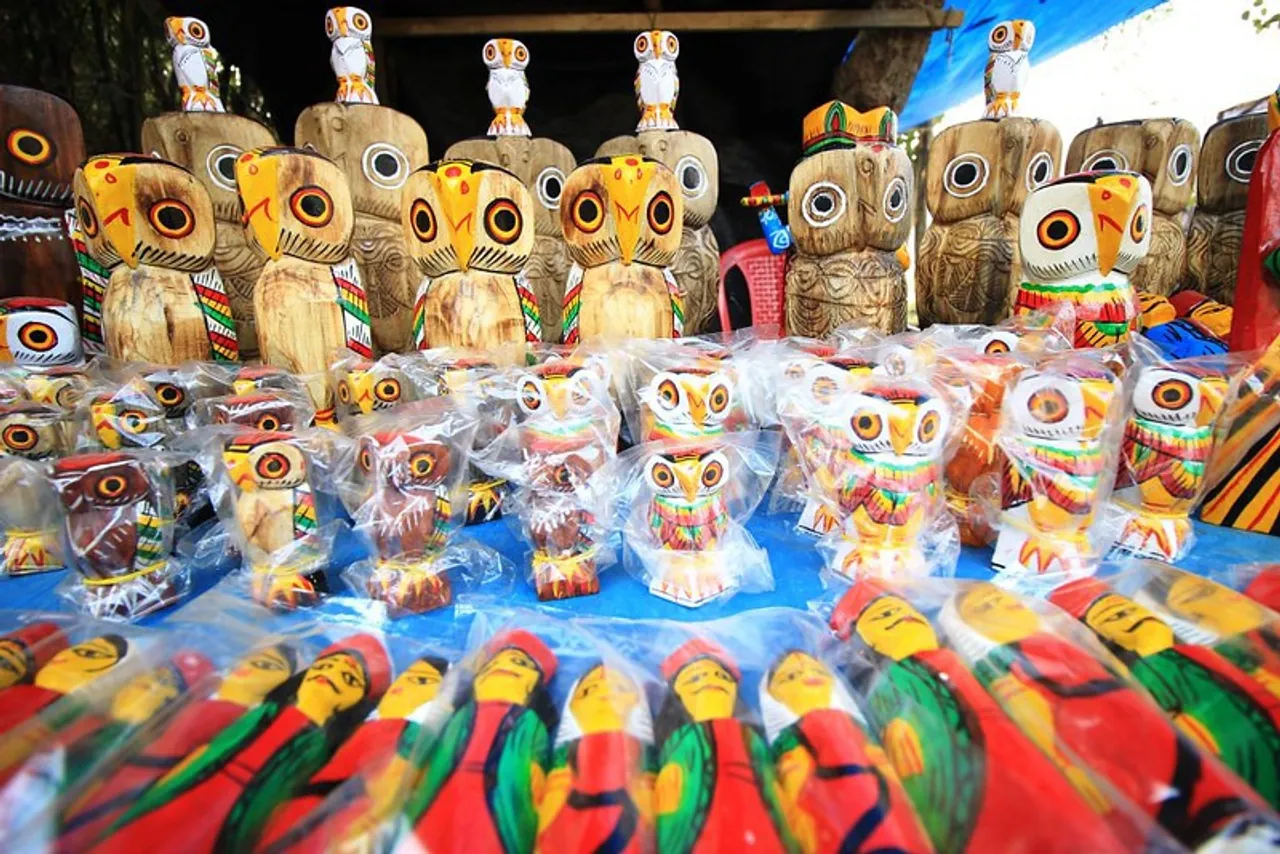 "Prosperity dwells in those Bengali households which keep at least one wooden owl stashed away in a secret corner," says Disharani Dutta, a Kolkata homemaker and grandmother, smiling smugly.  "My grandmother too believed this and I will pass this on to my granddaughter," says the seventy-year-old, displaying an intricately carved and exquisitely painted wooden owl, the lucky mascot of Goddess Lakshmi – the giver of wealth.
The wooden owl is also an integral part of an ancient and indigenous tradition and art form in Bengal. Called kath putul, literally wooden dolls, these figurines come in a wide range of themes from the religious to the recreational though wooden owls retain the iconic status.
Depictions of the spiritual saint, Chaitanya Mahaprabhu, known as Gour, the founder of the Vaishnava faith and his famous friend-disciple Netai, in a posture of divine dance, with raised arms and clad in a painted dhoti of yellow or orange, is as common as the owl.
Also Read: How COVID-19 and India-China tensions have changed India's 900-year-old Patan Patola weaving
How migration influenced the craft
Interestingly, the craftspeople that make these wooden dolls live as a community in a remote village in the Bardhman (also Burdwan) district where the art form originated some two-and-a-half-centuries back.
"Just as we had trained under our parents and grandparents, we also impart the skills to our children so that they can carry forward the tradition that has come down to us for generations," says Bijoy Sutradhar, a 60-year-old wooden doll artist in Natungram.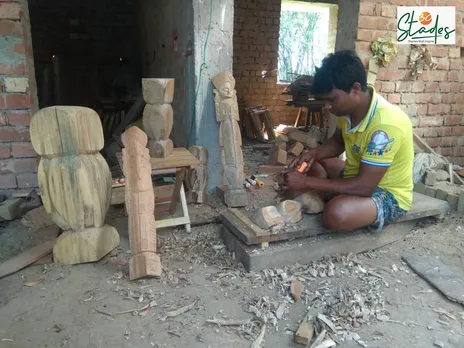 The artisans' hub has recently been turned into a tourist destination. The West Bengal government in association with UNESCO has been working to protect and promote the cultural heritage and has developed a Folk Art Centre at Natungram with lodging facilities for tourists.
According to Prof (Dr) Ranjan Kanti Jana, Curator, Museum Art Gallery of the University of Burdwan, the history of Bengal's wooden doll makers goes back about 25O years when the region witnessed a migration from the western and northern provinces of India just as the colonial period was beginning and old social and economic orders were changing.
"The ancestors of these current craftspeople were stone sculptors," he says. The artisans were indigenous tribes, but their art was influenced by the Sanskrit themes brought into the area by Hindu settlers from northern and western India.
Also Read: How COVID-19 and India-China tensions have changed India's 900-year-old Patan Patola weaving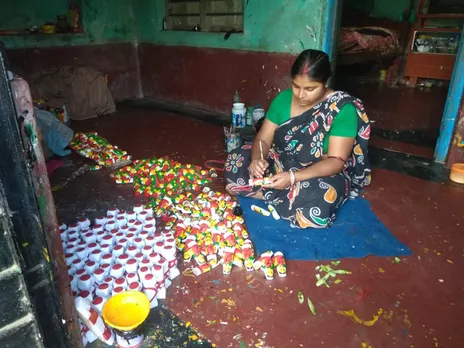 The migrants were educated and wealthy who established fiefdoms or zamindaris in the area and gradually grew in influence. The motifs of the gods and goddesses are their influence as are the themes of kings and queens. For instance, the owl, the pet of Goddess Lakshmi, has been extremely sought after in the households of the upper classes who bought them initially more as objects of good fortune, rather than as works of art, says Dr Jana.
"This is how the craft flourished though it was not directly patronised by the local kings and royalty as often erroneously believed," he says.
Carving out a living
One of the main reasons for the popularity of the dolls in this region was its proximity to Nabadwip, the birthplace of Chaitanya Mahaprabhu, which is less than 50 km away. People from there would procure the dolls, especially motifs of Gour-Netai and Radha-Krishna.
Also Read: Chettinad's masons slowly revive centuries-old lime-egg wall plaster technique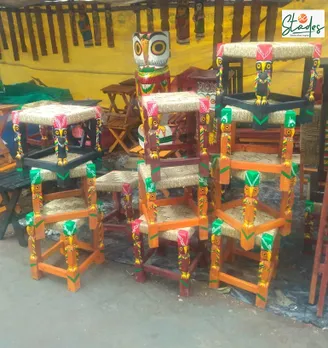 Artists at Natungram are experimenting with furniture now. Pic: Jayanta Sutradhar
With the growing demand, the artisans started to mass produce the work and switched to wood, which was not only easier to cut and chisel but also cheaper. The craft gradually travelled to distant areas including the city of Kolkata.
Bijoy points out that artisans use two qualities of wood. "Chhatim (scholar tree), ata (sand apple) and mango wood are less durable and priced lower while gamar (beech wood), mahogany and sonajhuri (black wattle) found in the dense jungles in the region are stronger and more expensive."
"We procure them either locally from the wholesalers in Katwa or Burdawan or from Nabadwip depending on the order we receive," he says.
"Most of the dolls are sold in the local fairs and markets while others are made on orders from the government's cottage industry department or NGOs. We also cater to the international markets," says Bijoy.
"The income is not bad, especially because of the bulk orders," says Rima Sutradhar, a 24-year-old doll maker.
The artisans are now adding these dolls to furniture like stools with owl dolls as legs, laptop tables with owl-shaped tops etc.
Also Read: How 'Dohar' is trying to preserve folk music of Bengal & Assam since two decades
The women folk, Rima says, work harder. "Doll making is a 24-hour job and during the peak season, there is almost no time to even eat and sleep as all of us work on production. Women have to carve out time to cook, clean and look after our children," she says.
The process of wooden doll making
Doll making is based on clear division of labour. While the men are responsible for cutting, carving and chiselling the wood into shape, women paint them. Often if the wood is wet it has to be dried in the sun. "This seasoning of the wood is very important. Otherwise it will rot and the paint will not stick," says Rima.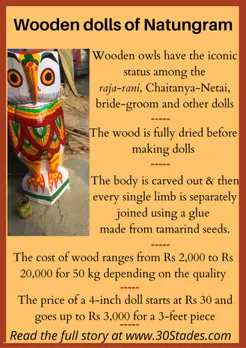 The body is first carved out of wood and then every single limb is separately carved and joined to the body using an adhesive paste of tamarind seeds. The doll is then painted using brush made from goat hair.
While earlier natural dyes made from vegetables, fruits, flowers and leaves were used, now the artists use paints from the market. "Oil paints in bold colours such as red, yellow, orange, green and blue have been used for centuries. White and black colours are used for making borders," Rima says.
The entire process does not take more than a day after the wood is seasoned. "Expert hands can sculpt or paint about two hundred dolls in less than twenty-four hours."
Also Read: India's Tot people: Chased out of Assam & living in West Bengal in search of identity
In fact, the idea of Sutradhars as storytellers, who narrate tales of gods and goddesses and kings and queens through their art, dates back to many centuries and is a part of other folk heritage too. Like the tradition of conveying stories of the Ramayana and Mahabharata, accompanied by the unravelling of scrolls of paintings, still exists in the patachitra or scroll art of Bengal.
Most of the doll makers belong to the scheduled castes and tribes and are below the poverty line (BPL).
The main concern during the Covid-19 pandemic, when cultural and cottage industry fairs had to be called off and tourism has suffered a setback, has been their sustenance. The Durga Puja festival coming up next month in October is also a huge market. But there have been fewer orders this year.
The government relief packages including free ration have helped but the craftspeople of Natungram want to get back to doing their work. "We are getting by because of the subsidies but we are waiting for the pandemic to end," says Bijoy.
"Until then we will have to bide our time," says Rima. "And hope that Goddess Lakshmi stays with us and blesses us."
A wide-eyed wooden owl hoots silently.
(Dola Mitra is a Kolkata-based journalist and author of 'Decoding Didi'. She is the Editor of digital news portal Cuckoo News)
Also Read: A quaint village in Hooghly becomes manufacturing hub for string instruments