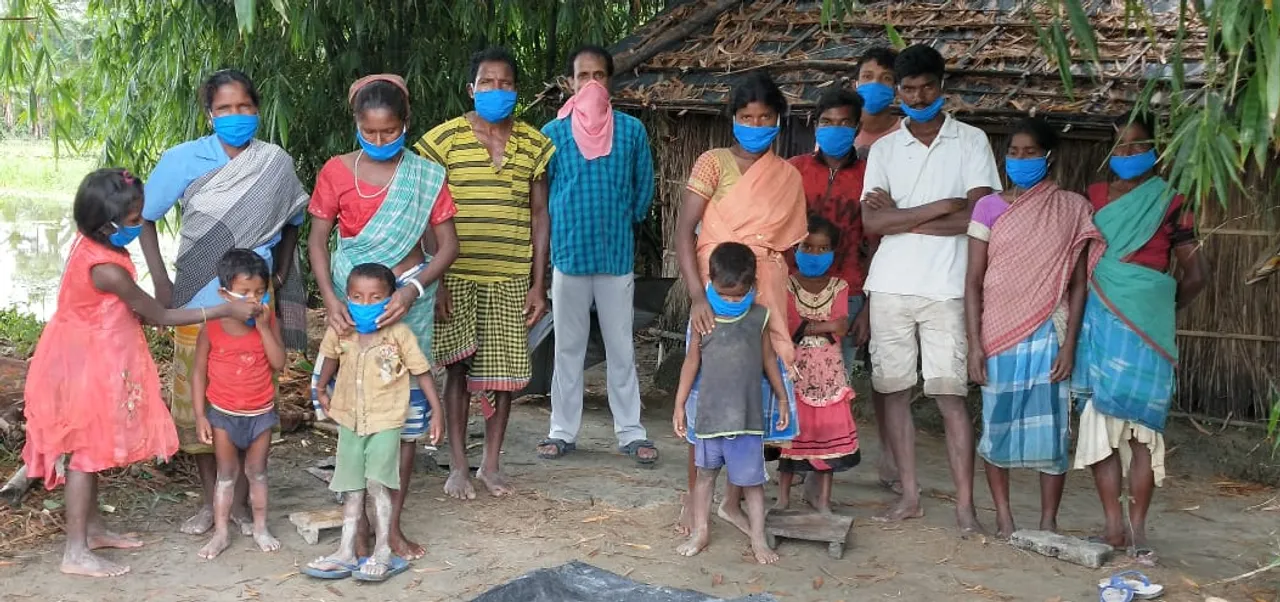 From the platforms of Samuktala Road Rail Station in West Bengal's Alipurduar district, clusters of huts, nestled amid bamboo trees, are visible at a distance. One of these is a neighbourhood called Tot Para 2.
The area is inhabited by a group of people called Tot who arrived in the area two decades ago, reportedly after being chased out of their villages in Assam's Kokrajhar District, following violent ethnic clashes with other local tribes.
"This land belongs to a local farmer and is not considered cultivable which is why these people were allowed to settle here," explains Subrata Acharjee, a member of Natural Environmental and Social Tent (NEST), a social work organisation involved in disaster management and other relief work in the area.
NEST is working with Goonj, a national-level organization headquartered in Delhi, which is involved in community development and humanitarian aid projects throughout India, in the rehabilitation of the Tot community.
Also Read: Coronavirus scare & India-China border tension grips Kolkata's Chinatown
An identity crisis worsened by a pandemic
It is midday and at the Tot Para II neighbourhood, the four families that live there have gathered around the central yard, muddy and slippery, after a July shower. "Usually at this time you won't find so many of us hanging around our huts because we go off to work," says Mangal Marandi, a 26-year-old farmhand who helps the locals farmers cultivate and harvest paddy.
His two sisters are married and live with their in-laws in a hut next door.
If not for the ration and other relief material provided by NGOs like Goonj, Marandi is certain that they would have perished.
Also Read: Coronavirus lockdown: Homelessness, loan defaults loom large as North East migrants face discrimination & job cuts
Panda points out that the lack of documents and bank accounts has put these people at a grave disadvantage during the Covid-19 pandemic without access to any relief from the Central and State governments or ration.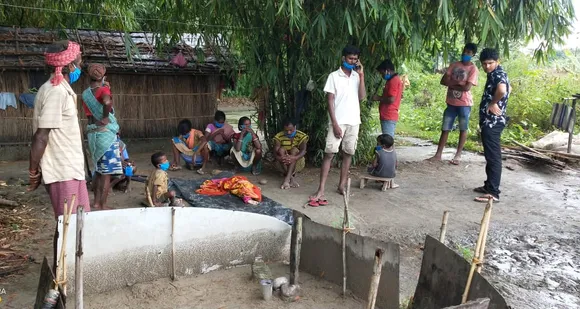 Goonj came to know of their existence through a report in a local newspaper. The NGO has since been providing ration including rice, wheat, pulses, oil and salt to the Tot families, along with other essential commodities such as soap, shampoo, hand-sanitizers and facemasks.
A violent history; an uncertain future
Only eight years old when his entire community migrated to West Bengal from Assam, Marandi doesn't remember much of the move, except that "there was a lot of violence everywhere." 
Thilip Khisku, 55, another daily labourer who does odd jobs such as sledging mud at rivers, fled Assam eighteen years ago, but still remembers the riots clearly.
Also Read: Lemongrass oil slowly replacing opium production in Jharkhand's Maoist stronghold Khunti
Ashim Sarkar, a local social worker with political clout, has been instrumental in the Tot community finding a semblance of settlement in their new habitat. "They are Santhals who were considered "scheduled tribes" in Assam and were entitled to the benefits of the schedule caste/schedule tribe (SC/ST) schemes of the government," he says.
Sarkar has taken the initiative to record their history and penned the first newspaper article about them – the one that was spotted by Goonj.
Sarkar explains, "In 2002, ethnic clashes broke out between the Santhals and other local tribes, who were called "white tribes" by the Tots because they had lighter skin. The villages of the Santhals were set ablaze and their homes razed to the ground. They were chased out of everywhere they tried to settle. Finally, when they arrived in Alipurduar, they were given permission to stay by the local administration."
Also Read: Chettinad's masons slowly revive centuries-old lime-egg wall plaster technique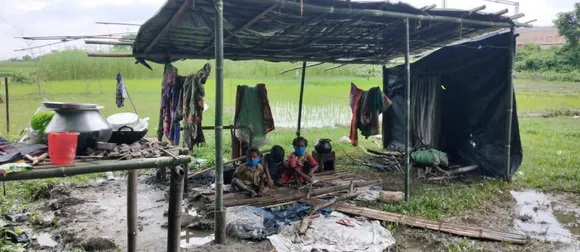 Initially, however, they didn't find places to live and slept at railway stations, bus stops, vacant school buildings or abandoned houses. Some of them, especially the women, who found domestic work at nearby households, which hired them because they were cheaper than the local maidservants, stayed with the families, taking the children with them.
"They often lived in the cowsheds of these houses. The men folk mostly found work in the farms as helpers. Eventually a few farmers with dispensable land, which was not used for cultivation took pity and let them construct these temporary shelters for themselves. When they first arrived, they were more than a thousand in number," he says.
Sarkar says that the name Tot has been erroneously associated with the "Toto" tribes, another indigenous group of tribal folk. "Tot is the name of the two localities of the district of Alipurduar, where this group of people were eventually given land to build their hutments -- Tot Paras 1 and 2."
Sumila Marandi, 21, says, "All of us worked and earned a daily wage so we could buy ourselves the necessary supplies of rice, pulses, grains and salt. We could at least afford two meals a day. On good days, we even made special meals of meat and fish, especially on occasions. But after the Coronavirus arrived, we lost all our work. We have been sitting at home."
Also Read: Meet India's ancient board game hunters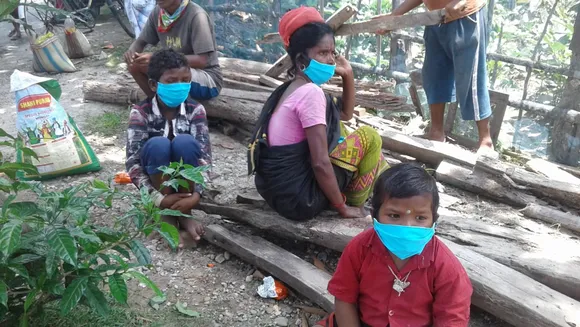 She is grateful that help arrived when they were written about.
Indeed, at Tot Para 2, the inhabitants, accustomed to the hardships of life, are grateful for what they do get. Children, who don't go to school even during normal times, find no additional reason to complain during lockdown and are happy to get new, colourful masks. Oblivious of the crisis, as only kids, in their inimitable way can be, they play, laugh and giggle. They push each other, slip and fall in slushy mud. They get up and giggle even harder. A little one, who finds it difficult to get up is helped by another child.
"We are survivors and we know that there are people to help us," smiles Marandi.
CLICK HERE TO DONATE FOR GOONJ'S RELIEF WORK
(Lead Pic: through Goonj/NEST)
(Dola Mitra is a Kolkata-based journalist and author of 'Decoding Didi'. She is the Editor of digital news portal Cuckoo News)
Also Read: COVID-19: From farmers, migrants to sex workers, Goonj's 'dignity for work' rebuilds life across India