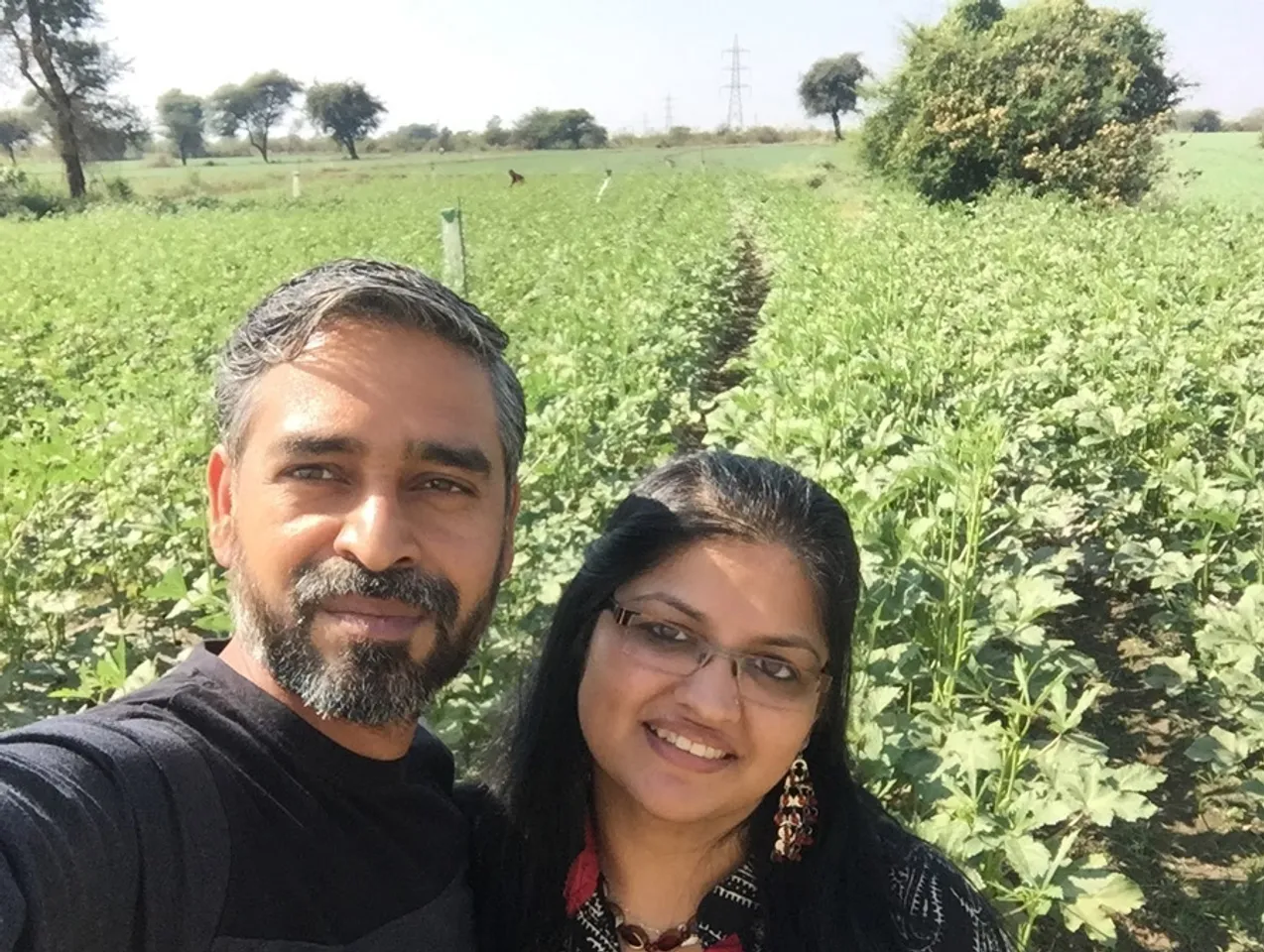 When Prateek Sharma moved to Bhopal in 2015 while working with the Kotak Mahindra Bank, it brought him closer to his dream of shifting back to his village Dhaba Khurd, 30 km from Hoshangabad in Madhya Pradesh, and take up farming.
"I worked (at the bank) during the week and on weekends I would drive down to my village, 120 km from Bhopal, and do farming," says Prateek, 40.
From unsustainable to organic farming
His family had 25 acres of land and his brother was already farming there. Prateek took four acres of land for his foray and started with a polyhouse (a structure made of glass or polyethylene where plants are grown under controlled climatic conditions).
"It was a fancy idea that was not sustainable. It needed solarisation and the soil had to be changed because it lost fertility due to chemical overuse. We lost Rs25 lakh in the process," he says.
Also Read: Organic farming of dragon fruit and lemon triples Punjab farmer's income
It was then that Prateek decided to shift to organic farming and a new learning phase began where he understood natural farming methods from various organisations and farmers.
Prateek quit his banking job in 2016 to become a full-time farmer. A year later, his wife Prateeksha, also a banker with Kotak Mahindra, left to join him in farming. From making on-farm manures to using scientific methods of cultivation and crop management, the duo ensured that the farm received the best inputs for good results.
"We follow scientific methods. We have laid pipelines which carry water and liquid organic manure to the crops. We have set up light traps, sticky traps and bio cultures for pest management," he says.
Prateek swears by a soybean tonic for his plants. "It is made by soaking soya in water and grinding it. Then jaggery is added and it is left in water for three days and stirred twice a day. The tonic can be sprayed on crops and is very beneficial," he says.
Also Read: How this Rajasthan farmer went from zero to millions with organic farming using his own manures & sprays
Green & Grains: From farm to fork
After understanding organic farming, his banking experience led him to assess the market demand for organic fruits and vegetables to zero in on a sustainable business model.
"I realised that a sustainable supply of organic vegetables was a tough nut to crack. Even big retailers faced supply issues of organic perishables."
Prateek thought if he could offer a complete basket of vegetables then it could make for a viable business model. So he got in touch with a group of farmers in the vicinity of his village and discussed with them if they could grow different vegetables, spices, fruits and grains organically. After harvest, he would carry them in his car to Bhopal.
Also Read: Chennai couple's startup Carbon Loops takes urban food waste back to farms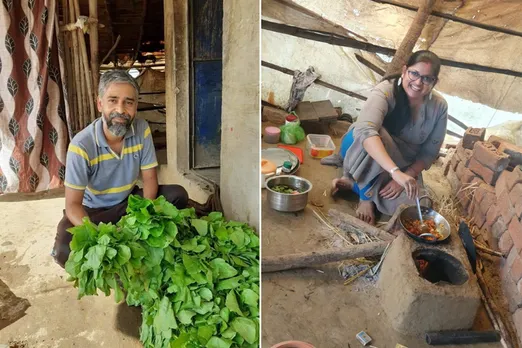 Prateek and Prateeksha left their jobs at Kotak Mahindra Bank to practice organic farming. Pic: Green and Grains 
"In November 2016 we made WhatsApp groups of friends and family and sent them a list of our products. We slowly started getting orders and the community grew," he recollects.
Today the company caters to 2000 families in Bhopal. "We don't advertise. We have grown through word of mouth," he says.
Green and Grains was registered in 2018 and their overall production last year was 96 tonnes.
The start-up became operationally profitable in the last financial year with a turnover of Rs65 lakh.
In 2018, under the central government's INVENT programme, IIM Calcutta Innovation Park incubated Green and Grains and invested seed capital in the start-up.
Also Read: Baba Ramdev, Sri Sri Ravi Shankar and film stars swear by this millionaire organic farmer's sugarcane jaggery
Prateek works with a group of 160 farmers in MP. The land of the farmers has been pooled and they collectively decide what each will cultivate. Prateek and Prateeksha grow 15-20 varieties of vegetables on his 5.5 acre farm. Wheat, paddy, lentils, and fruits such as mangoes, chickoo, guavas, oranges, ber and bananas are grown by the farmers.
Green and Grains also sources organic produce from other states.
It procures jowar and ragi, millets, horse gram, kidney beans, black beans from farmers in Uttarakhand, millets from Chhattisgarh, raw wild honey from Odisha and residue-free grapes from Nasik.
The vegetables, grains, fruits and spices are marketed under the Green and Grains brand. "Farmers upload available stock on an app. We use Drivers app to pick up the produce from the farmers and ferry it to our warehouse in Bhopal," he says.
Also Read: How organic fruit farming made Rajasthan's Santosh Devi a millionaire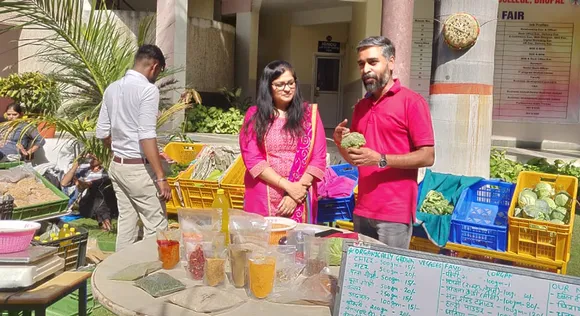 Green and Grains customers are connected through WhatsApp. Pic: through Prateek Sharma 
There the produce is kept in the cold storage overnight and workers sort and grade the items in the morning. Then the orders are readied and two small trucks make the deliveries, amounting to 200 deliveries on average per day.
The couple want to replicate this model in other cities.
They want to expand to tier II cities which offer advantages of land availability, lower costs and good connectivity. The immediate plan is to open franchisees in Indore, Itarsi and Hoshangabad.
The company intends to go for franchisees so the ownership is local. "There is less scope of mismanagement and we can cut losses and lower costs. Capital expenditure is a big hindrance to scaling up even for organised retail chains," he says.
Also Read: Organic farming of dragon fruit and lemon triples Punjab farmer's income
The leadership team comprises Prateek who looks after farming and procurement and franchises. Prateeksha manages operations, pricing, customer relations and delivery while their friend and business partner Amit Jambhulkar looks after value added and processed products.
Organic vs chemical farming
Prateek says while input costs do go down with organic farming as manure and pesticides are produced locally, the pricing of organic vegetables is 20 to 25 percent higher, making it a profitable proposition for the farmers. "We feel there is a need for price correction in interest of farmers because prices are low for several commodities."
Also Read: How Tamil Nadu farmer increased profits & cut costs by 30% through organic farming
When converting land to organic, initially production declines. But the answer is to have strong standard operating procedures in place.
"We created a land pool and planned the planting to maintain continuity of produce," he says. In the first year, they achieved almost 70 percent of the original production. And in three years, they are close to 100 percent productivity with reduced costs.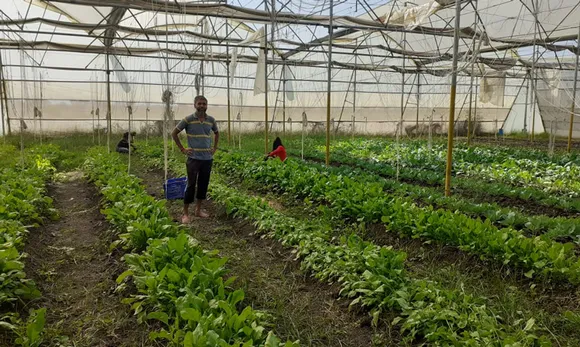 Prateek Sharma at his farm in Dhaba Khurd. Pic: through Green and Grains 
The company has fixed the minimum prices for farmers. "We don't sell lower than the minimum price even if market prices are lower. No one sells at lower prices so why should farmers?" he asks.
Looking back at his journey, Prateek says there were several challenges. Since he was new to farming, he was not aware about production methods and got nothing in his first crop. Convincing farmers to come on-board too wasn't easy. "When we asked them to stop using DAP, urea and pesticide, they weren't ready. They wanted to see if it was practical to produce and to sell. We have demonstrated that and now we have a waiting line of farmers to join us," he says.
Also Read: Gujarat's MBA farmer Chintan Shah turns infertile land into organic farm of turmeric, ginger & wheat
"The last mile delivery was tough as we didn't know how to manage vegetables and maintain their freshness." Funding remains a challenge too.
"Ours is a core farming business. Investors find it too complex and so don't invest funds."
Because of this, the company's growth has been slow. About Rs1 crore investments have been made till date in the start-up.
"At Green and Grains, we are trying to create a platform where farmers and customers have traceability. We don't want production to exceed 100 km from the consumption area so consumers can visit the farm and see the farming process," he says.
(Urvashi Dev Rawal is a Jaipur-based journalist specialising in development, gender, and political reporting)
Also Read: How Bangalore's retail chain Humus is taking fresh fruits & veggies from farms to urban homes