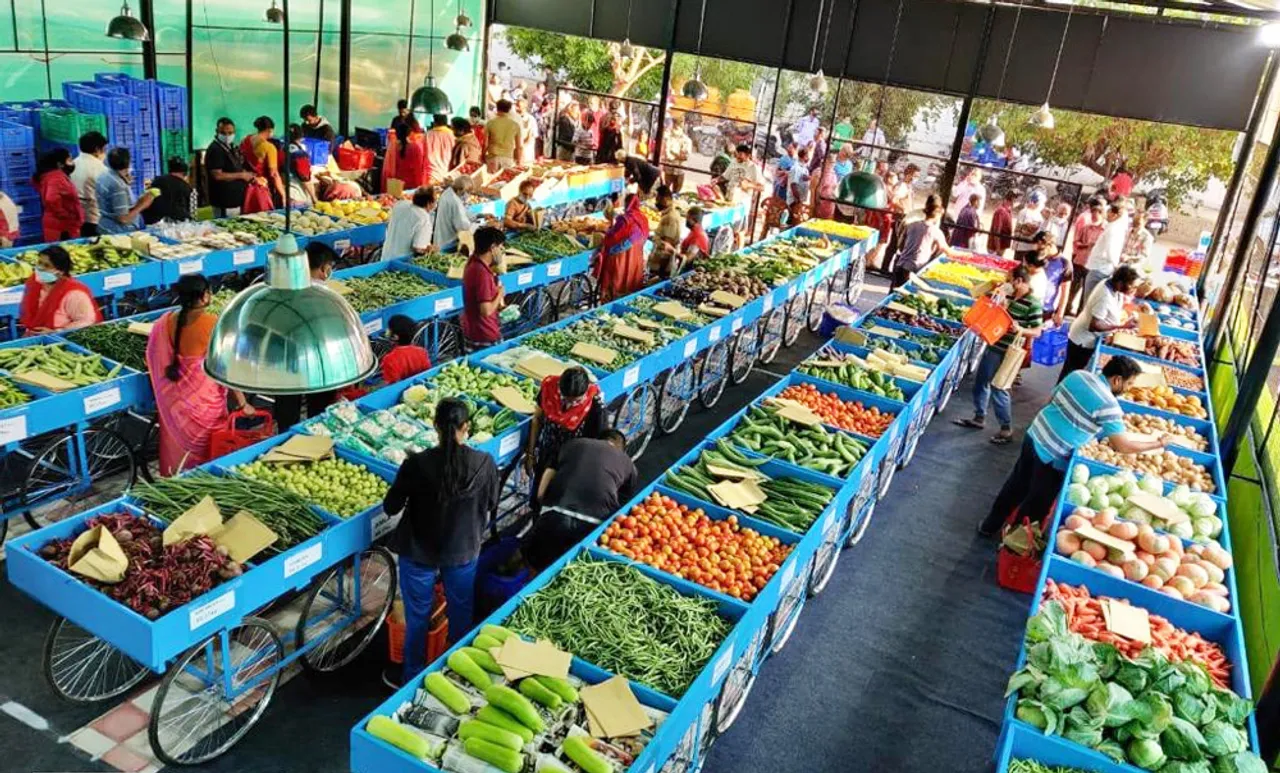 wp:paragraph
Wooden push-carts with fruits and vegetables are neatly lined up as customers fill their shopping baskets with the freshly-harvested produce. From lemons to pineapples and zucchinis to multiple varieties of chillies, the sky blue carts with stainless steel wheels hold them all. They are parked inside a huge retail outlet at Yelahanka in suburban Bangalore, visited by almost a thousand families every day.
The big-box store, spread over 5,000 sq ft, has been set up by agritech start-up Humus, which sources vegetables and fruits directly from farmers, eliminating middlemen. 
The Amul of agriculture
"We are trying to build an agri value chain ecosystem, connecting four major verticals of agriculture -- production, processing, procurement and marketing. In the current phase, we are working on procurement and sales and marketing to build trust with consumers and farmers," says T N Manjunatha, Managing Director of Humus. 
He founded the company in 2019 with wife Shilpa Gopalaiah with an investment of Rs1.1 crore. In December 2020, Humus raised Rs1.6 crore from Venture Catalysts, 9Unicorns and We Founders Circle.
Also Read: How Tamil Nadu farmer increased profits & cut costs by 30% through organic farming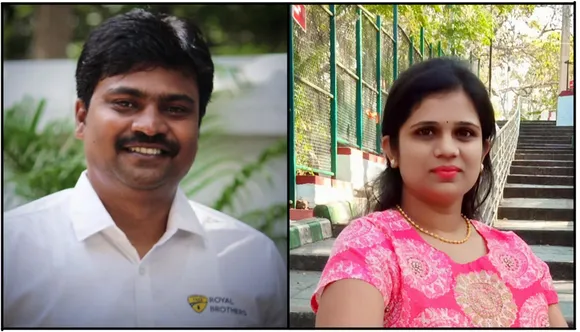 Humus procures over 100 commodities from nearly 1,000 farmers for sale at its three retail outlets in Yelahanka, J P Nagar and Vidyaranyapura in Karnataka. "The core idea is to sell the produce at a fair price and avoid exploitation of farmers as well as consumers," he emphasises.
Milk cooperatives like GCMMF are owned by milk producers themselves. GCMMF started the milk supply chain in Gujarat, establishing milk collection centres, setting up milk producers' society, chilling centres and then processing and selling to the customers through authorized partners. Over time, it became a national chain.
"Creating a similar ecosystem for fruits and vegetables will take over a decade, but it's possible," says Manjunatha, who studied mechanical engineering at SJC Institute of Technology at Kathanoor, Karnataka. Coming from a farming family, he then worked in the teaching faculty of Bangalore's R V College of Engineering.
Also Read: Sundarini: the organic milk revolution by women of Sundarbans
Connecting the green dots
To begin with, Humus has set up in remote areas of Karnataka six collection centres, where farmers can take their produce instead of transporting it to an APMC (Agricultural Produce Market Committee) and then paying 10 percent commission to an agent.
Moreover, producers don't have to worry about spoilage. The produce is sorted and graded at the collection centres in front of farmers and payments are made. These centres are in Dibburahalli, Attibele, Pandavapura, Ooty, CK Palli and Malur.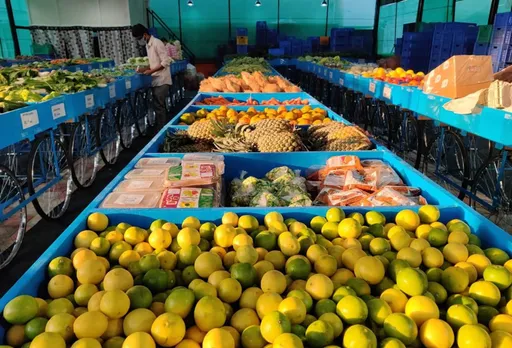 Apart from Karnataka, Humus has also created sourcing networks in Maharashtra, Uttar Pradesh, Tamil Nadu and Andhra Pradesh from where it procures various commodities. Like potato farmers of UP store their produce in cold storage chains in Khandauli, about 17 km from Agra. When farmers want, they inform the cold store owner to sell the produce. "We use the services of cold storage chains in the case of semi-perishable produce like potato," Manjunatha says.
In Maharashtra, onion farmers have storing facilities at farm gates. "We buy onions from them about 6 to 7 months in a year and the rest of the time, we procure them from local farmers," he points out.
Also Read: Jayant Barve: Maharashtra's organic farmer who became manure millionaire
In the last two years, Humus has worked with more than one thousand famers and over 30 percent have been continuously associated with the brand since then. Until October 2020, Humus was catering to institutional customers like hotels and caterers. In November 2020, it made the retail foray by taking over vacant spaces where it builds a steel structure and places pushcarts for fruits and vegetables while leaving sufficient space for customers to move around.
All the three retail outlets set up so far are rented facilities in suburbs, away from main roads, to ensure ample parking space and ease of access for customers.
Also Read: Phool: where women turn temple flowers into incense, bio-thermocol & vegan leather
The steel mesh covering also allows both cross ventilation and natural lighting, making the outlets look like an organised market where customers like to shop. "Our first two outlets were spread over 5,000 to 6,000 sq ft. But the third one at Vidyaranyapura is just 2400 sq ft and we are seeing similar sales as our bigger outlets," Manjunatha says.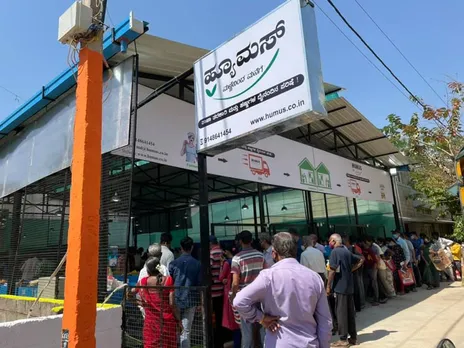 In many ways, Humus' business model is similar to that of supermarket chain D-Mart. Both set up stores in residential neighbourhoods, away from big markets and operate on thin margins. Higher volumes and lower procurement costs allow them to offer lower prices to consumers.
Also Read: Jharkhand: Tech graduate duo's dairy venture Puresh tastes success amid COVID-19
In the next one year, the company will ramp up presence in Bangalore and tier 2 cities of Karnataka before moving out to other states.
The economics of fruit & vegetable retail
An IT-based sales forecasting system helps Humus keep wastage in check. While wastage of 5 percent is considered normal in fruit and vegetable retail, any number higher than that makes the business commercially unviable.
While Monday to Thursday there is a successive decline in quantity of sales, the numbers begin to rise from Friday onwards. "We also sell to hotels and restaurants the produce that is in usable condition but not in display condition," he adds.
Also Read: Tamul's areca nut leaf plates travel from Assam to the world as plastic ban gets stronger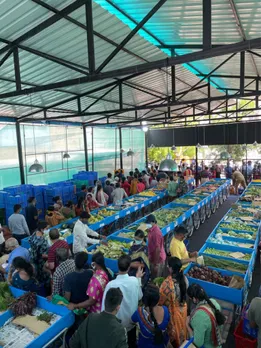 For a retail business of fruits and vegetables, the recurring cost is typically 17 percent of the revenue generated. "If you are able to generate more than 17 percent on top of the procurement price, you will be able to generate profit," Manjunatha says.
By streamlining procurement and sales, this recurring cost can be cut to 14 percent.
As a result of its tight grip over costs, Humus is able to sell at lower rates. Like it was selling capsicum at Rs29 per kg to customers in Yelahanka after paying Rs22 to farmers, logistics cost of Rs4 and keeping a margin of Rs3 per kg. Most other sellers keep almost 100 percent margins, selling at over double the price they pay for the produce.
With every successive outlet, Humus can bring down costs because the same logistics can be used for more outlets. The start-up is currently in talks with some institutional investors to raise the next round of funds by August 2022. When that happens, more farmers and customers will be able to benefit from the company's fair price play.
(Rashmi Pratap is a Mumbai-based journalist specialising in financial, business and socio-economic reporting)
Also Read: How a daily wage earner set up Rs 250-crore breakfast company ID Foods