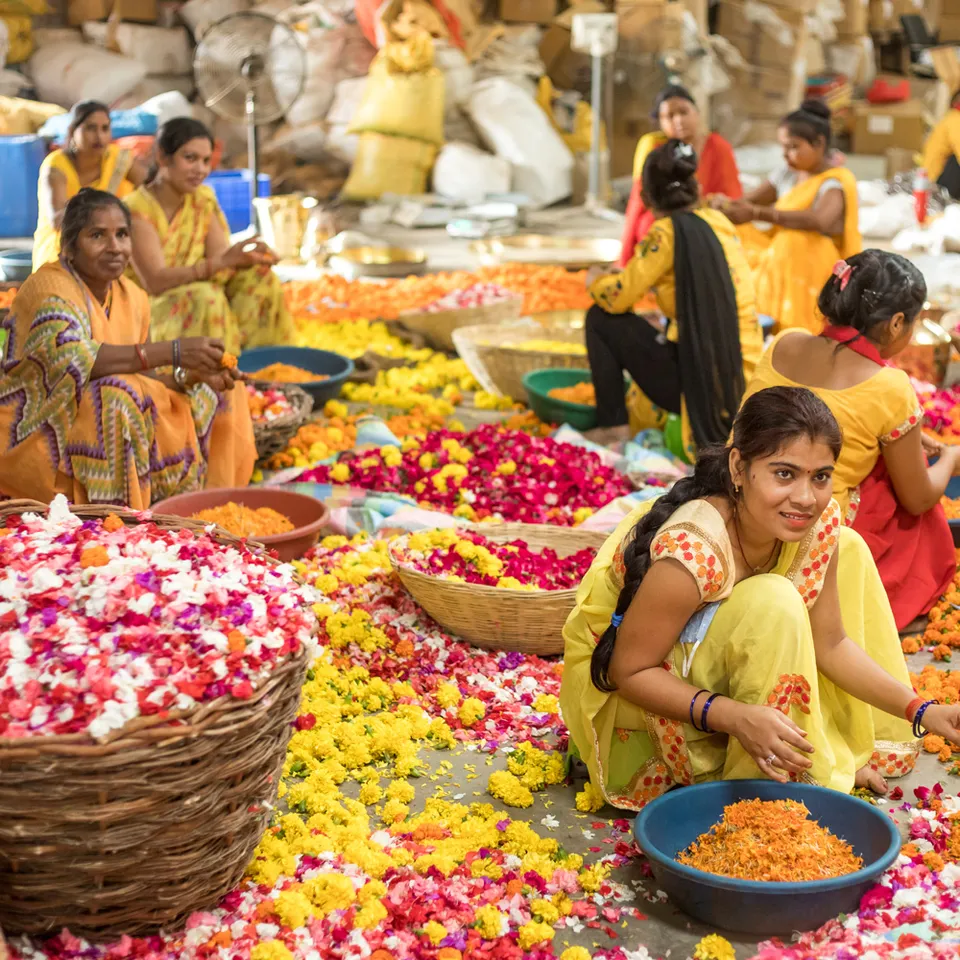 "Abhi nahi niklenge toh kabhi nahi niklenge (If I don't step out now, I won't do so ever)," retorted 25-year-old Sujata Devi as her shaky father expressed his dilemma about letting her take up a job.
Sujata's husband had abandoned her and their two kids for another woman and she had come to live at her father's.
"I heard good things about Phool so I decided to join them. But since the factory (in Bhauti on the outskirts of Kanpur, Uttar Pradesh) was far away from my place, and my daughter was only a few months old, my father was reluctant about sending me there. I told Ankit Bhaiyya (the owner) about my predicament and he arranged a bus facility for us,: she says.
Mamta, another worker, says, "When I joined Phool, I didn't think I could make incense sticks like others. But slowly and steadily I picked up the craft and began enjoying working with flowers and hand-rolling. Now I love it so much that even if I am thirsty and the water bottle is right in front of me, I can't get my hands off rolling the incense sticks until I'm finished with the lot."
Also Read: GreenKraft: taking banana bark baskets made in Madurai to Sweden's IKEA & beyond
Shabana Khan, who joined Phool two years ago, points out that it's not just about money but also about working with good people in a happy environment. "At my home, there's my mother and three siblings. I lost my father 4 years ago. I had to give up my education and start working at the age of 16. There is tremendous pressure, but when I come to work here, I feel relaxed, positive, and satisfied."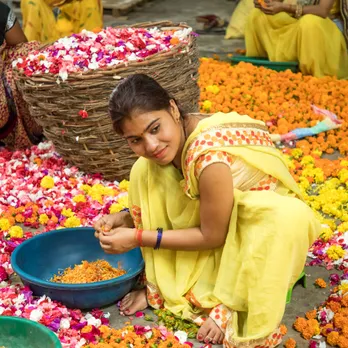 They hand roll incense sticks out of floral waste and also make vermicompost. Their earnings have increased up to six-fold.
What's more, 19 children of these families have been able to start school, thanks to the livelihood offered by Phool. All these women workers are provided with commuting facilities to the workplace, given insurance cover, offered medical benefits and now have their own bank accounts.
"We empower local women and that's the cornerstone of our scheme," emphasises Ankit Agarwal, 30, who founded Phool.co in 2017 with a couple of workers. His target now is to employ more than 1,000 women in his production unit by 2022.
Also Read: Chennai couple's startup Carbon Loops takes urban food waste back to farms
The company has received accolades by many experts. One among them is Dr Abhay Karandikar, Director, IIT-Kanpur, who says, "Innovation in product development aside, Phool.co has given a life of dignity to dozens of women and they did this despite having an option of automating the process."
How it all began
Back in 2015 on Makar Sankranti, Agarwal was sitting on the ghats of Ganga in Kanpur with his Czech friend when he saw truckloads of discarded temple flowers being dumped into the river and their colour washing off.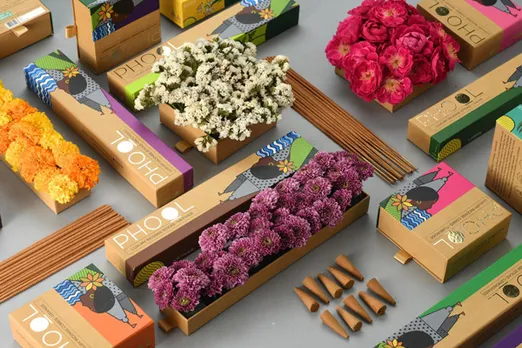 The sight unnerved him and jolted his conscience. Agarwal, an IIT engineer who was 27 then, knew that the pesticide-laden flowers would wreak havoc in the river by creating toxic compounds. These would be affecting its biological oxygen demand (BOD) level, thereby posing a threat to riverine creatures and aquatic ecosphere. 
Agarwal decided to do something about it, though he didn't know how to go about it. He met a cross section of people and stakeholders: farmers, botany professors, farmers, composting experts, organic fertiliser producers, flower traders and temple managements.
Interestingly, one of the ingredients in the recipe was coffee residue which they collected from the local coffee shops.
Also Read: Adavi: organic coffee that brewed a new life for Karnataka's Soliga tribe
They used waste that helped enhance the NPK (nitrogen, phosphorus and potassium) value of the fertiliser. After the compost, they started working on hand-crafted incense sticks from the floral waste.  "I was very clear in my mission: to recycle the waste coming from places of worship.
But nothing could waver his dauntless spirit. He chucked his job as an automation scientist at cybersecurity firm Symantec and started a flowercycling venture.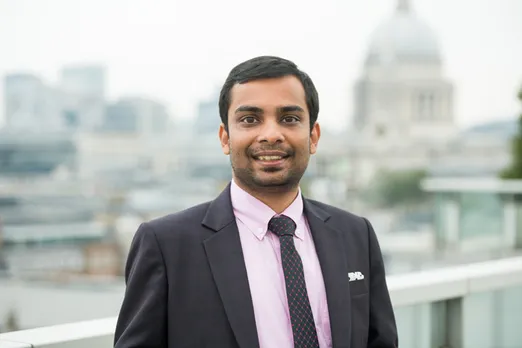 It was not a cakewalk for Agarwal to convince his family about the never-before-heard-of scheme. The temple authorities also took time to understand the "weird idea", but once they did, they extended their unflinching support to him.
Also Read: Bihar's Sikki grass craft finds global market amid rising demand for eco-friendly artifacts
Agarwal rented a farm on the outskirts of Kanpur city and set the ball rolling. Now, Phool has its own facility in Bhauti and it collects about 8.4 tonnes of flowers from temples and mosques in and around Kanpur.
Phool also started a second production facility in Tirupati in 2018. And how did the lockdown impact them?
Cool compost!
To make organic manure, the flowers are composted with the help of earthworms and it is meticulously packed. "The first thing we came up with was vermicompost. For six months, we tested different dungs of cow, chicken, sheep, horse and goat to get the best nitrogen-phosphorus-potassium value of the vermicompost. And then got the '17 natural ingredient recipe'," points out Agarwal.
Also Read: Jayant Barve: Maharashtra's organic farmer who became manure millionaire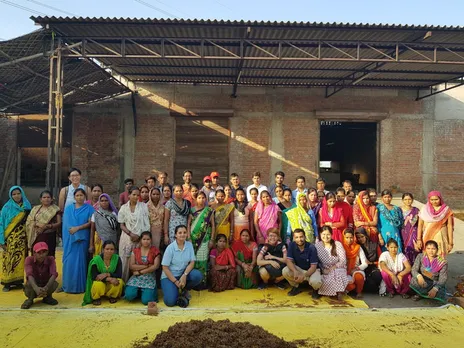 To ensure that chemicals do not find their way into the products, the discarded flowers are first sorted, segregated, then cleaned and sprayed with bio culture. The water used for this process is saved and reused later to make the compost. A 1-kg pack of Phool Pure vermicompost is priced at Rs105.
Awesome aroma
After the success of vermicompost, Agarwal toyed with the idea of making incense sticks. That's how Sticks and Stones came into being. 'Sticks and Stones' is a range of hand-rolled natural incense sticks and cones made from floral waste. The sticks and cones are dipped in pure essential oils, sourced organically.
The 13 aromas range from nargis, lavender, loban, tulsi, jasmine, orange, rose, patchouli, to citronella and lemongrass. There are 40 sticks in each pack, and each stick weighs a little over a gram. "Each stick is around 25.4 cm long. They have a long burning time and are natural air fresheners and their aroma serves as one of the best stress relievers," Agarwal underlines.
Also Read: LifeCraft: empowering Jharkhand's Kuiani women through fabric hand dyeing
Non-toxic Holi gulaal
Phool also makes 100 percent chemical-free gulaal (dry colour powder mostly used on Holi festival) from natural ingredients: flowers, natural herbs, wheat and rice powder, food colour, and natural essential oils. It has received a stamp from Institute for Industrial Research and Toxicology (IIRT) for its skin friendliness.
Biodegradable thermocol & vegan leather
Having worked on compost and incense products, Agarwal and his team invented the world's first-ever biodegradable thermocol - Florafoam. Made from waste flowers, it is being used to package electronic goods like air conditioners and TV sets.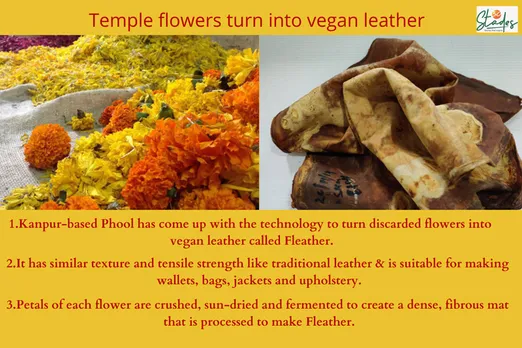 "It is biodegradable and can be buried in your garden after use. We have set up a production unit with a capacity of 11 tonnes a day in Kanpur. Florafoam is 27 percent less costly than the conventional and toxic thermocol," says Agarwal, who was nominated for the Goalkeepers Awards by the Bill and Melinda Gates Foundation.
The startup was also presented PETA India's 'Best Innovation in Vegan Fashion' award for the cruelty-free bio-material Fleather, which is being deemed as an alternative to animal leather.
Also See: From hinterland to Europe, how Jaipur-based Raksha is helping birds & animals reach home
Phool raised $1.4 million in a pre-Series A funding round recently. The funding round was led by IAN Fund and San Francisco-based Draper Richards Kaplan Foundation.
Agarwal says, "We will utilize the funds to give more impetus to the research and increase the operations." Earlier, the enterprise had raised Rs 3.38 crore in a seed round from Social Alpha (FISE), DRK Foundation, IIT Kanpur and Balmer Lawrie, among others.
Initially, the focus of Phool.co was on exports to Germany and Switzerland, but now the growing demand in the domestic market has boosted its revenues. "The demand and acceptance of eco-friendly products are rising in the local market and so, we are concentrating more on it. With e-commerce retailers, it has become easier to do business," says Agarwal. 
The start-up has received several international recognitions including the United Nations Young Leaders Award for Sustainable Development Goals, United Nations Momentum of Change Award at COP 2018, Asia Sustainability Award 2020, Hong Kong, Alquity Transforming Lives Awards, London, Falling Walls Venture Sustainability Cluster Award, Berlin.
What started as a modest firm has made its place on the international business map. "You can turn your conviction into reality if you have full confidence in your plan," Agarwal signs off.
(Tuhina Banerjee is a Lucknow-based writer and teacher.)
Also Read: Sholapith: Bengal's eco-friendly ivory craft intrinsic to life and death