wp:paragraph
Veeralakshmi's deft hands are busy weaving while she hums a song at a production unit in Thanakkankulam village in Madurai, Tamil Nadu. She is not using any thread; in her hands are thin twisted ropes, made from banana bark. Using the cross pinnal (criss-cross weave), the 43-year-old will soon finish making a basket, which is part of an order from Swedish retailing giant IKEA.
Like Veeralakshmi, hundreds of other women across Madurai are also weaving baskets, bowls, lamps and other eco-friendly products from banana bark to earn livelihood with dignity, exemplifying women empowerment. These women artisans are united in self-help groups (SHGs), which are producer-owners of Bangalore GreenKraft, set up under Industree Crafts Foundation, founded by social entrepreneur Neelam Chhiber in 2003.
Training indigenous women
Veeralakshmi says she had no knowledge of weaving about two years back. And she had no idea about saving money or using an ATM either. "I lost my husband in 2016 and could neither afford the education of my two sons, nor meet other expenses. I then came to GreenKraft, totally unskilled. Here I received training and I am a skilled weaver now. The earnings are enough to provide for my family," she says.
Also Read: Tamul's areca nut leaf plates travel from Assam to the world as plastic ban gets stronger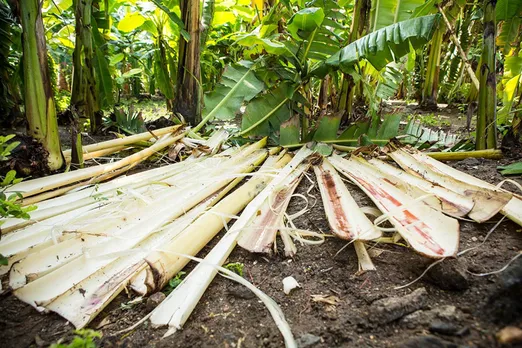 Set up in 2012, GreenKraft on-boarded artisans as producers, doing away with the need for middlemen between them and the buyers. "We support the producer/artisan by way of skilling and providing the market linkages," says Susan Bhaktul, head of sales and marketing at Industree Foundation.
The training ranges between 10 and 30 days depending on the process involved, like splicing or weaving etc. "Our in-house designers train them on all the weaves," she adds. Some of the weaves used at GreenKraft include flat up and down (pattai pinnal), diamond weave, twine weave (murukku pinnal), normal braid weave, tie braid weave, crazy weave etc.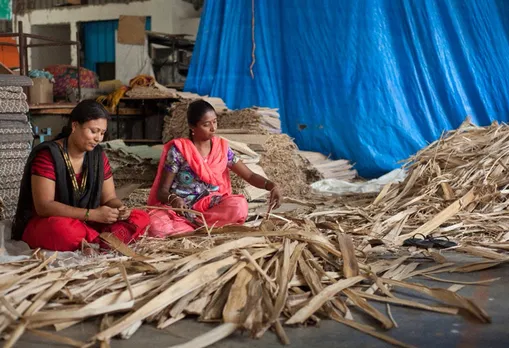 Most women are from the marginalised sections of society -- scheduled castes, scheduled tribes and are otherwise dependent on seasonal agriculture or fishing. "To earn more, they often travel to cities as migrant labourers, which come with their own sets of challenges. After joining Greenkraft, on average their incomes go up 2 to 3 times," she adds.
Also Read: Vistaraku: How Telangana's start-up is taking traditional Indian leaf plates to the world
Thenmozhi, 42, working in GreenKraft's splicing department is a case in point. She was buried under debt, which she could not repay and her husband wasn't giving her any money to run the household. In the last two years, she has almost repaid the loan with her income from GreenKraft. "I am also able to provide for the education of my two children," she says.
Connecting the dots – from manufacturing to marketing
For artisans across India, the biggest challenge is to reach the markets. It is here that most middlemen make money by taking produce from craftspeople at low rates and selling them to big brands at a huge profit margin. And it is also here that social enterprises like GreenKraft make a difference.
"One, we train women to deal with global orders both in terms of product quality and timely delivery. Two, we ensure that the producers have constant orders from national and international brands of repute," says Bhaktul.
It is also in talks with other national and international brands including American consumer retail company Williams-Sonoma and homegrown FabIndia to sell its products. GreenKraft products are currently sold in over 100 stores in India besides being exported to many countries.
Also Read: Udaipur's Jovaki empowers tribal women by processing wild fruits & vegetable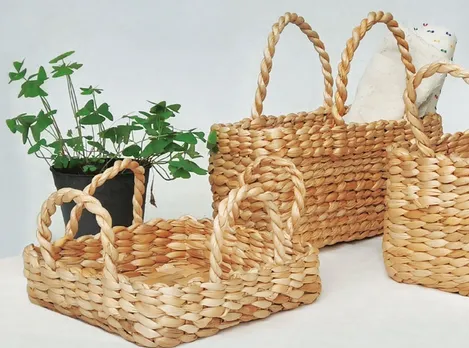 Retailers place their order with GreenKraft, after which the in-house designers design the product, make a mould based on the product information and undertake a pilot run. It then goes for production. GreenKraft continues to refine the weaves and products to give them an international finesse. The in-house finishing unit has a capacity of 1,000 pieces per day.
"That's the edge we bring in -- we give them market connect, which ensures sustained earnings," Bhaktul says.
How banana bark turns into ropes and baskets 
Greenkraft sources banana bark from different parts of southern Tamil Nadu where it is readily available.
They include Kappalur, Melur, Thrangambadi, Thirukadiyur, Akkur, Poriyar, Chinnangudi, Vaitheeswaran Kovil and Nagapattinam areas of the state.
Also Read: Tendu leaves cushion tribals from economic deprivation during COVID-19
Teams of women in these villages make banana bark products, which come to Madurai for final processing including quality checks and are then shipped. GreenKraft had the option of sourcing banana bark from Tamil Nadu and processing them at Bangalore to centralise operations, a model followed by most manufacturers across the country.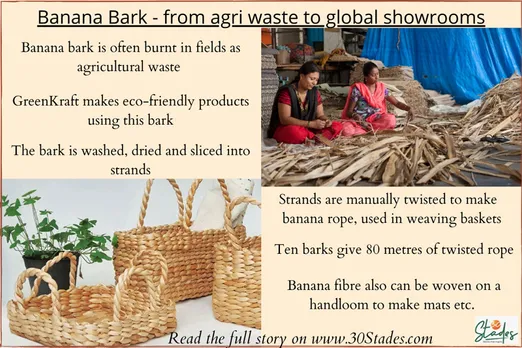 "But we wanted to avoid carbon footprint and unnecessary logistics. Madurai works best due to the abundance of bananas in the region and we are able to work with local women," Bhaktul says.
The process of making products begins with the peeling of banana bark after the crop is harvested. It is then washed to remove impurities and is sliced by workers in the splicing department. Strands are manually twisted to make banana rope, which is woven around moulds to give it the desired shape.
Ten barks give 80 metres of twisted rope. The fibre can also be woven on a handloom to make mats and other ecofriendly products.
The products are de-humidified to remove any traces of moisture and kept in a solar heating chamber. Then lacquering is done before final labeling and packaging, Bhaktul explains. 
Meanwhile, Veeralakshmi has finished weaving her basket. She will now leave for home. On the way, she will withdraw money from ATM. At GreenKraft, she has also learned how to use the money machine.
(Rashmi Pratap is a Mumbai-based journalist specialising in financial, business and socio-economic reporting)
Also Read: Chennai couple's startup Carbon Loops takes urban food waste back to farms