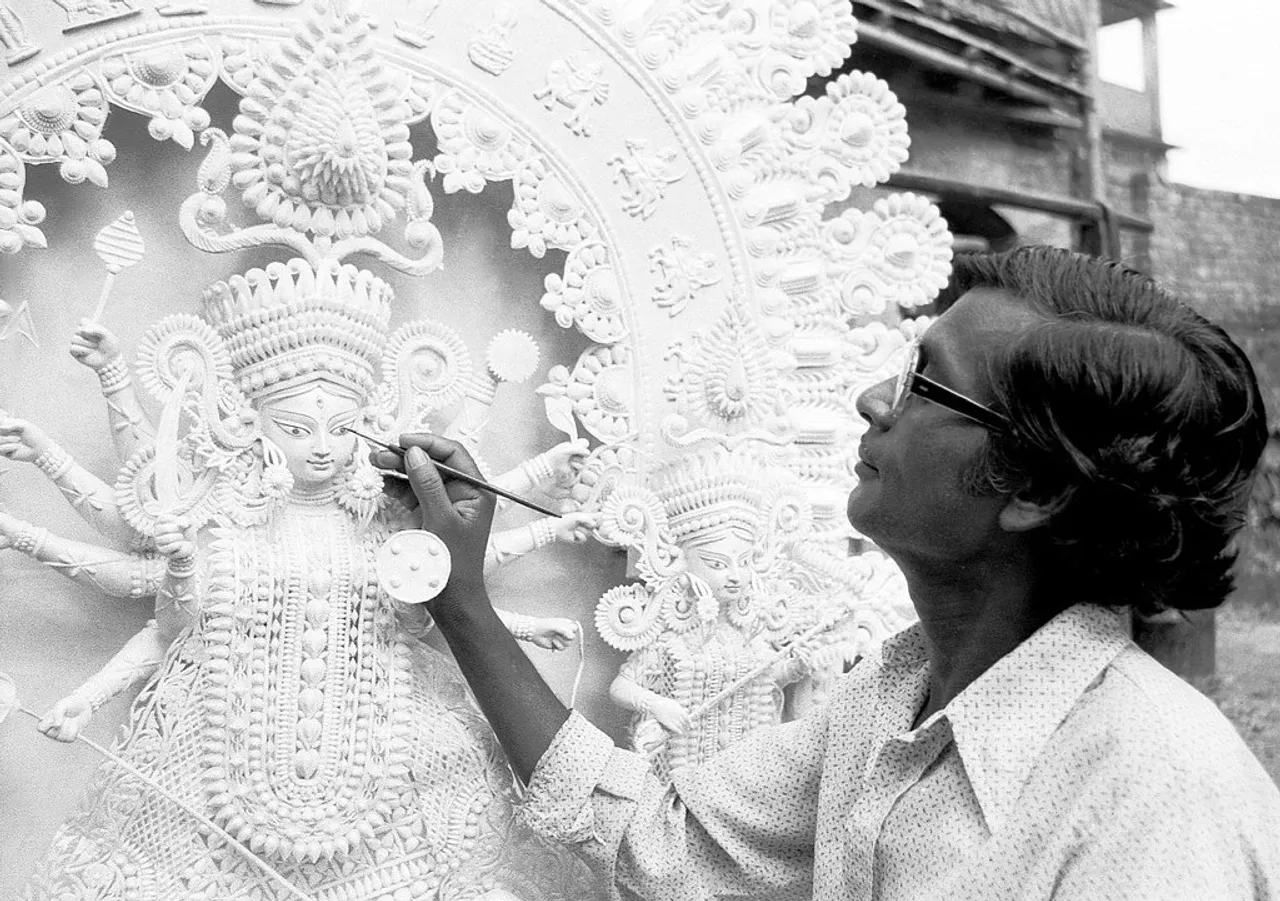 During rainy seasons, acres and acres of marshlands in West Bengal's Sundarbans delta area are covered with a plant which is neither a vegetable nor edible. But the villagers in Raidighi in South 24 Parganas district depend on this unique plant for their livelihoods. Also called 'Indian cork', it is locally known as sholapith or simply shola.
From its stalk is produced a soft but brittle white material, very much like thermocol, with which hundreds of eco-friendly and biodegradable handicrafts, including Bengali wedding headgear, decorative pieces and essential items, are created.
"With shola, we make everything from artificial flowers to ornamental pieces for designing the idols during different pujas, especially Durga Puja," says Mallika Haldar, a shola craft artist from Raidighi.
Also Read: Kolkata Little Magazine Library: one-man effort to preserve rare books & periodicals
Saitol, a representation of Goddess Manasa, used in weddings and other ceremonies, is made using shola and so are phulghor and rathghor used for death rituals. During the ceremonial first meal (annaprashan), a child is also made to wear a topor made of shola.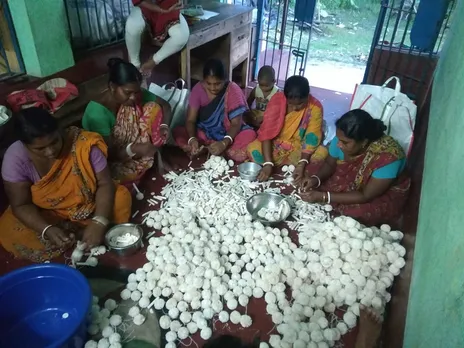 Known in botany as Aeschynomeneaspera, shola has been an integral part of Bengali ceremonies for centuries.
Also Read: A quaint village in Hooghly becomes manufacturing hub for string instruments
A legacy that goes back hundreds of years
Shola work, like many other handicrafts of Bengal's traditional cottage industries, is a skill passed on from generation to generation.
"I started learning shola work in early childhood from my parents and grandparents," says Haldar, who is now in her late twenties. "The main profession of our ancestors, who are indigenous to these parts of the delta, dotted with waterlogged marshes, was shola cultivation."
The importance of shola items in Bengali life meant that it was a marketable commodity and could be a dependable source of livelihood. All the members of Haldar's family, comprising her husband, young son and parents-in-law, work on shola items. "We earn Rs 10,000 a month. But during festivities and pujas, the income goes up because we get many orders. It suffices as a livelihood," she says.
Other artists agree. "I made enough money from shola work to build this three-storey house I live in," says Samir Kumar Saha, an artisan artist based in Berhampore in West Bengal's Murshidabad district. "The amount of money you make, like all other professions, depends on the level of your skill, expertise, competence, the quality of work and, of course, the quantity you can produce."
Also Read: Bengal's Natungram: Craft village where wooden dolls come alive
He points out that during the Mughal period, the royalty was very fond of white objects of art, especially those sculpted out of marble or ivory. The common people could not afford them.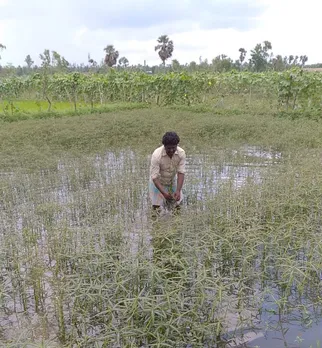 Saha has created hundreds of pieces of shola art, including sculptures of Gods and Goddesses – Ganesha, Laxmi, Durga, Saraswati, Kali and Shiva besides great saints and animal figurines.
Having won several awards, Saha gets orders for pandal decoration during Durga Puja from across the state and even outside. "There are also requirements of shola statues at wedding ceremonies where the venue is decorated with symbols of matrimony like palanquins and models of brides and grooms," he points out.
Saha, however, is not from a traditional shola craft family. "Living in Murshidabad, which is an ancient, historical place, I got exposed to the culture of shola artists, which is a thriving community here."
Murshidabad and nearby Malda districts in northern West Bengal are huge producers of shola crafts as are the Sundarbans in South 24 Parganas Districts. Bardhaman, Birbhum, Hooghly and Nadia districts are also loci of shola craft.
Also Read: Chettinad's masons slowly revive centuries-old lime-egg wall plaster technique
Shola craft process – from cultivation to creation
Shola cultivation takes place in wetlands and marshy, swampy areas and riverine districts like Hooghly and Howrah, which are also prone to floods during the monsoons.
Families of shola craftspeople like those of Haldar grow their own sholapith. "We engage in its cultivation during the monsoon. This is much like paddy plantation though the process is faster. The plant grows into the required size within two to three months," she says.
The plants are dried until the stems turn brown. The brown skin of the stems is peeled off and the soft white core is cut into thin sheets or slices. These are then rolled into spools. "Making flowers and leaves is the most basic craft. But to make more advanced structures like, say, the Taj Mahal or palanquins, the sheets have to be stacked together until they acquire the required thickness. Then they are cut and shaped," says Saha.
Also Read: LifeCraft: empowering Jharkhand's Kuiani women through fabric hand dyeing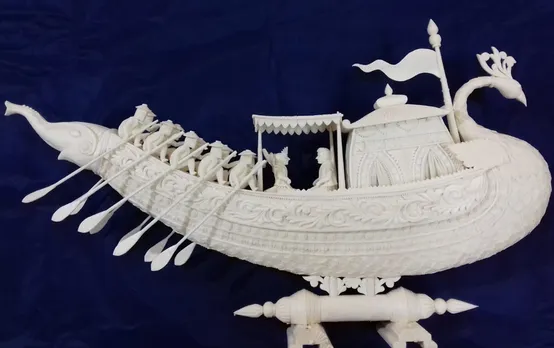 Saha does not grow the shola he uses for his art but buys it in bulk from traders. "Shola is sold in the local markets or haats besides at retail stores and by wholesalers. I don't need to process it from scratch unlike the craftspeople who cultivate it," he says. 
"For us, the only tools required are scissors and knives to cut and shape, needles and threads to sew and string together and glue to paste, not to mention a strong sense of aesthetics and imagination."
Also Read: Maharashtra's Chitrakathi painting: keeping alive the legacy of Chhatrapati Shivaji's spies
"If one is selling a bunch of tiny floral shapes, even though its petals would be perfectly cut, shaped and glued together it would be still cheaper than a whole bouquet of artificial flowers carved out of shola, in which the craftsmanship is intricate and more detailed. The sculptured shola items are much more expensive and the range varies according to size and craftsmanship."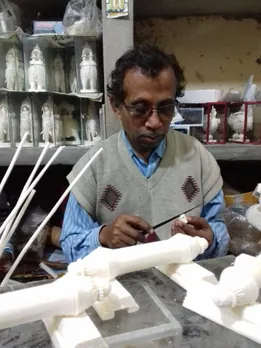 Haldar and her husband take their products to the local village haats or sell it to the middlemen, who further sell it at a higher profit.
She, however, rues that the Coronavirus pandemic has dampened sales this year. "Even the pujas did not bring us relief because there were much fewer orders," she says.
Her family is subsisting on the relief provided by the government, including subsidised and (after the Amphan cyclone devastated many villages in the region), some free ration."We appeal to the lovers of art and our handicraft to do something to help us," she says.
Shola art is, according to Haldar, a full-time activity that takes up the entire year. "Barring the two-three months when cultivation takes place, we are always engaged in shola work. Women find time between household chores to work on it. Children too love to do shola work, often treating it as a game. And men spend most of their time doing this."  
Saha agrees that the Coronavirus pandemic has destroyed the business. "It has been a terrible year. Shola decoration is sought after only when people have their basic needs met. The pandemic has created so much job loss that people don't want to think about anything other than buying the essentials like food or some services."
Haldar is praying for better times soon when "once again people will design and decorate."
(Dola Mitra is a Kolkata-based journalist and author of 'Decoding Didi'. She is the Editor of digital news portal Cuckoo News)
Also Read: Kolkata Little Magazine Library: one-man effort to preserve rare books & periodicals