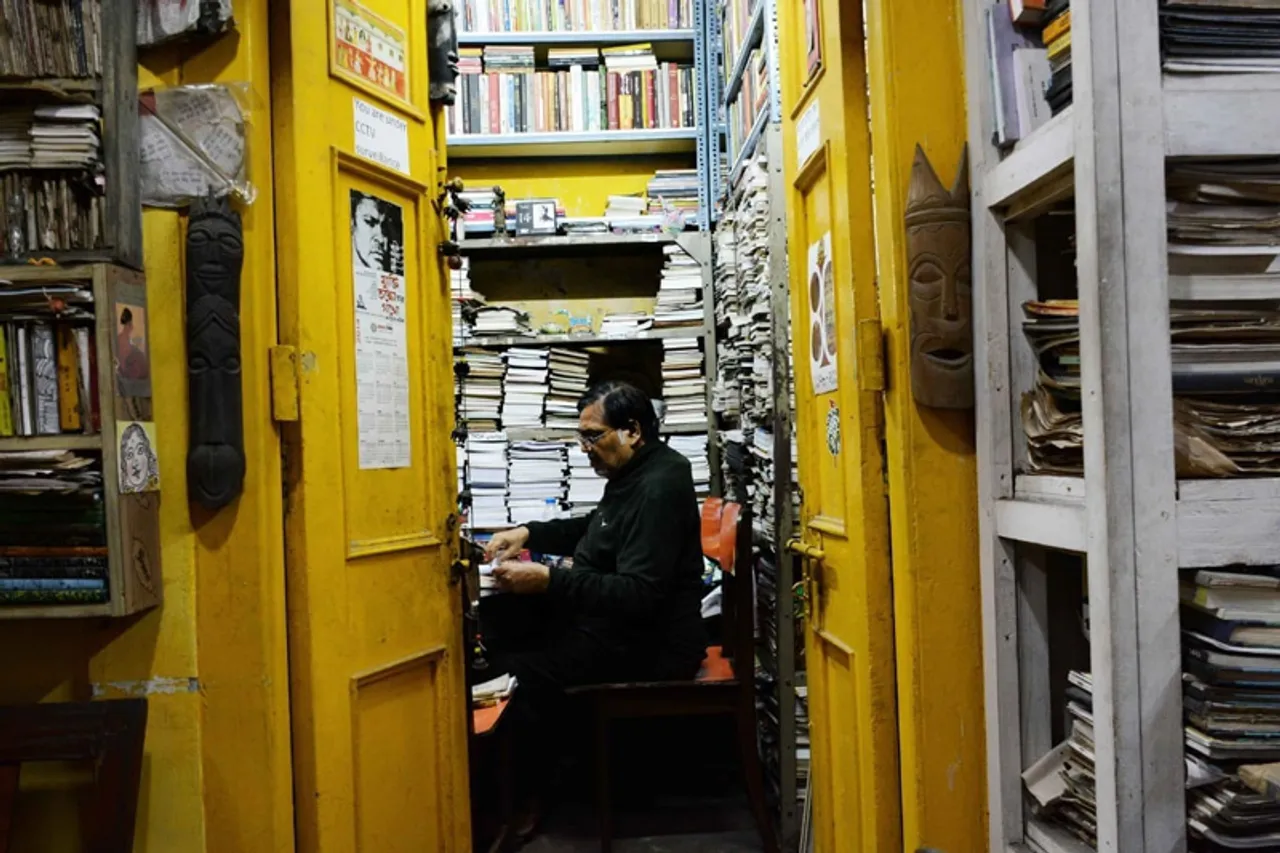 The bright yellow wooden door of 18/M Tamer Lane, just off Kolkata's College Street, opens up to a vision of wall-to-wall shelves crammed with the rarest of books, magazines and periodicals, copies of which may not be found anywhere else in the world. In the midst of this, at a desk placed in the centre of the room, sits the 70-year-old, bespectacled Sandip Dutta, who has spent over four decades of his life in setting up and preserving this Little Magazine Library – a treasure trove of alternative literature covering vast areas left untouched by mainstream, commercial publications.
"If you get me started on the topic, I will just keep talking so you will have to tell me when to stop," chuckles Dutta, lover of "little magazines" and the pioneering founder of the unique library dedicated solely to their collection and preservation for posterity.
Situated on the ground floor of his three-storey house, the library is aptly located at Kolkata College Street, known for its educational institutions, intellectual legacy and the rows of bookshops that line its sidewalks. A board bordered in shades of green and with the words, Kalikata Little Magazine Library O Gabeshana Kendra scribbled in Bangla across it, welcomes visitors. It means 'Kolkata Little Magazine Library and Research Centre'. On most days, students and research scholars from the nearby colleges are found knocking on the door.
Also Read: Kavishala: A personal blog that's now a global publishing platform for poets and writers
"I have always been drawn to little magazines," Dutta says, explaining what led him to spend the last 42 years of his life in the pursuit of these niche publications some of which date back to decades and earlier.
"If you go through little magazines of a particular era you will discover unknown facets which did not find their way into the more visible literature of the time," Dutta says.
He rues that little magazines are not given adequate recognition and says that it is extremely important to understand its nuances. "The word 'little' is often mistaken to mean 'for children'," he says. "But this is far from it".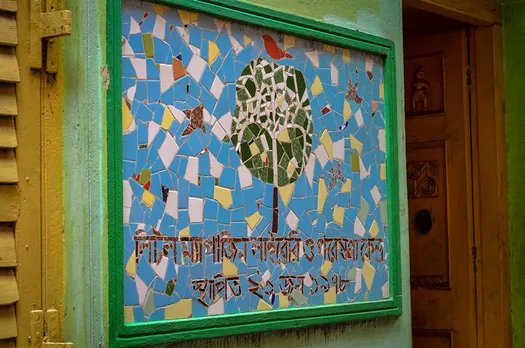 On the contrary, the content of little magazines is often out-and-out grownup, reflective of the angst-ridden hearts and minds of anti-establishment adults, expressed through avant-garde, iconoclastic political poetry or prose challenging status-quos.
Also Read: Labour Day : An ode to migrant workers & their life in pictures
What are little magazines
"The word 'little' applies to a range of ideas including the fact that these are 'less' in number and visibility and even that their production costs, compared to the commercial ones, are much less and therefore these are cheaper," says Dutta.
The idea could also be argued to extend into the fact that they were reduced to feeling "belittled" by the establishment. The word 'magazine' is rooted in the idea of collection and storage and Dutta likes to point out the significance of the word as used in defense. "Magazines are also storage spaces of bullets. Little magazines are storage spaces of poetry or prose, as powerful as bullets."
Though there were some predecessors it was during this time that intellectuals, writers, artists and the youth from various parts of the country were expressing their discontentment on issues ranging from the economy to politics to colonial hangovers of the bourgeoisie to their pretty, superficial literature which glossed over the real issues, through their poetry and prose.
Also Read: Heritage walks help rediscover city histories, give fillip to conservation
The genesis of Little Library
Dutta was a teenager when the Hungry Generation, the literary movement which challenged established literary traditions, started by Moloy Roy Choudhury, Shakti Chattopadhyay and others gained prominence in Bengal with their iconoclastic poetry.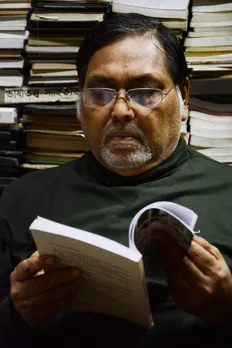 Dutta was deeply influenced by the revolutionary ideas expressed by them through their little magazines and says that he himself aspired to write such poetry.
It was his unquenchable thirst for more reading that led him on a search for little magazines to Kolkata's renowned National Library. The year was 1972 and he was in second year at Scottish Church College. Dutta says he still remembers how he flared up when he saw the condition in which the little magazines were stored in the National Library.
"I was pointed to a stack of publications, covered in dust and tied together with strings as though ready to be disposed of. The neglect with which this literary treasure was treated made my blood boil and to this day when I think of it, I feel angry."
Livid, Dutta stomped off, promising himself that he would redress the wrong. He started to collect little magazines, which included getting friends and family to donate, asking people to gift or sell and buying them up whenever and wherever he could get his hands on them. 
Also Read: How one family has taken India's 1,000-year-old temple architecture to the world
"I started saving in a piggy bank, which I named 'Three Penny Opera' (after the Bertolt Brecht play of the same name)," he says.
"And I found inspiration from stories I personally witnessed, including that of a young servant who used to earn only 30 rupees as salary. Out of that, he sent 15 rupees home to his village and with the rest he bought books." 
Dutta exhibited a small collection, comprising 750 little magazines at his home and it generated a great deal of interest. Then on June 23, 1978, he opened for the public the doors of his library with a collection of 1500 little magazines. 
In a little more than four decades, the number has grown to nearly 80,000 and Dutta likes to believe that this is a result of conviction, dedication and hard work.
Also Read: How Nizamabad's 500-year-old black pottery is regaining lost glory
Little Library's big challenges
Pointing out that it was not easy he says that the difficulties were not just financial but included the doubts of well-wishers. "I had my share of detractors," Dutta laughs, making light of it. And he narrates a rather humorous anecdote. "After my marriage, when my wife realized I was obsessed with the library, she threatened to set it on fire. But she never did. In fact, today she is the one who takes pains to keep it clean, dusting the books and shelves, sweeping and swabbing the floors of the library."
Initially Dutta, who never advertised the library, attracted readers by publicizing content from specific publications which drew them. By then of course, he had gathered an impressive collection, comprising, among others the little magazines of the "Krittibas" series which was started in 1953 by author Sunil Gangopadhyay, Ananda Bagchi and Dipak Majumdar.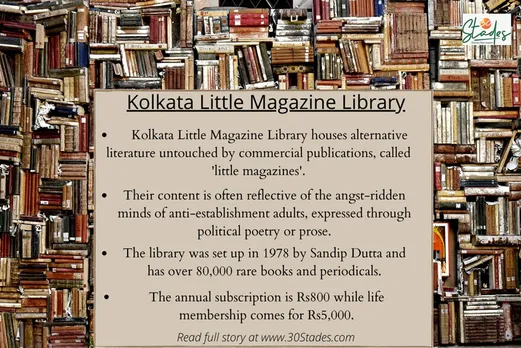 Other prominent publications and periodicals found in the library are the Pramatha Chaudhuri-founded Sabuj Patra and Kallol Langol which included contributions from such greats as Kazi Nazrul Islam, whose poetry during India's freedom struggle moved an entire nation into patriotic fervor.
Over time the collection grew to include other exclusive publications and periodicals including the Buddhadeb Bosu-edited Kobita and Chaturanga and Ekshan, edited by Nirmalya Acharya and veteran actor Soumitra Chatterjee.
Also Read: How i-Saksham's young education leaders are driving change in Bihar's most backward districts
Dutta says that often he has authors themselves call him up when they cannot locate specific writings of theirs, asking if he happens to have them in his collection. Dutta says he has been able to locate the writings of late Mahasweta Devi and the late Sunil Gangopadhyay, who had both approached him.
There are more than 150 members of whom 50 are life-time subscribers.
Currently three rooms on the ground floor serve as the library including a reading space with a seating capacity of nearly 20. On most days there are 12 to 15 visitors though on some days, there are more. Since March 23, when the Coronavirus pandemic came to Calcutta and lockdown was announced, Dutta has kept the library closed. However, he has been getting phone calls and messages from readers. "In these online times, I need to adapt too," he smiles.
He says he remembers a time, when the library first started, that even getting a photocopy done was difficult. "Now I simply take a photo and send it online."
Dutta says he has many more "big stories on little magazines" to share. But reminds you: "Weren't you supposed to remind me to stop?" He chuckles again.  

(Dola Mitra is a Kolkata-based journalist and author of 'Decoding Didi'. She is the Editor of digital news portal Cuckoo News)
Also Read: COVID-19 boosts demand for English language courses as India works and studies online