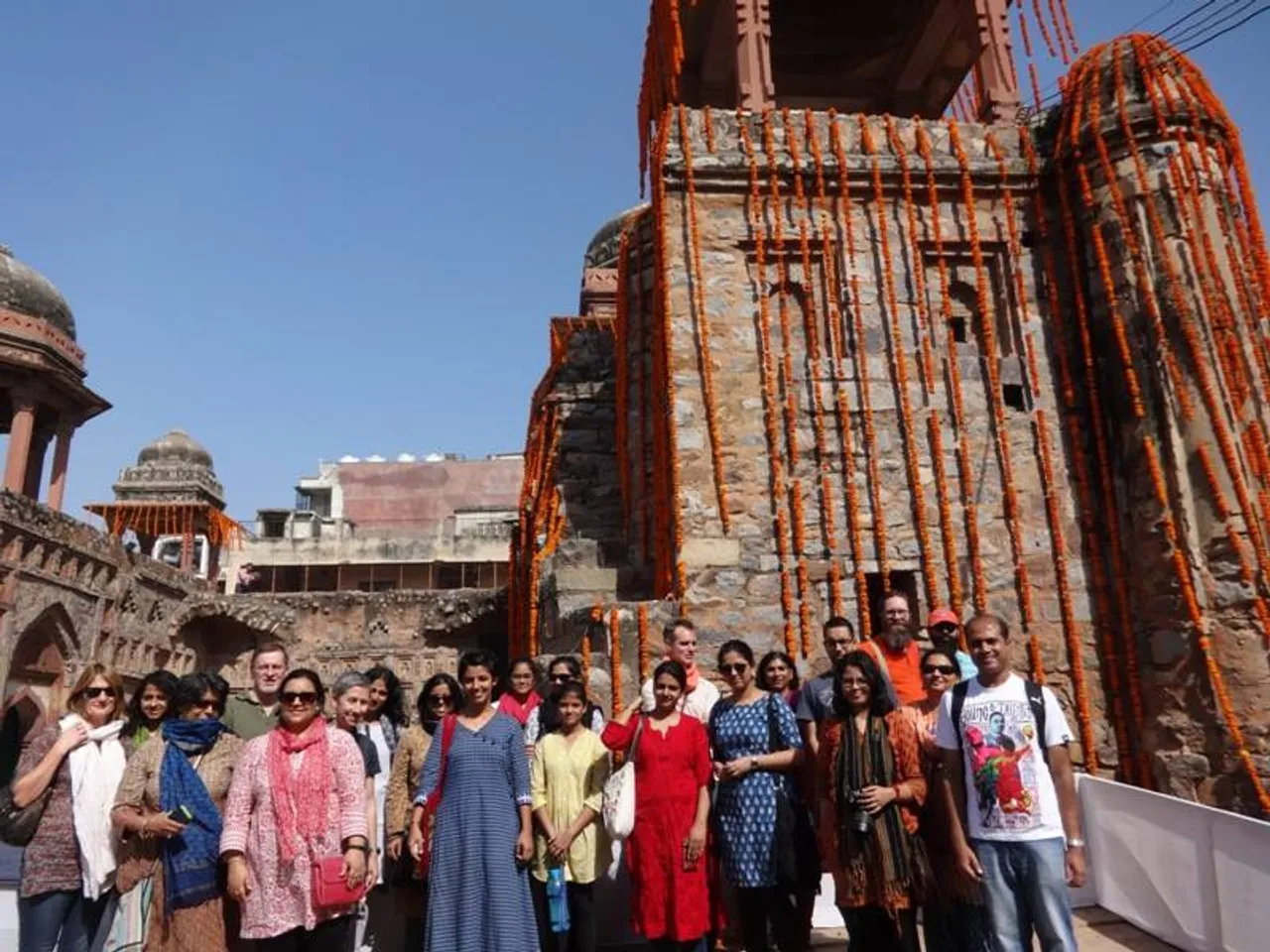 Almost every month, a group of walkers gather at the Yogmaya Temple in Delhi's Mehrauli village. They walk over the next one-and-a-half hours discovering the village built around the Sufi shrine of Bakhtiyar Kaki. From the tomb of Adham Khan, the son of Akbar's wet nurse Maham Anga, they go to Baba Banda Singh Bahadur Gurudwara and then to the summer palace of the Mughals – Zafar Maha. Researchers from Delhi Heritage Walks weave in historical tales of treachery and faith, courage and opulence as they take the walkers on one of the most popular walks in the heart of India's capital.
In Mumbai, another group of enthusiastic discoverers get together at Banganga at the tony Malabar Hill area every now and again as Khaki Tour familiarises them with one of the oldest continuously inhabited settlements in the megalopolis -- the area around Banganga Tank.
Dotted with temples, bathing ghats, monasteries and samadhis of seers, the area has a sense of timelessness nestled in the chaos of Mumbai.
Lakshman Prabhu, a minister in the court of Thane's Silhara dynasty, constructed the tank and adjacent Walkeshwar temple in 1127. Over the next two hours, members of Khaki Tours tell these walkers about the little known facts of this mini Varanasi tucked in a corner of the financial capital.
Also Read: Village in Jharkhand's Maoist hub transforms into eco-tourism spot reviving lost arts
In the south, Storytrails has become synonymous with historical walks in Chennai, Madurai, Puducherry and Trivandrum, covering temples, churches, French quarters, peacock trails and a lot more.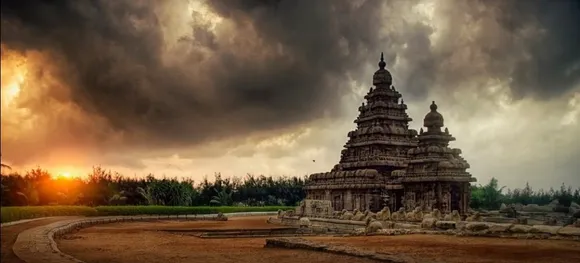 Shore Temple (built in 700–728 AD) in Mahabalipuram, near Chennai, where Storytrails offers audio tours. 
Pic: Storytrails 
As more and more Indians are waking up to their own history, art and culture, they are joining an already long list of overseas tourists in becoming a part of heritage walks across the country.
And heritage walks are not only an entrepreneurial opportunity for historians but are also helping in the conservation of heritage and historical monuments.
"Walking tours offer an opportunity to absorb and experience a lot more of local life – something that would not be possible in a seat-in-a-coach tour," says Vijay Prabhat Karmakara, a former banker and IT consultant, who started Storytrails in 2006.
"We have looked at the West for long. But now there is a sense of pride in who we are. People are bored of going to malls and cinemas. Heritage walks are a way to enrich lives," says Khaki Tours' founder Bharat Gothoskar, who also gave up his corporate job to pursue the passion of walks.
So far, his firm has curated 47 walks, covering the lanes and by-lanes of Mumbai. Khaki Tours charges between Rs 600 and Rs 900 per person, depending on the duration and type of walk. Khaki Tours' Ghost Walk, conducted on every new moon night or amavasya, has a fee of Rs 1000, and takes walkers through Khotachiwadi, a heritage village, and shrines of friendly ghosts before ending at a graveyard at the stroke of midnight.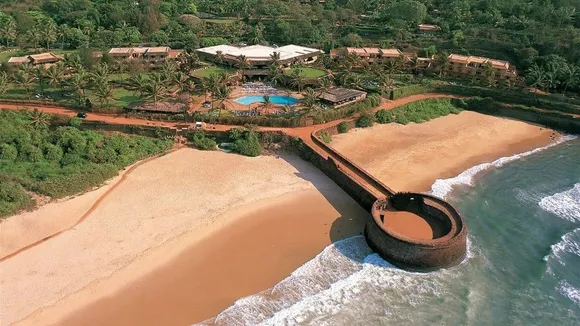 Mumbai's Castella de Aguada, also known as the Bandra Fort, was built by the Portuguese in 1640 as a watchtower. Khaki Tours familiarises people with Fort Aguada in its Byramjee's Bandra Heritage Walk. Pic: Khaki Tours 
For Delhi Heritage Walks, the old Delhi and Mehrauli ones are the most popular among 17 walks besides the customized ones that they offer.
But it's not easy to curate a walk that can sustain interest. "All our team members are historians, researchers and academics. We study a place, map the route several times to see how we can weave together different places in a story. We refer to historical books, archives and talk to locals for curating a walk," says Kanika Singh, historian, who co-founded Delhi Heritage Walks.
Also Read: Ecotourism meets rural art & culture at Gujarat's Woods at Sasan
"We have a team of storytellers in each city to conduct these tours. Additionally, we work with a panel of historians and subject experts who vet all our trail content," Karmakar says.
About 90 percent of the revenue for Gothoskar's Khaki Tours comes from inbound travelers. "We customise walks to a level that if you are a doctor from Ireland, we will show you history connected with your profession as well as your country," he says.
Apart from becoming a brisk business opportunity, these heritage walks are also helping in the conservation of monuments. "We work with the Archaeological Survey of India and collaborate on walks for world heritage sites," says Singh of Delhi Heritage Walks.
Also see: In pictures: Morena's Chausath Yogini temple that inspired the Indian Parliament's design
Karmakar says walks also puts his team in touch with people who live in old heritage houses that they are unable to maintain for want of resources.
"Walking tours like ours become another source of income for such households, going some way in maintaining such properties."
But it is not just buildings or monuments that are part of this ecosystem. "Our trails cover subjects like music, food, dances, pottery, and jewellery-making, and for each of these we work with a set of artists and craftsmen, showcasing their work through our trails and adding to their means of livelihood," he adds.
Khaki Tours has gone a step ahead. About a year ago, Gothoskar set up the Khaki Heritage Foundation and Khaki Trust for keeping Mumbai's heritage alive. "We are a not for profit entity and are raising funds from the public for three distinct areas – one is creating awareness about heritage in the city. The second is archiving and the third part is conservation," he says.
Also Read: How one family has taken India's 1,000-year-old temple architecture to the world
Khaki Foundation is collecting books, photographs, artefacts and paintings about the city. "We are putting them together as an archive available for people and also recording oral history from older citizens," Gothoskar adds.
Gothoskar also has plans to expand to other cities, but not immediately. Storytrails has already moved to Puducherry and Mumbai. "A recent initiative has been to launch self-guided audio tours which visitors can download on their mobile phones. This allows them to explore a monument or a neighbourhood at their own pace, in their own time," Karmakar says.
The Storytrails audio tours are already live in a few museums and monuments in Chennai, Mamallapuram, Delhi and Singapore.
"We are also working with the Tamil Nadu Archaeology department to design audio tours for the Keeladi Museum and Tirumalai Nayakar palace in Madurai," he adds. Heritage walks are definitely emerging as an ally in efforts to conserve India's rich cultural heritage.
(Rashmi Pratap is a Mumbai-based journalist specialising in business, financial and socio-economic reporting)
Also Read: Also Read: How Nahargarh's 300-year-old water harvesting system beat the desert's water blues