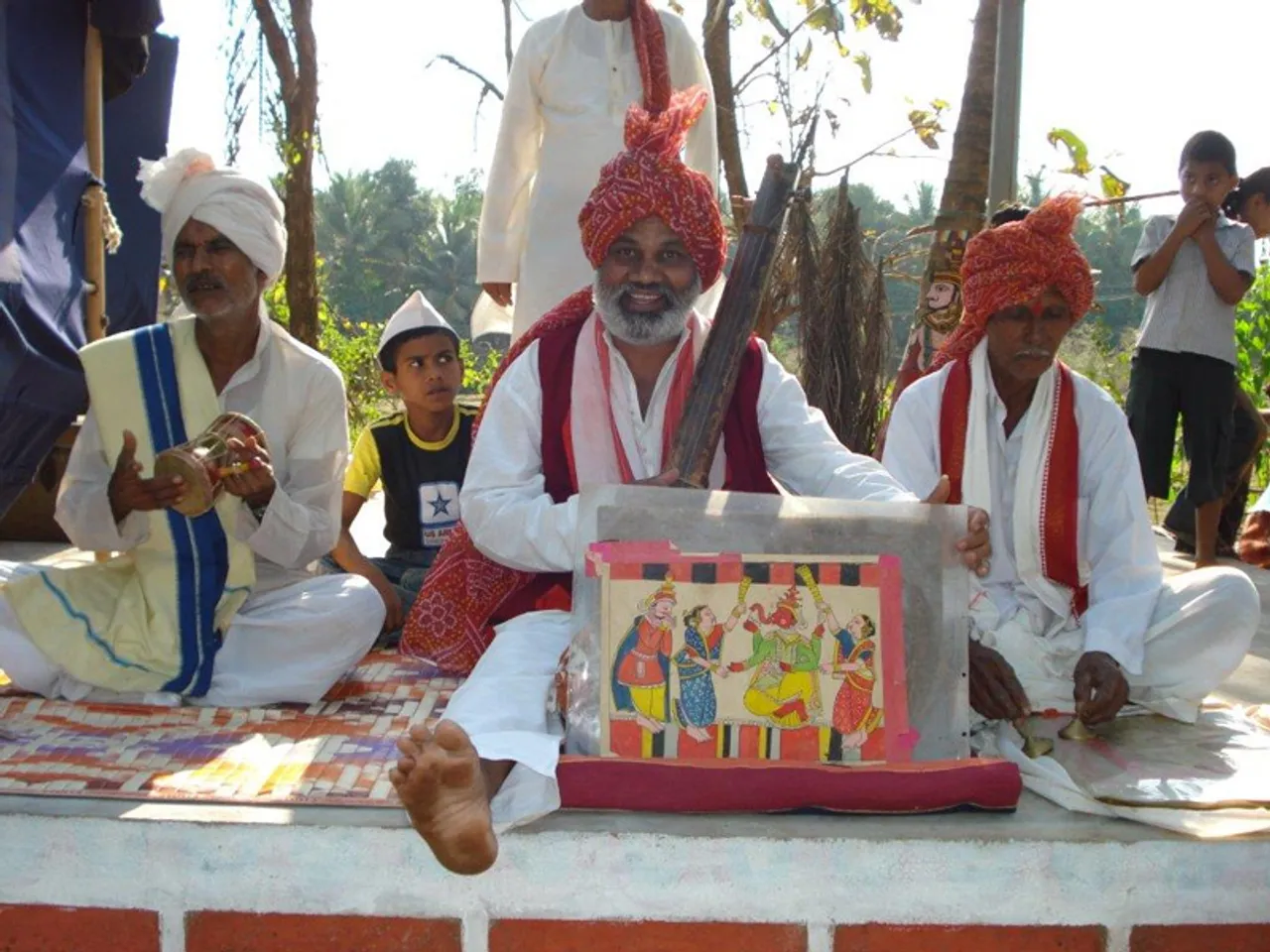 wp:paragraph
Nestled in the pristine Sahyadri Hills of Maharashtra, Pinguli village in Sindhudurg district is home to over 200 artisan families of the Thakar tribe who were nomads about 400 years back.
Today, a handful of families in Pinguli, in Kudal district, are keeping alive the little-known legacy of their artisan-spy forefathers through paintings and puppets.
"The Gudhipurwadi in Pinguli is where over 200 Thakar families live. We have traditionally practiced 11 arts of which three are artisanal handicraft – Chitrakathi, leather puppetry and wooden puppetry. The other 8 are performing arts," says Chetan Gangavane, an artist whose family has been living in Pinguli for many generations.
He learned Chitrakathi and puppetry from his father Parshuram Atmaram Gangavane, who has been awarded by the Maharashtra government for revitalising and preserving the Chitrakathi folk art.
Also Read: Thousands of Rajasthan's rural women empowered through up-skilling in embroidery
The word Chitrakathi combines 'chitra' meaning painting and 'kathi', which means story. Artisans narrate the stories of Ramayana and Mahabharata through paintings and folk songs. For the music, Thakars use only three instruments – the veena, taal (a pair of clash cymbals) and huduk – a two-headed small drum played using the fingers.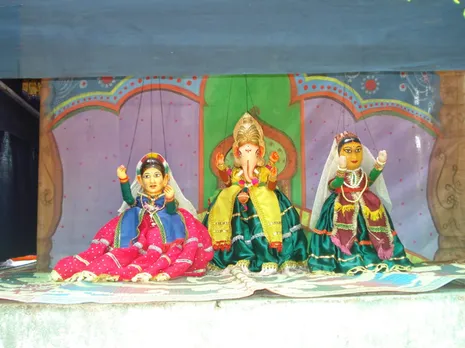 Some of the popular epic episodes illustrated through Chitrakathi are, Rukmini Swayamvara, Lanka Dahan and Rama Vijaya over Ravana.
Spies to Maratha Empire; exiled by the British
The art had almost become extinct during the British rule in India after the British learned about Chitrakathi practitioners acting as spies for Shivaji and the Bhonsales of the erstwhile Sawantwadi royal family.  
Also Read: Rajasthan's Badshah Miyan takes 700-year-old leheriya craft & natural dyes to the world
The Gangavane family also makes leather puppets using goat skin and wooden puppets using teakwood. Chetan and his brother Eknath Gangavane have grown up hearing stories from their father and grandfather about how Shivaji discovered the Thakars in a forest.
Folklore has it that once when Shivaji was passing through the forests of Sahyadris, he heard mythological songs from Ramayana being sung by a group of people. On reaching closer, he saw that singers were also displaying Ramayana paintings done on large tree leaves using soot from oil lamps and lime.
Also See: Soaking, boiling, dyeing, washing…the creation of Madhya Pradesh's Bagh print in pictures
"Back then, it was done purely for entertainment after a hard day's work," Chetan says.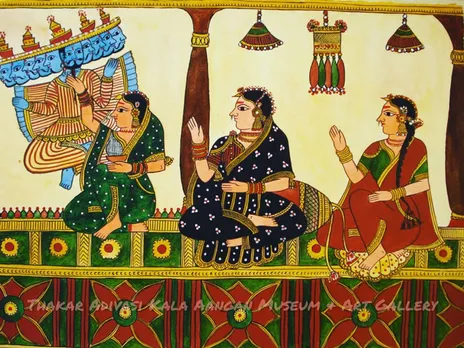 Shivaji took a liking for the art and asked some select artisans to visit his court. He then employed them to entertain people and also pass on the information about happenings in his empire. "The task of these artisans was to go from one village to another for story-telling through Chitrakathi paintings. At that time, Thakars would sing outside the temple premises throughout the night until the temple reopened next day," says Chetan.
In the morning, Chitrakathi painters would go around the village seeking cashew nut, coconut, rice and kokum (a small purple fruit sour in taste) in alms and also collect the sensitive information needed to be passed on to the Maratha empire.
Also Read: Village in Jharkhand's Maoist hub transforms into eco-tourism spot reviving lost arts
The tribe also finds a mention in the book 'The Tribes and Castes of the Central Provinces of India' by Robert Vane Russell, who was the British Superintendent of Ethnography for the then Central Provinces of British India. He refers to Chitrakathi as 'painters and picture-makers'.
How Chitrakathi is being revived
Chitrakathi art flourished under the rule of Shivaji, and artisans moved from leaves to paper.
With most Thakars opting for jobs even under the British rule, the families moved away from Chitrakathi until about half a century ago when some people like Parshuram's father Vishram Atmaram Gangawane decided to re-start the practice of Chitrakathi paintings.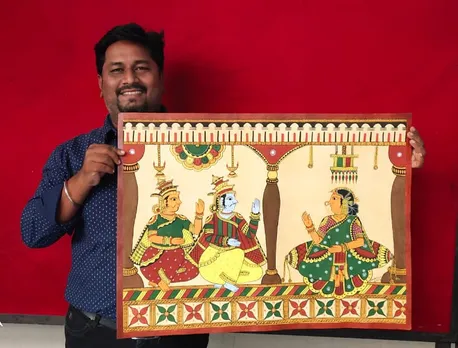 The Gangavane family possesses paintings going back to the 17th century. "These are passed on from one generation to another," Chetan says.
Also Read: Bengal's Natungram: Craft village where wooden dolls come alive
Chetan's father Parshuram has set up a museum to ensure that the art gains visibility and is not lost. The Thakar Adivasi Kala Aangan (TAKA) museum and art gallery was set up in 2006 to showcase Thakar Tribal folk Arts of Sindhudurg, replete with historic Chitrakathi paintings, puppets and musical instruments used in the performance.
The performing arts of Thakars include Pangul Bael (decorated bulls which go from house to house with Thakars singing folk songs), Fughdya (dance performed by women during Ganeshotsav) and Gondhal – song and dance performance before the Gods besides others.
The family is keeping alive the legacy not only by painting using the traditional methods and through the museum but also by teaching Chitrakathi to students. They have trained over 100 students so far. And with the rising demand, many more families in Pinguli's Gudhipurwadi are now practicing the art.
Contemporising the art
The Gangavane family has also contemporised Chitrakathi by story-telling on current subjects like cleanliness, COVID-19 and social distancing, the importance of saving the girl child besides others. "We have done pieces on corona warriors – doctors, police, sweepers etc," says Chetan.
"Only hand-made paper is used, making the art eco-friendly," he says.
Earlier, paintings were made in standard sizes with most of them measuring 12 inch x 15 inch or 12 inch x 18 inch. "Now we make them as per requirements," Parshuram says.
Also Read: Chettinad's masons slowly revive centuries-old lime-egg wall plaster technique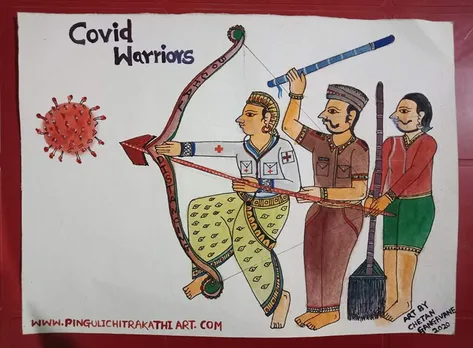 Continuing the tradition is not limited to the use of natural colours. The Gangavane family was also allotted a temple by the erstwhile Sawantwadi Royal family for Chitrakathi story-telling. "Even now, we go to the Kelbai Devi Mandir during Navratri and narrate stories from the Ramayana," Chetan points out.
Similarly, other Thakar clans have also been allotted various temples by the erstwhile royalty where they perform one of the 11 arts on designated days. The land in Pinguli which houses Thakar artisan families has also been provided to them by the erstwhile Sawantwadi royal family as a reward for providing some secret information regarding a battle that the Bhonsales fought and won hundreds of years back.
While Thakars helped erstwhile rulers win battles, they are now themselves fighting the battle to preserve their heritage, which is rich, colourful and musical but not well known outside Maharashtra. Going by their performance in the last few centuries, preserving and popularising their crafts should not be a tough task for Thakars.
(Rashmi Pratap is a Mumbai-based journalist specialising in financial, business and socio-economic reporting)
Also Read: Bihar's Sikki grass craft finds global market amid rising demand for eco-friendly artifacts