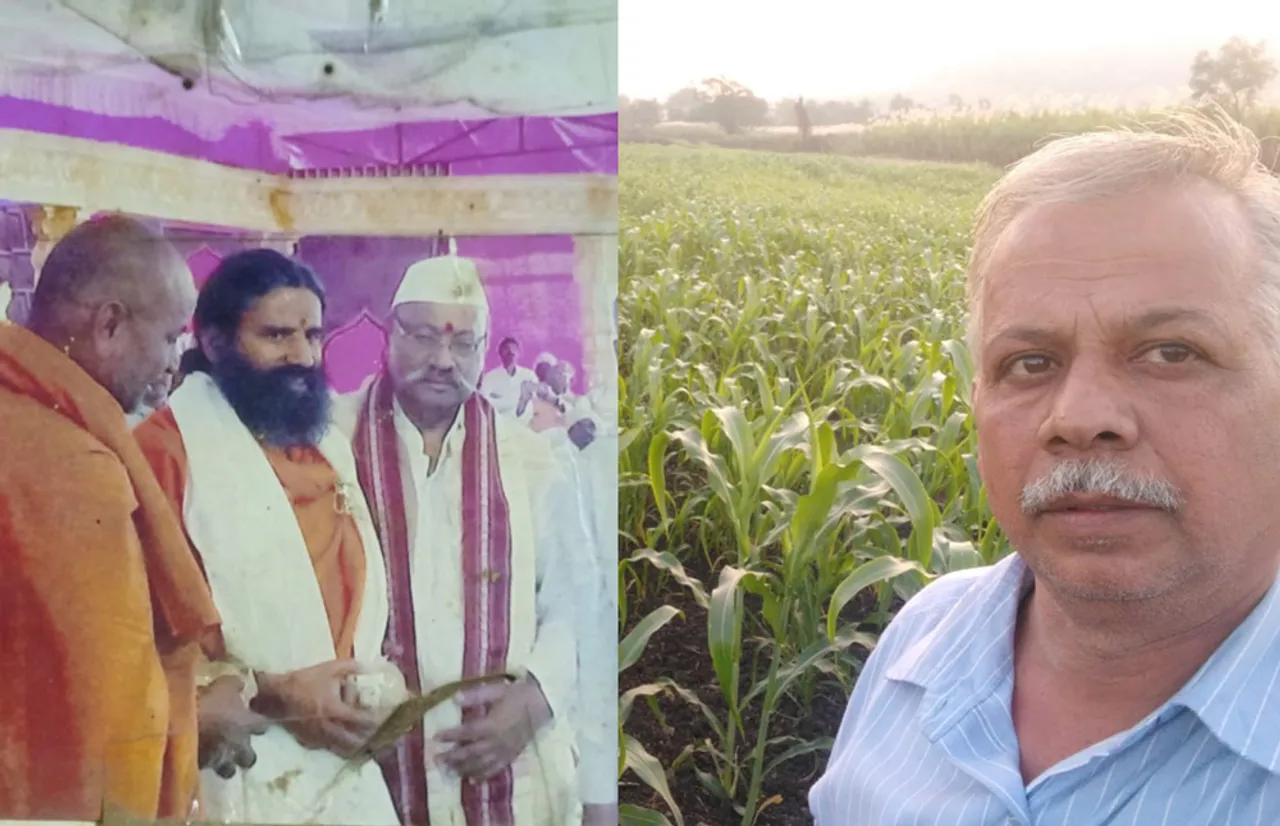 Leafing through his grandfather's 100-year-old diary, Sudhir Chivate got the inspiration to quit his job at an electrical company in Pune and take up the family profession of farming in village Talbid of Maharashtra's Satara district.  
That was in 1989. Today, Chivate is not only an expert sugarcane farmer but his organic jaggery, prepared on the farm, is known far and wide.
Eminent personalities including yoga guru Baba Ramdev, spiritual guru Sri Sri Ravi Shankar, reputed lawyer Ujjwal Nikam and film stars Nana Patekar and Makarand Anaspure are fans of Chivate's jaggery.
The jaggery is available plain as well as with condiments like cloves, fennel seeds, peanuts and home-made cow ghee.
Also Read: Rasika Phatak: Maharashtra's 23-year-old millionaire farmer & agriculture consultant
Chivate, 50, was felicitated with the Krishi Bhushan award by the state government in 2010. His wife, who is also actively engaged in the farm, received the Pragatisheel Mahila Shetkari award from the Shriniwas Patil Charitable Foundation on February 6.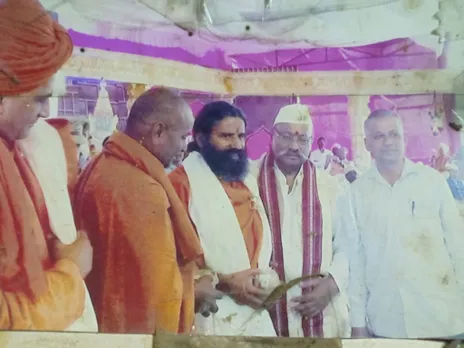 Yoga Guru Baba Ramdev with Sudhir Chivate. Pic: courtesy Sudeep Chivate 
Over three decades, Chivate along with his brother and their children, has painstakinglybuilt up his organic farm, growing sugarcane, wheat, ginger, coconut and mangoes in around 15 acre land that is now bringing him returns of over Rs15 lakh per year.
Coming home to organic farming
"My grandfather was a vaidya (traditional healer) and also did farming. Growing up, I would read his diary in which he kept notes about herbs, medicines and farming. Though I got a job in an electrical company in Pune, I was drawn to the idea of farming. My father was facing difficulty at the farm and I decided to help him. In 1989, I quit and returned home," he says.
When he started out, Chivate continued with chemical farming that his father and uncles were practising. He soon realised that it was not a profitable proposition and shifted to organic farming.
Also Read: How mushroom farming is increasing incomes for women in Jharkhand
"The use of chemicals was making the land fallow and required large amounts of water. We faced water shortage in our farm."
Chivate realised that chemical farming was bad for the land as well as for health.
"That's when I decided to take up organic farming, learning from my grandfather's notes and from the elderly farmers in my village," he says.
He began growing sugarcane and soya initially. But the soya crop was not successful; he shifted to ginger. He is now an expert in cultivating sugarcane and ginger. Chivate grows seven varieties of sugarcane and gets a yield of 48 tonnes per acre (about 146 tonnes per hectare).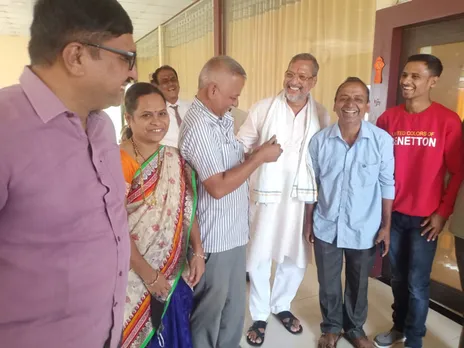 Actor Nana Patekar with Sudhir Chivate. Pic: courtesy Sudeep Chivate 
He has 12 cattle heads which supply him with dung and urine to meet compost and manure requirements. To improve the health of the soil, Chivate uses jeevamrut — liquid manure made using ghee, cow dung, cow urine, lemon, jaggery, turmeric powder and gram flour. It is a natural source of nitrogen, potassium, phosphorous and other nutrients required for the crops. 
Also Read: How organic fruit farming made Rajasthan's Santosh Devi a millionaire
He also uses panchgavya, another type of liquid manure prepared by mixing cow dung, cow urine, banana, tender coconut and ghee.
Chivate says to he does not throw away farm waste but mixes it in the compost or directly buries it in the soil. As a result, the soil's biomass has improved and it has become soft, retaining water better. His water use has declined by around 50 percent.
Initially, his production was low but as the soil health improved, production has picked up. Last year his sugarcane production was 134 tonnes while his wheat production was 57 quintal.
He harvests around 300 kg of ginger per gunta (40 gunta makes an acre) and also holds the record of growing a single ginger rhizome weighing 7 kg.
He says they plant wheat, tulsi, maize, chilli, bajra and methi between rows of sugarcane and on the sides of ginger to protect the plants from weeds.
Also Read: Hukumchand Patidar: Rajasthan's millionaire organic farmer who exports to Germany, Japan & Switzerland
Chivate jaggery – from farm to the famous
Chivate processes the sugarcane on his farm to make jaggery and 'kakvi' or cane syrup, well known for its medicinal benefits. The taste and purity of his jaggery and kakvi has spread far and he supplies to customers in Maharashtra, Delhi and Kolkata.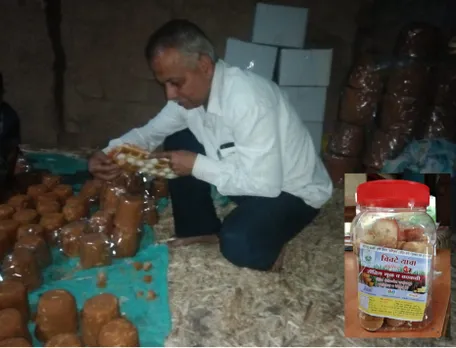 Sudhir Chivate packaging organic jaggery made on his farm. Pic: through Sudeep Chivate 
Marathwada is the sugarcane belt of Maharashtra. The region has 54 sugar factories. As per government records, the sugarcane production in 2018-19 in Marathwada was 14.7 million metric tonnes while the state's production was pegged at 91.7 million metric tonnes.
Sugarcane accounts for 4 percent of cultivation but consumes 70 percent of the irrigated water. In the Marathwada region, it accounts for 5.74 percent of the total cultivable area which is 28 percent of the total irrigated area.
Chivate says he has been using drip and sprinkler irrigation since the beginning and has been able to save up to 50 percent water. He has dug two ponds on his farm and also has a borewell.
Also Read: Organic farming of dragon fruit and lemon triples Punjab farmer's income
Since he uses drip and sprinkler irrigation, the water is used judiciously.
Sugarcane is a water guzzler and in water-stressed Marathwada, the government is trying to encourage use of drip and sprinkler irrigation which would save a substantial amount of water.
How organic farming is cutting costs
Chivate says he lets the soil rest every 2-3 years. "I don't plant sugarcane for a year but grow potato, jowar, mustard, and moong dal. This helps improve soil health and fertility," he says.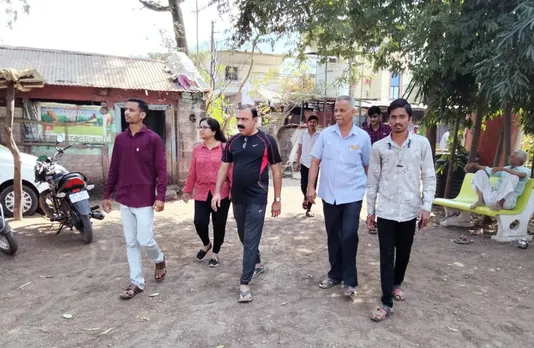 Actor Makrand Anaspure at Chivate Farm. Pic: courtesy Sudeep Chivate 
His farm has coconut trees and also 150 mango trees of six varieties including Sindhu, Ratna, Kesar and Alphonso. This year he also plans to plant turmeric which will bring him an additional income of Rs3-4 lakhs.
His production cost has seen a steep decline over the years.
See: How Tamil Nadu farmer increased profits & cut costs by 30% through organic farming
"Those who use chemicals end up spending Rs50,000-60,000 per acre, while my production cost is just around Rs10,000," says Chivate.
He has participated in several agriculture exhibitions across the country and has received certification for his organic products from the Maharashtra government agencies.
While things are looking up, he has one grouse. "All products have fixed prices based on their cost of production. But why is it that farmers are not able to fix prices for their products?" asks Chivate, who prices his own products based on the cost. While they are more expensive than those available in the market, customers are willing to pay for better quality products that are safe.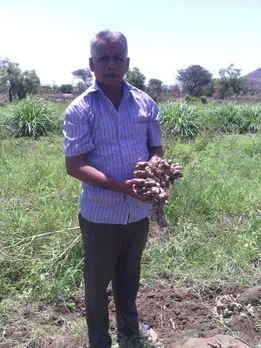 Chivate holds the record for growing a single ginger rhizome weighing 7 kg. Pic: through Sudeep Chivate 
Now his son, Sudeep, who is pursuing his final year of graduation in agriculture studies, plans to set up a website and increase social media presence so as to reach out to more customers who can directly buy from them.
Also Read: Why is Kashmir's 800-year-old apple economy in shambles?
Chivate's farm in recent times has also turned into a tourist and study destination where students, farmer groups from Maharashtra, and other states and families come for study-cum-recreation.
All visitors are served home cooked organic food on the farm, made by Chivate's wife and his sister-in-law,turning the visit into a wholesome experience.
Chivate is happy that his efforts are bearing fruit now. "Farming is hard work. But it suffuses me with a positive energy. I am happy that I don't have to answer to anyone and I am doing my own work," he says.
"Ten years back if someone would have asked me if they should take up farming, I would have said no. But now I tell my children and all youngsters that they should do organic farming which is good for health and for the environment."
(Urvashi Dev Rawal is a Jaipur-based journalist specialising in development, gender, and political reporting)
Also Read: Gujarat's MBA farmer Chintan Shah turns infertile land into organic farm of turmeric, ginger & wheat