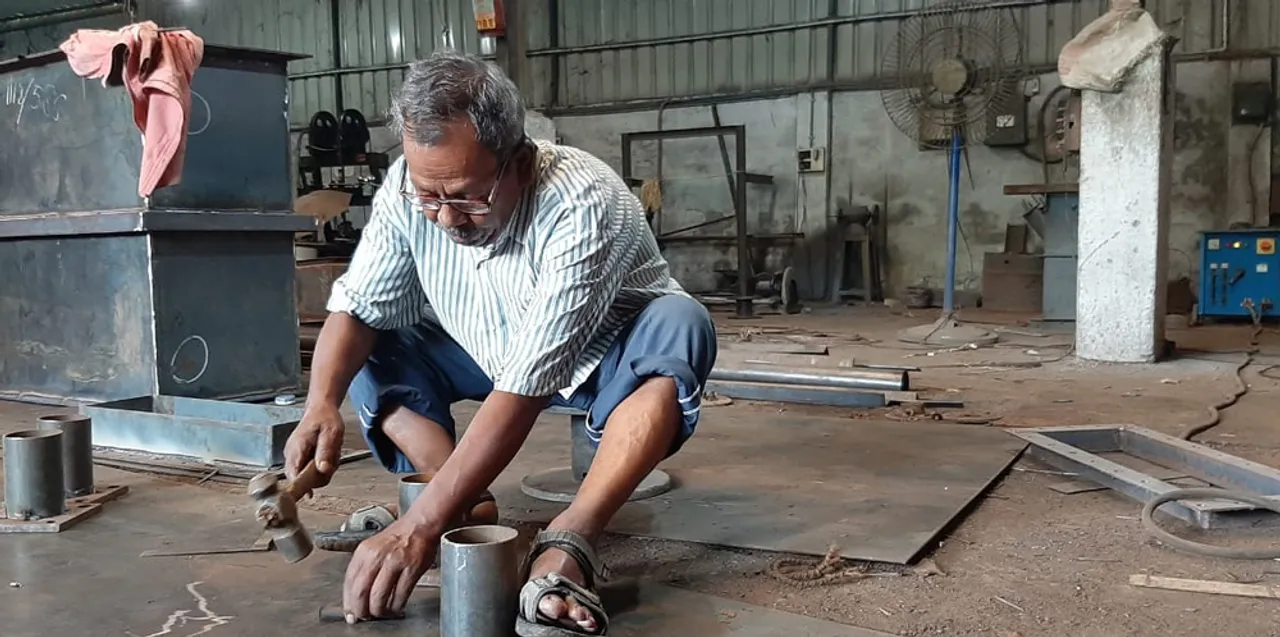 It was an evening in Milano, Italy, in 1988. The auditorium was set for a synchronized performance of Indian art forms - Kalaripayattu, Baul, Gotipua and Chhau. A hush set in as the curtains opened.
A young artist from Bengal made his entry, dressed as Goddess Kali, to perform Chhau – a folk dance from Purulia in Bengal. The show went on for an hour and a half.
"The sound of applause at the end of the show still echoes in my ears over three decades later," recalls Ramakrishna Dhar, the Chhau performer that day who went on to stage numerous shows across Europe over a span of 28 years.
During his travels, he met renowned theatre personalities, travelled from one corner of Europe to another, and acquainted himself with diverse art forms of Europe. He performed many times at 'Piasta' – an Italian word for a common place where political, social and cultural activities are staged.
Also Read: Jaipur's Bhatt family struggles to keep alive the Tamasha tradition
But today, Ramakrishna survives in penury with his wife and son. 
Every morning at 10, Ramakrishna pedals 2 km from his home to reach the workplace near Khardah market in Kolkata. He cleans the floor, takes out his tools and starts cutting the pipes or hammers the iron shank to give it a shape for welding.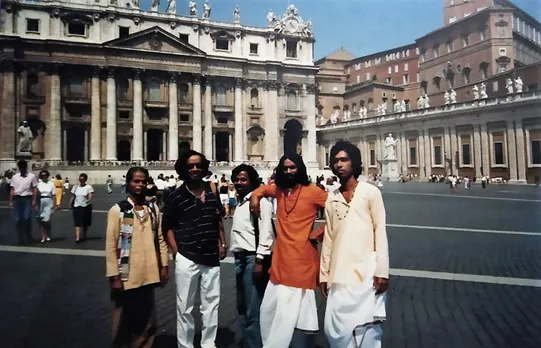 Early Life
Born on September 1, 1959, in a mediocre family, Ramakrishna is the third child among five siblings. His father was in the police department while his mother was a housewife. He wasn't good at studies and dropped his schooling in class 9.
Also Read: How Ustad Moinuddin Khan is keeping the rich legacy of sarangi alive
In 1977, he met Probir Guha, who offered him to join his theatre -- Living Theatre. He accepted the offer and it was from here that his interest in theatre flourished.    
Meeting Jerzy Grotowski
The group gained popularity for a few plays - 'Samudra Asthir', 'Majhraat' and 'Chore-Chore Mastuto Bhai'. The play 'Samudra Asthir' created an impact for its social message carried against the dowry custom.
It was staged in Bihar, Uttar Pradesh, Madhya Pradesh and West Bengal. "Most of the theatres were based on socio-political subjects. We used to sing Gana Sangeet (group music) and folksongs before the play to woo the audience," says Ramakrishna.  
Destiny knocked at his door in early 1980, when Steve Einstein, a theatre group director and physical instructor from the USA met them. Steve informed that the legendary Jerzy Grotowski, a Polish Theatre Director, was arriving in India and would visit them.
Also Read: Buried at birth, how Gulabo Sapera survived to become the global ambassador of Rajasthan's Kalbelia folk dance
The purpose of Grotowski's visit was specific. He wanted to form a troupe with various artists for an international programme on "Theatre of Sources" to be held in Poland between May 2 and August 31, 1980. The programme was to be directed by him and it was supported by the International Institute of Theatre, UNESCO.
He travelled across India to watch theatres and interact with the artists. Grotowski reached Khardah and asked Living Theatre for a 10-day workshop at Kenduli in Birbhum District, about 180 km away from Kolkata.
"We left Kolkata along with Grotowski and his team. I heard later that I had been selected for a six-month workshop to be held at Grotowski's Institute in Wroclaw, Poland," Ramakrishna says.
Also Read: How Culture Therapy is transforming lives of inmates in West Bengal's prisons
He flew to Poland in 1980. Several students from across the globe were present at the workshop. Naseeruddin Shah and Rekha Sabnis were the special participants from India, who became his friends.
"We did eight precise physical movements collected from various countries. We had activities like running in the jungle at an hour of darkness and practised slow motion. The idea was to link with the traditional Yoga of India. Total concentration to enrich the weakness inside oneself was the objective," he says.   
His next break came when in 1986-87, Abani Biswas, a noted theatre artiste along with Eleonora Caturegli, a professor, who taught Italian literature at Visva Bharati University, launched 'Theatre House' in Bolpur for their project Source Research – Indian Performing Arts. He was asked to join them. 
Also Read: Nirvana through dance: Uma Dogra's journey through Kathak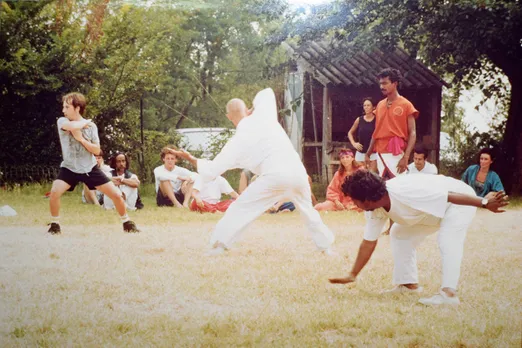 With an objective to revive theatrical relationships, the centre was opened with the help of four tribal men and 12 lanterns. It had a boarding facility for 60 people. "I was made the in-Charge to look after the Centre."
Roaming Europe
Ramakrishna's professional theatrical journey began in June 1988, when Theatre House took him to Rome in Italy on a project called Milon Mela. The project had a regular performance during their four-month stay. They staged 20 performances in a month. Sometimes, they used to do four performances in a day. Notably, they had two types of performance. One on stage, while the other at Piasta.
He roamed across Europe meeting celebrities who helped him hone his skills. Those he met included Koram Jablonko, a violin artiste from Perugia, who taught music at the University of Urbino. Eva Wallensteiner, an Austrian lady, who taught theatre at Vienna University, Eugenio Barba, director of Odin Theatre in Denmark; Peter Brook, a theatre director from France and Japanese theatre director Madam Kurusawa.
Also Read: 'We need a paying audience to make performing arts self-sustaining': Odissi dancer Prachi Hota
Audiences took a keen interest in the sound of drums and colourful displays of the arts they performed during the parade on road.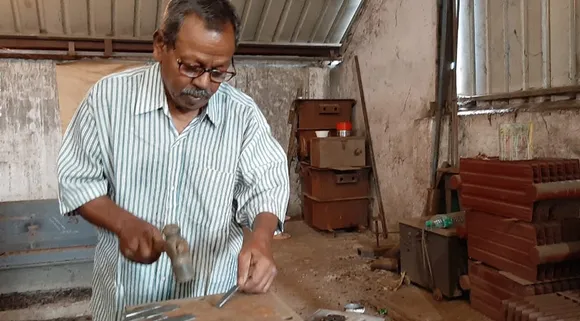 Ramakrishna wore a mask of Shiva. "It was the toughest task because it weighed around 8-11kg with eight snakeheads and it had a small hole for respiration," he says.
It was in 1991-92, Peter Maule, an Austrian director of International Travelling School, who visited India in 1985, invited Ramakrishna and Vijendra Ramala from Uttarakhand for a show. A team of nine members was formed, who travelled over 1000 km for 11 months. They kicked off their performance from Siena and it voyaged through Spain, France, Greece, Portugal, Majorca, Morocco, Tunisia and Italy. On their return trip, they staged in Switzerland, Slovenia, Austria, Poland and Germany.
Also Read: Mardani Khel: Maharashtra's talims popularise Chhatrapati Shivaji's martial art legacy
They displayed various activities, including Aikido, Tai Chi, tune on Rakubol and traditional Japanese masks made of mud, etc. A donation basket was placed where people offered them food, water and money. This was the trend in Europe and the artists utilized the cash for making long-distance telephone calls or sending letters.
Giving Up Theatre Arena
In 2010, a discord over remuneration loomed large with Theatre House. It led him to quit after having worked for nearly 24 years.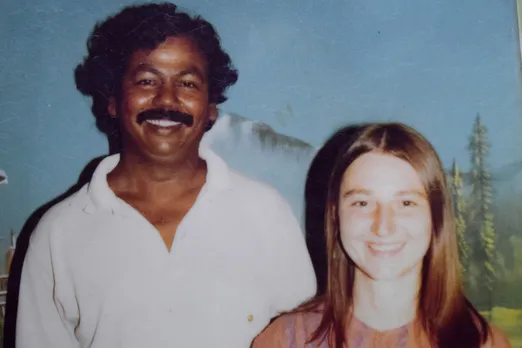 The troupe earned a lot by performing in Europe but the artists were monetarily deprived. Since there were no official contracts, the silent challenges became an issue.
He gradually understood that the troupe turned out to be European-oriented and it converted itself into business rather than art. 
Also Read: Left on their own, performing artists bear the brunt of Covid19
He then joined Abhinna Sundar Gotipua Nrutya Parisad, a dance group from Odisha. They took him to Morocco, England, Portugal and France for performances and rewarded him well. But again, the family became a priority and he left them in 2014.
Since then he has been struggling to find a job. His wife does some stitching work for extra money and sometimes some friends get him financial support.
"I don't fancy swanky cars or posh houses but I still have the curiosity to travel, meet people and make friendships," concludes Ramakrishna.  
(Partho Burman is a Kolkata-based award-winning journalist. He writes inspiring human interest and motivational stories.)
Also Read: Yakshagana: Karnataka's ancient theatrical dance art adapts to reach global audience