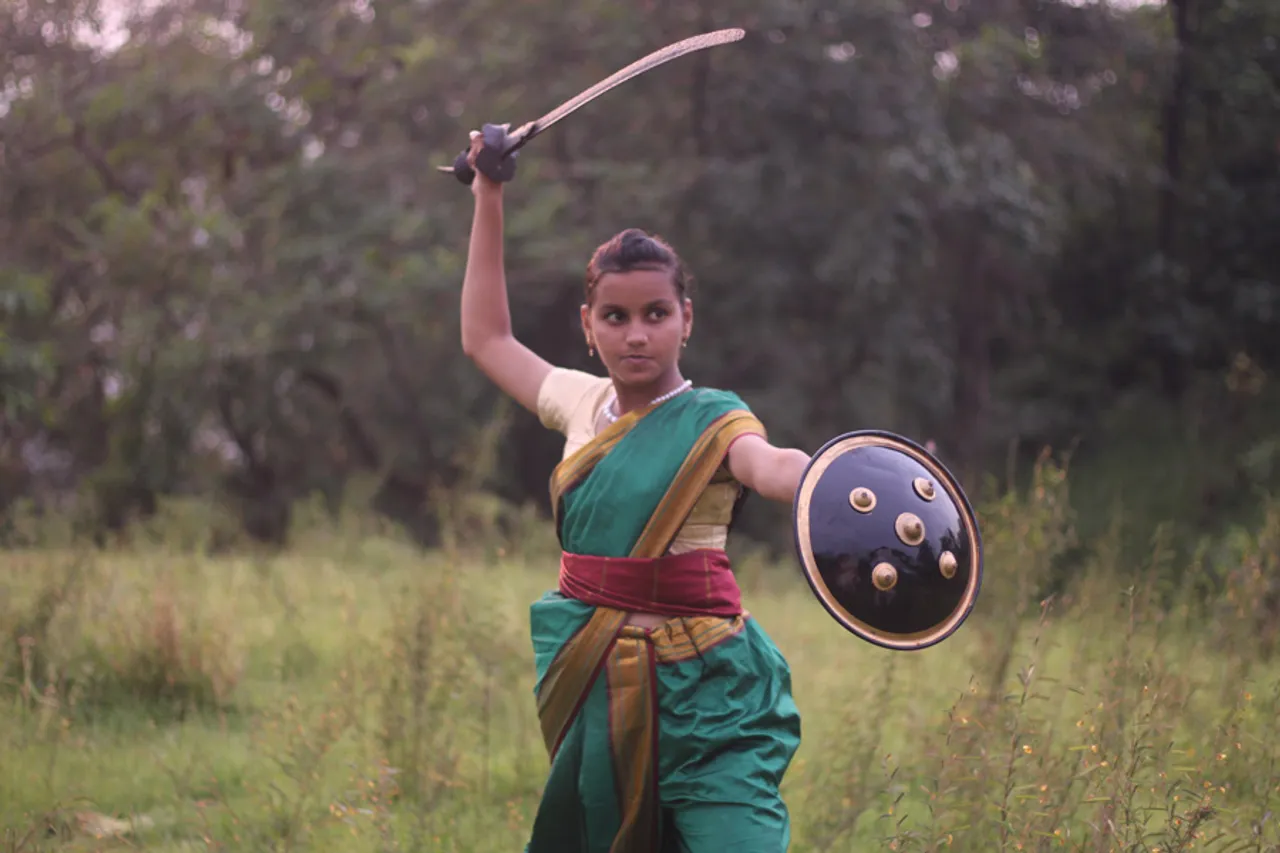 In 1732, when the purdah system was widely prevalent in India, a woman commander-in-chief of the Marathas led her army to victory against the Mughals in the battle of Ahmedabad near Bhadra Fort. Sarsenapati Umabaisaheb Dabhade, about who little is written in history books, was well-versed in military warfare and took prisoner the Mughal commander Zorawar Khan Babi.
Umabaisaheb's husband, Sarsenapati Khanderao Dabhade, the commander-in-chief under Chhatrapati Shahu Maharaj of Satara, died in 1729.
"Following the victory in the Battle of Ahmedabad, Chhatrapati Shahu Maharaj honoured Umabai with the hereditary 80 tola (a tola was 12gm then) gold anklet," says Satyasheelraje Dabhade, the 13th direct descendent of Umabaisaheb and a scion of the Talegaon Dabhade royal family.
Also Read: Maharashtra's Chitrakathi painting: keeping alive the legacy of Chhatrapati Shivaji's spies
Umabaisaheb was trained as a little girl in Mardani Khel, horse-riding and warfare. Her guru was also a woman – Rani Tarabai, the wife of Kolhapur's ruler Chhatrapati Rajaram Maharaj Bhosale.
Rani Tarabai asked all men, women and children to be trained in Mardani Khel, the traditional Maratha martial art involving hand-to-hand combat with opponents using weapons such as swords, spears, lances and daggers.
Mardani Khel, which was used effectively by Chhatrapati Shivaji Maharaj to defeat the Mughals, is so ingrained in the blood of the Maratha men and women that despite being suppressed by the British, not being documented or having a formal structure or government patronage, the martial art has survived due to a multitude of individual efforts.
Revival of the martial art
There are literally hundreds of small talims (mandals or training centres) dotting the Maharashtra landscape, especially in rural areas, promoting this ancient art. 
Also Read: Buried at birth, how Gulabo Sapera survived to become the global ambassador of Rajasthan's Kalbelia folk dance
Pranay Shelar, a Mardani Khel teacher from Mumbai, says the martial art came into prominence in the 16th century under Chhatrapati Shivaji Maharaj. "Shivaji Maharaj united the Marathas and used Mardani Khel to great effect against the Mughals," says Shelar.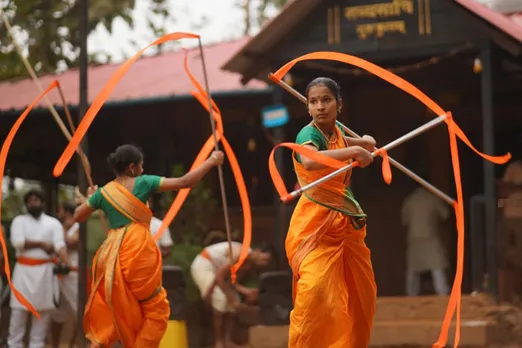 Priti Jadhav who teaches Mardani Khel at the Sarvoday Mardani Khel Prashikshan Sansthan in Vengrul, 65 km from Kolhapur, says, "History has many examples of women who were trained in combat and fought in wars. They were also ingenious and used ornaments and accessories as weapons. For instance, hairpins, earrings, brooches, bangles could all double up as weapons," she says.
Also Read: Nirvana through dance: Uma Dogra's journey through Kathak
Jadhav says today people, especially girls, are taking up the martial art for self-defence. "We have seen rising interest among girls as well as women given the unsafe environment. Mothers, as well as daughters, learn Mardani Khel, safeguarding the legacy of Chhatrapati Shivaji," says 30-year-old Priti.
"It not only brings flexibility and instils self-confidence but also gives strength of character," says Jadhav who learnt the martial art from her husband, Lakhan, also a guru at the Sarvoday Institute which they set up in 2008.
Chhatrapati Shivaji's contribution
"It was under the reign of Shivaji Maharaj that people in rural areas were acquainted with Mardani Khel and they used it as a form of exercise. Seeing their potential, he mobilised them and recruited them in his army to fight against the mighty Mughals," says 30-year-old Shelar.
Also Read: MP's Jhabua scripts a success story with its traditional tribal dolls
Information about warfare, tactics and weapons used by Marathas form a study of Chhatrapati Shivaji's Bakhar - daily diaries which are a historical narrative written in Marathi prose.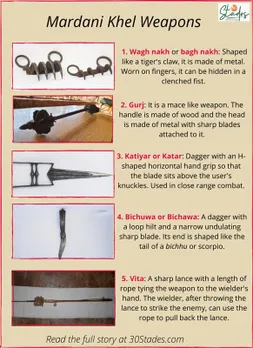 The local terrain with undulating hills of the Western Ghats was not suitable for heavy artillery of the Mughals.
"For instance, it is well-known that he killed Afzal Khan using a wagh nakh or tiger claw and stiletto like a thin dagger called bicchu or bichhuwa." Both wagh nakh and bicchu are among weapons used in Mardani Khel even today.
Also Read: How Kalyan Joshi has made Rajasthan's 1,000-year-old Phad paintings trendy
Keeping alive the legacy
Shelar says many families in Kolhapur, Satara, Sangli, Aurangabad, Sawantwadi and Ratnagiri have been engaged in teaching and promoting the martial art form since generations.
Salve, who was an expert wrestler and social reformer, was associated with Jyotirao Govindrao Phule. He actively participated in the struggle for independence calling for the ouster of the British.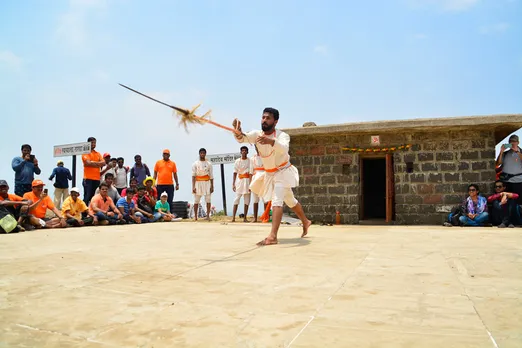 Mardani Khel or any other martial art form has origins in ancient India. The Dhanur Veda, which is an upveda of the Yajur Veda, is a treatise on warfare, martial arts and archery.
Also See: In pictures: Rajasthan's traditional turbans & the man making them trendy
Shelar who has learnt Mardani Khel from various talims, has been running the Shivgarjana Pratishthan in Mumbai since 2010. He is also writing a book on Mardani Khel as he says, there has been little documentation so far.
Lakhan Jadhav, 31, says Mardani Khel declined during the British period as they were apprehensive of anything that could be used to build up national sentiment against the colonial power.
"After the 1857 revolt, the British were wary of the growing sentiment for independence. In 1878, they brought in the Arms Act to prevent people from keeping arms. Weapons were seized as they wanted to prevent any armed revolt by the Indians," says Jadhav.
Also Read: 'We need a paying audience to make performing arts self-sustaining': Odissi dancer Prachi Hota
So the Vastads or gurus in talims turned Mardani Khel into a folk entertainment to ensure its survival. The weapons used were made from wood and the swords had blunt blades so they were not lethal.
Jadhav says Chinese traveller Xuanzang who came to India in the 7th century has mentioned the martial art form practised by the Maratha people.
Training for Mardani Khel
The preparation for Mardani Khel as for any martial art or sport involves strength training and fitness. The learner is first taught exercises to strengthen muscles and gain flexibility. Exercises such as surya namaskar (salutation to the Sun), push-ups, sit-ups are done.
Once the fitness is achieved, the learner is taught movements with the lathi or stick. Upon mastering the stick movements, they graduate on to using weapons such as bhala (spear), dand-patta (gauntlet sword), bow and arrow and other weapons. The weapons are made according to the height and weight of the user.
Also Read: How Culture Therapy is transforming lives of inmates in West Bengal's prisons
In the end, they are taught fari-gadga which involves learning defence and attack moves using a leather shield and a stick and throwing the vita.
The Mardani Khel performers still wear the traditional dress. Women wear lugda or kashta, the traditional nine-yard Nauvari saree which is tied in dhoti style and leather mojaris on their feet. Men wear mandchol, a thigh-length tunic, and knee-length breeches under it. They wear a head-dress called mundasa and leather mojaris.
"We want children to remember the sacrifices of all our great heroes and also learn self-defence," Jadhav says. 
Martial arts develop all faculties, physical, mental and intellectual. "The government has not provided any help to promote our heritage. If the government gives recognition to Mardani Khel then both the martial art and its practitioners can survive," he signs off.
(Urvashi Dev Rawal is a Jaipur-based journalist specialising in development, gender, and political reporting)
Also Read: How Ustad Moinuddin Khan is keeping the rich legacy of sarangi alive