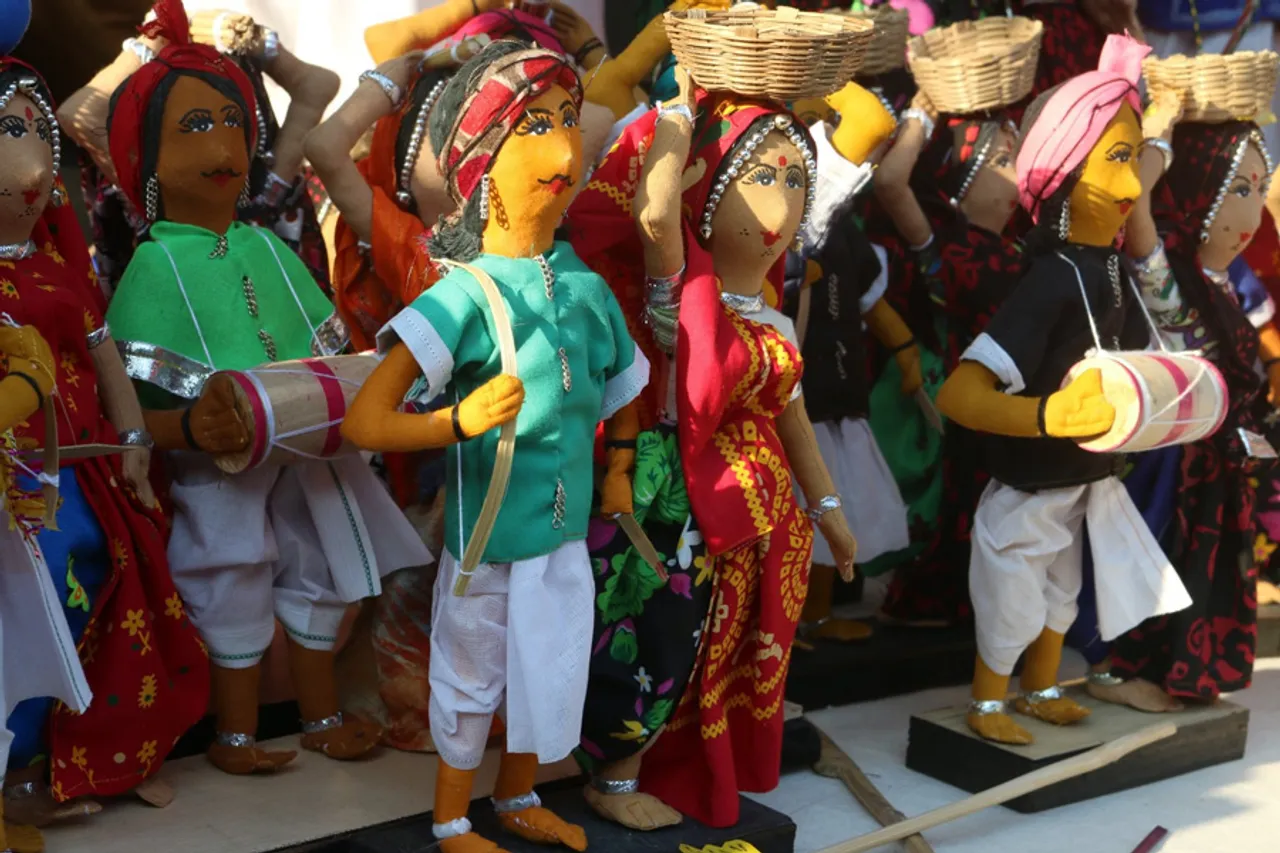 wp:paragraph
Madhubai and nine other women sit together with a pile of cotton cloths at Badkua village in Jhabua district of Madhya Pradesh. Four of them belong to the Bhil tribe, two are Brahmins while the rest are from the Sindhi community tracing their roots to Pakistan's Sindh province. Their deft hands stuff cotton into fabric body parts, transforming the pieces of cloth into life-like dolls within a couple of hours.
The adivasi gudiya hastshilp or tribal doll-making, which was once practiced only by the Bhil and Bhilala scheduled tribes, is now creating employment opportunities for people of all communities in Jhabua, one of India's 250 most backward districts out of a total of 640.  The dolls are now being considered for Geographical Indication or GI tag.
Also Read: Women artisans help resurrect Karnataka's Kinnal hand-painted woodcraft
From the forests of Jhabua to the world
These tribal dolls have found a market in Germany, the USA, and UK and are shipped across the country as well. "We supply to sellers in Jaipur and Delhi, who export them. Sometimes we are unable to fulfill the orders due to rising demand," says Subhash Gidwani, the owner of Gudiya Ghar, where women make dolls that travel the world.
Artisans also travel for exhibitions, haats and other cultural events organised by the government in different parts of the country. "We've been a part of the Shilp Mela and other events for the last 25 years. They are a good source of income for us," says Ramesh Parmar, who has been making these tribal dolls since 1993.
Also Read: COVID-19: India's handicrafts exports nosedive 40%; artisans turn daily wagers to make ends meet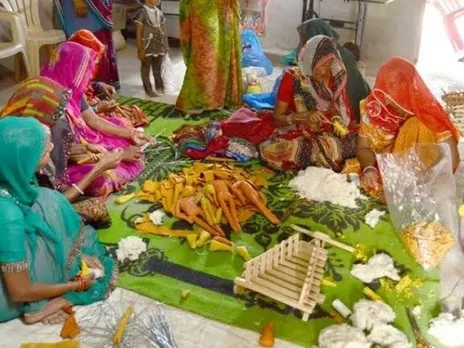 His wife Shanti Parmar is also involved in the craft and the couple has set up Prashikshit Audyogik Kaamgaar Karigar Sehkari Sanstha, where local women from all communities come together to make dolls and earn livelihood.
"The art is no more limited to tribal artisans. It is providing employment to many people in the area," he says. These tribal dolls are now also being made in Gwalior, Bhopal and other places due to their rising popularity and demand.
Also Read: A quaint village in Hooghly becomes manufacturing hub for string instruments
Geographical Indication (GI) tag
Now the tribal dolls have found a place in the list of 53 other potential products of tribal origin that will be considered for the Geographical Indication (GI) tag, issued by the Geographical Indication Registry under the Ministry of Commerce and Industry.
GI tag recognises a product based on its place of origin, giving visibility to the local artisans and ensuring better price for their craft.
At 10.43 crore, tribals constitute 8.6 percent of India's population and 90 percent of them live in rural areas. "A GI tag, if accorded, will also increase the employment potential for the tribal artisans manifold. It will improve visibility and I'll be able to employ at least 50 people," says Gidwani, who currently works with 15 artisans.
Also Read: Meet India's ancient board game hunters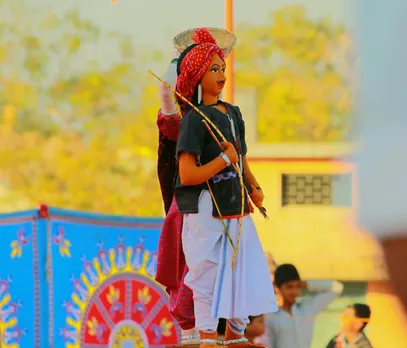 Madhubai too believes a GI tag would help the art gain wider recognition. "We've been creating these dolls for a lifetime; receiving the tag would be rewarding for us," she says.
Dolls that mimic sustainable tribal life
Jhabua is dominated by tribal communities -- Bhil, Bhilala, and Patila. Originally made only by the tribals, the dolls are an intricate replica of their creators.
There isn't much disparity in the clothing either -- female dolls are decked up in ghagra choli, their head covered with dupatta. And the male dolls sport dhoti-kurta with a pagdi draped around the head.
Also See: Visuals of paper maché: Kashmir's 700-year-old 'chewed paper' craft
Their accessories are one of their most distinctive features, be it the silver or bead necklace, and bangles. The dolls also carry the items used by tribals such as baskets for collecting agriculture and forest produce, bow, arrow, and spears used for hunting or the musical instruments that form part of all celebrations.
Until a couple of decades back, tribal women would go knocking door to door to collect old clothes. Later, they sat together bringing these rags to life through the art that honours waste and celebrates sustainability.
How are Jhabua dolls made?
While the old clothes have now been replaced with fresh cotton pieces, the technique of making Jhabua dolls has remained unchanged over centuries.
Also Read: Maharashtra's Chitrakathi painting: keeping alive the legacy of Chhatrapati Shivaji's spies
A piece of cotton cloth is laid out and different body parts like torso and limbs are marked using blue ink. Then two layers of fabric are stitched together along the drawn lines to form the body parts.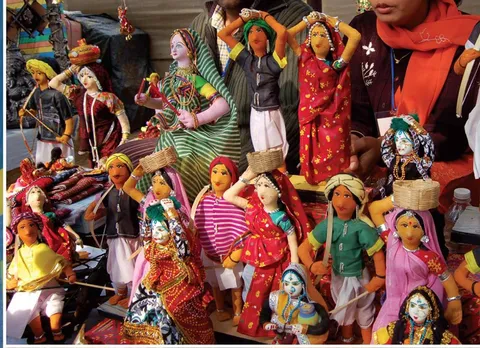 The marked portion is hand-stitched, turned inside out and filled with cotton for turgidity. An eight mm wire is inserted in the limbs to provide rigidity. Once the body parts are joined, the face is carved out using a fine paste of clay (chaak mitti), glue, and paper, which is fired with cow dung cakes (upla) until dry, explains Madhubai.
A layer of cloth is applied on the face and dyes are used to draw the facial features. Thin wool strands are stitched onto the scalp to make hair. Clothes are stitched for the dolls and other embellishments like jewellery, accessories, are then added.
Also Read: Bihar's Sikki grass craft finds global market amid rising demand for eco-friendly artifacts
Lastly, the wires protruding from the limbs are fixed to a wooden plank. The dolls mostly come in pairs and their height varies from 9 inches to 5 feet depending on the orders received.
"Lockdown has made things difficult for us. But when we regularly participate in exhibitions, we earn well," says Parmar.
The Madhya Pradesh Tourism department is also promoting the craft and the state government continues to facilitate workshops for training the locals in tribal doll-making. The future of the craft, for now, seems safe as it has become a livelihood option in India's tribal hinterland.
(Rishika Agarwal is a Patna-based writer specialising in art, culture and human interest stories)
Also Read: Bengal's Natungram: Craft village where wooden dolls come alive