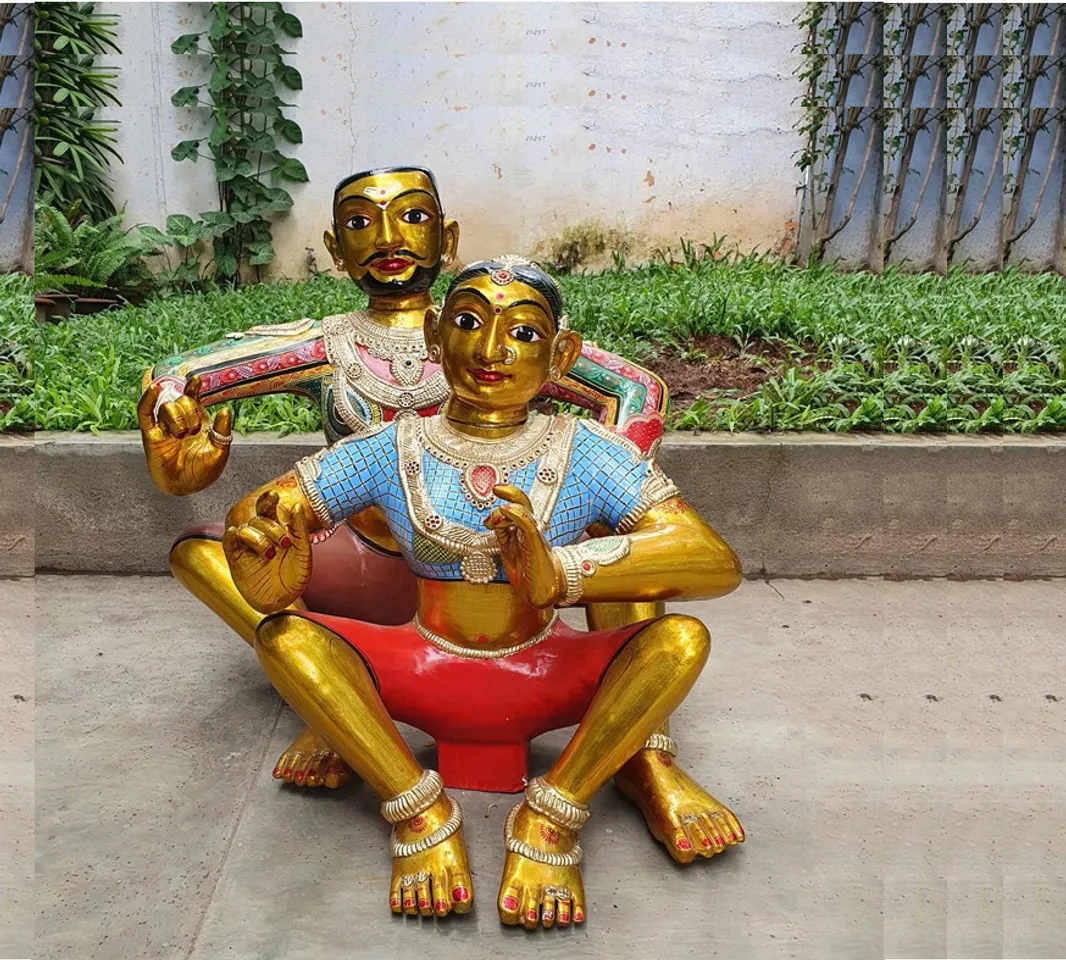 Manjula is busy carving out Rati, the Hindu goddess of love, from poniki (white sander) wood at her home in Kinhal village of Koppal district, Karnataka. She first carved the idol's head and then moved on to sculpting the other body parts, each of which was drawn on the softwood before being shaped. The parts will be later joined to create the consort of Lord Kamadeva. 
Manjula grew up watching her grandmothers and mother lend a helping hand in the hand-painted wooden craft of Kinhala, Kinnala or Kinnal, which derives its name from the Kinhal village and received the Geographical Indication tag in 2012.
Also Read: Bengal's Natungram: Craft village where wooden dolls come alive
Women carve a new future 
Unlike Manjula, women earlier mostly helped in preparing colours and painting the artefacts. But they are now actively involved in carving and shaping the dolls. 
Among the 67 chitragar (artisan or painter) families in Kinhala, 25 are actively engaged in the craft. Manjula is among the 20 women attending a training workshop being conducted by Export Promotion Council for Handicrafts (EPCH) this month.
Also Read: COVID-19: India's handicrafts exports nosedive 40%; artisans turn daily wagers to make ends meet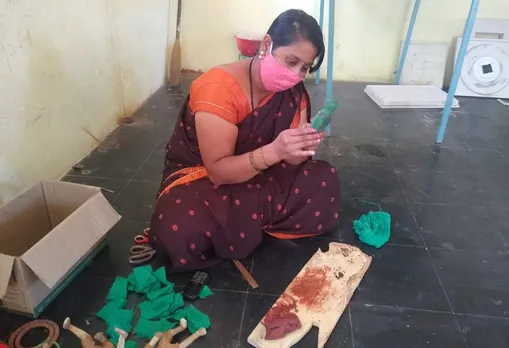 "It takes 15 days to make a 2-feet doll. Women of all age groups are now much more actively involved in the process than before," says Manjula, whose family earns about Rs20,000 to Rs25,000 per month from the craft. 
Also Read: Chettinad's masons slowly revive centuries-old lime-egg wall plaster technique
After the decline of the Vijayanagar Empire, the chitragars migrated to various places and received the patronage of the Nawabs of Koppal, Desais of Kinhal and Nawab Salar Ali Jung, an art patron of Hyderabad. 
Designer Anandbabu Amberkhane, who is working with the Kinnal artisans in the EPCH workshop, says more women are now practising the craft as male artisans also earn from other works. He is training them in not only design upgradation but also giving them carpentry tips to ease the carving process like using advanced tools and machines wherever possible. "This has also helped more women take up carving," he says.
The Crafts Council of Karnataka is also working towards promoting the craft, especially the women artisans of Karnataka.
Also Read: A quaint village in Hooghly becomes manufacturing hub for string instruments
Contemporising the 400-year-old craft
The focus of EPCH workshop is to contemporise the Kinnal art. "We are encouraging the creation of traditional village games like gulli-danda besides traditional board games and even nameplates and wall clocks etc," Amberkhane says.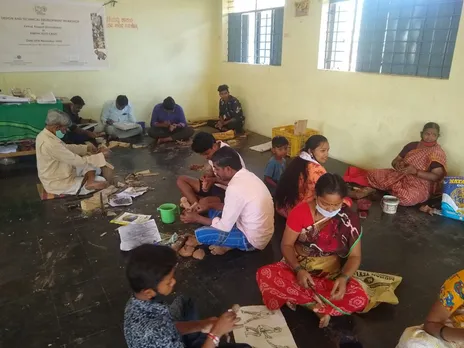 "Earlier, the artisans were making 3 to 4 feet dolls. Now houses are smaller, people live in flats and they don't want big dolls. The demand is for smaller dolls measuring 6 to 12 inches," says R G Singh, Secretary of Ramsons Kala Pratishtana (RKP), a Mysuru-based not-for-profit art foundation working towards research, training, development and preservation of art and craft forms.
Also Read: Meet India's ancient board game hunters
So designers are now encouraging artisans to make smaller-sized dolls and other items. Kinnal craft is famous for its depiction of Jaya and Vijaya (the gatekeepers or dwarapalakas of Lord Vishnu's abode), Navagrahas (the nine planetary deities), Kama-Rati, besides Garuda, Hanuman, Kamadhenu, and scenes from the Ramayana, the Mahabharata, and the Puranas. "However, the demand for idols has lessened," he adds.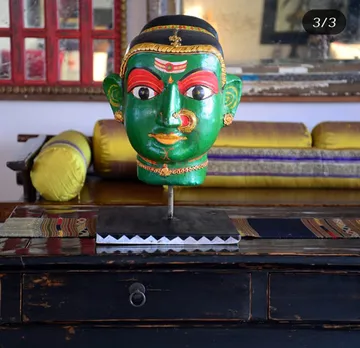 The wide range of products now being made by Kinnal artisans includes palkis (palanquins), cradles, decorative umbrellas, stools, birds and animals, picture frames, mirror frames, decorative plaques, fruit and vegetable trays, crowns, armour and weapons for village dramas, stage performances of the epics, and more.
Santhosh Kumar Chitragar, whose artworks won him the Karnataka Shilpakala Academy award, is one of the artisans making more contemporary designs of Kinnal craft. "I began learning it from my father when I was 10," says the 28-year-old who has done Masters in Fine Arts.
Also Read: CtoK: Empowering Kashmiri artisans to turn entrepreneurs
The artisans now make contemporary dolls as per the requirements of the customers. "We take advance orders because creating the dolls is a time-consuming process," says Santhosh, who has not limited himself to making religious idols.
"Women, who are more actively involved in the craft now, also make six-inch figurines mostly," he says. 
The process of Kinnal craft
The materials used for the Kinnal craft are locally available softwoods from neem, drumstick and poniki. Being lightweight, these woods require a metallic finish for a smooth texture. A cloth collage is put on the wood for structural support. All the parts of the doll are first joined together with a paste of tamarind seeds and pebbles. 
Also See: Visuals of paper maché: Kashmir's 700-year-old 'chewed paper' craft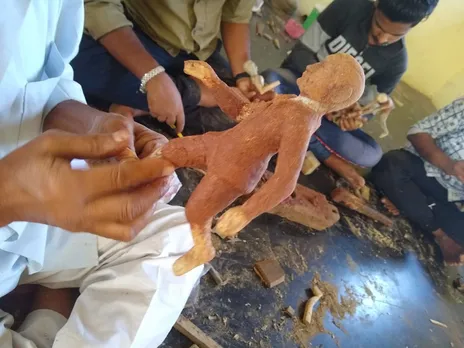 Then, on the body of the doll, a paste called kitta is applied using hands.
The basic process is completed with a final layer of pebble powder paste. While many artisans continue to use natural colours, others have shifted to market-made bright paints not all of which are eco-friendly.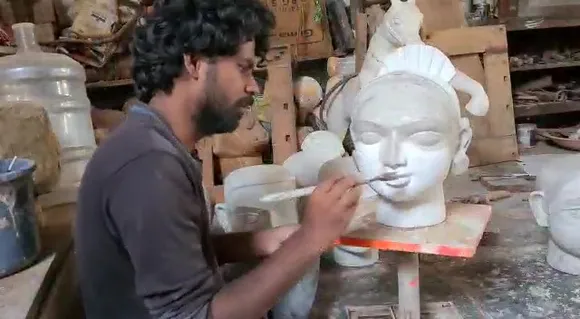 Traditionally, artisans used limestone, red soil and carbon black besides other natural materials to make dyes. The most prominently used colours are ochre, brick red, deep green, white, black, and lapis. The craftspeople use a brush made from the hair of squirrel's tail for painting. A thin layer of varnish is applied after the paint fully dries up.
Also Read: Maharashtra's Chitrakathi painting: keeping alive the legacy of Chhatrapati Shivaji's spies
Well-known puppeteer, based in Bengaluru, Anupama Hoskere, who has steeped herself in understanding Kinnal craft, reminisces over her visit to Kinhala village. "About 15 years ago, I read an article in which it said that Kinhala specialises in making wooden Ashtadhikapalas (guardians of the eight directions)." 
This piqued her interest as she was recreating the stage for Natya Shastra. "I went to Kinhala and met Ekappa Chitragar with whom I discussed this," she says.
"When I went to his house to talk about what I had envisioned for my production, Anappa drew a figurine of Indra on the wall and said he would create it for my production."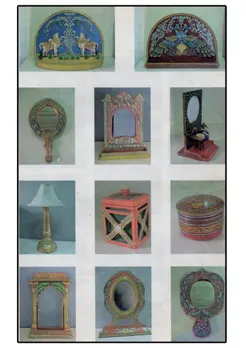 As photography in Virupaksha temple is not allowed, Hoskere roped in a Mysuru-based artist to make sketches of the Virupaksha temple pieces. "We used that for reference and I worked with Ekappa. They did a wonderful job. We finished it eight or nine years ago. After experiencing that I can tell you there is no limit to this craft."
Right now, the buyers of Kinnal artefacts are mostly people within Karnataka. Organisations like Ramsons are trying to promote the craft through their annual doll exhibition as well as ordering board games and other items from Kinnal artisans. Young craftsmen like Santhosh are selling their creations to online marketplaces, which have a global audience. 
Yet, Hoskere says Kinnal has not received the recognition it deserves. "People are unaware of this beautiful craft. The artisans use safe, non-toxic material and the products are environment-friendly. With the right attention, the craft has the potential to grow as an industry," she says.
(Lead pic courtesy of Santhosh Kumar Chitragar)
(Sravasti Datta is a Bengaluru-based independent journalist, who writes art, culture and human interest stories)
Also Read: Sholapith: Bengal's eco-friendly ivory craft intrinsic to life and death