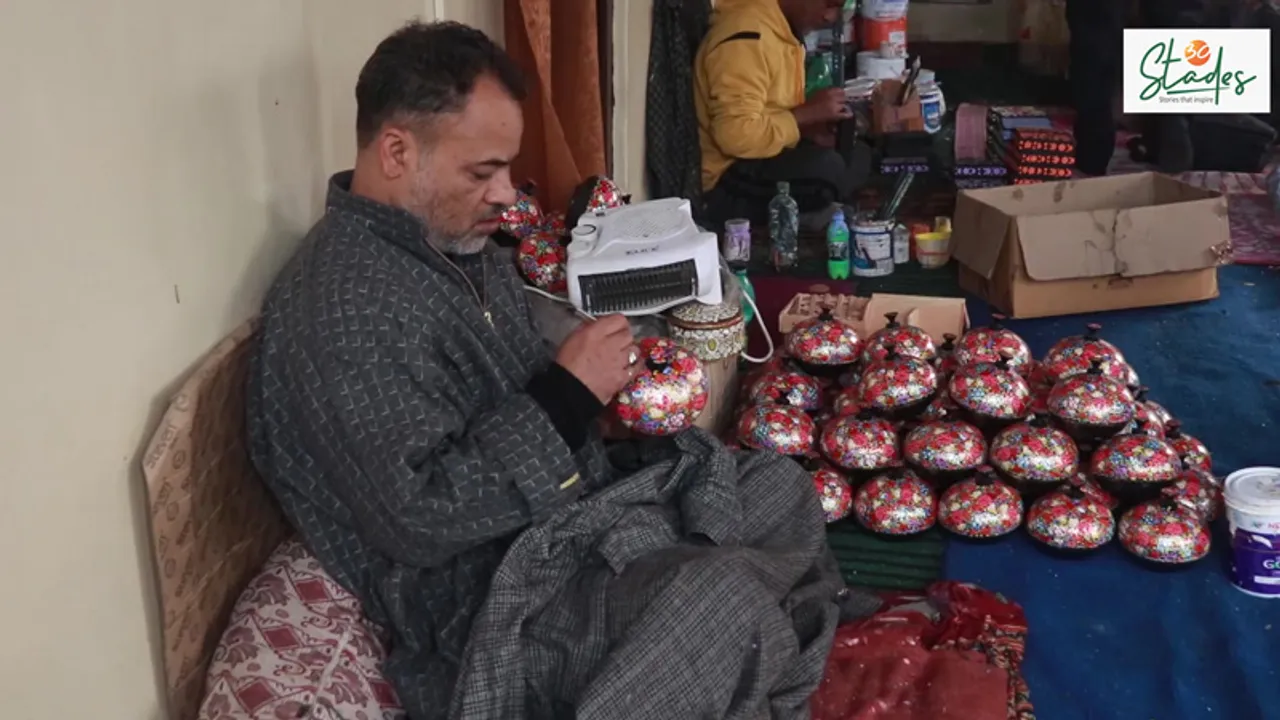 wp:paragraph
The first glance at Kashmir's paper maché flower vases, boxes, trays and other items makes one feel that the craft is done on wood. The beautiful cups, lamps and beautifully decorated artefacts seem to not reveal their core – paper pulp. Today, Kashmiri paper maché (also paper-maché or paper machi) products are well known the world over.
There are two versions to the story. It is said that Sufi saint Mir Sayyid Ali Hamadani, who visited Kashmir, introduced the craft from Persia. The other belief is that Kashmir's 8th ruler Zain-ul-Abidin saw this art in Samarkand, now in east-central Uzbekistan, and brought some artisans with him on return. They taught the art to Kashmiri locals and their descendants continue to practice the craft in the valley even today. 
Also See: Soaking, boiling, dyeing, washing…the creation of Madhya Pradesh's Bagh print in pictures
Kashmir's emperors decorated even their doors and walls with paper maché and patronised the craft, which flourished. 
Process of paper maché
The craft begins with soaking waste paper in water for many days. This soaked waste paper, paddy straw and some cloth are pounded in a stone mortar to make a fine pulp. Glue made from rice is added to it and the mixture is applied over moulds. 
Once fully dried, the artwork is removed from the mould. It is here that women take over and smoothen out any rough surface using a stone or wooden file. 
Also Read: How Nizamabad's 500-year-old black pottery is regaining lost glory
Then the object is ready for being coated with the first layer of paint. A second layer is also applied and when fully dry, it is covered with thin sheets of butter paper. This layer of butter paper prevents the paint from reaching the base, which could otherwise crack due to the paint. The piece is then beautified with more layers of paint and designs before it is ready for sale. 
Over the years, the demand for paper maché products increased and there sprang up an overseas market for paper maché handicrafts from Kashmir. 
Also See: Kashmir's farmers get peanuts for walnuts as lockdown hurts rates
However, in the last few years, the art has been on a decline as the valley has been struggling with strife and shutdowns. COVID-19 has only worsened things. "My great grandfather set up this paper maché unit in 1917. Since then we have been practicing the art. But it is tough to find buyers now. There are no takers for our paper maché elephants, camels, eggs, jewellery boxes and other items," says Amjad Bhat, who runs the over-100-year-old shop in Srinagar. 
Fiza Hussain Bhat, another craftsman who once had a flourishing paper maché unit, says in the last 10 years, it has been tough to find craftsmen. "The earning are not enough to sustain artists and their families. So most people are quitting the craft," he says.
Some organisations like Commitment to Kashmir (CtoK), a trust, are trying to help the craftsmen by training them in contemporary designs and trying to find a market for them. But in a world hit by COVID, jobs and salaries have been cut and it may not be easy to find buyers anytime soon. Wasim Nabi has captured the beauty of paper maché and the pain of its craftsmen in a video and pictures here: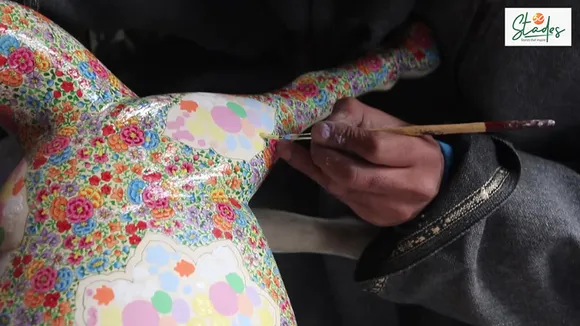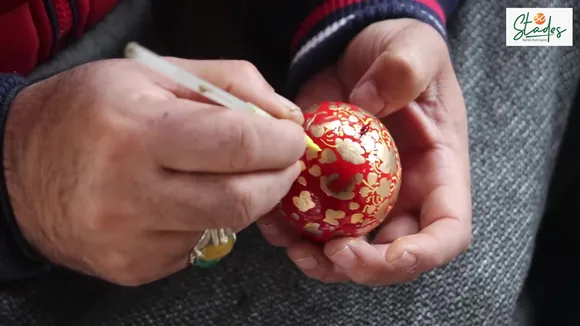 Also Read: COVID-19 gives new wings to kabootar bazi in Kashmir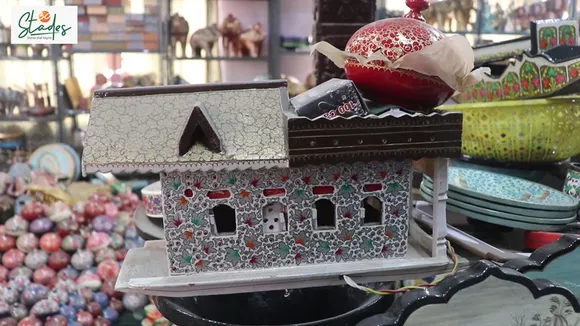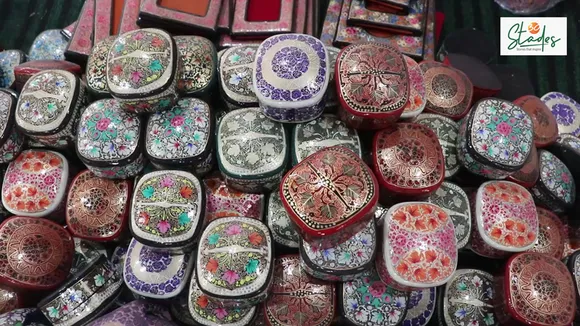 Also Read: In pictures: Dussehra customs from across India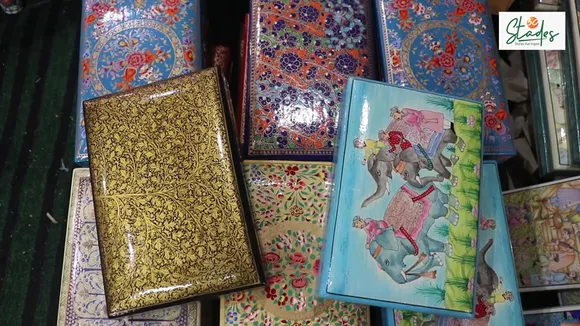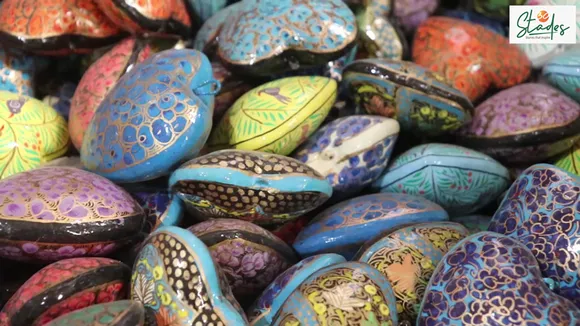 Also See: In pictures: Rajasthan's traditional turbans & the man making them trendy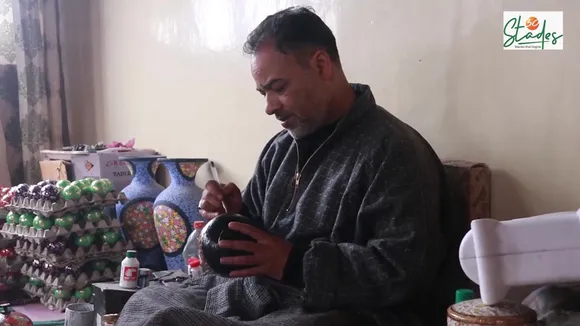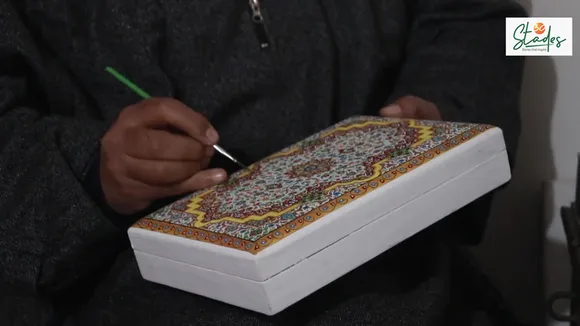 Also Read: Maharashtra's Chitrakathi painting: keeping alive the legacy of Chhatrapati Shivaji's spies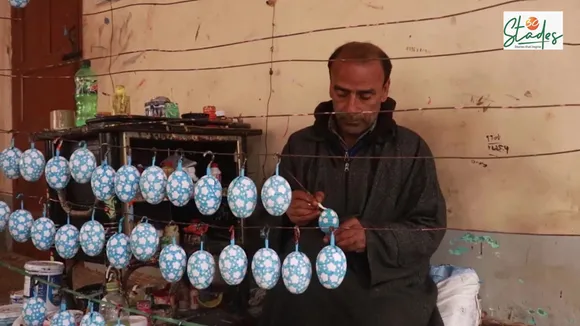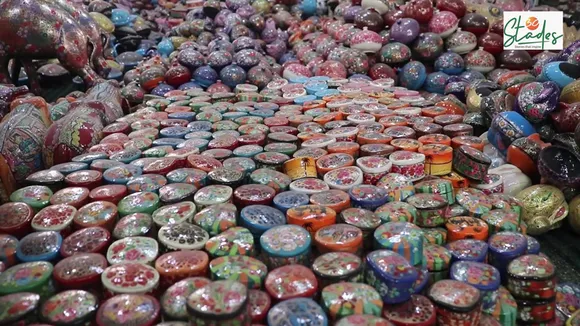 (Lead Pic: by Wasim Nabi)
(Wasim Nabi is a Srinagar-based freelance multimedia journalist)
Also See: Visuals of Kashmir's beauty in autumn