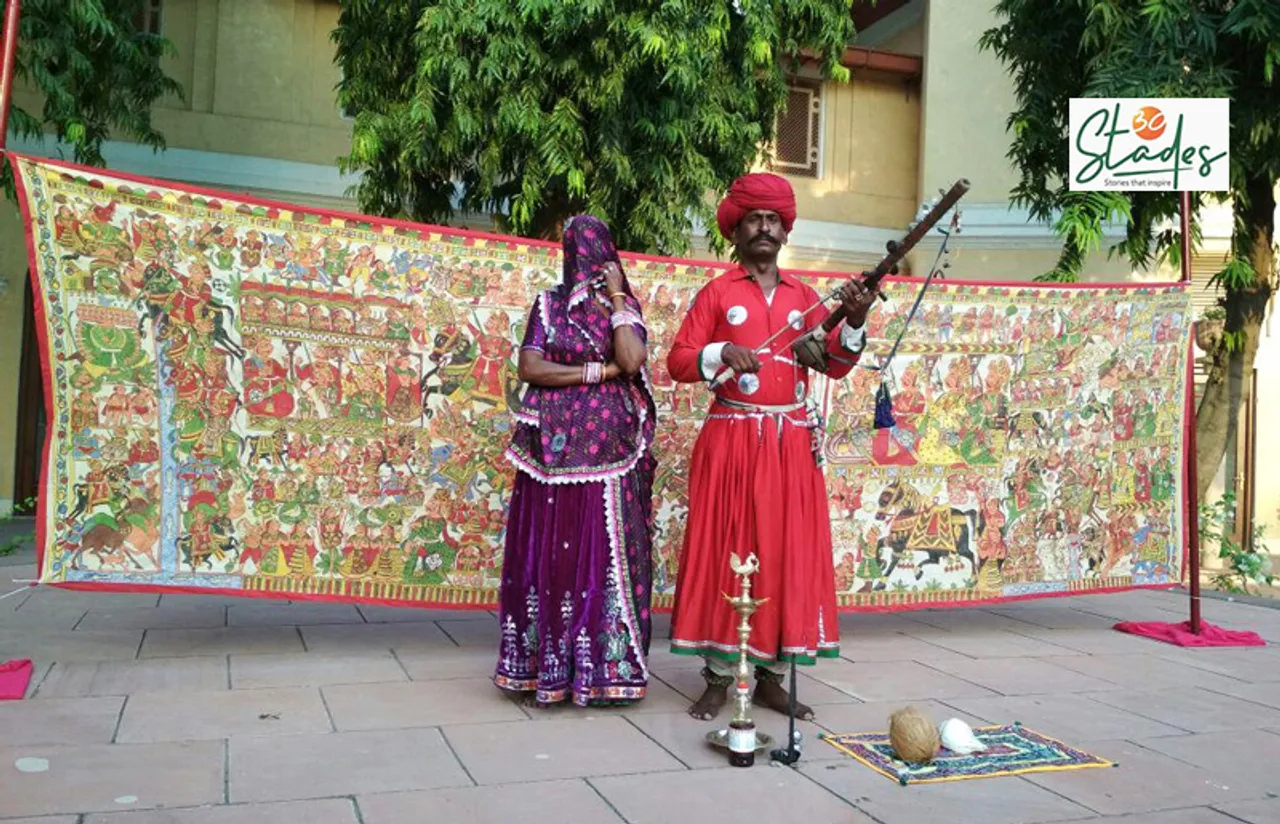 In 1982, a 17-year-old Kalyan Joshi arrived at the MS University in Baroda after deciding to give up his family's 1000-year-old tradition of Phad painting, which traces its roots to Pur village in Rajasthan's Bhilwara district. He wanted to study fine arts and pursue contemporary art, moving away from Phad – the large horizontal scroll paintings on cloth that portray the epic lives of Rajasthan's local deities.
His father Shree Lal Joshi, eminent Phad artist and Padma Shri awardee, had held a month-long workshop on narrative art in the MS University's Fine Arts department. The teachers had left a strong impression on young Kalyan's mind.
"I wanted to study there and arrived at the university with a letter from my father. Over the next few days, Professors Jyoti Bhatt and Gulam Mohammed Sheikh (of the Fine Arts department) explained to me that what I had was unique and more precious than what I would learn at the university," recalls Joshi, now 52.
Also Read: Maharashtra's Chitrakathi painting: keeping alive the legacy of Chhatrapati Shivaji's spies
"The professors advised me not to disown this unique tradition. They said if I studied at the university, I would struggle to create an identity between the traditional and contemporary arts whereas actually, I already had a unique identity," says Joshi.
Painting a new future
Bhatt advised him to contemporise Phad and create something new out of the traditional form. This meeting with the professor changed the course of Joshi's life.
The push not only helped him become a celebrated Phad artist but also won him a National Award in 2010. He is credited with breaking down the 20-30 feet Phad paintings that depicted stories of legendary Rajasthani heroes - Pabuji and Devnarayanji - into single scenes and has also introduced new themes and designs.
So his canvas is not limited to narrating folk epics but also includes Phad posters depicting government schemes on women empowerment, awareness about water conservation and motivating people to cast their electoral vote.
The COVID-19 pandemic has also found expression in Joshi's Phad paintings depicting life during Coronavirus and the plight of migrant workers.
Also Read: Inside Dharavi: Hunger, helplessness & administrative failure grip Asia's largest slum amid COVID-19 lockdown

"It is Professor Bhatt's advice that has been instrumental in keeping Phad alive," says Joshi whose family has been the custodian of the folk art since the last thousand years.
A legacy of colour and valour
Interestingly, the first Phad painting made in the 10th century by Joshi's ancestors depicted the life of lord Devnarayan, believed to be an incarnation of Lord Vishnu and revered by cattle herders, farmers and rural craftsmen mostly in eastern Rajasthan.
"It is said that Devnarayan was staying in Malwa at his nanihal (maternal grandparents' home) when his kingdom in Mewar was attacked. Devnarayan decided to return to save his kingdom. But his grandparents and other family members wanted a picture to remember him by," says Joshi.
Also See: Soaking, boiling, dyeing, washing…the creation of Madhya Pradesh's Bagh print in pictures
So an emissary was sent to the Joshi family in Pur, Bhilwara. The artist painted anecdotes from Devnarayan's life on a scroll. "That's how the Phad tradition started," says Joshi.
The Phad paintings were always commissioned by a patron on behalf of the Bhopa. "They would sing and perform the stories before the audience at night. So while the paintings were made by the painters, they were performed by a different community," says Joshi.
Besides Devnarayan, Phad paintings also depicted life stories of Pabuji, a Rajput deity from the Marwar region of Rajasthan. As time went by, other local gods such as Tejaji, Gogaji and Ramdevji found a place in the Phad art form, where every inch of the canvas is filled with colours and figures depicting a story.
"The Bhopa would unroll the Phad and the performance would go on late into the night. It was an interactive performance with the audience egging on the performer," he says.
But with the arrival of radio, television and mobiles, the patrons as well as the tradition of Phad declined. There was a corresponding fall in demand for paintings and the fortunes of the Joshi family.
Also Read: LifeCraft: empowering Jharkhand's Kuiani women through fabric hand dyeing
Joshi says his father took the first step towards the revival of Phad by breaking the traditional painting into smaller panels, each panel depicting a story. "In the 1950s, an Indian ambassador to Russia saw a Phad painting and wanted a smaller version of it. He asked my father to create a 2x4 feet painting and paid Rs100 for it," says Joshi.
So Joshi's father decided to make small Phads.He also changed the subjects from deities to local heroes such as Prithviraj Chauhan, Durgadas Rathore, jauhar (self-immolation) of Rani Padmini and scenes of nature.
The process of painting Phad
Phad paintings are done on cotton cloth, which is pre-washed and beaten to make it soft and smooth. The Phad is divided into four parts and designs are sketched on the cloth with a pencil. These are then filled with natural colours.
Colours are made by crushing stones and mixing the powder with water. This liquid is then strained to remove debris. Desi gond (a plant-based gum) is added to help the colour stick to the cloth. It also ensures that the painting doesn't fade.
Also See: In pictures: Rajasthan's traditional turbans & the man making them trendy
The sketches are filled using one colour at a time. "The colours are used from light to dark. First, all the images with skin colour are filled. Then we use a yellow colour, then green, brown, red and blue. The last one to be used is the black colour," he says.
Joshi says the belief in traditional Phads continues. "People organise Phad performances on special occasions like if they have a good harvest or there is a wedding in the family."
Joshi is now hopeful of Phad's survival. His son Anuj, a graphic designer is using Phad on cards, posters and T-shirt prints. His daughter Kritika, who has studied textile design, is doing Phad painting on bags, dresses, masks and accessories.
Also Read: How Kutch's Abdul Gafur Khatri is keeping alive 300-year-old Rogan art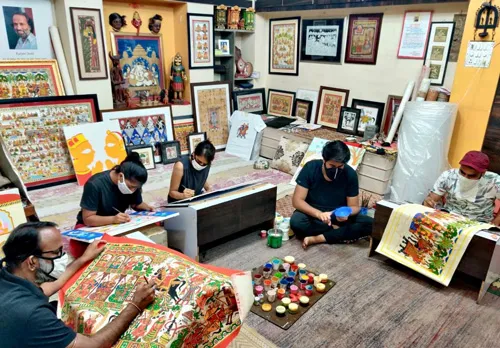 Along with his father, Joshi also set up Chitrashala, a training institute for reviving and contemporising the folk art.
In the mid-1980s when he had shown his work to Komal Kothari, the renowned folklorist and ethnomusicologist, he was very happy. "Komal da said Phad would become popular and survive because it was becoming contemporary," recalls Joshi.
Apart from winning the National Award in 2010 for his Ram Dala ki Phad, Joshi also won the government's National Merit Award in 2006 and Gauri Shankar Mehta Award, Maru Parampara, in 2008.
Also Read: How COVID-19 and India-China tensions have changed India's 900-year-old Patan Patola weaving
The Ram Dala ki Phad is a portrayal Lord Vishnu's incarnations. It mainly depicts scenes from Lord Ram's life but also includes those from the Dashavatar (10 incarnations) of Vishnu and scenes from Krishna's life.
In 2011, his brother Gopal Joshi, who specialises in miniature Phad paintings, won the National Award for his miniature Pabuji ki Phad measuring 3x6 feet. Both the award-winning paintings were sold in an auction for charity.
"Our father was very happy that our centuries-old family legacy received identity and recognition," says Joshi.
(Urvashi Dev Rawal is a Jaipur-based journalist specialising in development, gender, and political reporting)
Also Read: Women artisans help resurrect Karnataka's Kinnal hand-painted woodcraft