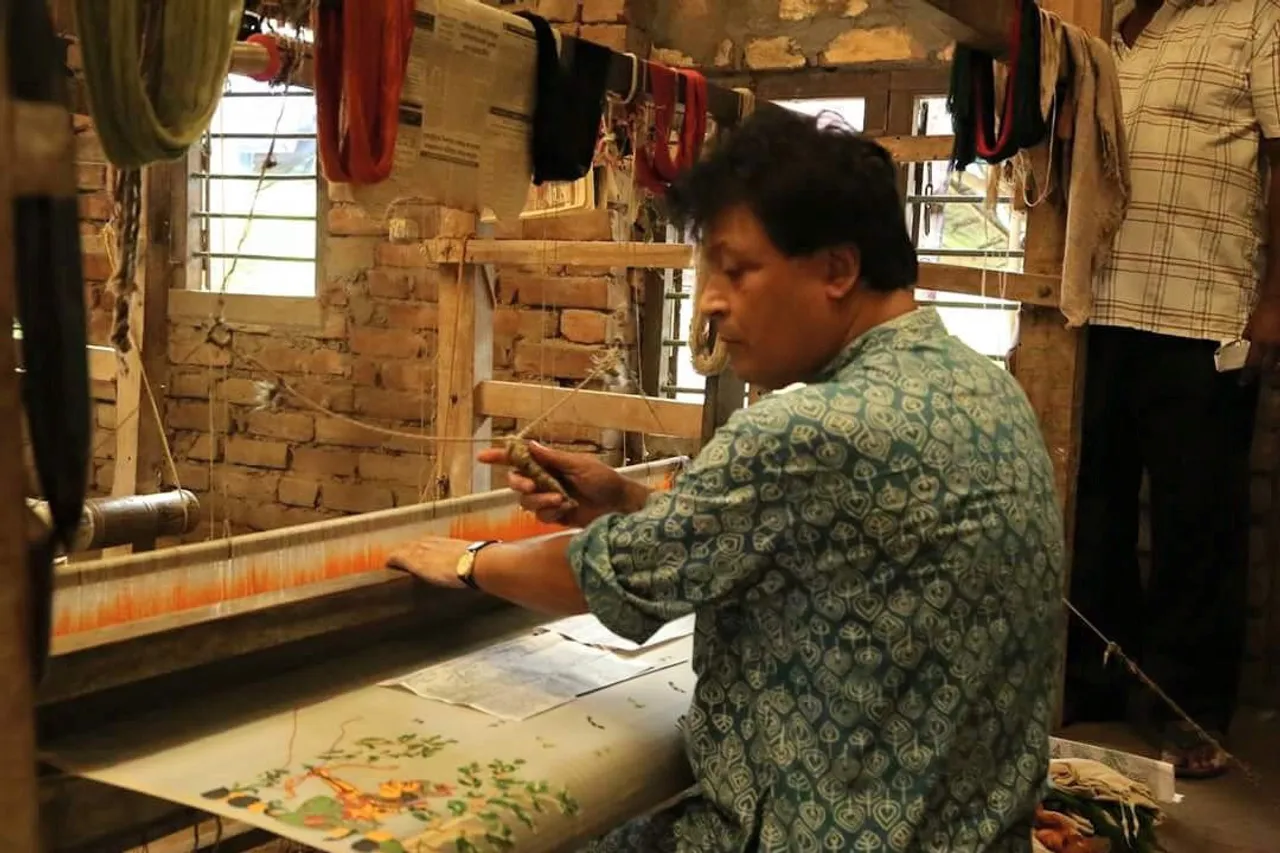 wp:paragraph
The year was 1961 and communal tensions were rife in East Pakistan (now Bangladesh). As Hindu-Muslim riots began to threaten life in Tangail, a weaver family decided to leave behind their home and came to India in 1962. Banko Bihari Basak settled down with his wife and sons in Phulia, about 100km from West Bengal's capital Kolkata.
Survival took precedence over education and his sons had to discontinue studies. Banko's younger son Biren, who had studied at Shibnath High School in Tangail till class 6, also took up weaving along with his family for livelihood. 
Basics of business - first hand
"I joined my father so that we could afford two meals a day. We went door-to-door selling sarees that we would weave and earned Rs2.50 per day," says Biren Basak.
He was awarded the Padma Shri in January 2021 for his Tangail and Jamdani weave sarees, which blend Indian art, craft and mythology. The 70-year-old master weaver counts among his clients eminent personalities including Bengal Chief Minister Mamata Banerjee, Bangladesh Prime Minister Sheikh Hasina, Lata Mangeshkar, Sourav Ganguly, Satyajit Ray, Ustad Amjad Ali khan and a host of other film stars and top lawyers.
Also Read: Bhujodi: Gujarat village that turned a nomadic tribe's shawl into a global fashion statement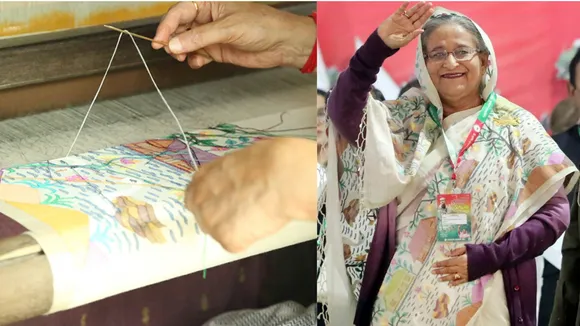 Basak has given employment to over 5,000 weavers in Phulia. When he started working with his father in the 1960s, there weren't any Jamdani weavers in the area. "Over time, my father saved money and started training weavers in Phulia.  My father met a number of people and gradually his weaving technique became popular," says Biren. 
With the father and two sons selling exquisite sarees with intricate weaving patterns, the client base began increasing rapidly. In 1981, Biren and his brother Dhiren jointly purchased a 1,300 sq ft space in south Kolkata for selling sarees. In 1985, the duo founded Dhiren and Biren Basak and Company, expanding their saree business to accommodate the rising number of clients.
Within two years, however, the brothers decided to part ways. While Dhiren continued work in Kolkata, Biren returned to Phulia, where his heart always was, away from the hum-drum of the city.
Also Read: Tribal women turn entrepreneurs with Tasar silk farming
The making of a saree empire
He set up Biren Basask and Company in the  late 1980s after taking a bank loan and gradually expanded the business. "In the 1980s, I had learnt the art completely and started training weavers too.  Till date, I have trained nearly 450 weavers in Phulia free of cost," he says.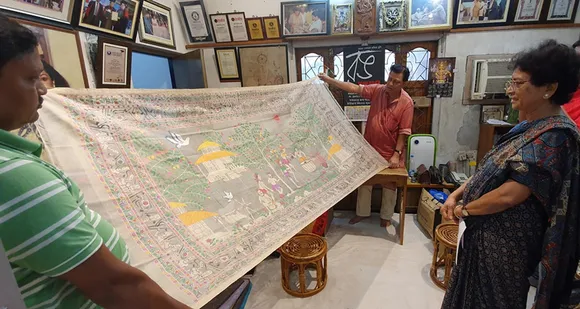 His model, which has created the Rs 50-crore empire, is simple. Basak employs more than 5,000 weavers skilled in Jamdani and Tangail weaves. He provides them raw material (cotton or silk), the necessary threads and other inputs for weaving sarees. While he sources cotton from Murshidabad in West Bengal, silk is procured from Bengaluru.
He chooses the designs and colour combinations and instructs the weavers to work accordingly. "I design the sarees myself, depending on the latest styles and demands. I have also hired some designers recently," he says.
Also Read: How COVID-19 and India-China tensions have changed India's 900-year-old Patan Patola weaving
The prices range from Rs500 to Rs8 lakh per saree.
On an average, each weaver earns around Rs15,000 a month. 
His innovation has led him to take Jamdani, Tangail and Kantha beyond sarees to dupattas, stoles and scarves. He calls himself a "wholesaler of sarees with a small retail presence."
Also Read: Political uncertainty in Kashmir brings pashmina weavers' looms to a grinding halt
His clients include global saree brand Nalli Silks and many others across India. "Most of the buyers are big outlets in Kolkata," he says.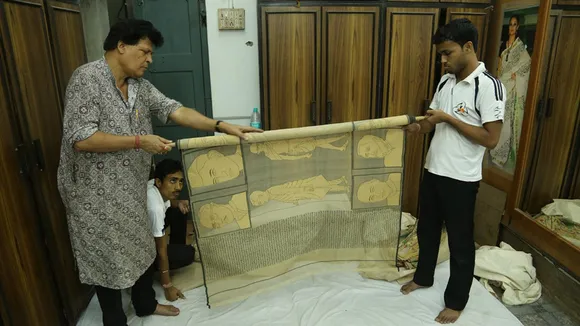 Alongside, he continues working on newer themes to satisfy his creative urges. "I still recall stories from the days when we had to knock each household to feed ourselves many decades back. Today, I am motivated by the hard work my father has put in. This pushes me to improvise and keep up with latest trends and fashion styles."
Biren created a six-yard saree depicting scenes from the Ramayana and it took more than 2.5 years to complete this piece of art. The saree won him a National Award, National Merit Certificate Award, Sant Kabir Award and a place in the Limca Book of Records, Indian Book of Records and World Unique Records.
Also Read:  Bagh Print: How Khatris are keeping the 500-year craft alive along with MP's tribals
Working with the weaves
Jamdani weaving, which has brought name and fame to Biren, is a technique wherein a plain silk cloth or muslin cloth is decorated through a dense pattern against a semi-transparent background. Jamdani, which originates from Persian, is a combination of jam (flower) and dani (container).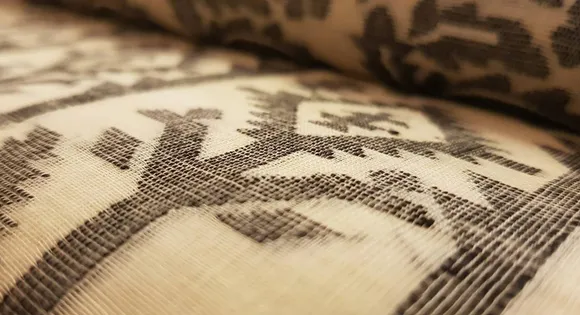 The intricate and time consuming weave requires the use of standard and supplementary weft methods. The weaver uses thick threads in standard weft for making designs on the saree. Each motif is inlaid into the fabric by adding denser threads to the finer warp threads. The supplementary weft motif is added using a bamboo stick. As a result, Jamdani sarees give an impression of a floating design on a shimmery surface. At times, weavers use gold threads as well. 
Also Read: The Ethicus Story: How a Pollachi-based couple made sustainable farm-to-fashion viable
Tangail is a simplified version of Jamdani. The weave is named after Tangail in Bangladesh, which was the home of Basaks before they came to India. It has fewer designs, making it quicker to weave. Jacquard technique is used for designs and the sarees are weaved using warp and weft technique.  The main difference between Tangail and Jamdani is the presence of extra warp designs in borders and Jacquard designs in the body. The designs generally bulge out in Tangail sarees.
Jamdani is a weaving art. The Dhakai Jamdani hails from Dhaka in Bangladesh and the one practised in India is known as Jamdani or Indian Jamdani. "Jamdani motifs are geometrical. Both the weaves are done on natural cotton, silk, mulberry, muslin, and khadi," Biren points out.
Also Read: CtoK: Empowering Kashmiri artisans to turn entrepreneurs
A number of popular fashion houses have approached Basak and asked him to produce under their brand name. However, he has declined them as he is content with the current model.
"I don't want to go after a few more rupees. Large fashion houses often tend to add minor changes in the products and then sell it for prices that are 3 to 4 times higher than what we sell. This does not benefit the weavers or anyone in the chain except the fashion house," he says.
Biren says he has achieved more than he dreamt of. Now his only desire is to set up a school for orphaned children. "I want to educate as many children as possible. That is my only dream now," he says.
(Vedant Sharma is a Gujarat-based freelance writer)
Also Read: Gujarat's Pabiben Rabari: from a daily wager to a millionaire entrepreneur