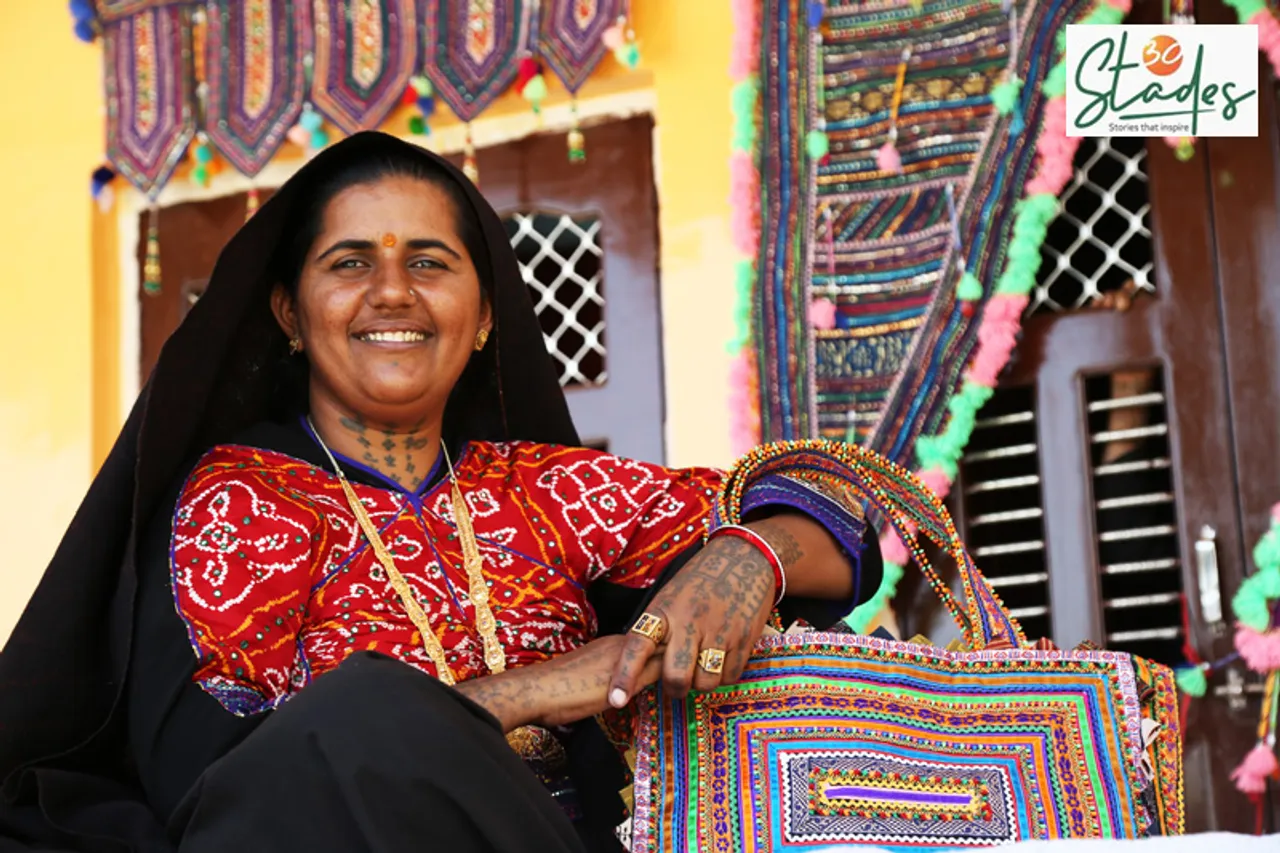 "I was five, my sister was three and my mother was due with my youngest sister when my father passed away. I could only study till class 4 as we did not have the money for commuting to school in the other village despite education being free," says 37-year-old Pabiben Rabari, whose enterprise today has an annual turnover of over Rs30 lakh.
Pabiben's journey from being a daily wager, in Bhadroi village of Gujarat's Kutch, to turning an entrepreneur with customers across the globe is inspiring as she has not only transformed her own life but has also empowered 160 other women who are working with pabiben.com - her artisan enterprise, which crafts artisanal products using traditional embroidery techniques.
As a child, Pabiben had to quit studies to help her mother support the family and take care of her siblings. Her mother earned by working as a labourer and doing domestic chores. But it wasn't enough.
Also Read: Bhujodi: Gujarat village that turned a nomadic tribe's shawl into a global fashion statement
Alongside, Pabiben began to learn embroidery, which women of her Dhebariya Rabari community did during their free time. The cattle herder community is mostly concentrated in north-west India.
Introducing the famous 'Hari Jari' technique
"Embroidery is a family heritage for us. My grandmother and other women of the house did it," says Pabiben.
Also Read: How one Siddi woman in Gujarat's Jambur changed her community's fortunes
Their traditional embroidery was heavy and time-consuming and a large number of women kept on embroidering for many years, leading to delayed marriages. In the 1990s, their community decided to stop this personal embroidery for good.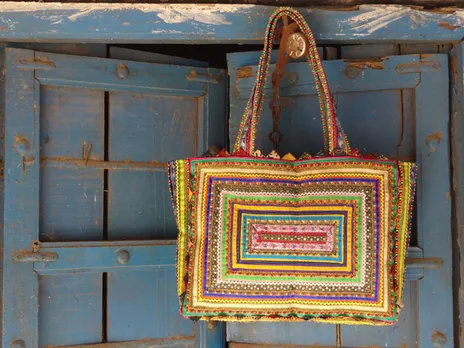 However, Pabiben was determined to continue the art as she wanted to preserve the community's heritage. She joined Bhuj-based NGO Kala Raksha, working on a monthly remuneration of Rs1500.
While working on the traditional embroidery, Pabiben realised its time-consuming nature and decided to introduce an alternative technique now well known as 'Hari Jari'.  
Also Read: The Ethicus Story: How a Pollachi-based couple made sustainable farm-to-fashion viable
Hari Jari has two-fold advantages - it is easy for women to learn and also saves time. At Kala Raksha, she, along with other women, used this technique to make bags, stoles, bed covers, cushion covers, file folders and other products including the Pabi bag, which has found customers in India and across the globe.
"A few foreign tourists attended my marriage and I gave them my hand-stitched bags as return gifts. All those who saw the bags enquired about them, which boosted my confidence. It also made me realise that our art had value and was being recognised outside the country. The only thing we needed was to take it to the people."
Also Read: Political uncertainty in Kashmir brings Pashmina weavers' looms to a grinding halt
That's when Pabiben decided to undertake this craft as business for the upliftment of women of her community. But she did not have enough knowledge about marketing the products.
Leap of faith: From artisan to entrepreneur
In 2015, Pabiben approached Nilesh Priyadarshi, the General Manager at Kala Raksha, where she had been working for 12 years. "Nilesh ji had been working for empowering local artists for more than a decade in Kutch and I trusted him with my idea," says Pabiben.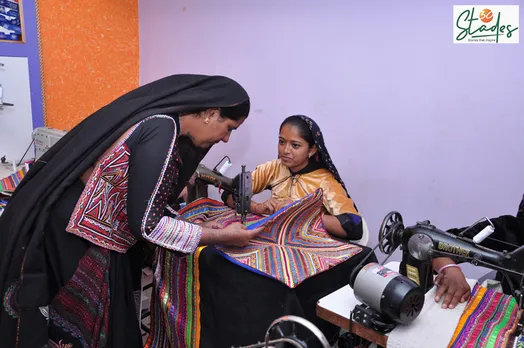 Priyadarshi, 40, is the founder of Kaarigar Clinic - a startup that provides end-to-end solutions to artists like Pabiben. His startup aims to provide the necessary support to artists at the grassroots level.
Also Read: CtoK: Empowering Kashmiri artisans to turn entrepreneurs
Priyadarshi says, "Almost every artist faces problems like lack of education, resources as well business and management skills. This prevents them from expanding and taking the initiative to become an entrepreneur. I decided to support Pabiben as I believe that these artists are as talented as those in the cities. The only thing the rural artists lack is exposure and acceptance."
To ensure equal opportunities and exposure, Priyadarshi helped Pabiben in building their rural business model on a few principles.
"One, we source all our raw materials from the local people," he says.
"We also provide employment to artisans at their doorstep, ensuring that they don't have to go to cities. Flexible work hours make it easy for a lot of women in the village," Priyadarshi says. 
Also Read: Maharashtra's Chitrakathi painting: keeping alive the legacy of Chhatrapati Shivaji's spies
However, the journey has not been easy. Initially, a large number of people from the village and community were not open to the idea as it was against social norms for a woman to venture out of the house, meet people and engage in business-related activities. There was a lot of stigma associated with this.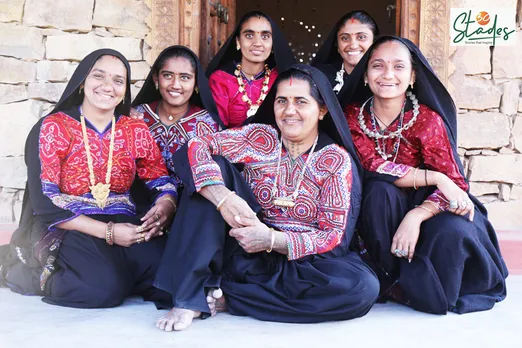 Pabiben says that she does not blame the people of her community for their beliefs. "It was not their fault as their exposure was limited to the village. As the people of my community received education and became aware, they realised that my work is helping the community gain name and fame and also providing employment to women."
Pabiben received her first order worth Rs70,000 from Ahmedabad.
That was the beginning and since then, there has been no looking back. With the growth in her business, Pabiben employed other women from her village.
Also Read: Women artisans help resurrect Karnataka's Kinnal hand-painted woodcraft
The rates of each design have been mutually decided by the workers. In case of any new design, the workers meet to finalise the price.
While the prices for bags start at Rs500, other products in the portfolio include clutches, shawls and mobile pouches. Winner of the Janki Devi Bajaj Award in 2016 for outstanding performance in the rural sector, she has participated in many exhibitions in Mumbai, Delhi, and other cities. She also takes part in government fairs and other events.
During the lockdown, the artisans suffered as there were no tourists, no work orders and no exhibitions. That's when Pabiben and her team came up with the idea of local gift boxes – each containing a stole, mask, sunglass cover and a pencil box at affordable prices.
Also Read: How Kutch's Abdul Gafur Khatri is keeping alive 300-year-old Rogan art
"We aimed to ensure that even a middle-class family could afford it. So we priced it at Rs.1000 per box," says Priyadarshi.
Pabiben and her team are currently busy customising gift boxes mostly for their overseas customers. Her annual turnover was over Rs30 lakh last year despite the pandemic.
Pabiben's products have also been showcased in some films like 'The Other End of the Line' (Hollywood) and Bollywood's 'Luck by Chance'.
The road ahead
Priyadarshi says Kaarigar Clinic aims to convert 1,000 artisans across India into entrepreneurs like Pabiben and engage 1 lakh families. "The major challenge Pabiben faced was that big brands were not open to accepting her brand. Some brands gave us work orders but wanted us to remove the label of pabiben.com," he recollects.
Also Read: How a hobby made Patels the last custodians of Ahmedabad's Ashavali sarees
Kaarigar Clinic also won the Best Start-up Award by the Gujarat Government in 2019. "We were awarded a cash prize of Rs.12 lakhs and we are using this to support our startup," he adds.
Currently, Kaarigar Clinic is working with two other artists, Rajiben and Joshnaben. Rajiben works on making products out of recycled plastic waste while Joshnaben is associated with a 300-year-old art called Mata Ni Pachedi, which is a textile wall piece depicting deities and scenes from epics.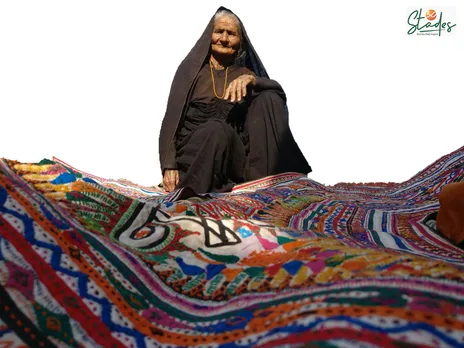 "Till date, we have not shared any profits. Pabiben and I were associated with each other even before we came up with Kaarigar Clinic. The entire revenue is deposited in Pabiben's account. However, from the next year, we plan to take 20 percent of the total revenue from artists. Out of this, 10 percent will be used to meet our operational costs and the other 10 percent will be used to support other struggling artists," he says.
Also Read: Bihar's Sikki grass craft finds global market amid rising demand for eco-friendly artifacts
Pabiben says that one of the biggest advantages for women in this profession is that they can manage their household, take care of their children and continue to work.
On asked whether she wishes to pursue education further, she chuckles and says, "I want to help everyone in the community, especially the kids who wish to study. However, to those who feel that only the educated can be successful, I want to say that it is a matter of perseverance and hard work. If I can achieve this despite studying till class 4th, I am sure those who are educated can do much better."
(Vedant Sharma is a Gujarat-based freelance writer)
Also Read:  Rajasthan's Badshah Miyan takes 700-year-old leheriya craft & natural dyes to the world