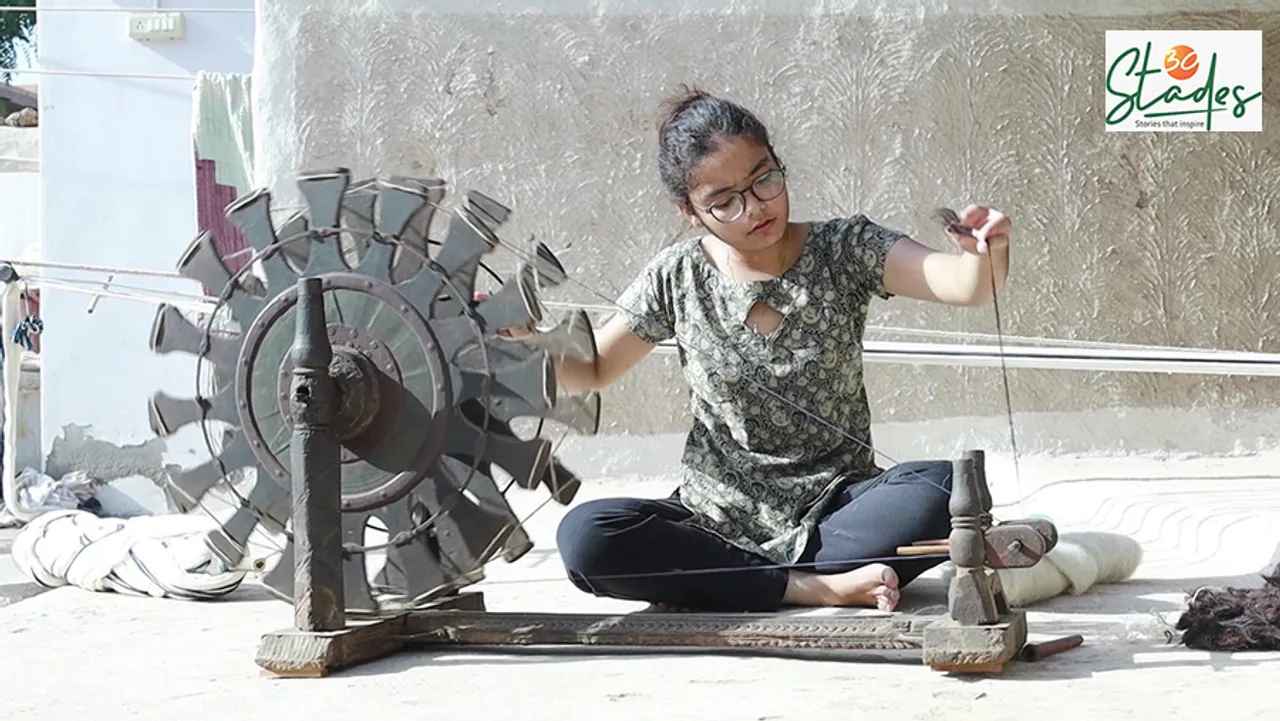 As the early morning cold winter breeze blows desert sand in Gujarat's Kutch, weavers of Bhujodi village get ready to begin work on their handlooms. By 6am, the sounds of the looms take over the morning silence. More than 350 weaver families start making shawls, stoles, sarees and dress materials for national and international buyers before the first rays of the sun touch the village in Bhuj, the epicentre of the January 26, 2001 earthquake that changed millions of lives forever. 
Shamji Valji is one of these weavers, who belong to the Vankar community. He wraps up work before 6 in the evening and then spends time with other artisans discussing new designs.
History made contemporary
Weavers of the Vankar community migrated from Rajasthan to Gujarat hundreds of years back. The Rabaris, who already lived in Kutch, had access to sheep wool and excelled in embroidery. But they did not possess weaving skills. Thus began their association with the Vankar community members, who would weave dhabla shawls used by Rabaris during the cold winter months. And the craft came to be known as dhabla weaving, now famous across the world for its traditional weave and natural colours.
Also Read: How one Siddi woman in Gujarat's Jambur changed her community's fortunes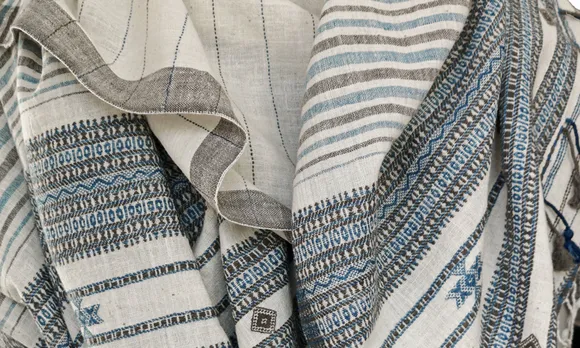 "The work back then was primarily based on barter; so the production was limited. My ancestors would make 3-4 dhablas in as many months and engaged in shoemaking or worked as labour the rest of the year," says 45-year-old Shamji, who is continuing the family tradition. Artisans from about 60 families of Bhujodi work with him.
Things changed for the Valji family only in 1965 when Mumbai-based designer Prabha Shah visited the village and saw the craft. She was in awe of their designs and helped Shamji's father Vishram Valji set up an exhibition in Mumbai. That was the family's first opportunity to understand urban tastes and requirements. 
Also Read: The Ethicus Story: How a Pollachi-based couple made sustainable farm-to-fashion viable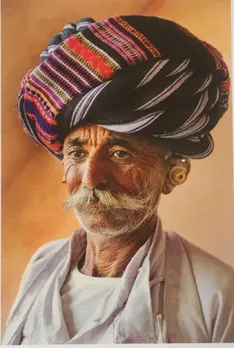 Traditional dhablas, made using thick wool, weighed between 2.5 and 3 kg and were 4.5ft x 8ft as they were wrapped around the body by the Rabaris, who also used them for sleeping on while travelling through the forests.
Shah, however, wanted a lightweight product. So the Valji family began to make shawls (which have shorter dimensions than dhablas) for city dwellers using soft and light merino wool. The traditional designs in the red, indigo, beige and natural browns were loved by the buyers and the family began to receive orders from Shah. The word spread and there was no looking back. 
In 1974, Shamji's father received the National Award for weaving, which brought visibility to Kutch's craft and provided an opportunity for hundreds of other artisans to grow their business.
Also Read: Bihar's Sikki grass craft finds global market amid rising demand for eco-friendly artifacts
Today, Shamji's family provides hand-woven products to brands like FabIndia, Aditya Birla Group, Injiri, many bespoke designers including Anita Dongre besides selling them on global marketplace Amazon.
Weaver Chaman Siju, 41, the winner of many awards is the twelfth generation in his family to continue the traditional craft.
He also uses Kala cotton for weaving. This variety of organic cotton is indigenous to Kutch and does not require the use of any chemical pesticides or fertilisers. Bhujodi cotton shawls as well as dhabla woven turbans are much in demand.
How is dhabla weaving done?
Artisans weave dhablas, shawls, stoles and even sarees using cotton, wool and silk. The sarees using the Kutch style of weaving are gaining popularity. Hand-woven dhabla shawls generally weigh around 400gm but those made using readymade yarn weigh about 250gm, Shamji points out. Cotton shawls made using lighter readymade threads, weigh around 200gm. 
Also Read: How a hobby made Patels the last custodians of Ahmedabad's Ashavali sarees
The process starts with spinning the raw wool fibres or cotton on the traditional wooden wheel (charkha) to make yarn. Shamji uses local hand-spun woollen yarn for some of his products though mill spun yarn is also used across Bhujodi. Women and youngsters of the house often participate in spinning.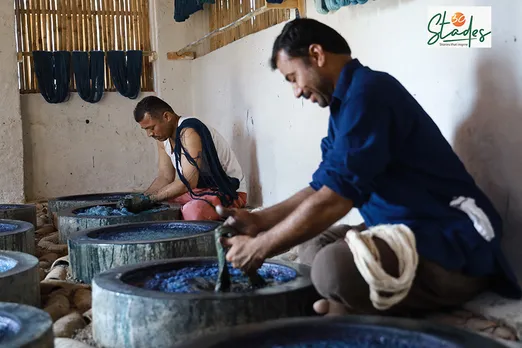 "I have not used any mechanisation so far," says Shamji, who joined the family business in 1994. In 2005, he received the UNESCO Seal of Excellence, which guarantees the quality of products.
Shamji dyes the yarn with natural colours and has revived the use of lac dyeing and indigo dyeing.
"We dry pomegranate peel, powder it and boil it in the water at 50 to 60-degree Celcius for 3-4 hours. The water is sieved through a cotton cloth and used next day for dyeing," says Shamji, who also uses natural indigo dyes extensively.
Also Read: Bagh Print: How Khatris are keeping the 500-year craft alive along with MP's tribals
The dyed yarn is then dried and starched before being put on the warp (tano) on the loom while the yarn for the weft (bano) is filled in bobbins using the charkha. Weaving is done on a pit loom, which is used even in eastern Indian states of Odisha, Assam and Manipur. Here, the weaver's feet are below the loom while he sits at the ground level, giving it the name of pit loom.
"The extra weft ornamentation is what sets dhabla weaving apart from the rest," says Shamji.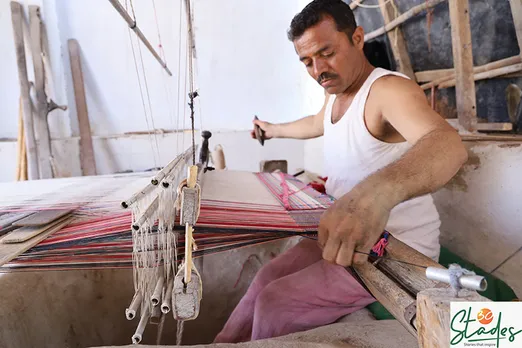 Once the weaving is finished, the artisans add shiny mirrors or other accessories. It is then washed and ironed.
The shawls can be made in 2 days or two months, depending upon the design, with their prices starting from Rs500 and going up to Rs15,000. The family also makes mattresses and dress materials.  
Also Read: Rajasthan's Badshah Miyan takes 700-year-old leheriya craft & natural dyes to the world
The rest of the year, their monthly earning is between Rs10,000 to Rs15,000. "The Gujarat government's annual Rann Utsav has been instrumental in providing us a global platform as a large number of tourists visit the region," says Shamji.
He has also introduced Kala cotton besides using merino wool for his shawls.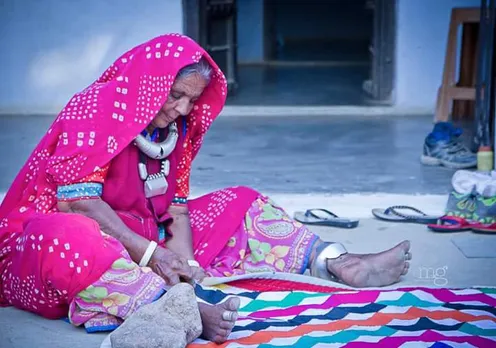 Siju's Kala cotton clothing collection was presented at the Lakmé Fashion Week in Mumbai in 2017. "The Union Textiles Minister lauded my efforts and my Kala cotton collection was also presented in the Textiles India Conclave in 2017 where I presented a shawl to Prime Minister Narendra Modi." 
Siju and his three brothers are winners of the President's National Award. His father, Premji Vankar, received in 2005 the Shilp Guru Award -- the highest merit in handicrafts given by the Ministry of Textiles.
Also Read: CtoK: Empowering Kashmiri artisans to turn entrepreneurs
Keeping alive the legacy 
To preserve the family legacy, Shamji bought back over 180 dhablas, made by his ancestors, from the locals. "I paid for each product. They are reminders of my family's hard work and struggle." These pieces now adorn Shamji's workshop.
Art museum curators from various parts of the world have visited his workshop at Bhujodi and invited him to their respective campuses for workshops. 
He has visited the Bunka Gakuen University in Japan, Manchester Art Gallery, USA, Maiwa Textile School in Canada, etc. and participated in a project titled 'Cotton Exchange: A Material Response' in 2015 to compare the social, cultural and historical legacies of cotton manufacturing and trade between England and India using Kala cotton. 
Also Read: COVID-19: Padma Shri tie and dye craftsman for royals & Bollywood out of work after seven generations
Shamji has visited premier institutes -- the National Institute of Design (NID) and National Institute of Fashion Technology (NIFT) for delivering lectures to students. The guest list at their home in Bhujodi includes students from across the world keen to learn about the craft.
Asked whether Shamji wants his children to continue the profession, he says, "This is a way of life and not a mere tool to earn money. Earlier, the less educated would engage in this profession. Today, those who are educated also weave."
Shamji himself is a postgraduate and tells his children, "If you take up a job, you will support one family. However, if you weave, you will help the entire Vankar community. That's the importance of Bhujodi weave."
Siju agrees: "My ancestors have continued this legacy for centuries. And my children will continue it too."
(Vedant Sharma is a Gujarat-based freelance writer)
Also Read: How COVID-19 and India-China tensions have changed India's 900-year-old Patan Patola weaving