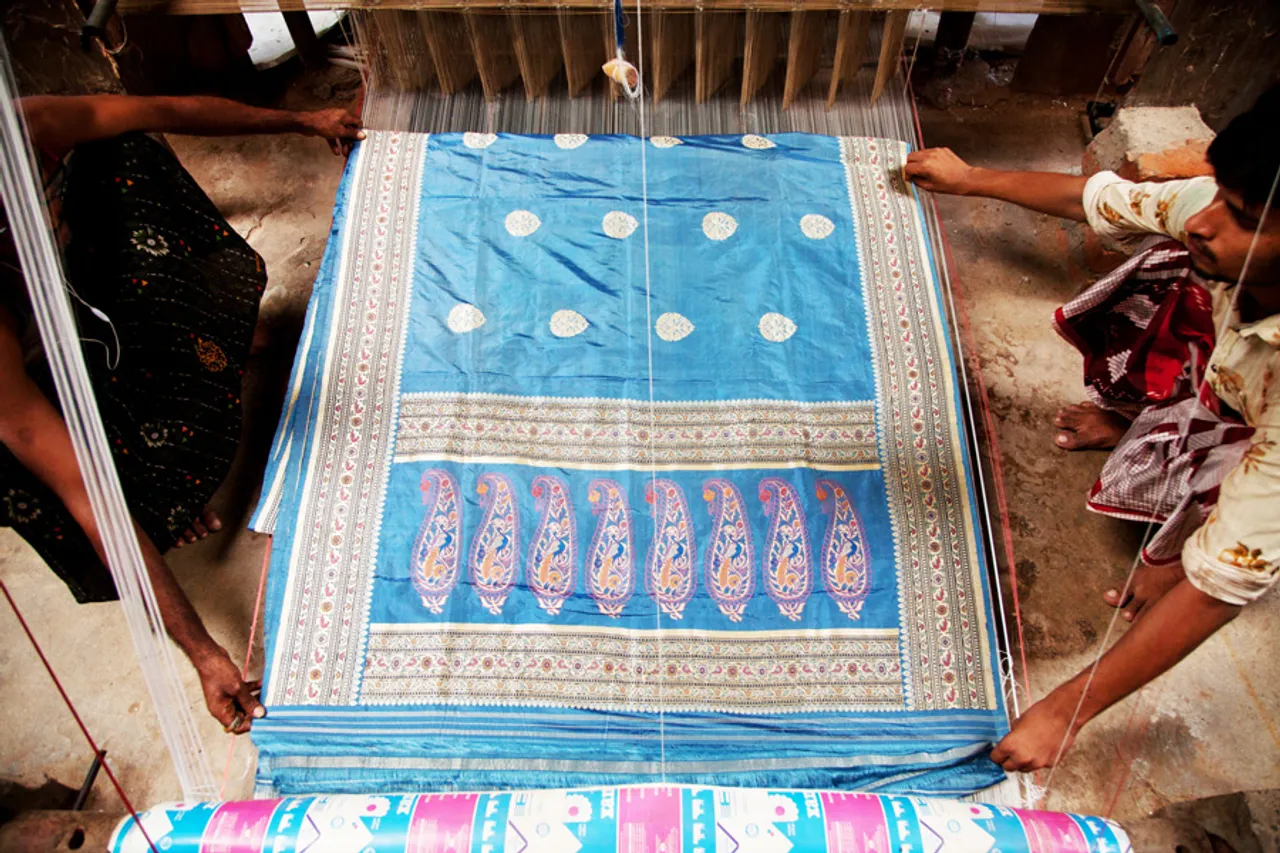 wp:paragraph
Sometime in the late 1930s, a farmer in Ridrol village of Gujarat's Mansa tehsil thought of learning how to weave brocade sarees using gold and silver threads on silk. Somabhai Patel, who would be free after sowing seeds in the monsoon, wanted to put his time to good use. Many weavers in his village were engaged in weaving Ashavali sarees, which derive their name from Ahmedabad's 11th century ruler Asha Bhil. Somabhai decided to learn the craft.
Over the years, he developed such a liking for the art that he continued it even when others in the profession began to quit weaving in the 1980s and 1990s due to rapid industrialisation and lack of patronage. Just when the last of the weavers were set to exit the craft, Somabhai set up four looms, each employing two artisans.
Eighty years later, his grandson Paresh Patel is continuing the tradition with 55 looms and 30 weavers making Ashavali sarees, characterised by brocade weave with a variety of motifs including paisley, birds, humans, animals and vines.
Also Read: Political uncertainty in Kashmir brings pashmina weavers' looms to a grinding halt
"Some 30 years back, a large number of weavers, who were largely from Uttar Pradesh and Madhya Pradesh, started to leave this profession due to lack of income. It was then that my father (Vishnubhai Patel) and grandfather persuaded them to continue the profession by resettling them at our unit in Ridrol," Paresh says.
"They have been weaving for us for over three decades now," he adds.
The Patels have a retail outlet in Ahmedabad, Kasab Exclusive Sarees, where they sell the exquisitely woven Ashavali sarees. Like most other crafts, brocade weaving came to India from Iran in the 9th century. Due to proximity to ports, Ahmedabad, Khambhat, Surat and Jamnagar were centres of brocade weaving during medieval India.
Also Read: Bihar's Sikki grass craft finds global market amid rising demand for eco-friendly artifacts

Ashavali: the place and the weaving technique
Ahmedabad's former name was Ashaval - named after Asha Bhil, the ruler in the 11th century. The area extended from the present day Calico Mills via Jamalpur Darwaja up to Astodia Darwaja. This was known as Asha Bhil no Tekro  -- the hub of weaving Ashavali sarees which lies in the walled city of  Ahmedabad today.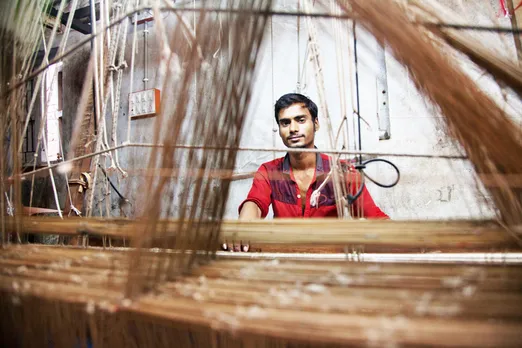 Paresh points out that brocade weaving has been influenced by the Mughals.
Kinkhab is made using a thick tano, (vertical thread or warp) or vano (horizontal thread or weft) in 36 pano (width, measuring 36 inch). Later, kinkhab began to be used in saree weaving in a 45 or 48 pano.
Initially, the weaving was done using the jala technique, which required three craftsmen at a time. The technique gets its name from jala – a metallic structure  atop a loom to which the threads are attached while their corresponding ends are attached to the warp below. Two artisans weave and the third one pulls the threads so that designs can be embossed on the sarees.
Also Read: Rajasthan's Badshah Miyan takes 700-year-old leheriya craft & natural dyes to the world
However, the jala technique gave way to the jacquard system, which requires only two artisans on the loom. In jacquard weaving, the designs are sketched and then punched into paper cards. Each card corresponds to a row of the design. These cards make a continuous chain and are fed into the loom and weaving is done using a shuttle.
"The major difference between jala and jacquard is that the jacquard instrument is used to pull threads instead of a craftsman," Paresh points out.
"The nature of the twill results in the diagonal lines on the textile. These motifs are then woven with supplementary weft yarns that may be of metal, silk or other natural fibre yarns," Paresh explains.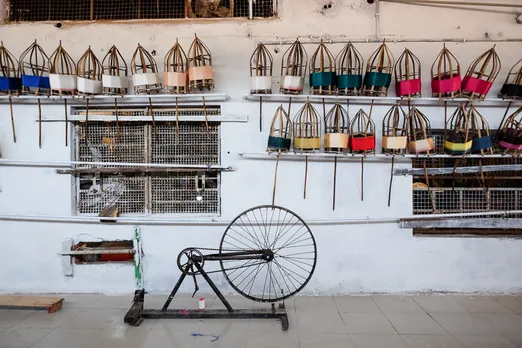 The threads are prepared by softening, drying and wrapping them around a spindle. The loom is prepared based on a carding system that dictates the design.
Also Read: Soaking, boiling, dyeing, washing…the creation of Madhya Pradesh's Bagh print in pictures
Mulberry silk and natural colours
Paresh uses mulberry silk from Bangalore for the sarees. Though Chinese silk is the best, the Patels switched to Indian silk 10 years back as high quality machines are now capable of producing silk similar to the one imported from China, according to Paresh.
While the family used some chemical dyes earlier, Paresh has moved to natural colours. "I love the fragrance of natural colours. I have always been averse to the smell of chemicals and dyes used in fabrics," he says.
"We produce around 400-450 sarees in a year," says Paresh, whose clients include industrialists from Ahmedabad as well as Bollywood personalities including Rekha, Shabana Azmi, Sunita Kapoor (Anil Kapoor's wife) and writer Shobha De.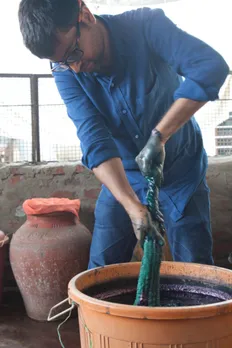 Over the years, the Patels have single-handedly managed to ensure the survival of this art without any support from the government or local administration. They have continued this not as a business but as a means to save the craft. Recently, they have associated with Gujarat State Handloom and Handicraft Development Association to promote the craft.
Also Read: How Kutch's Abdul Gafur Khatri is keeping alive 300-year-old Rogan art
While both Hindus and Muslims were involved in weaving earlier,  a large number of people left due to the decline in demand of sarees, lack of marketing, costly raw materials and insufficient revenues.
"There is a lot of scope in this profession today, especially after the lockdown. A large number of weavers, even in Varanasi, have quit weaving. They can be brought back to weaving if we get interest-free loans from the government," says Paresh.
The business was affected due to COVID-19. "There was uncertainty when the lockdown was imposed as families of nearly 30 workers were dependent on us. However, we were lucky as a few of our customers cleared our pending payments during the lockdown. There were some who even donated so that we could feed our workers and sustain," Paresh says.
While the Patels accepted the donations, they have agreed to provide the donors with products equivalent to the donations in the near future. "A good thing about the lockdown was the fact that it increased productivity. We could make nearly 200 sarees in three months," he says.
Paresh continues to work with designers on new colour combinations and designs. The most popular is the Gota Patti where small pieces of zari are used on the fabric to create elaborate patterns on the edges.
"These are popular with customers," he says.
Asked how the family plans to save this heritage, Paresh says there are no easy answers. "My father is a civil engineer and yet he decided to join this. He introduced the jacquard technique  and increased the number of looms. My father did not force me to take up brocade weaving. I was fascinated by this art from a very young age. "
While Paresh wants his son to join, he says, "It is up to him whether he wants to continue the family business or not."
(Vedant Sharma is a Gujarat-based freelance writer)
Also Read: How COVID-19 and India-China tensions have changed India's 900-year-old Patan Patola weaving