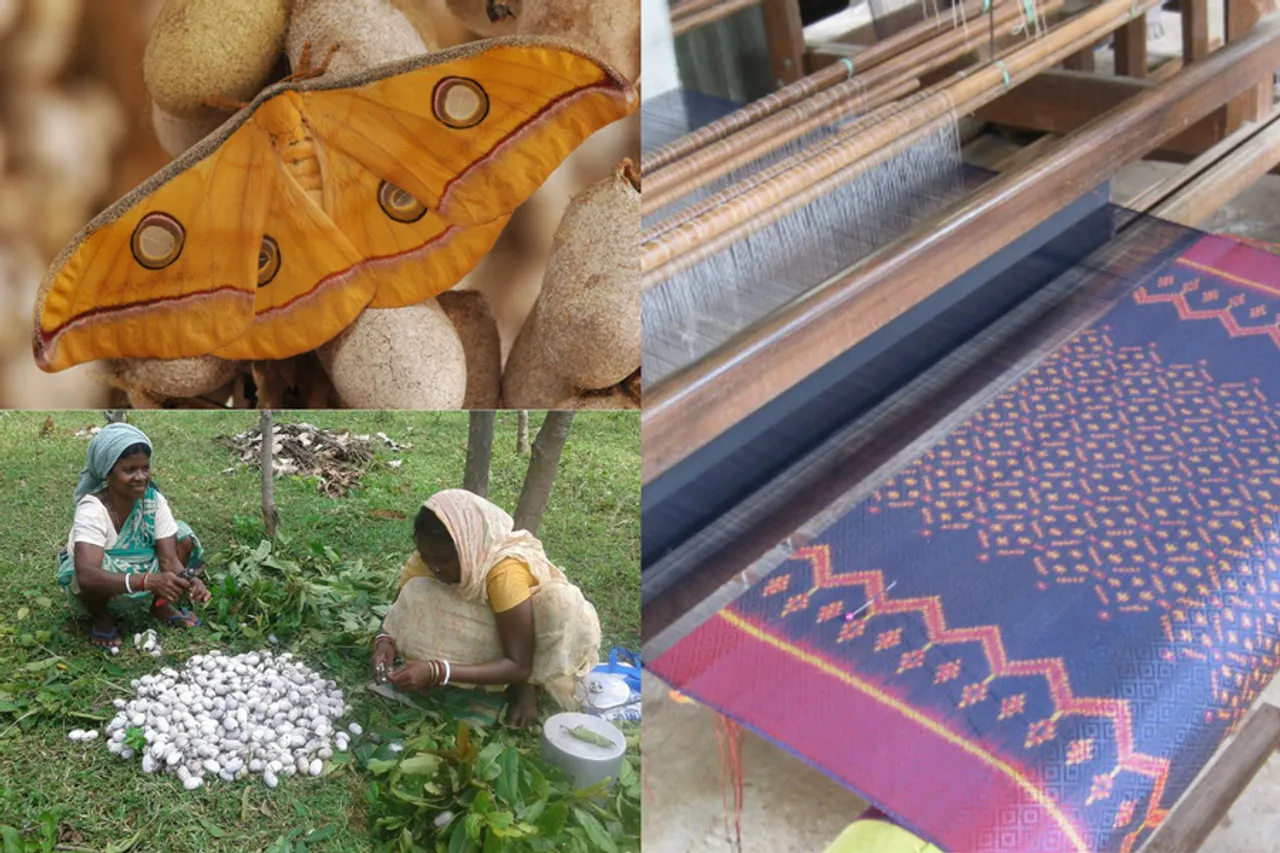 When Kabita Singh decided to take up Tasar (also Tussar or Tassar) sericulture in 2014, she faced opposition from her husband and others in Shyamnagar village of West Bengal's Jhargram district. The panchayat ostracised her because the work required to travel out of the village.
"My job involved going to nearby villages to train women in Tasar sericulture (silk farming). My husband and the villagers were against the idea of a woman going out of the village. It was unheard of. But I stood my ground," says 31-year-old Kabita who is now separated from her abusive husband.
Kabita started Tasar farming with support from NGO Pradan in her village Shyamnagar of West Bengal's Jhargram district. Tasar is a wild silk and its farming involves growing cocoons from which silk yarn is extracted to make fabric. 
Also Read: Phool: where women turn temple flowers into incense, bio-thermocol & vegan leather
While India is the world's second-largest producer of Tasar after China, this variety accounted for just about 9 percent of the country's total silk production of 35,820 metric tonnes in FY20.
Cocoon of financial security
All the 44 families in Kabita's village have taken up silk farming now to earn additional income.
After taking up sericulture, Kabita's income has doubled to Rs1.5 lakh per year. 
Grainage, where parental seed cocoons are reared, has to be kept clean. Its temperature and humidity are regularly monitored. Pic: through Pradan 
"Earlier, I was a paddy farmer. We used paddy for our consumption and sometimes sold it, earning Rs5,000-6,000. I collected wood from the nearby forest and sold it to earn extra money," says Kabita who now zips around on her scooty in another assertion of her independence.
She isn't the only beneficiary of silk farming. Pradan's efforts since 1998 to link women to sericulture has brought economic prosperity to around 50,000 families in five states of Bengal, Odisha, Jharkhand, Chhattisgarh, Bihar. 
Also Read: LifeCraft: empowering Jharkhand's Kuiani women through fabric hand dyeing
The silk farming areas in these five states are mainly tribal-dominated, underdeveloped and have been hubs of Naxal activity. The annual income in these tribal households has gone up by Rs50,000 each. 
Kabita says sericulture has made her financially secure. She rears Tasar larvae and when the eggs hatch, the larvae are put up on food plants Asan (Terminalia Tomentosa) and Arjun (Terminalia Arjuna) where they make cocoons. She sells these cocoons to a producer organisation or cooperative formed by 2,000 women rearers in her village. Last year she earned Rs25,000 from the sale of cocoons – a big amount in West Bengal's tribal hinterland.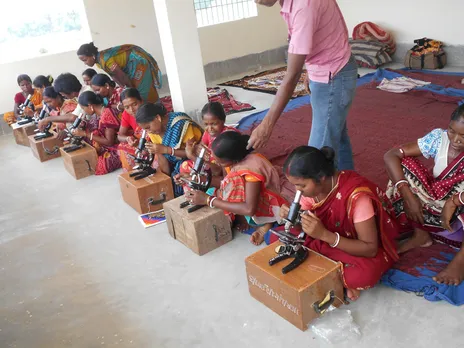 Women undertaking microscopic examination of eggs' health. Pic: Pradan 
Apart from sericulture, Kabita also works at the Basic Seed Production Unit or grainage, where parental seed cocoons are reared. The butterflies lay eggs here which are then distributed to the women's producer organisations and clusters in villages.
Kabita keeps the premises clean, measures the temperature and humidity three times a day and checks the mother moth under a microscope for any diseases.
Also Read: Uttarakhand: Himalayan homestay empowers women through ecotourism
In case any disease is detected, she alerts the management and buries the infected moth to avoid the spread of the disease to other moths. She also travels to nearby villages to teach sericulture. For her work in the seed unit and the training sessions, she is paid Rs7500 per month.
The financial independence perhaps gave her the courage to stand up to her husband and villagers and walk out of an abusive marriage. 
"I am happy now. I have the freedom and I don't have to take permission from anyone. I have gained confidence and I can interact freely with men and women," says Kabita, who lives with her mother and three children.
She says her farming output has also increased and she earns Rs20,000 from paddy and watermelon cultivation on her 3 bighas (just under an acre) of land.
Silk farming – a natural fit
In the tribal-dominated areas of Bengal, Odisha, Jharkhand, Chhattisgarh, Bihar, the main economic activity is agriculture. With no industry and limited employment opportunities, people work as labourers or pick Tendu leaves from forests to make beedis or migrate to other states in search of jobs.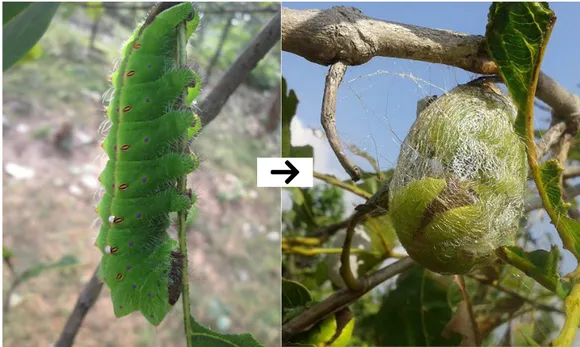 Silkworm forms a cocoon of threads after feeding on Ansar and Arjuna food plants. Pic: Pradan 
The Tasar farming project was initiated in 1988 and initial support was received from ICCO, The Netherlands. Later the UNDP, Ministry of Textiles, Ministry of Rural Development, local governments, the Central Silk Board and banks provided support. 
In 2013, Pradan set up the Tasar Development Foundation, its own sectoral initiative to work beyond Pradan's geographical boundary and oversee operations of the six producer organisations linked to it. Each producer organisation has 3000-3500 women farmers attached to it. 
Ashis Chakraborty, the integrator for the project, says Tasar sericulture was chosen in these areas because the forest-dwelling communities are culturally linked to it.
Also Read: Adavi: organic coffee that brewed a new life for Karnataka's Soliga tribe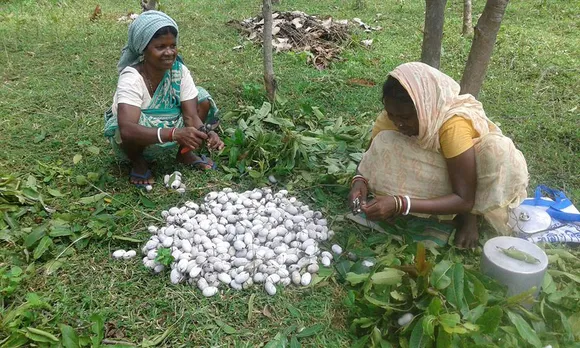 Women harvesting cocoons which will be boiled to obtain silk thread. Pic: through Pradan 
"Since it is a traditional activity, the skills and resources were available and the livelihood was embedded in the culture," he says. 
Silk farming requires low investment and has good potential due to a large domestic and international market. Besides, there is a huge gap in demand and supply of silk, with more than 60 percent of the yarn being imported.
Tasar farming has become the primary source of cash income for these families, says Chakraborty. "They get a large amount of cash in hand at one go and that helps in asset building such as buying cattle or land, paying tuition or coaching fees of children, repair of houses or buying vehicles and gadgets."
Also Read: GreenKraft: taking banana bark baskets made in Madurai to Sweden's IKEA & beyond
The women, who were once not allowed to do sericulture due to the superstition that menstrual cycles could spoil the cocoons, have benefitted not only economically but also carved their own identities.
Pradan has enhanced participation of women and made the initiative community-led. Their intervention has helped to remove the supply constraint of high-quality seeds or eggs. The cocoon productivity has increased by 200 percent and the annual income has increased on average by around Rs50,000 per household.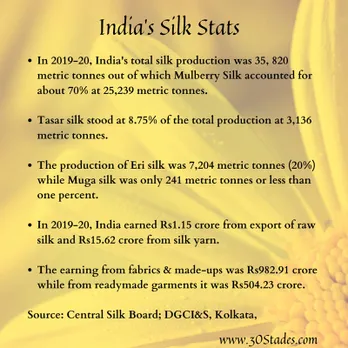 "From a fragile forest-based income activity, Tasar has emerged as a robust livelihood option– with improved technology, better service delivery and enhanced price realization," says Chakraborty.
How is silk obtained from silkworms?
Silk, the natural fibre produced by the silkworm is broadly categorised into mulberry and non-mulberry silk. Mulberry silk is derived from worms reared on mulberry leaves and accounts for about 80 percent of the silk produced in India.
Also Read: Last Forest takes honey & beeswax products from Nilgiri forests to global markets
Non-mulberry silk varieties of Eri, Muga and Tasar are derived from silkworms reared on trees in the wild and also known as Vanya (forest) silk.
The pre-cocoon activity consists of plantation, seed production, silkworm rearing and cocoon marketing while the post-cocoon activities include yarn production, weaving, designing, fabric production and marketing.
The moth lays eggs which hatch in seven days. The larvae are then put on the Asan and Arjun trees where they feed on the leaves for about 35-50 days. During this time, they also undergo moulting (shedding their old skin to accommodate fast growth). They then form cocoons which are harvested in 40-70 days. The cocoons are in colours of grey, brown yellow, pink and off-white, based on the area in which they are found.
"About 90 percent of the cocoons are taken for making silk yarn while 10 percent are left for reproduction," says Chakraborty. The cocoons from which yarn is to be made are boiled to yield silk strands. 
A single strand of silk that forms the cocoon is about a kilometre long. It is then converted into yarn by joining five to seven threads. The yarn is reeled on machines by women. 
"Earlier the reeling was done by rolling the thread on their thighs which was undignified and unhygienic for the women as it led to skin diseases. Now the reeling is done on small machines," he says.
Also Read: Buraansh: Himachal's start-up empowering women through market linkages
The villagers now themselves produce the eggs in small grainages or seed production units. Once the eggs are laid, the women sort out the eggs under microscopes. Diseased eggs are disposed of by burning them and burying them in pits. 
"Some people used to mock us saying that checking diseased eggs under the microscope was the job of scientists but we trained the women and they are doing it very confidently," says Chakraborty.
Pradan made clusters of 2000-2500 women farmers which are further divided into 50-60 user groups in villages. The women take care of the entire operations themselves. The user groups bear all the expenses and payments. This community operation has helped in improving the quality of eggs, access to services and products as well as productivity.
The cocoon producers, who are mostly forest dwellers, get Rs2.50 to 3 per cocoon while the women who examine the eggs get Rs200 for checking 400 moths.
For reeling, they are paid Rs800-900 per kilo of yarn. About 75 percent of the yarn is directly sold to the market. For the rest, the TasarDevelopment Foundation helps link the women to weaving clusters which process the yarn into fabric. Tasar farming is done twice a year, in July-August and between October and December.
Also Read: COVID-19 lockdown & migrant pressure driving innovations in MGNREGA
From the forest to the market
GuruvariBhumij, 35, is another sericulture farmer from Jugidi village in Jharkhand. Her husband has a small provision store from which they earned around Rs5,500 per month. Life was a struggle.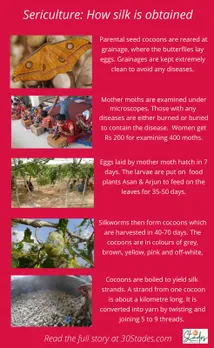 "We had to take loans to buy provisions for our store and to pay school fees and coaching fees for our three sons or for medical expenses. I used to bring wood from the forest to earn additional income."
She began sericulture from 2014 with the support of her husband and earns an additional Rs30,000 besides income from the shop, which is now Rs 15,000 after they expanded. 
Also Read: How mushroom farming is increasing incomes for women in Jharkhand
Personally, too she acknowledges a change. "Earlier I was very shy. I could not talk in front of outsiders and men. But now I am confident and voice my opinions in meetings. I have acquired new skills and people know me. I have an identity of my own."
She says in her village almost all the men migrate to other states for work. "With sericulture, women can stay back and earn money and educate children," she says.
Chakraborty says Pradan's intervention has helped end exploitation by mahajans (middlemen). "Earlier, the silk farmers sold cocoons to the mahajan who would exploit them by quoting low rates. But now the community or cooperative have their own cocoon bank and working capital to buy cocoons. The cost of infrastructure and working capital is borne by the Mahila Kisan Swashakti Pariyojana, a flagship programme of the National Rural Livelihood Mission. This has helped stabilise the rate and end exploitation," says Chakraborty.

(Urvashi Dev Rawal is a Jaipur-based journalist specialising in development, gender, and political reporting)
Also Read: Tamul's areca nut leaf plates travel from Assam to the world as plastic ban gets stronger