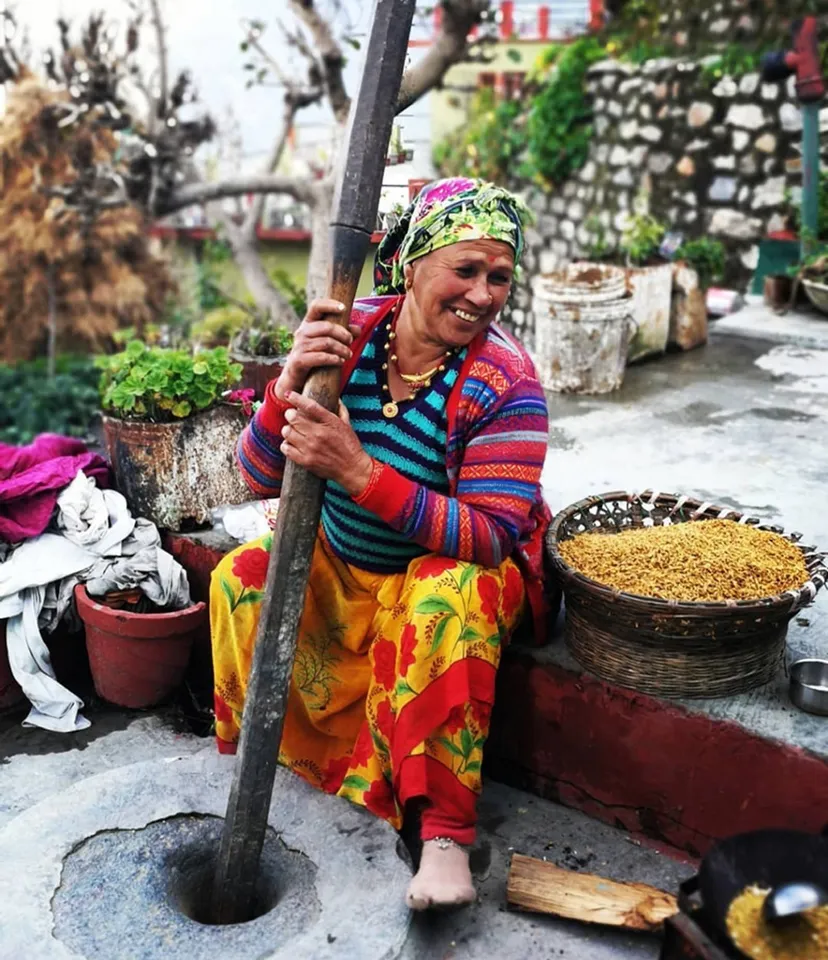 In 2007, a 22-year-old widow with two small children walked up to Poonam Rawat-Hahne's women's shelter set in the backdrop of the stunning snow-clad Himalayas in Gopeshwar town of Uttarakhand's Chamoli district. Her alcoholic husband had died and while living with her in-laws, the uneducated woman had nothing to look forward to.
"She couldn't re-marry and her in-laws wouldn't allow her to work. That was like a wake-up call for me. It made me realise the helplessness of women in the area," recalls Rawat-Hahne, who lives in Germany and India.
Also Read: Bengaluru-boy who set up hospital in the Himalayas
Rawat-Hahne's father, an army officer, passed away in 2003 and in his memory, her family set up a shelter for underprivileged women in Gopeshwar, also the birthplace of Chipko Movement of the 1970s when activists formed a human chain around trees to save them from being cut down for a factory.
Rocky lives of Himalayan women
Back then, Rawat-Hahne's shelter was used mostly by the elderly homeless women. "But I realised that I needed to do more, especially for young widows who needed to make sustainable income to support their families. So when this young woman asked me how I could help her, it set me thinking." 
Also Read: Village in Jharkhand's Maoist hub transforms into eco-tourism spot reviving lost arts
It was then that she quit her job and began researching on issues faced by women in Uttarakhand.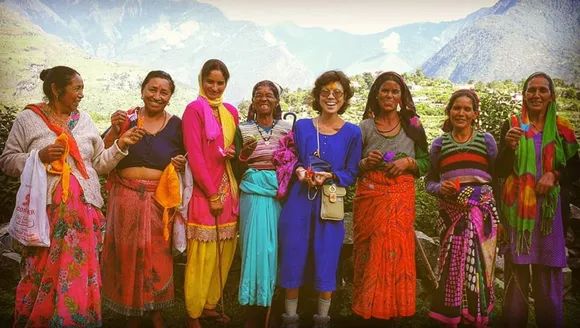 "The other issue was widespread domestic violence," she says. Over the next eight years, Rawat-Hahne, who had worked in an international logistics management firm and lived in several countries, combined her penchant for travel and the desire to improve the lives of women in the remote Himalayan villages.
In 2016, she set-up Peaches and Pears, her homestay, and Fernweh Fair Travel, a responsible ecotourism project managed by her NGO Bachan Charitable Trust. Fernweh, a German word, means wanderlust and this desire to explore the world is exactly what Rawat-Hahne seeks to fulfil through her venture.
Also Read: GreenKraft: taking banana bark baskets made in Madurai to Sweden's IKEA & beyond
She turned the natural environs into an opportunity and roped in locals to help her run the homestay, ensuring economic empowerment of local women through the venture. Rawat-Hahne converted four rooms in her mother's home and three rooms in a neighbour's house into a homestay.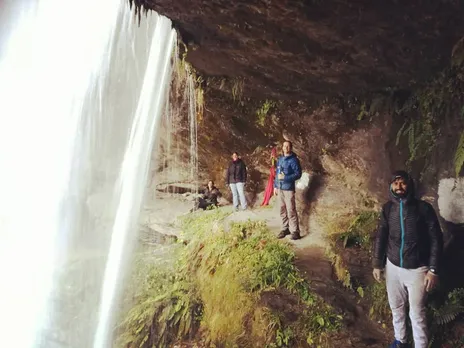 "I went to the villagers and tried to convince them to let the women work with me. It took many years to convince them," she says.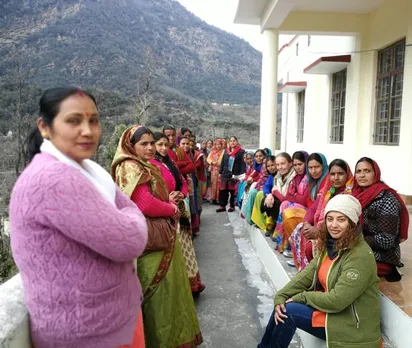 Sustainable tourism, sustainable livelihood
Rawat-Hahne then trained the women to work in the homestay as caretakers, hostesses, cooks and guides to take guests to the villages and on treks. 
Fernweh offers culturally immersive travel experiences for guests among the pristine, natural Himalayan setting. Guests can go for hikes to forests, spend hours near waterfalls and crystal clear swimming holes, trek to high peaks, camp in the middle of nature, and do rappelling and take motorcycle rides.
Also Read: Tamul's areca nut leaf plates travel from Assam to the world as plastic ban gets stronger
The old stone houses in Gopeshwar, animal sheds, fields and natural beauty enthrall tourists. Guests are taken on guided tours to local markets, temples and villages, where they interact with villagers.
The tribes of the area are known for their handicraft skills but are not allowed to mingle with others due to orthodox caste-based beliefs. Fernweh tourists visit them and can buy their handicrafts, meet children in local schools and share a meal with a widow in the village, learn to cook local dishes and celebrate festivals with them.
"These activities bring income for locals and it is a lifetime experience for the guests. And while learning about Himalayan crafts from these artisans, guests can buy directly from artisans for an authentic souvenir," she says. However, it wasn't easy to break the caste barrier. 
Initially they were reluctant to come on board to sell products they make. "They were sceptical and thought I would cheat them like others. But I slowly earned their trust and taught them to maintain cleanliness and hygiene, how to receive guests, tell them about their crafts and fair pricing."
Rawat-Hahne gives back a part of her profit to local schools by buying books, tables, chairs, uniforms or other equipment they need. Through her initiative, she has managed to change the lives of hundreds of people in 21 villages.
Also Read: Bihar's Sikki grass craft finds global market amid rising demand for eco-friendly artifacts
Her homestay project was among the top five homestays in India in 2019. Rawat-Hahne has been felicitated with several awards including the women leaders in adventure award in Sweden in 2019. Recently she was appointed the India brand ambassador for the Adventure Travel Trade Association, a global trade network supporting sustainable adventure travel markets. 
"For instance, when we go trekking, on the return we always do a clean-up run and collect garbage and bring it back. We make sure we leave no carbon footprint behind," she says.
Not one to be deterred by challenges, Rawat-Hahne is already on to her next project, an eco-village in Mandal, a tiny hamlet located among the beautiful Garhwal Himalayas, about 13 km from Gopeshwar. "This is my dream project. I want to create an eco-housing cluster for guests who can stay among the villagers and also help to train them," she says.
To create channels for locals to earn, she has planned a skill development centre where women and youth will be trained to set-up and manage their own homestays and will also be taught how to make jams, pickles, chutneys, permaculture and natural building techniques besides travel business management and reviving local handicrafts.
"It has been a difficult journey. I have faced criticism and flak from family and friends, villagers I tried to help have cheated me and there are times when I just want to give it all up. But then I think of the families whose lives we have changed for the better. That motivates me and brings me happiness and satisfaction," she says.
(Urvashi Dev Rawal is a Jaipur-based journalist specialising in development, gender, and political reporting)
Also Read: Adavi: organic coffee that brewed a new life for Karnataka's Soliga tribe