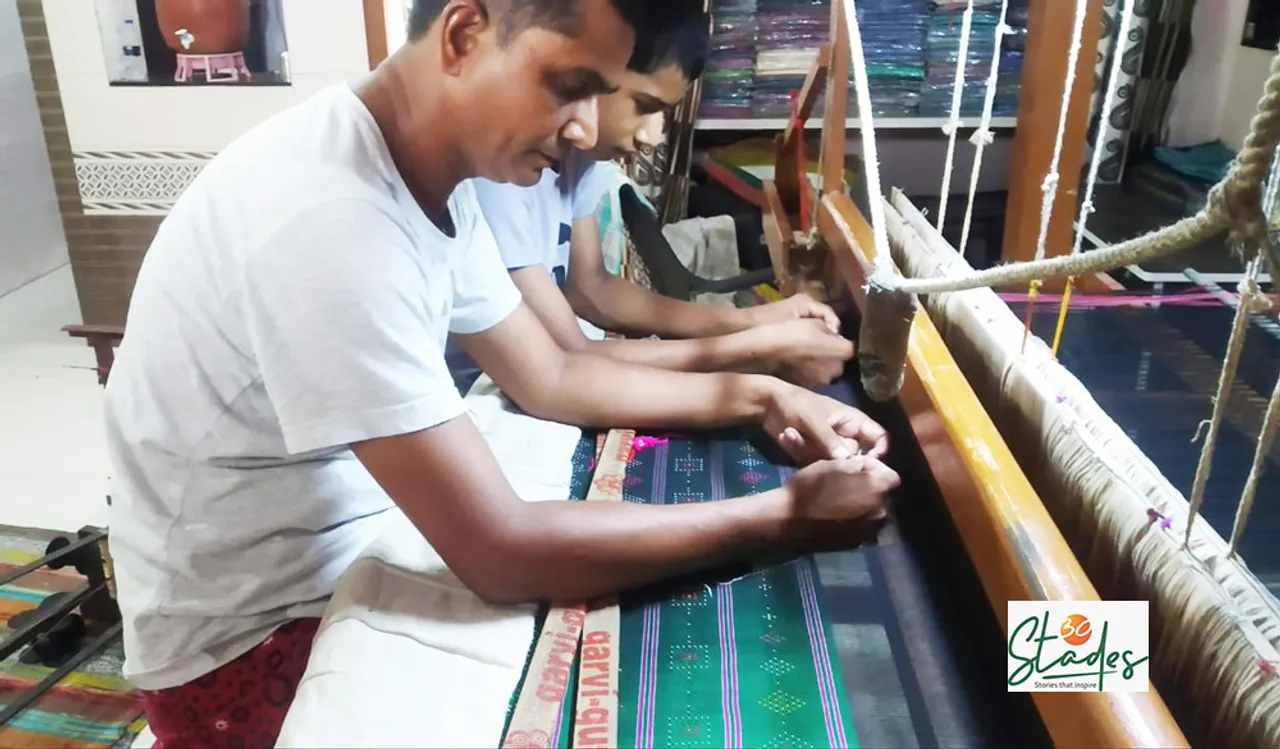 Sometime in the 14th century, a young man from Gujarat's Bharwad (shepherd) community fell in love with a girl from the Vankar (weaver) caste. The two got married. Back then, caste demarcations were even more rigid than they are today. So the families ostracized the couple and asked them to leave. 
The couple settled down outside the borders of the two villages. Before they left, the village elders gave them a wooden stick and asked them to weave to earn a living. It was also decided by the community elders that they would weave products and sell them to the Bharwad community.
Also Check: Watch: Spinning, dyeing, weaving…the making of dhabla shawl in Gujarat's Bhujodi village
In the local dialect, dang means wooden and sia means to go. So the couple's off-springs came to be known as Dangasia, who began the exquisite technique of weaving using raw wool yarn obtained from the sheep of Bharwads.
It received the Geographical Indication (GI) tag in 2009. And from the USA to Japan, Tangaliya connoisseurs are now spread across the world.
History woven over pit looms  
Initially, Dangasias worked only on sheep wool. They made clothes for Bharwad women, who wore a chaniya (wraparound skirt) with Tangaliya weaving.
Also Read:  Bagh Print: How Khatris are keeping the 500-year craft alive along with MP's tribals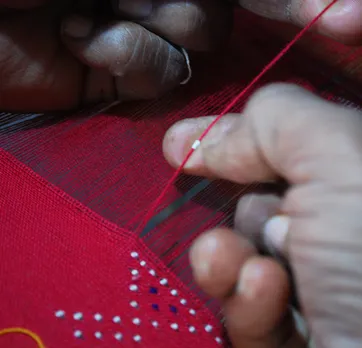 The skirt was woven as two pieces because the looms were small back then. The pieces were then stitched together.
The raised dots are achieved by twisting extra weft around warp threads. "The danas which are woven on the cloth are known as Tangaliya. The unique aspect of this weaving is that the designs are woven into the fabric and not embroidered or added later," says Chandubhai Rathod, 45, the eighth generation of the family practising the craft in Dedadra village of Surendranagar.
For weaving, the yarn is first spun onto bobbins using a spinning wheel (charkha) and the required number of bobbins is placed on the bigger frame (called bada chokhta) and then passed through another frame (chhota chokhta). 
Also Read: How COVID-19 and India-China tensions have changed India's 900-year-old Patan Patola weaving
This is followed by weaving on a pit loom - a type of loom fitted in a pit where the artisan sits at the ground level and uses pedals to raise the warp threads. Small dots of extra weft are twisted by craftsmen using the tip of their fingers, and they give an effect of bead embroidery. The designs look the same from both sides of the material on which it is made.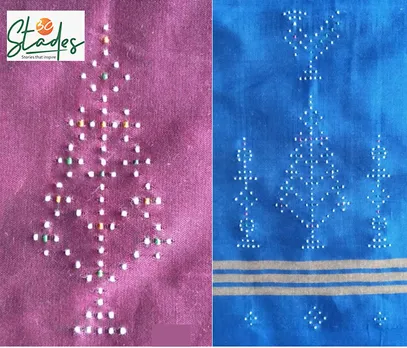 There are various types of Tangaliya inspired from nature such as trees, animals and birds, especially peacocks.
In Ramraj, heavy dana work is done in maroon, pink, orange, green and yellow colours over a white base. Borders are sometimes embellished with zari. Lobdi shawl is generally made in maroon with white danas and is one of the most popular among customers. 
Also Read: Pedana Kalamkari: How Pitchuka Srinivasa has taken Andhra's 15th century craft to New York's high street
Charmalia has both maroon and black warp and black weft. This gives an alternate effect while danas are again mostly made in white. Dhunslu has less dense beadwork.  
Upon completion, these designs acquire a geometric and graphic feel. This craft has zero use of mechanical tools or devices and continues to follow the traditional method that goes back to the 14th century. 
Turning Tangaliya trendy
Due to lack of education, experience on newer materials and awareness of market requirements, the Dangasia families had failed to popularize the handicraft beyond their village. Being practised by only a few people living in remote rural areas and solely for barter in those days, the art could not find its way to the urban market and nearly became extinct by the early years of this century.
Also Read: Lambani: How bold Banjara embroidery with cowrie & coins travelled from Bellary to the world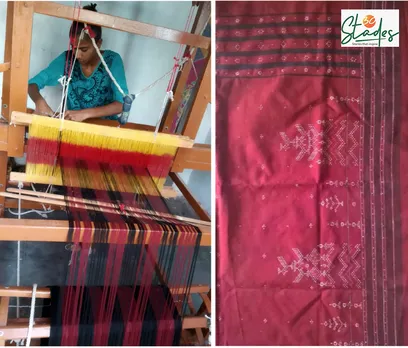 In 2007, the National Institute of Fashion Technology (NIFT), Gandhinagar, under its SGSY (Swarn Jayanti Gram Swarojagar Yojana) Cluster Development Project, formed the Tangaliya Hastkala Association to revive the art. 
The craftspeople were also supported by Saath, an NGO based in Ahmedabad.
The revival efforts led to the Tangaliya art receiving the GI tag in 2009.
Baldevbhai Rathod, 39, is the third generation in the family practising this craft. He learnt it from his father when he was 15. Today, he earns Rs20,000 a month and has hired four workers to assist him in making shawls, sarees, kurtas and dupattas.
Also Read: Biren Basak: The boy from East Pakistan who became India's handcrafted saree tycoon
A Tangaliya shawl, the most famous product of this weave, takes around a week to complete. The shawl is 38 inches in length. Earlier, the shawls were made by stitching two separate cloths. But today, Baldevbhai has a big loom and can prepare a full shawl in one loom at a time.
Tangaliya cotton sarees range from Rs8500 to Rs 30,000 while silk sarees are priced between Rs 14,000 and Rs 60,000. Kurtis and dupattas range from Rs1500 to Rs4000 and are generally ready in two-three days.
Baldevbhai and Chandubhai are registered with Indext-C (Industrial Extension Cottage), Government of Gujarat, which supports rural artists by providing training and other measures for sustenance. They attend various exhibitions organised by the state government to showcase the art.
Baldevbhai says, "I am happy practising this art on cotton and silk as we can earn better and take care of our families." His son who is in class 9 and his daughter (class 11) have both learned the craft.
Also Read: Bagh Print: How Khatris are keeping the 500-year craft alive along with MP's tribals
Baldevbhai won the National Award in 2016 and the State Award in 2016 for Tangaliya weaving. The then Minister of Textiles Smriti Irani visited Baldevbhai in 2016 to see his art.
Technology to the rescue
Apart from fairs and exhibitions, the weavers are now also getting orders through social media.
Since 2019, he has been showcasing his products through the online portal Amounee, set up by Megha Das, and earns Rs 25,000 per month through sales on the platform.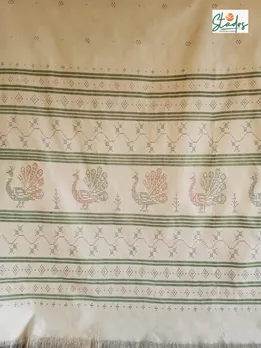 Chandubhai has been engaged with the art form for more than 25 years and was the recipient of the National Award in 2017 and National Merit in 2016.
His customer base has also expanded, thanks to social media. "I put the pictures of my products on Facebook and Instagram. People contact me based on the photos," he says.
Also Read: Himalayan Weavers: Hand-woven woollens by tribes in the Himalayas find a global market
Das worked as a Freelance Designer with the Ministry of Textiles from 2018-2021. During her tenure, she was given the responsibility to identify and suggest possible interventions in the Surendranagar cluster of Tangaliya weavers.
She says, "When I first visited the place, I realised there needs to be a lot of groundwork which should be done for the artists. A lot of them did not have looms to work and they were not aware of the market requirements."
"We did a lot of data analysis, taught them how to use social media to promote products. We also did product shoots for them and helped them gain a wider reach," she says.
Talking about the future of Tangaliya, Chandubhai says, "I taught my son during the lockdown as the colleges were closed. He is working with me for the last 18 months. I want my son to finish his studies and then join the business and find better ways to market our art."
(Vedant Sharma is a Gujarat-based freelance writer)
Also Read: Political uncertainty in Kashmir brings pashmina weavers' looms to a grinding halt