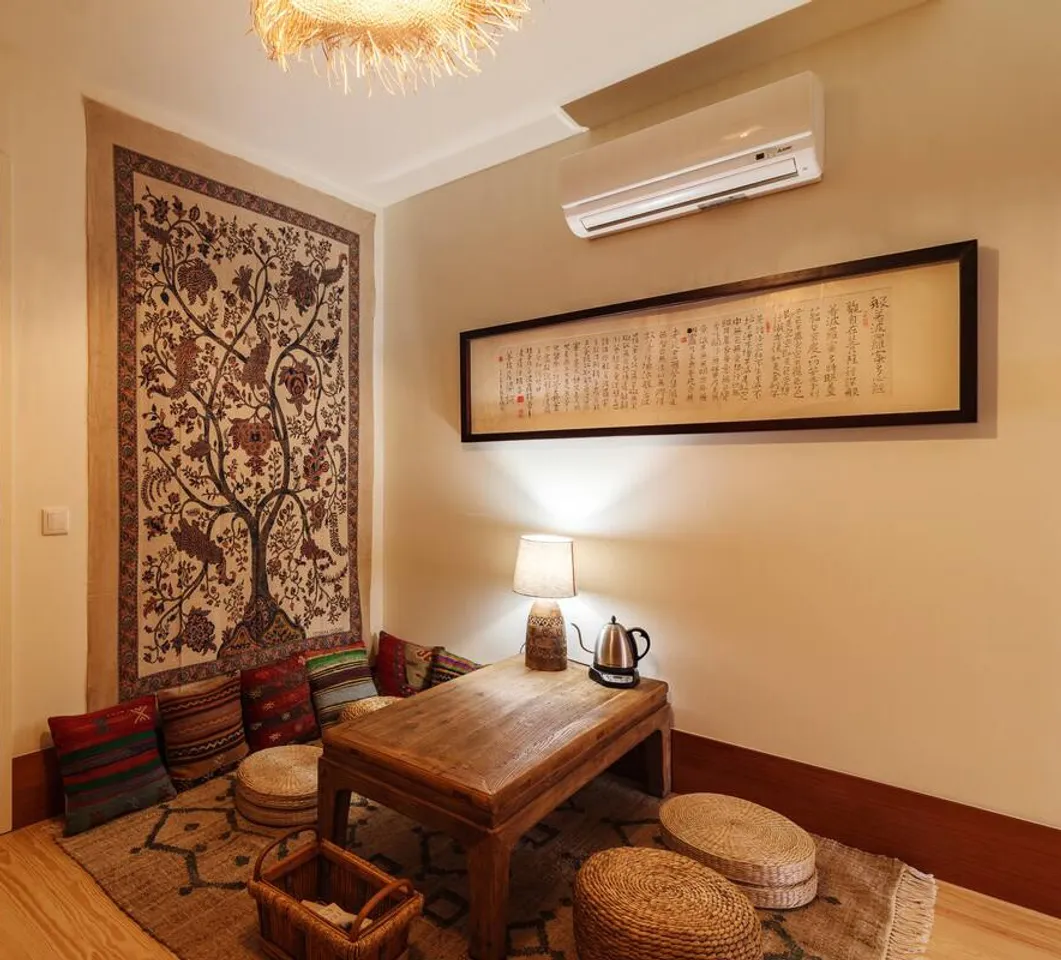 wp:paragraph
Fabrics boil with pomegranate peels in copper cauldrons at a home-cum-workshop in Pedana, a small town near Machilipatnam in Andhra Pradesh's Krishna district. In another part of the unit, two artisans have spread cotton fabrics on big rectangular tables. They dip handmade wooden blocks into natural colours and press them firmly on the cloth. They continue the process with machine-like precision till the work is completed and the fabric is left for colours to dry.
"We were traditionally weavers and my father Pitchuka Veera Subbaiah learned about the Pedana Kalamkari while travelling for work to Mumbai. Back in Machilipatnam, he searched for old handmade blocks. He continued research about the craft and learned about the traditional process, beginning his Kalamkari experiments in the 1970s," says Srinivasa.
Also Read: COVID-19: Padma Shri tie and dye craftsman for royals & Bollywood out of work after seven generations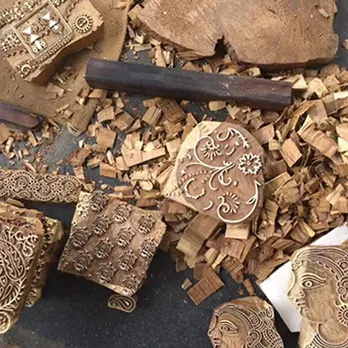 Soon, his father's work became well known among wholesalers and retailers and Srinivasa followed in his footsteps.
History soaked in natural colours
India is home to two Kalamkari traditions – Pedana and Srikalahasti, which is drawn using pen and is practised in Srikalahasti in Chittoor district of Andhra Pradesh.
Also See: Soaking, boiling, dyeing, washing…the creation of Madhya Pradesh's Bagh print in pictures
Pedana or Machilipatnam (also called Coromandel) Kalamkari dates back to the 15th century when the Qutb Shahi dynasty ruled the area. Being an international port, the art came in contact with Persians, the Dutch and the French, imbibing their elements. Pedana Kalamkari was loved overseas and hundreds of families engaged in the craft back then benefited from exports. 
Some 17th-century items are also showcased at Salarjung Museum, Hyderabad. Over the years, however, the craft went into decline due to duties levied on exports and competition from machine-made clothes dyed with chemical dyes.
Also Read: Lambani: How bold Banjara embroidery with cowrie & coins travelled from Bellary to the world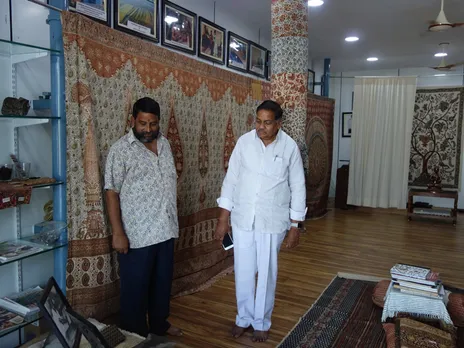 It was after the revival about half a century back that the craft regained its lost glory. And though Pedana Kalamkari received a Geographical Indication (GI) tag in 2007, its fight with chemical dyes continues.
"Many artisans find it convenient to use artificial colours as they are cheaper and cut short the process drastically," says Srinivasa, who continues to make all vegetable dyes at his unit.
Also Read: Bhujodi: Gujarat village that turned a nomadic tribe's shawl into a global fashion statement
"The market is full of screen printed products that pass off as Pedana Kalamkari," says Srinivasa, who directly employs 30 artisans and works with 20 more indirectly. Each artisan can block print about 30-metre fabric in a day.
The business of Pedana Kalamkari
"The art is rich as we not only use the temple motifs and Persian motifs centuries ago but also keep adding newer designs to our repertoire based on client demand," says Srinivasa.
Also Read: The Ethicus Story: How a Pollachi-based couple made sustainable farm-to-fashion viable
She had been searching for an artisan who could create naturally-dyed fabric with single colored motifs. And her search ended with Srinivasa. Mulcahy uses Kalamkari fabric for making pillow and cushion covers, bedding, table linens and other items of home décor.
What made her choose Srinivasa for partnership was the fact that the fabric does not cause pollution and is block printed using the traditional process.
Also Read: How a hobby made Patels the last custodians of Ahmedabad's Ashavali sarees
"My father wanted to export his fabrics but passed away before realising his dream. I am happy I have been able to fulfil his wish," says Srinivasa, who works only with cotton and linen fabrics.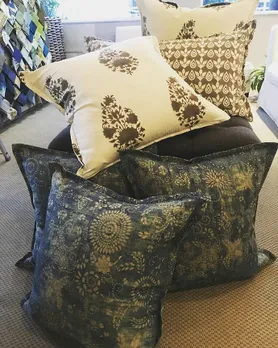 Back home, he has tied up with handicrafts and handloom e-tailer iTokri, to which he sells Kalamkari sarees, dupattas, running fabrics, paintings, bags, masks etc. "iTokri continued to buy from us even during the COVID lockdown, which was tough on artisans," he points out.
His Kalamkari paintings like those depicting the Tree of Life are also much in demand both in India and overseas. Other products include towels, napkins, bed sheets, bags etc.
The dupattas retail at upwards of Rs 850, stoles and scarves at Rs 450 while sarees are priced at around Rs 2400. "I receive more orders than we can execute. That is because people are now becoming environment-conscious and avoid the use of products made using chemicals," he says.
The key to genuine Kalamkari is eco-friendly colours and blocks made from teakwood. For block engraving, a design is cut in relief upon blocks of wood such that the raised parts transfer the design to the fabric on being dipped in colour.
Also Read: Rajasthan's Badshah Miyan takes 700-year-old leheriya craft & natural dyes to the world
"Teak wood is preferred because of its strength and fine grains," explains Varun, Srinivasa's son and the third generation practitioner of the craft.
The blocks are cleaned after use every day and sesame oil is applied on them. The family has kept all the blocks since Srinivasa's father began Pedana Kalamkari in the 1970s.
How is Pedana Kalamkari done?
The process of Kalamkari begins with cutting the pieces of cotton fabric into sizes of dupattas, sarees or as running fabrics depending on requirements and leaving 10 percent extra for shrinkage. The fabrics are soaked in cow dung mixed with water and kept in water tubs for three days. "We change the water every 24 hours," explains Varun.
Also Read: How COVID-19 and India-China tensions have changed India's 900-year-old Patan Patola weaving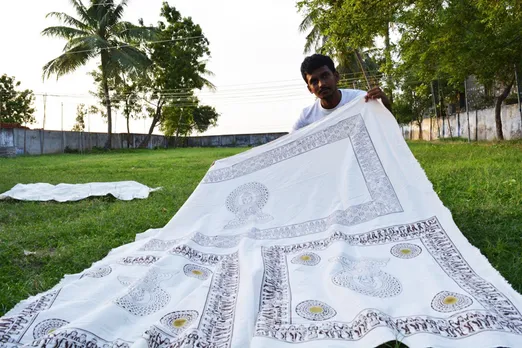 The next step involves treatment with myrobalan (gooseberry) seeds. The seeds are powdered and left in water for a day. The next day this water is filtered through a gunny cloth and the extract is applied to the bleached cloth pieces. On drying, they are ready for printing.
"Eco-friendly dyes get rotten soon. So we have to act fast. Any delay in one step in the process can cause loss," explains Varun, who also practices organic farming of Navara rice.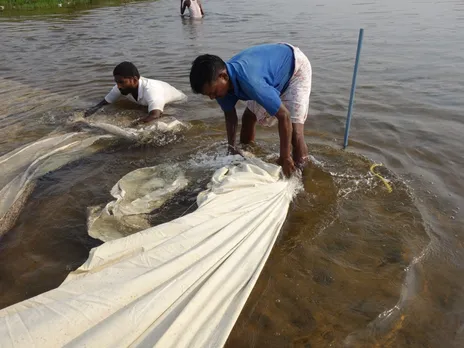 Dyes are used to hand block print on ready fabrics. After drying, printed fabric has to be washed in flowing water or in a big pond with fresh water. "While washing them in a canal, we tie the fabric with a rope. Otherwise, they can flow away with the water," Srinivasa says.
Also Read: COVID-19: Padma Shri tie and dye craftsman for royals & Bollywood out of work after seven generations
"But due to washing by those who use chemical dyes, the water quality is deteriorating. So I take my fabrics to Krishna river banks for washing," he adds.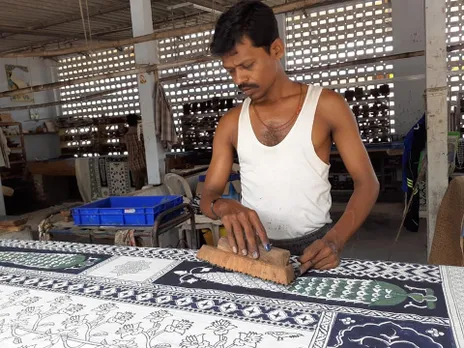 The clothes are then dried under the sun. After a day's gap, the dried cloth is boiled in copper vessels along with leaves, roots, barks, dry flowers etc to give different colours. Like pomegranate peels are added to the boiling water for yellow colour while madder is added to get red shade. "The temperature and duration of boiling depend on the shade required," Srinivasa explains.  
Also Read: Biren Basak: The boy from East Pakistan who became India's handcrafted saree tycoon
Now the hand block printing is done again for secondary colours like yellow, pink, green, and blue around existing motifs or borders etc. Up till this stage, all colours on the fabric are temporary and can run on being washed. "Alum acts as a mordant and helps to fix colours on the fabric. It also improves brightness," he points out.
The clothes are then washed with soap water, dried, ironed and ready for sale. "The process is long but is worth the effort. It is the originality and eco-friendly nature of the process that has made it popular across the world. I am happy that my son Varun is carrying forward my legacy," Srinivasa says.
(Rashmi Pratap is a Mumbai-based journalist specialising in financial, business and socio-economic reporting)
Also Read: Bagh Print: How Khatris are keeping the 500-year craft alive along with MP's tribals