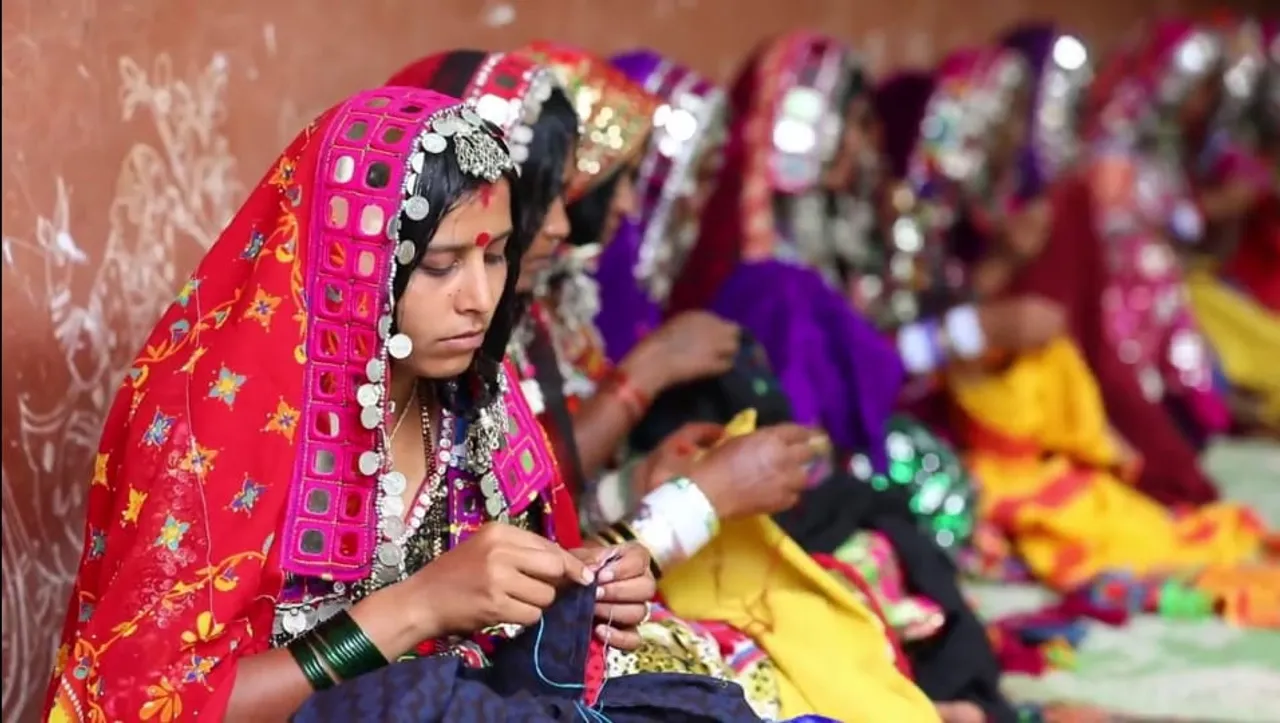 Twisted hair locks on either side of cheeks, arms full of ivory and glass bangles, a chain of old coins in the neck (Rupaiya haar), colourful clothes with small shining mirrors and cowrie shells, and fingers adept at embroidering beautiful designs on patches of fabrics – that's a woman from the Lambani or Banjara tribe, whose members moved to South India from Rajasthan along with the Mughal army in the 16th century and settled in Bijapur district of Karnataka.
Today, Lambani women have put their traditional embroidery craft on the international map by adapting to the changing demands of international fashion.
Also Read: Thousands of Rajasthan's rural women empowered through up-skilling in embroidery
And the craft has moved beyond clothes to phone covers, bags, pouches, cushion covers and other items.
Centuries-old modern craft
At an early age, Lambani or Lambada mothers start teaching embroidery to their daughters. They use it to make dresses, especially for giving to their daughters on wedding. "I began learning Lambani when I was 12 years old. My mother taught me various stitches and how to do them neatly, without erring," says artisan Shanta Bai Kallahalli, who won the National Award in 2002 for her Banjara embroidery wall hanging.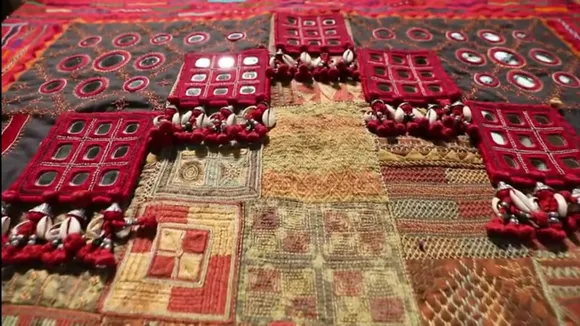 At 18, she attended a training session at the not-for-profit crafts initiative Sandur Kushala Kendra (SKKK) at Sandur in Karnataka's Bellary district.
Also See: Watch: Spinning, dyeing, weaving…the making of dhabla shawl in Gujarat's Bhujodi village
The turning point in her life came when after three months' training she attended a workshop conducted by renowned designer Laila Tyabji. "She taught us how to make our designs more contemporary. She appreciated my work and encouraged me to create a wall hanging. I worked on it for four months and it was chosen for the National award."
Today, 37-year-old Shanta Bai is responsible for quality checks of Lambani embroidery products at SKKK and helps artisans decide the design and colour combinations.
The Lambada tribe of Karnataka are said to be descendants of Europe's Roma gypsies who migrated through Central Asia and Afghanistan and settled in Rajasthan. It is from there that the Lambanis came to the Deccan in the 16th century and stayed on.
Also Read: Gujarat's Pabiben Rabari: from a daily wager to a millionaire entrepreneur
As per the 2011 Census, the Lambani tribe population in Karnataka, listed as a Scheduled Caste, stood at 12,67,036 (about 12.68 lakh people).
The embroidery of Sandur Lambani, specific to the region, is known as Kasuthi Kelsa and there are 39 different types of stitches including Bakkya, Maki, Vele, Kilan, Kans, Tera Dora, Kaudi, Suryakanti Maki, Relo, Pote, Jollya and Gadri.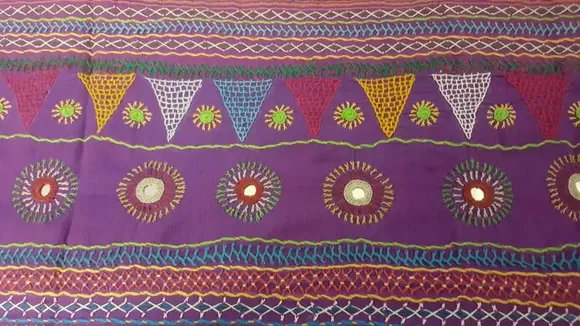 These stitches over pieces of fabric mostly follow geometric patterns like triangles, rectangles, squares, circles and diagonal lines made by using threads in different colours.
Also Read: How Kutch's Abdul Gafur Khatri is keeping alive 300-year-old Rogan art
Earlier, artisans worked only with cotton and khadi, but now silk is also used. Alongside, the colour palette has broadened from reds, blacks, greens and yellows to include purple, pink, sky blues and other colours.
Nurtured with love, travels around the world
Sandur Lambani embroidery is nurtured at SKKK, which was established in 1984 after a local teacher, Mahalaxmi, brought together a few local Lambani women to work from the thanda (village) of Sushila Nagar. Other influential people, including a member of the erstwhile royal family of Sandur - MY Ghorpade – supported the initiative that led to the setting up of SKKK.
Also Read: LifeCraft: empowering Jharkhand's Kuiani women through fabric hand dyeing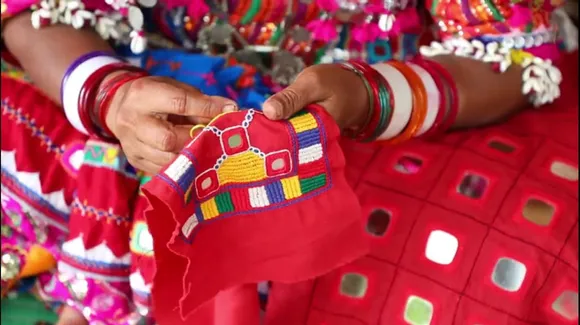 "Today, about 500 Lambani artisans work at SKKK," says Praveen Nayak, manager. The artisans are paid wages and benefits such as subsidised ration, bonus, Provident Fund, etc.
"They have adapted to the needs of the customers and of the times. Their expertise has won national as well as state-level awards," Praveen says.
Ila Dhulipala, a faculty and jury member with the National Institute of Fashion and Technology (NIFT) since 1997, some of her students have done projects on Lambani, visited SKKK and documented the art. "Things have changed from both sides, from the consumers' side and the artisans practising the craft."
Also Read: Bagh Print: How Khatris are keeping the 500-year craft alive along with MP's tribals
Ila says contemporizing the craft has helped take it to a wider audience.
Being strongly geometric, it is used well on cushion covers and belts, she adds.
The embroidery featured in the London Fashion Week in 2016 and won a host of awards such as Seal of Excellence for Handicrafts Products in South Asia, 2004 & 2012 by UNESCO-CCI.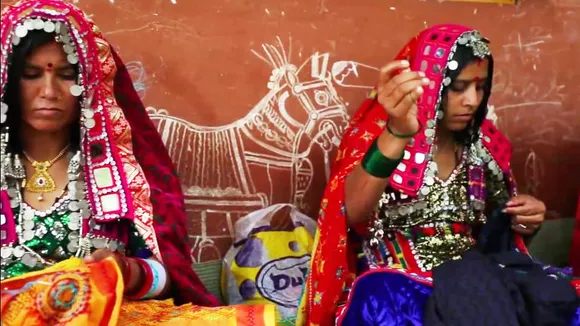 Lambani embroidery was given the Geographical Indication (GI) tag in 2010 owing to the unique process behind creating a piece.
The prices start from Rs 1,000 and go up to Rs 15,000. And these products are sold in Mumbai, Goa, Bengaluru, Kolkata and Chennai besides being exported overseas.
The road ahead
Yet, Ila feels artisans don't get enough inputs from designers to contemporise the craft further. "There remains a gap," she says.
Also Read: Bihar's Sikki grass craft finds global market amid rising demand for eco-friendly artifacts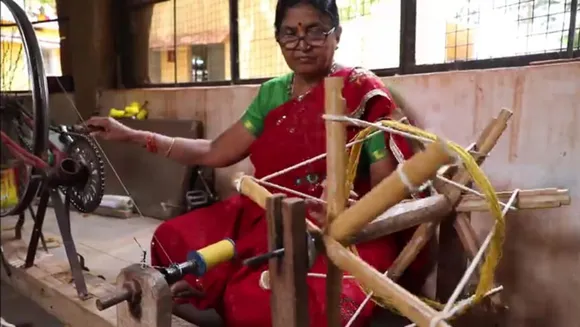 Ila says the Lambanis are so highly skilled that they can adapt to any style without losing the essence of their traditional embroidery.
For example, they make a plain, plastic button a unique design simply by the way they embroider it. They stitch it in such a way that it will look like a division sign, attached with one dot above and one dot below. They can make it a pattern.
"Also in the case of chain stitching, you won't see the base fabric because it will be covered with embroidery. Their sense of colour is so strong that even white will be a colour," Ila explains.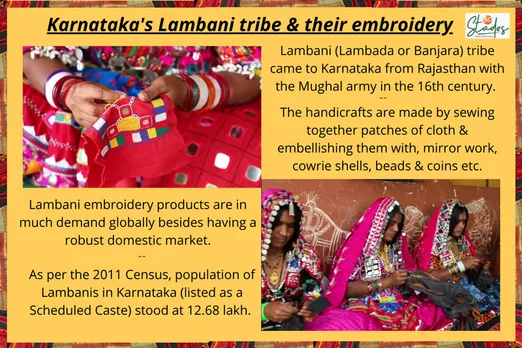 SKKK is taking the craft beyond the Lambada tribe; towards the end of 2020, SKKK trained 40 Scheduled Tribe women under the mentorship and training of a master craftsperson, Praveen says.
As new artisans are learning the art, Ila believes some innovations can also be adopted. "Lambani embroidery has a lot of embellishments, for example, even in drawstrings there are cowrie shells or little silver bells. People can come up with necklaces and use those embellishments in bangles. This would be new and different."
(Sravasti Datta is a Bengaluru-based independent journalist, who writes art, culture and human interest stories). 
Also Read: Biren Basak: The boy from East Pakistan who became India's handcrafted saree tycoon