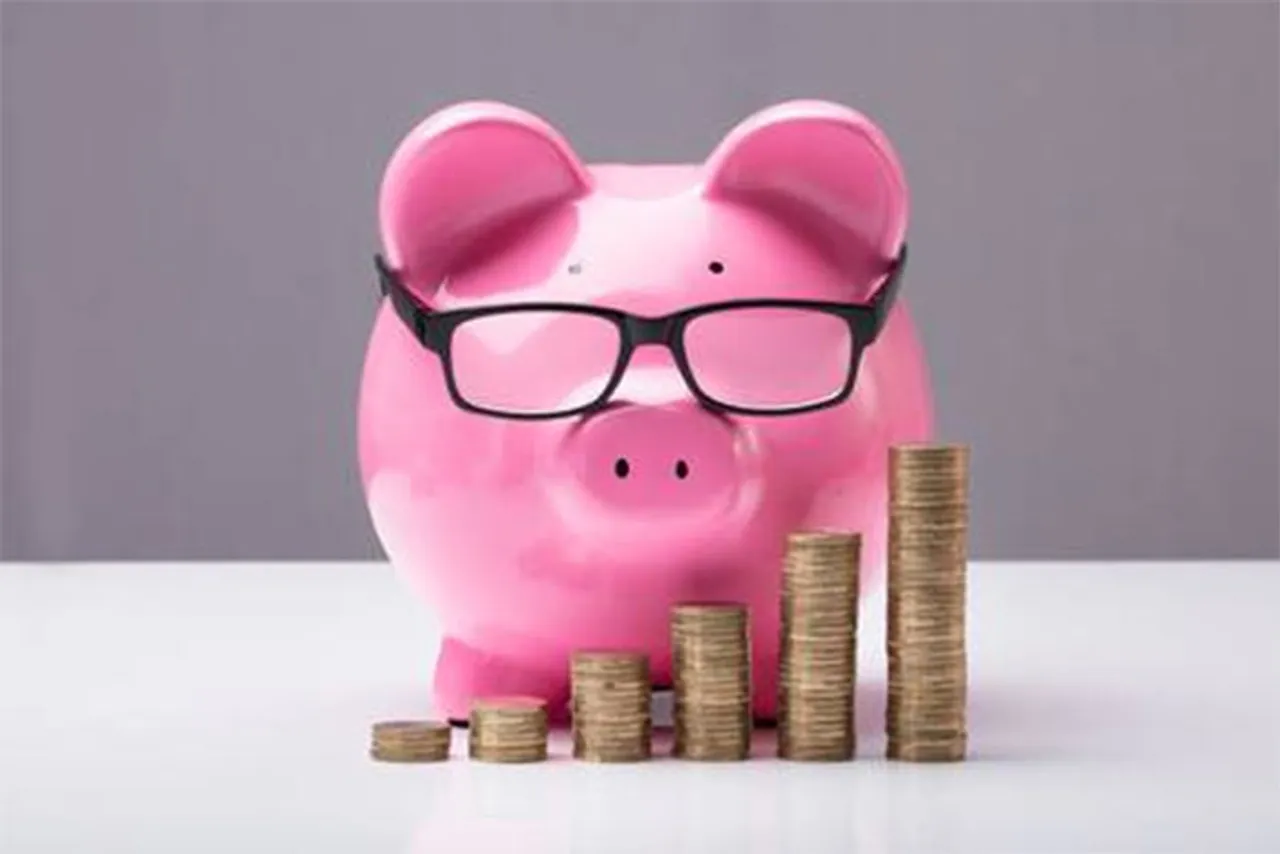 One of the many consequences of the Coronavirus (COVID-19) pandemic has been a sharp decline in interest rates in India. The Reserve Bank of India (RBI) has cut interest twice in the last three months in a bid to encourage individuals and businesses to borrow and spend. At 4 percent, the policy rate in India is now the lowest in the last 20 years.
While lower interest rates are good for borrowers, they are a headache for savers especially those who prefer safer and low-risk savings instruments such as banks fixed deposits (FDs), post office deposits and bonds.
The central bank followed its rate cut move by discontinuing the RBI taxable 7.75 percent bonds, which were very popular with savers. The combined result has been a steady decline in interest rate on fixed deposits and bonds since March this year. For example, ICICI Bank now offers as low as 5.1 percent interest on a 3-year term deposit, barely covering the rate of inflation. This hurts especially in the current environment when the need for cash-flow based savings is most pressing.
However, there are still ways to increase yield on savings if one is willing to take some risks or lock-up funds for longer periods. Here are some of the best savings options available in the market right now:
1.       7.15% RBI Savings Bonds, 2020 –This is a replacement for the now-discontinued 7.75 percent RBI bond and is available for subscription from July 1, 2020. The bonds can be purchased from leading banks and is a good option for long-term savers looking for capital protection who are ready to block their funds for seven years. The interest rate is higher than those offered by banks and post office deposits, but savers cannot lock-in interest rate at the time of subscription. It's a floating rate instruments and interest rate on these bonds will be re-set every six months, the first re-set being on January 01, 2021. The current consensus is that the interest rate would decline further.
The bond is like a half-yearly income plan and there is no option to receive cumulative interest and principal at the end of seven years. Savers will earn interest every six months, which will be directly credited in their bank account.
Also Read: Use Covid-19 crisis to buy assets which will generate cash flows year after year
2.       Post office deposits: The plain vanilla post office deposits are no more as lucrative as in the past but at an effective yield of 6.8 percent for a 5 year tenure, they are still one of the best options for savers who prefer government-backed savings instruments The yield includes one percent cash back for those who buy through an authorised agent. Not too long-ago, post office FDs had an effective yield of 9.5 percent.
3.       Shriram City Union FDs: There is some risk involved here but high yielding FDs from non-bank retail lender Shriram City Union Ltd fixed deposit is a good option for savers to push-up yield on their savings. The Chennai based company currently offers 8.41 percent interest per annum, calculated monthly on a 45-month deposit – one of the highest in the industry right now. On a cumulative basis, the yield works out to be around 10 percent which is quite lucrative in the current environment.
Its long-term rupee borrowing is currently rated 'AA' by credit rating agencies which offer high safety. The company has one of highest equity to asset ratio in the industry at 22.7 percent. In other words, at the end of March this year company's net worth or equity capital was equivalent to 22.7 percent of its total assets which a good staying power to the company in the event of a recession.
A firm with higher equity to assets ratio has a greater ability to absorb losses arising out of bad loans and honour its financial liabilities.
Also Read: 10 tips to buy stocks without taking undue risks
4.       Shriram Transport Finance FD: The Chennai-based commercial vehicle financier currently offers 8.18 percent interest annually calculated monthly on a 45-month deposit. Rated 'AA+' for its long-term rupee borrowings, Shriram Transport Finance is one of the oldest and the biggest non-bank lenders in the country with assets worth Rs 1.13 lakh crore at the end of March this year. The company equity to asset ratio was comfortable 16.1 percent at the end of March 2020.
5.       M&M Financial Services FD: One of the top non-bank lenders in rural areas and smaller towns, M&M Financial currently offers 7.8 percent interest on its fixed deposits, which is a good option for people willing to take some risk. The company's long-term rupee borrowing is 'AAA-' rated, as it is part of a large diversified group. Its equity capital ratio was 15.4 percent at the end of March, which provides a high level of comfort to potential investors.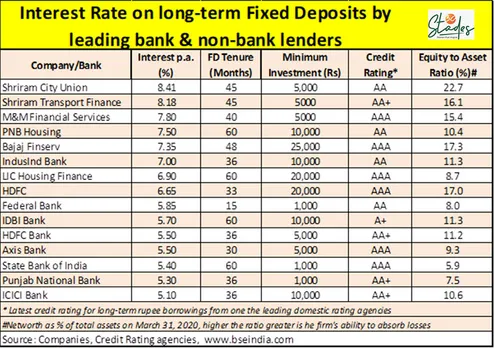 6.       Bajaj Finserv: The country's second largest non-bank retail lender through its subsidiary Bajaj Finance offers 7.35 percent interest on its FDs. However, at Rs 25,000, the minimum investment requirement is on the higher side compared to others and may not suit everyone. At 17.3 percent, the company has one of the highest equity to asset ratio in the industry and is 'AAA-'rated, which would comfort risk-averse investors. The company is also part of large and cash rich Rahul Bajaj group that offers some assurance to investors.
7.       HDFC FDs: The country's largest non-bank lender offers 6.65 percent interest on its fixed deposits with a tenure of 33 months. This is on the lower side compared to other non-bank lenders but then HDFC is a top-rated firm in the industry and has one of the most diversified portfolios in the financial services industry. This makes its FDs nearly as safe as banks. So if you value safety over yield go for it.  The firm had total assets worth Rs 5.07 lakh crore at the end of March this year - nearly 3 times its nearest rival with an equity to asset ratio at 17 percent, which is among the best in the industry.
Also Read: How can you generate higher returns on savings after interest rate cuts?
8.     Other non-bank lenders, which offer FDs, are LIC Housing Finance Company and PNB Housing. They offer a higher interest rate compared to HDFC and banks, but their lower equity to asset ratio raises risk quotient for investors.
9.       Among banks, IndusInd Bank currently offers the best interest rate of 7 percent for a fixed deposit with tenure of 36 months. The bank is AA-rated currently and its equity capital was equivalent to 11.2 per cent at the end of March 2020, which was in line with its private sector peers.
10.   If safety and liquidity is the prime concern, savers should opt for the fixed deposits by public sector banks such as State Bank of India, Punjab National Bank, Bank of Baroda and IDBI Bank among others. However, they offer low interest rates. The other option is AAA-rated private sector banks such as HDFC Bank and Axis Bank that currently offer 5.5 percent interest on three-year deposit.
The ideal option for savers would be to divide their corpus across 4 to 5 lenders to balance the return and the risk. For example, an equal split of corpus among the five-highest yielding FDs would generate interest of around 7.85 per cent. It is always safer to not put all your eggs in one basket.
(Karan Deo Sharma is a Mumbai-based finance and equity markets specialist).
Also Read: Hold on to that gold