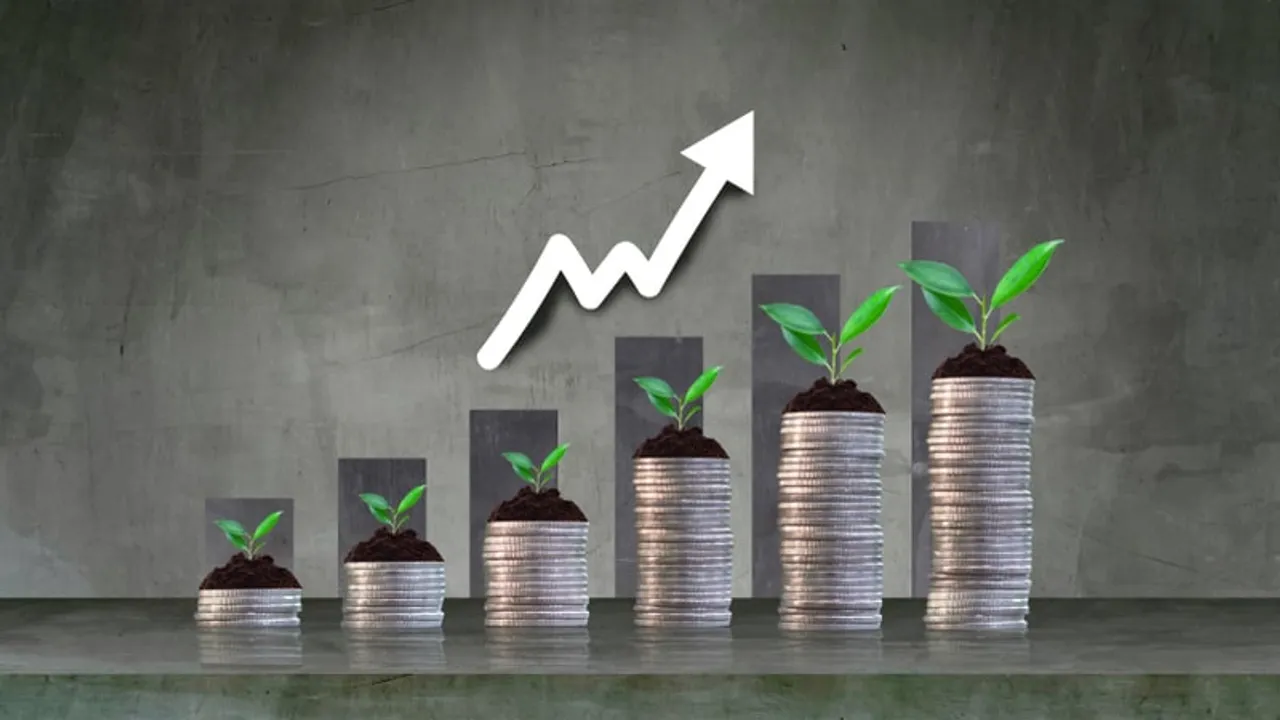 wp:paragraph
Silver metal is emerging as an interesting option for investors who are looking for an alternative to financial assets such as stocks and bonds but don't want to become too dependent on gold.  
This is far better than what bottom fishers in the equity market made during the period.
Commodity analysts see more upside in silver and the consensus view is that the white metal will outperform gold in the coming months. However, both the precious metals are expected to do better than equity in the next 6-7 months given the global and domestic economic uncertainty and the growing tally of COVID-19 cases. All these factors are likely to weigh heavily on economic activity and corporate earnings.
The fund managers are advising investors to cut the weightage of equity in their portfolio and increase their exposure to precious metals in the favour of silver. They can do this either by selling-off 5-10 percent of their gold and replacing it with silver or stop adding gold and make the most of the incremental investment in the white metal.
Also Read: Retirement planning: 7 ways to beat low interest rates and inflation
This is clear from the relative price movement in these two metals in the last two decades.
The bullish outlook on silver rests on three pillars.
1.       First is the more widespread industrial usage of silver compared with gold. Historically, photography was the biggest user industry for silver but this is now being replaced by the photovoltaic industry. Silver is a key component of solar cells that convert sunlight into electricity. According to The Silver Institute, silver usage in solar photovoltaic was up 7 percent in 2019. The institute is the international trade association of the silver industry.
Silver is also used in high technology and sensitive electronic devices such as mobile phones, computers and sensors where a high degree of electricity conductivity is desired.
Also Read: 10 Best FDs in India right now
Then there are traditional uses of silver in jewellery and luxury cutlery & silverware. The industrial usage of silver is growing at a steady pace and accounts for nearly half of the annual metal sales globally. Analysts expect this to provide downside protection to silver prices especially in the post-Coronavirus growth recovery phase.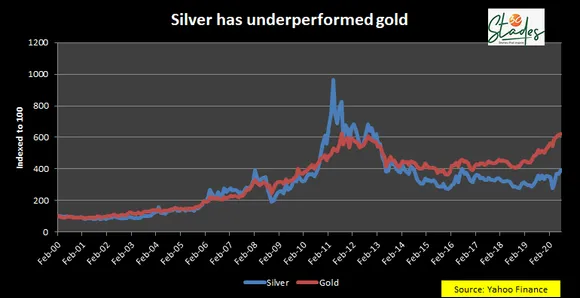 In contrast, gold is largely used either for jewellery or as an investment product and as a reserve asset by the global central banks.  
This prompts many analysts to describe silver as closer to a commodity while for them gold is closer to money or a store of value.
2.       Secondly, silver prices have lagged behind gold during the greater part of the last decade. Despite recent rally, silver prices are still less than half of its peak value in April 2011. Gold on the other hand is now very close to its 2011 high of US$1910 to an ounce.
The result has been a sharp decline in gold to silver price ratio. At their current prices, gold is nearly 92 times more valuable than Silver. In other words, one gram of gold will now buy you nearly 92 grams of silver right, nearly 50 per cent higher than the 20-year average of 65 grams. Most commodity traders expect the gold-silver ratio to decline to at least last year's average of 86 grams. This provides tactical opportunity to investors in the short-term.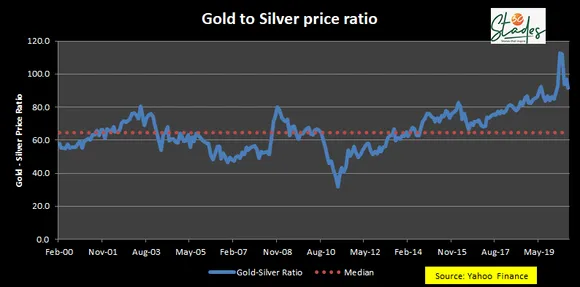 3.       Thirdly, there is the technical aspect of silver price trajectory. From traders perspective the metal went through a decade long bear-cycle that finally ended in March this year. The cycle saw the exit of weak hands, creating a base for a sustained rise in prices over the next few years.
Also Read: 10 tips to buy stocks without taking undue risks
Lower prices for such a long period also affected the silver supply as miners cut production and scaled back investment in new projects. As a result global mine production was down for the fourth consecutive year in 2019, according to data from The Silver Institute.
However the silver demand from the solar power and electronics industry continues to grow at a steady pace closing the gap between supply and demand. In 2019, total demand for silver outstripped the mine production of the metal.
Most importantly, silver has now managed to close above a major resistance at US$19 -- its 2019 high -- and the price momentum favours a further upside as the US dollar continues to depreciate against a broad basket of currencies.
For Indian investors silver has the added advantage of being cheaper and easier to buy and store than gold. A fair quantity of silver can be stored at home unlike gold that is mostly stored in bank lockers. Besides, there are few ownership restrictions on silver in India unlike gold. This makes the white metal an attractive investment opportunity for investors.
(Karan Deo Sharma is a Mumbai-based finance and equity markets specialist).
Also Read: How to invest in gold for maximum returns