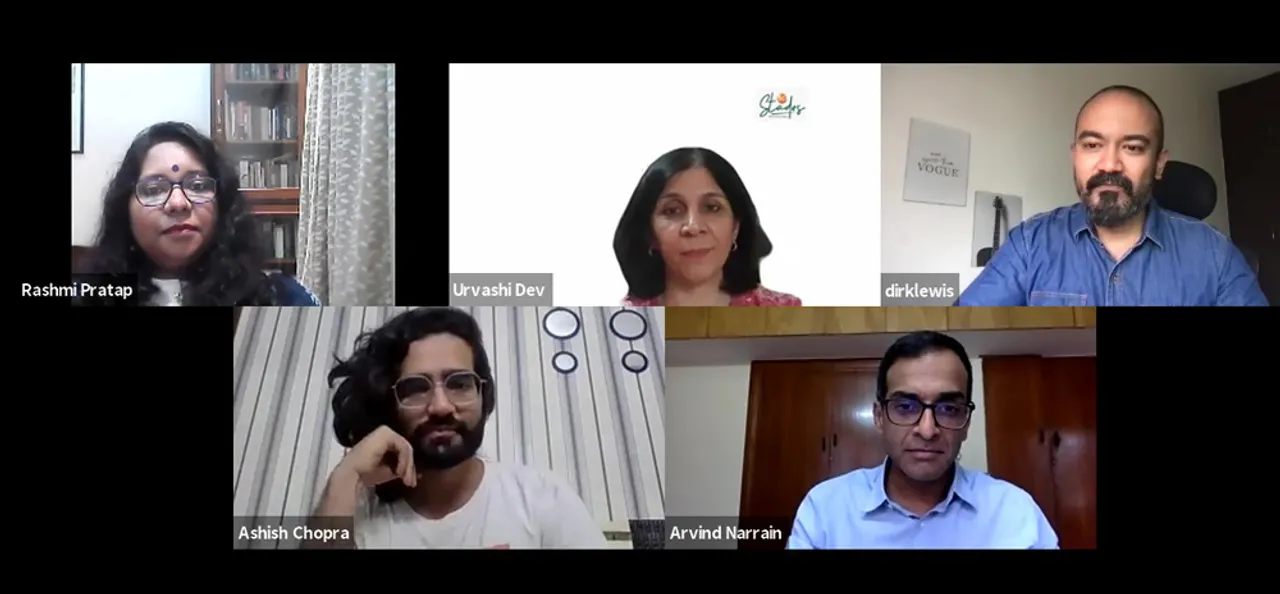 On September 6, 2018, Section 377 of the Indian Penal Code was decriminalised, which allowed consensual same-sex relationships. The landmark ruling created an enabling environment, but the battle for rights and equality continues to be fought at various levels, say gay rights activists.
The landmark Supreme Court ruling came after years of protests, roadshows and increasing awareness raised by the media and a group of lawyers relentlessly working towards getting the LGBTQ community their basic rights.
To mark Pride Month, 30 Stades hosted a webinar on 'Decriminalisation of Section 377: Is Indian society ready to accept gay relationships?'
The panellists were eminent lawyer and writer Arvind Narrain, communications professional Dirk Lewis and Ashish Chopra, an HR professional and 1st runner up - Mr Gay India 2018. The webinar was moderated by 30 Stades co-founders Urvashi Dev Rawal and Rashmi Pratap.
The panellists discussed if three years after the ruling, things have changed on the ground and if society is more accepting of the LGBTQ community.
Also Read: A sex worker in Kolkata's Sonagachhi shares her struggle as Coronavirus lockdown dries up earnings
They were of the opinion that while the law has created an enabling environment, the battle to change mindsets and sensitise society is a long-drawn one that has to be fought inside courtrooms, drawing rooms, board rooms and the Parliament.
The fact that individuals don't have these basic rights, just because they are in minority is ridiculous, he added.
Narrain was a part of the group of lawyers who challenged Section 377 of the IPC right from the High Court in 2009 to the Supreme Court in 2018.
The panellists also shared their coming out stories, saying while it was fairly difficult for all of them, they were proud of the support and acceptance they received from their loved ones.
Lewis said he waited a long time before he mustered the courage to come out at the age of 32. "I would suggest that people decide to come out as early as possible because it is liberating. I also feel that the younger generation is far more open and accepting of gay relationships as compared to those who are in authority," he said.
Also Read: How Prerana is helping thousands of girls get out of intergenerational sex trade
For Lewis, it came in stages, as he first came out to his sister, later his brother, both of whom were very supportive. He told his parents only last year.
Ashish Chopra said he gathered immense support from his brother when he told him through a text that he was gay. But it took his mother a long time to accept the fact.
Both Lewis and Chopra recounted that they were bullied by their friends in school, they were shamed to the extent that they feared coming out. However, they feel people are slowly overcoming their biases and prejudices.
Asked if reservation should be considered for the LGBTQ community, Narrain said, "Although we have come a long way, the society has at some point pushed the community on the back foot, kids have been expelled from schools, colleges, the community has been denied jobs. Hence, it is important to give them an upper hand."
 "Even now, the number of people from the LGBTQ community especially transgenders is very low in the mainstream, hence, the case is clear," he added.
Also Read: Pride Month: "My mom said I should become a saint or join hijras," says former Rajpipla prince Manvendra Singh Gohil
The panellists agreed that while in metros the situation is improving, in rural areas, the discrimination and trauma faced by the community would be many times greater. Lewis said education can change the way people look at the community.
"Although the corporate sectors run several campaigns during pride month, there still is room for a lot of sensitization," he said, adding that the corporates don't care as the LGBTQ is a small minority of the entire workforce.
The panellists appreciated the role of the media in highlighting positive and negative issues of the community, presenting the correct picture and making them feel included.
"The 17-year-old battle that started in 2001, reached a successful conclusion… but the judges can only do so far, it needs to be taken up on a wider level so that there is greater acceptance," said Narrain.
(Rishika Agarwal is a Patna-based writer specialising in art, culture and human interest stories)
Also Read: Two years of Sec 377 decriminalisation: Being gay in India & telling the world about it