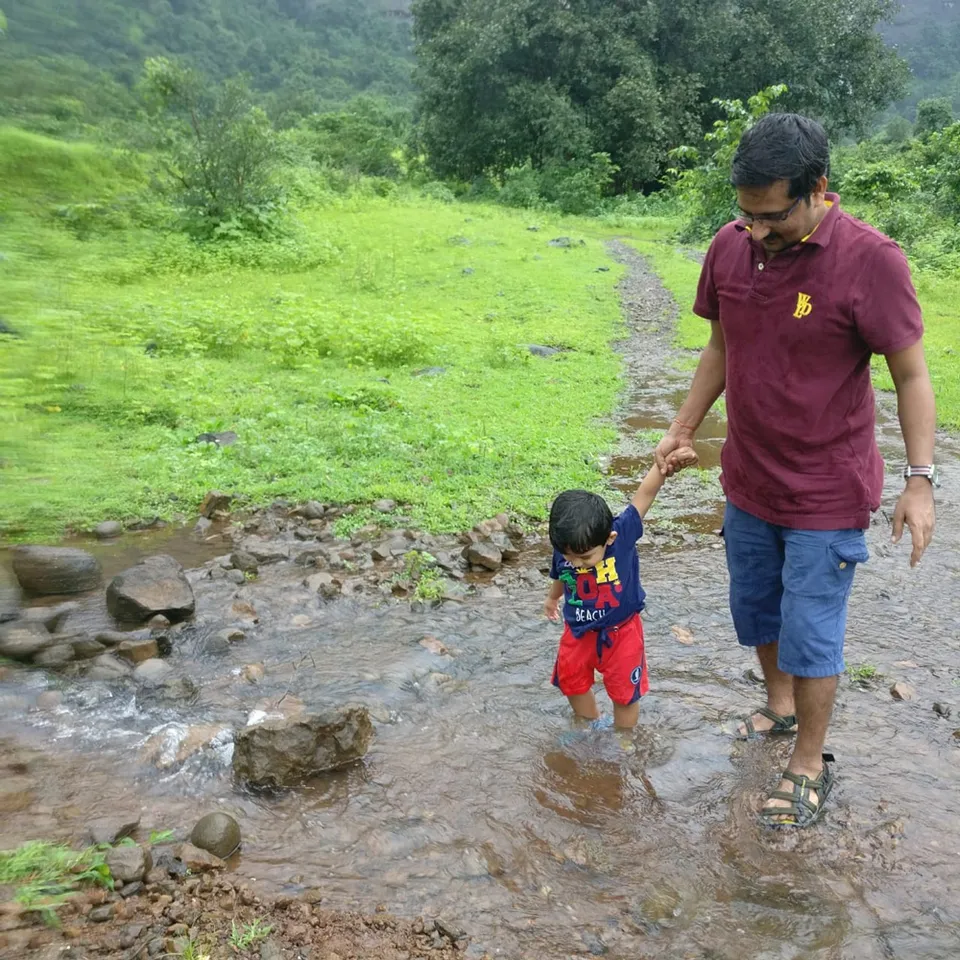 Fathers make every day special for children in their own way. On Father's Day, some of our readers and writers have shared what is it like to grow up under the protective wings of dad, papa, baba or appa. Read on:
The most fun dad to have around
The most vivid memories I have of dad right since childhood are of energy, of action. He was a man on the move. Ever since I can remember, he seemed always to be doing something, never sitting still as though that was a waste of time.
Wasting time was criminal in his view. He would say one should make best use of time as it will never come back. He would discourage my brother and me from becoming couch potatoes and watching the nonsense dished out on TV.
He was also a strict disciplinarian. Whether it was his army training or an inherent quality, he led a disciplined life, eating healthy and staying active.
He was an early riser and pottered around the house doing small chores such as making tea, boiling milk, watering plants, and bringing milk and vegetables from the market. He was an honest person and told us to always be truthful and sincere. He would say, "Nothing in life is worth lying for, so always tell the truth."
Another quality that was second nature to him was punctuality. He would always be ready before time for any occasion and get mad at my mom and me as we would invariably end up delaying him.
But for all his sternness, he was a softie at heart and I don't remember him ever raising his voice at my brother or me or ever beating us. In fact, he indulged us and spoiled us rotten, bringing us gifts, taking us out and giving in to our (reasonable) demands.
I remember when I was around 2 or 3 years, dad was posted in Chandigarh. He would take me out to the rose garden every evening after returning from the military hospital. The two of us would walk, or rather, I would force him to carry plump little me down the serene, wide roads of Chandigarh and enjoy ice-creams!
As we grew up, many a weekend was spent at army clubs in different cities where we would go swimming or play tennis or read in the library or watch movies. He inculcated in us a love for sports, books and for travel. We would take trips to all parts of the country and visit museums, art galleries and historical places apart from tourist attractions.
Also Read: How COVID-19 and India-China tensions have changed India's 900-year-old Patan Patola weaving
He was a voracious reader and could talk on any topic under the sun. I used to have long discussions with him on a range of subjects and learnt so much from him. His affable and generous nature endeared him to all, young and old and he made friends easily.
He was the most fun dad to be around.
On Father's Day, I'd just like to say, "Papa, it's been an honour and a privilege to be your daughter. I hope I can always live up to your high standards and make you proud."
(Urvashi Dev Rawal is a Jaipur-based journalist specialising in development, gender, and political reporting)
---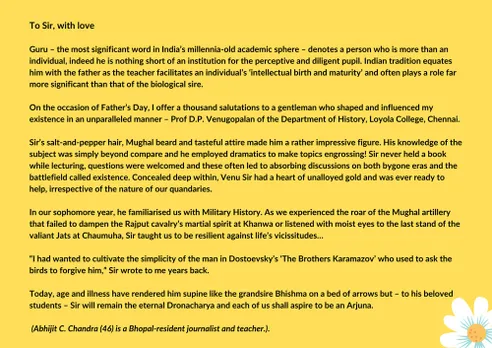 ---
Dad – a multifaceted gem
Baba – the word conjures up a world of meaning and that's how I address my sire. The name is synonymous with respect, fortitude, affection and joie de vivre. I've known my father to be outwardly strict, disciplined, short-tempered and difficult but realised that deep down he is soft, affectionate, emotional, giving and caring.
Dad is an extremely-religious personality, law-abiding citizen, a great leader in his role as politician, fine deal striker as businessman, a true friend, sacrificing son, committed sibling, indeed a personality to be looked at with awe.
The Almighty has created very few people who are too good to be true and my Baba ranks among them. He is my strength and my weakness and taught me the vital lesson of how to treat people and value relationships. He instilled honesty and principles in us, which are viewed as 'out of place' in modern times but provide a sense of happiness and peace. My Baba has a mother in him and that is why he is complete. Whenever I think and talk of my papa, my heart brims over with gratitude.
(Seema Shiva Naik is practising at the Karnataka High Court; she is also an animal lover and an environmentalist.)
---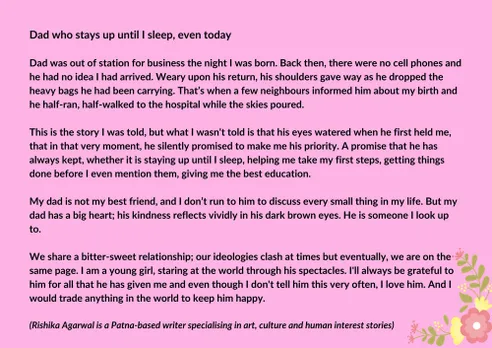 ---
My dad - my teacher
My dad is my hero and also my first teacher. I have vivid memories of him teaching me alphabets and numbers. But the most powerful one is learning the table of two. I just couldn't mug up the table, unlike other children. And I told him teary-eyed that I am not able to learn it. He simply explained to me the concept of 'times' -- repeated addition – which made it easier for me to learn all the tables. Years later, I used the same concept to teach tables to my children.
Dad always took a keen interest in my education and even 20 years back, he ensured I didn't take any stress during examinations – something that psychologists advise parents now.
Also Read: How one family has taken India's 1,000-year-old temple architecture to the world
In Delhi University, annual examinations were held in April-May back then (I don't know if it's any different now). Staying 35km away from the North Campus (before highways cut the distance), commuting in the heat would sap my energy. So for the five years that I studied there (graduation and post-graduation), my dad would take a day off from the office on my examination day, take me to college in his car and wait on the lawns for three hours till I finished my paper.
I would always find him waiting for me with samosas and a bottle of cola upon my return (weight gain was not even a distant worry at that time). I would eat and tell him about the paper on the way back.
I have always been thankful to him for all that he did for us. But today, as a working parent, I value his love even more because I understand it takes a lot of effort to be around your kids all the time for everything. I am glad my dad taught me how to balance life with work.
(Rashmi Pratap is a Mumbai-based journalist specialising in financial, business and socio-economic reporting)
---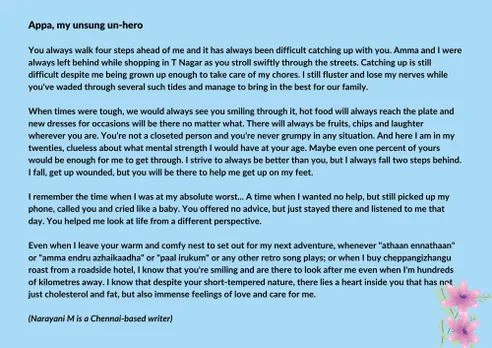 Also Read: Poems of closet poets: From romance to war, unpublished poets write about them all