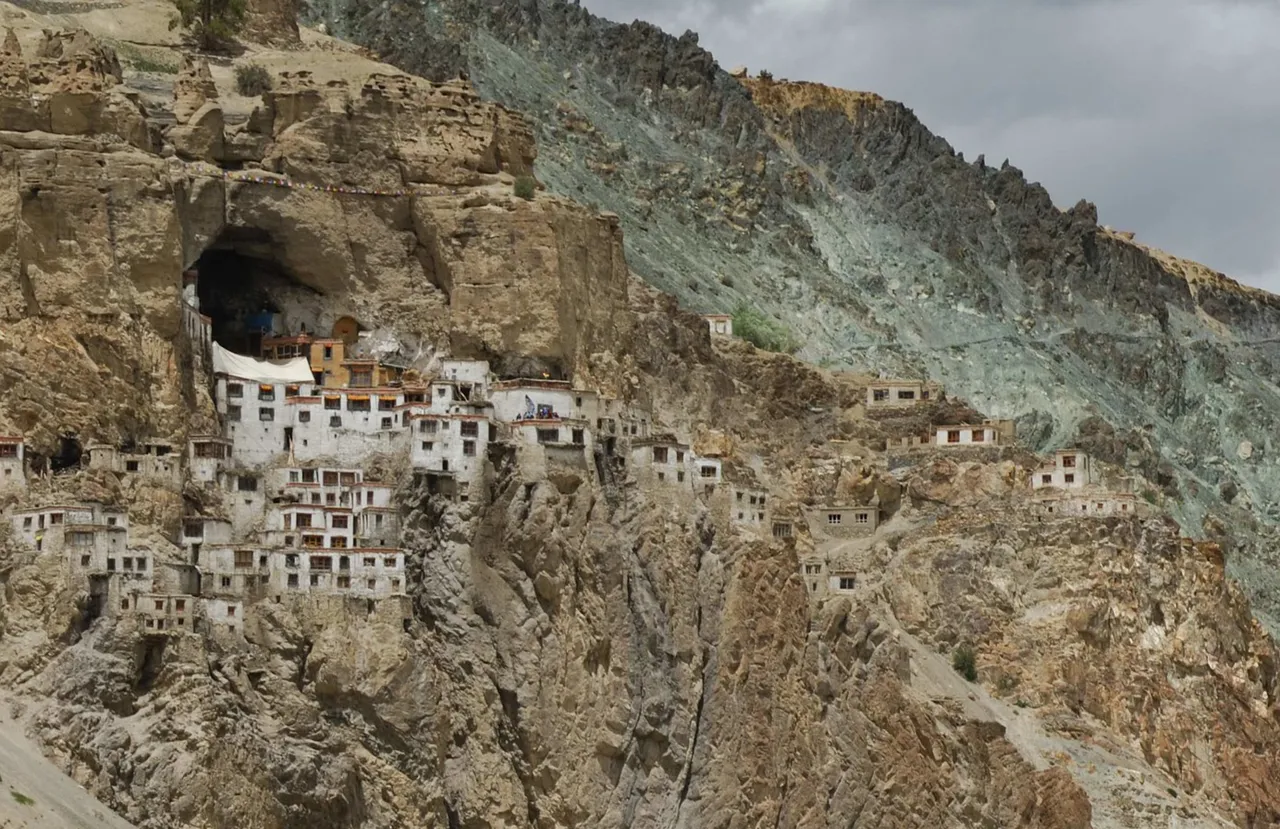 Phugtal Gompa or monastery is one of the world's oldest monasteries. It is situated in the rugged mountainous terrain of Lungnak Valley in Zanskar, Ladakh.
Built around a cave in the mountains, the Phugtal monastery dates back 2500 years. It is believed that monks, scholars and those seeking enlightenment would come to meditate in the cave and reside there for years in isolation.
Over thousands of years, many followers of the Buddha, like Arhats and Guru Padmasambhava, are believed to have meditated in the cave.
Also Read: Udaigiri caves: A repository of ancient shrines and mythological tales
It was built by Jangsem Sherap Zangpo, a disciple of Je Tsongkhapa who was the founder of the Gelug School of Tibetan Buddhism. The monastery was built under the guidance of Zangpo on the side of the cliff, like a honeycomb.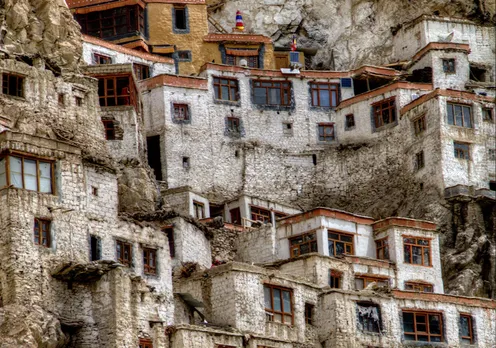 Today, the remote Phugtal Monastery, situated high up in the mountains above the Zanskar valley, has about 100 Lamas or monks residing there. The Tsarap River flows below the Phugtal gompa into the valley below.
Also Read: Gagron: Rajasthan's unique hill & water fort that is a UNESCO World Heritage Site
The monastery can only be reached on foot by crossing a hanging wooden bridge. Other bridges were washed away during floods in 2015. Food supplies to the gompa are delivered via the Phugtal Bridge.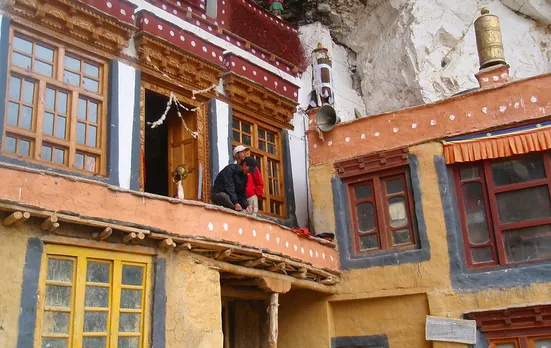 The monastery has the main temple, four prayer rooms, a library, a small clinic, small residences, a kitchen and the original cave with a protected sacred spring that is believed to have healing powers.
The prayer rooms are decorated with frescoes. It is believed that relics of the founder, Sherap Zangpo are kept in the chorten (a Buddhist shrine).
Also See: Maluti: Jharkhand's 17th-century terracotta temples built by royal women to outdo each other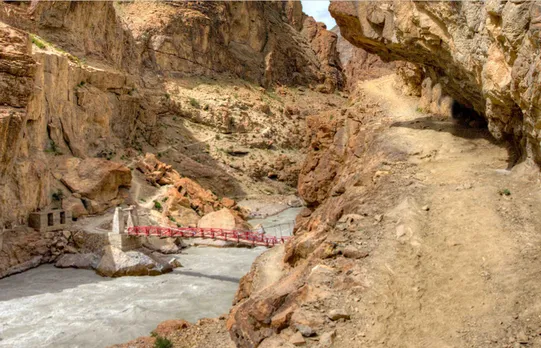 The monks in the gompa have built ties with the locals and villagers living nearby seek help from the monks in times of need.
The monks also perform prayers in the villages during functions such as weddings, births and deaths. The monastery celebrates Tibetan festivals which are eagerly looked forward to by the villagers who have little in the name of entertainment in the remote, harsh location. They help in planning for the festivals and celebrate with zest.
Also Read: Bhatner Fort: India's oldest & strongest fort built 1800 years ago in Rajasthan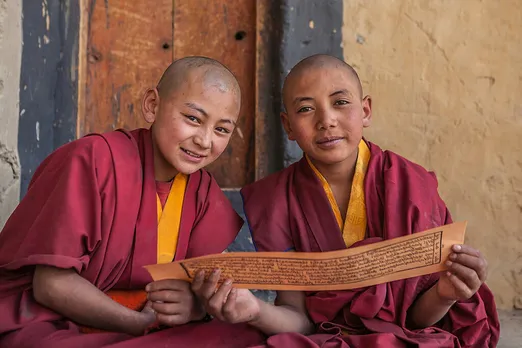 The monks also started a school in 1993 to provide education for the children living in villages as they had no access to school in other parts of Ladakh. The school also provided boarding facilities for children coming from far off villages. However, the flood in 2015 washed away the school campus which is now being rebuilt slowly. More pictures of the monastery here: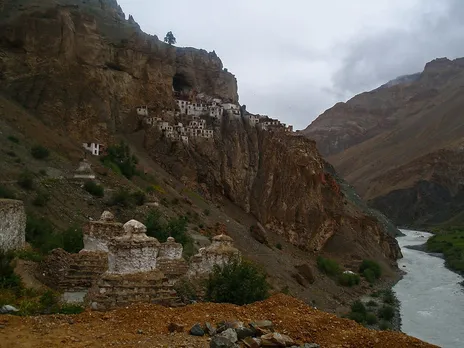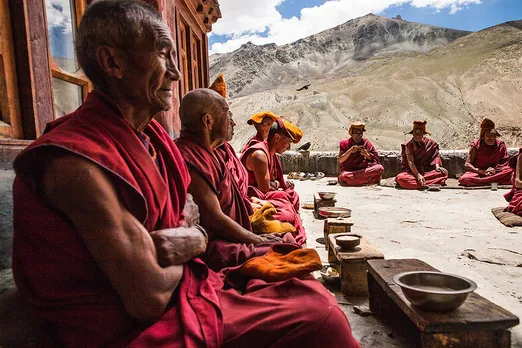 Also See: In pictures: Morena's Chausath Yogini temple that inspired the Indian Parliament's design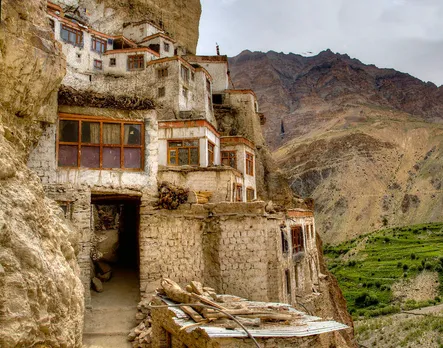 Also Read: Poetry in stone: 1000-year-old magnificent Modhera Sun temple in Gujarat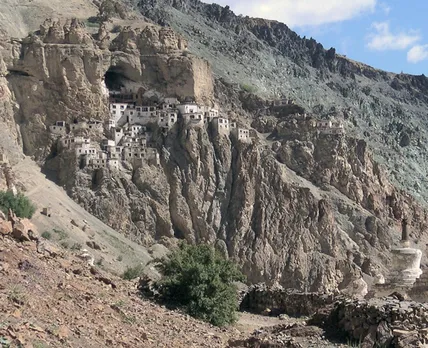 Also Read: Masroor: Himachal's exquisite rock-cut temples known as the Himalayan pyramid