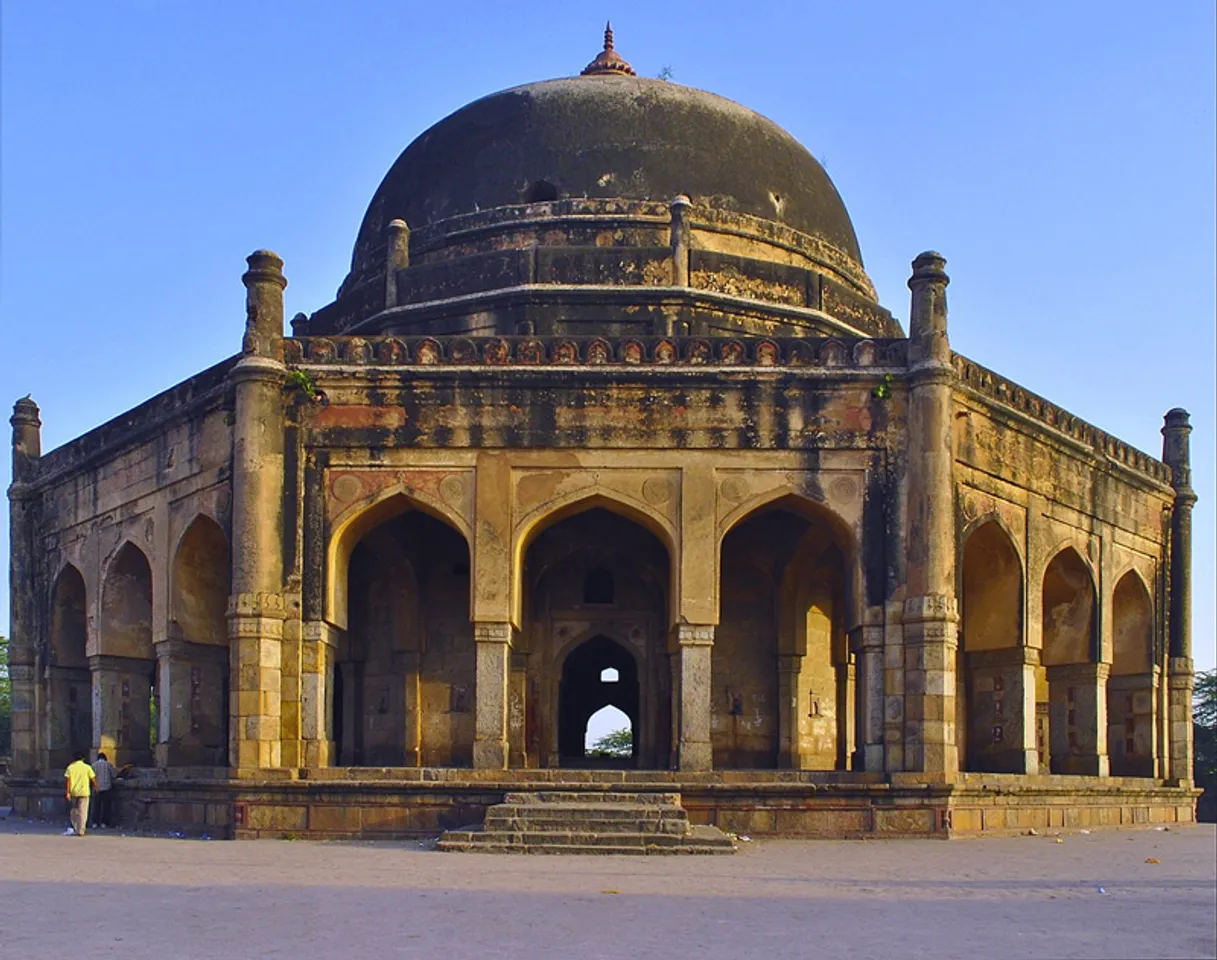 Adam Khan's Tomb in grey and red sandstone behind the Qutub Complex in Mehrauli, Delhi, holds stories of treachery, destruction, restoration and a curse. Built according to the Lodhi style of architecture, the tomb stands right behind the 73-metre-high Qutub Minar in the heart of the capital.
Adam (also Adham) Khan was the younger son of Maham Anga – one of the two wet nurses of Emperor Akbar. The other wet nurse was Jiji Anga, whose husband Shamsuddin Muhammad Atgah Khan was Akbar's favourite general. There was constant rivalry between the families of the two wet nurses.
According to Ain-i-Akbari, in 1561, Adam Khan was sent to conquer Malwa (in present-day Madhya Pradesh), which was then ruled by Baz Bahadur, an Aghan. Adam Khan had eyes not only on Malwa's riches but also Baz Bahadur's consort Rani Roopmati, who was also a poet and singer. Adam Khan defeated Baz Bahadur but Roopmati poisoned herself before he could reach her.
Also Read: Kalaroos caves: Kashmir's Russia connection through tunnels
It is believed that before her death, Rani Roopmati cursed Adam Khan that no woman would ever visit his tomb upon his death.
Adam Khan plundered Malwa, much to the dislike of Akbar. Some months after his return from Malwa, in May 1562, Adam Khan murdered Atgah Khan, which, to Akbar, was an unpardonable offence. Akbar ordered that Adam Khan be thrown from the ramparts of Agra Fort as punishment. Since Adam Khan survived the first fall with broken bones, he was thrown down repeatedly till he died. Maham Anga too died on the fourth day grieving for her son.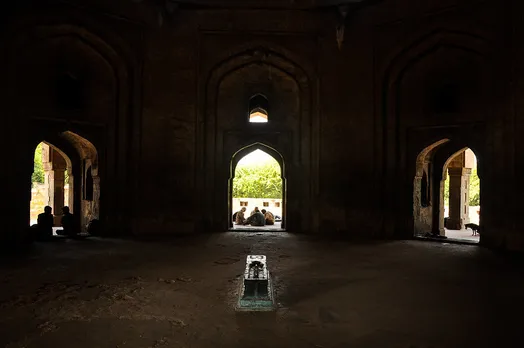 The tomb was restored by Lord Curzon in the early 20th century. Pic: Flickr 
The mother-son duo was buried in the same tomb. Built over 450 years back, Adam Khan's tomb is octagonal, which is somewhat unusual given the architectural style of those times.
Also See: In pictures: Morena's Chausath Yogini temple that inspired the Indian Parliament's design
In the Afghani Sur and Lodi dynasties, octagonal tombs were associated with traitors. Possibly, Akbar had Adham Khan's tomb built in this style due to his misdeeds. 
The tomb, surrounded by the dense forests of Qila Rai Pithora (Lal Kot), is also different because it has a double dome with small minarets on each of its eight sides. It has a verandah on each side pierced by three openings. It is built of grey sandstone whereas the dome that surmounts it is built of red sandstone.
The tomb is also called 'Bhool Bhulaiyya' (a maze or labyrinth) because visitors tend to lose their way amid the several intricate passages.
Folklore has it that once members of a wedding procession (baraatis) took refuge in the tomb at night and got lost there, which led to the name 'Bhool Bhulaiyya'.
In the 1830s, under British rule, Adam Khan's Tomb was converted into the residence of Blake, a member of the Bengal Civil Service. He razed the tombs of Adam Khan and Maham Anga to make his dining hall. Later, the tomb was converted into a police station, post office and even a dispensary. It was Lord Curzon who restored the tomb of Adam Khan in the early 20th century after the original one was destroyed. The grave of Maham Anga was never found.
Also Read: Bhatner Fort: India's oldest & strongest fort built 1800 years ago in Rajasthan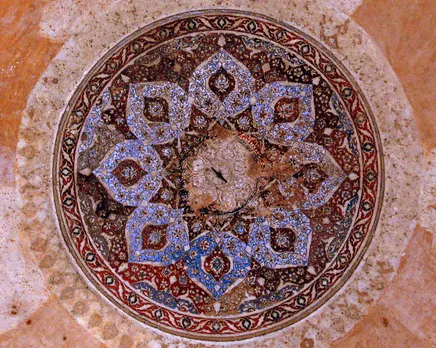 The ceiling of Adam Khan's Tomb. Pic: Flickr 
Because of Rani Roopmati's curse, women don't visit the tomb even today. One can find only beggars, homeless people, stray dogs and addicts where Adam Khan rests with his mother. The lesser-known monument is protected by the Archaeological Survey of India. More pictures here: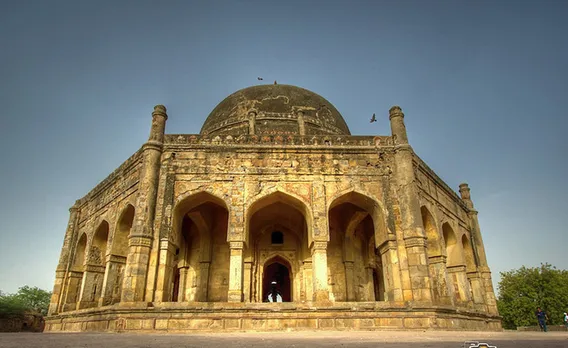 The octagonal tombs were possibly associated with traitors. Pic: Flickr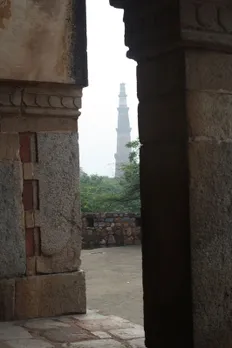 Qutub Minar as seen from the Tomb of Adam Khan. Pic: Wikipedia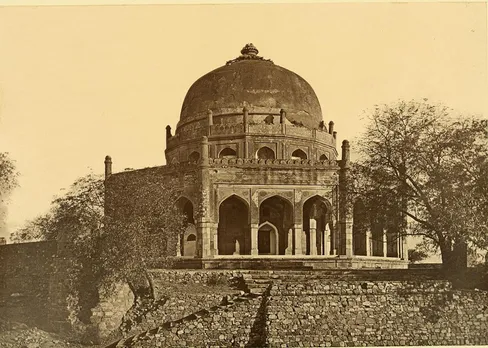 An 1872 picture of Adam Khan's Tomb. Pic: Wikipedia 
(The picture featured at the top has been sourced from Wikipedia.)
Also Read: Khul ja sim sim: Bihar's Son Bhandar caves need a magic code to unearth a treasure