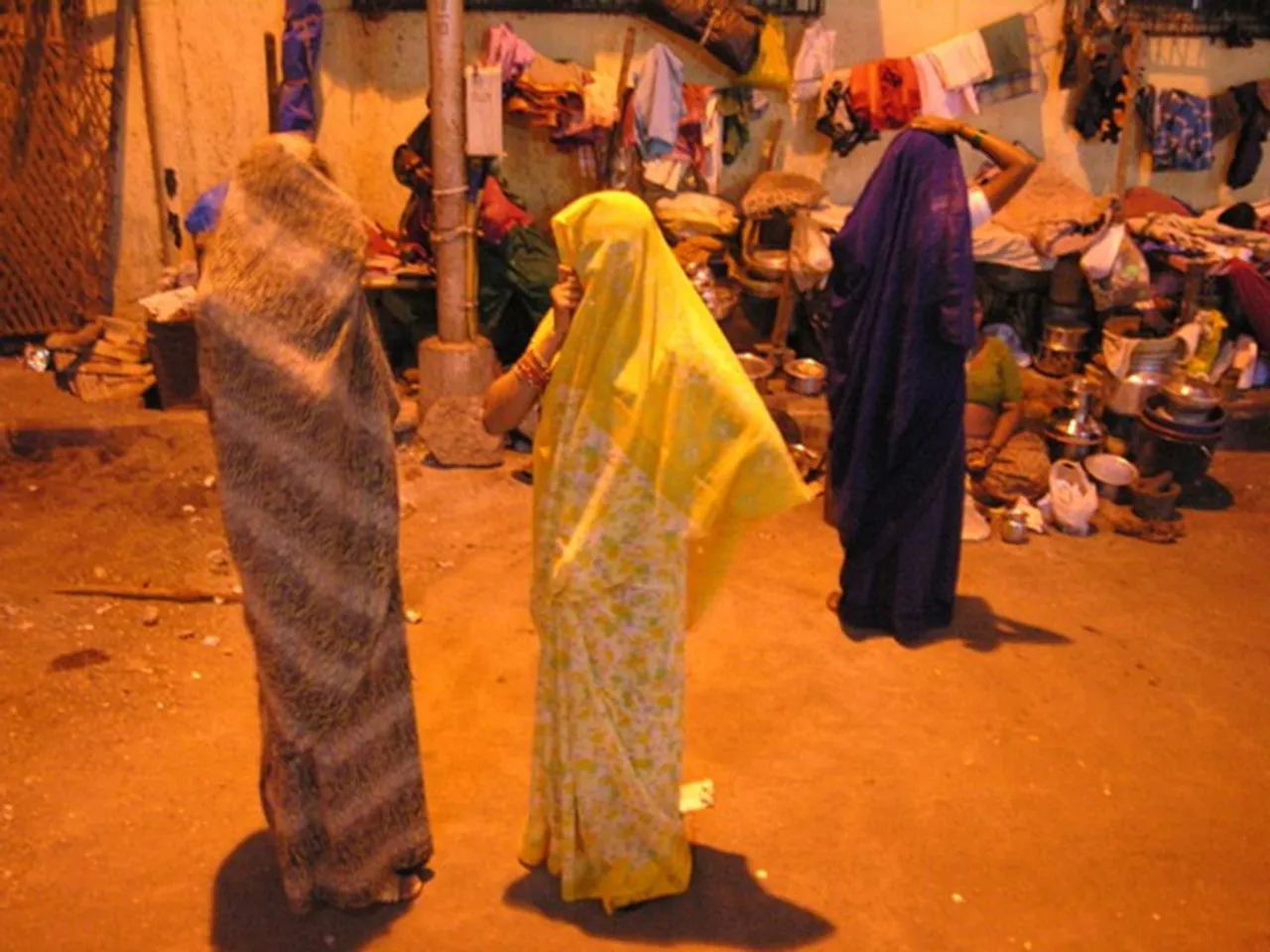 wp:paragraph
Within two days after the nationwide Coronavirus lockdown was imposed beginning March 25, Sharmishtha moved out of her cramped home-cum-brothel at G B Road, Delhi's red-light district, which houses 5,000 other women like her. The police patrolling in the area, between Ajmeri Gate and Lahori Gate, was stepping up and Sharmishtha knew there was no way she could continue her sex work given the strict enforcement of social distancing guidelines.
She went to live with her friend, also a sex worker, in Laxmi Nagar, East Delhi. Sharmishtha has been working from her friend's house since April though the Laxmi Nagar red light area is nearby. She is servicing only her old clients who fix an appointment before coming. She is aware of the consequences of COVID-19 but has no other income option.
In north Kolkata's Sonagachi, Asia's largest red-light district, enforcement has been relaxed since June. Sumona, who lives in a multi-storey brothel, still goes to a nearby lodge every day for work because her clients are not yet comfortable returning to the cramped lanes leading up to her brothel. Her earnings are down to one-fourth of the pre-coronavirus time.
"My two kids in the village now need a smartphone and internet for their studies. My drunkard husband cannot provide for them and in-laws need medicines regularly. I had to resume work anyhow though I know it is risky," she says.
Also Read: A sex worker in Kolkata's Sonagachhi shares her struggle as Coronavirus lockdown dries up earnings
Sex work is getting decentralised
This resumption of sex work is taking place out of the boundaries of red-light areas.
"It has just got decentralised. Their customers get in touch on the phone and don't come to Kamathipura and Falkland Road (Mumbai's red-light areas). Workers go to nearby lodges and boarding houses. The work is decentralised by individuals spread over several places," says Priti Patkar, human rights activist and Co-founder of NGO Prerana, which works in the red-light areas of Mumbai and Navi Mumbai to protect children vulnerable to sexual exploitation and trafficking.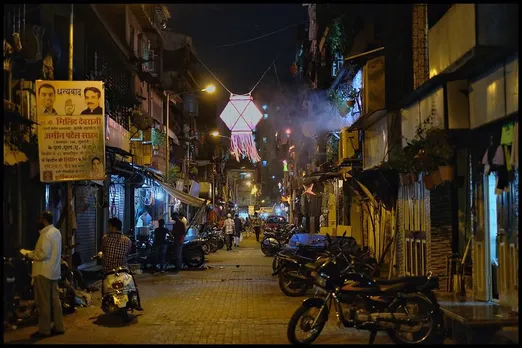 The number of sex workers in India was estimated at 30 lakh by the Ministry of Women and Child Development in 2007 while the United Nation's Human Rights Watch (HRW) put the figure at 20 million (2 crore) in 2008.
Kusum, President of All India Network of Sex Workers (AINSW), says women in the GB Road red-light area are not able to move out due to heavy police presence. "Red-light sex work is unlikely to resume anytime soon. When a woman leaves the red light district, she works discreetly. One, it makes her vulnerable to exploitation and two, it may give rise to diseases," says Kusum, who uses only her first name.
AINSW is a network of 2 lakh sex workers who assist each other with legal rights, health issues and social security across the country. While prostitution is legal in India, related activities including soliciting in a public place, kerb crawling, owning or managing a brothel and pimping are illegal.
Also Read: Two years of Sec 377 decriminalisation: Being gay in India & telling the world about it
Kusum says while many home-based women are working, work in red-light areas in India can resume only when trains restart and people regain employment. "A lot of our clients are travellers visiting cities or migrant workers, who have left. Moreover, very few people now have the money to spend on sex services given the job losses and economic slowdown," she adds.
Moving towards alternatives to sex work 
Throughout the lockdown, NGOs and other organisations have been supporting workers in the red-light areas or brothels with ration, food and other essentials. NGOs like Prerana and Kolkata's Durbar Samanwaya Mahila Committee have also been providing micro-finance and the necessary training to women for starting their own enterprise or for working as a cooperative. 
"We are offering alternate livelihood only to those who are prepared for the change. As an organisation, our stand is not to convert them. We have been giving orientation to women on what it means to either receive skills or start a new business. We provide micro grants to start micro business," Patkar says.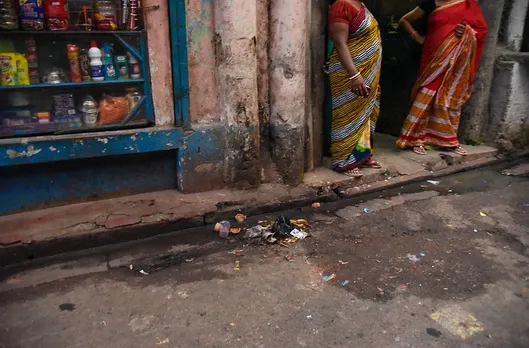 Renuka, a worker from Kamathipura, has set up a shop to sell onion and potatoes in Thane with grants from Prerana. "My shop is open from 7 in the morning till noon and from 4pm to 9pm in the evening. I am satisfied with this work," she says. Some others have set up tea and snack stalls, a woman is selling fish and some others are selling garments. But as Patkar says, it is out of their own choice and they may or may not continue the work in future.
Sex workers will resume business in Sonagachi gradually. "They need money to meet family expenses and these alternative options won't be enough," Dey says.
The story is not very different in Tamil Nadu, which has no red light area and sex workers operate from homes, brothels or are street-based.
Also Read: More women line up to become surrogates, egg donors as economy slows down
Since many women are forced to change homes multiple times due to harassment by landlords, they don't have ration cards and can't benefit from state government relief schemes too.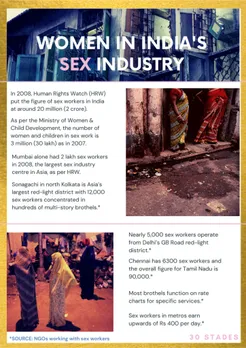 Tulsi, a sex worker in Theni, Tamil Nadu, has been hit hard by the pandemic. "There are no clients and no income. I tried to look for jobs but there are no jobs either. I tried phone sex but the client cheated me and did not pay," says Tulsi, who has taken a loan to support herself till the business resumes.
Married at 15, she took to sex work four years back after her husband passed away, leaving her with two children. "I worked as farm labour, in mills, in factories. I tried to get a loan for business. But nothing worked. Nobody was willing to give me a loan as I had no skills," she says. Things were tougher as her son is physically-challenged and she needed to take care of him.
"Men started asking me for sexual favours and it was then that a friend introduced me to sex work," Tulsi adds. As she lives alone, Tulsi says she would either invite clients to her place or go to their house, charging Rs1,000 per customer.
"There would be days when I would have more than one customer. Or there would be times when I wouldn't have customers for several days. But I still earned around Rs10,000 per month on an average," says Tulsi, from the Vadamalar Federation of Sex Workers in Tamil Nadu, which is aligned to the National Network of Sex Workers.
Despite the hardship, Tulsi says she is comfortable with the work as it allows her flexibility and she can work at her own pace and she earns more money than she would in a job.
And that's the story of most sex workers in India. Despite the hardships and harassment by police and customers, most are unwilling to leave sex work due to the money they are able to make. Acquiring new skills required for an alternative job is often not easy or financially feasible.
The times are tough and Patkar says there is a need for society to empathise with these women. "Empathy is regardless of what you are, what you do or where you were born. Empathy does not come with conditions," she says. If only everyone understood the importance of empathy towards sex workers, they wouldn't be starving or stepping out of their safety zones to solicit customers in this pandemic-hit world.
(Names of sex workers quoted in the story have been changed)
(Rashmi Pratap is a Mumbai-based journalist specialising in financial, business and socio-economic reporting; Urvashi Dev Rawal is a Jaipur-based journalist specialising in development, gender, and political reporting) )
Also Read: Pride Month: "My mom said I should become a saint or join hijras," says former Rajpipla prince Manvendra Singh Gohil