Last week, we advised investors to reduce exposure to pure play diversified equity funds and move a part of their money to balanced or hybrid funds. Many fund houses also market these as dynamic asset allocation funds or arbitrage funds.
Balanced Funds de-risk their portfolio by investing part of their funds in the debt or money market instruments. This cushions the returns offered by these funds from wild swings or volatility in equity markets and investors get the benefit of both equity as well as debt instruments.
Also Read: Time to invest in Balanced Mutual Funds after a year of windfall from equity
In a typical balanced fund equity accounts for anywhere from 65 and 80 percent of the portfolio while the balance is invested in debt, money market instrument or newer fixed income instruments such as Real Estate Investment Trusts (RIETs) or Infrastructure Investment Trusts (InvITs)
Also Read: Housing turns into buyer's market; sales recover after COVID as discounts bring down prices by 15%
A steady cash inflow either in the form of interest from debt instruments or dividends from RIETs or InvITS makes balanced funds less risky for investors compared to pure play diversified equity funds.
Case for balanced funds
The case for balanced funds is even stronger post the budget rally in the equity market. The benchmark BSE Sensex and Nifty 50 index have rallied nearly 9 percent in the last three days and Sensex closed above the 50,000 mark for the first time.
As a result Nifty valuation is now again close to its recent highs. On Wednesday the index closed with a P/E multiple of 39.2x, just a shade below its all-time high valuation of 40x it touched last month.
Also Read: Investing during market highs: does it work for long-term investors?
Such a high valuation limits the upside potential for investors and could actually result in a sharp reversal in the market if the expected growth in GDP or corporate earnings doesn't materialise for some reason.
The budget has also resulted in a rise in bond yields due to record borrowing by the central government this financial year. Most economists and analysts expect a further rise in bond yields as the government plans to maintain a high borrowing rate even next financial year.
Historically, the equity valuation and stock prices decline as interest rate rises and vice-versa.
The record high stock price and net asset values (NAVs) of equity schemes offer a great opportunity for investors to book profits and invest it in balanced funds.
Also Read: 5 points to keep in mind while buying a bank auction property
Best balanced Funds to invest right now
The big question is which balanced fund to invest in right now. We, at 30 Stades, have made the task easier for you. Here is the list of ten best balanced funds rights based on their risk-adjusted performance in the last five-years.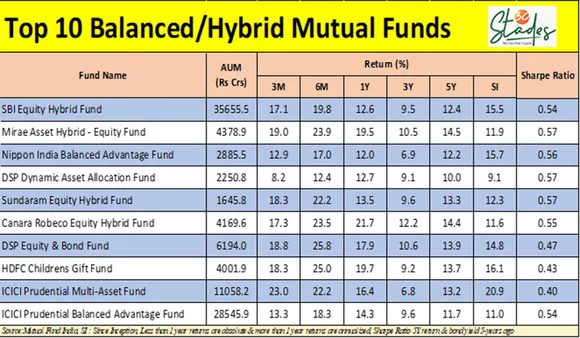 The SBI Equity Hybrid Fund topped the charts with annualised returns of 15.5 percent in the last five-years against a category average of 11.67 percent according to ICRA. The fund also has one of the best risk adjusted returns in the industry as measured by Sharpe Ratio.
Also Read: 5 points to help you decide on investment in the stock market right now
SBI Equity Hybrid Fund is one the largest balanced or hybrid funds in the industry with assets under management of over Rs 35,000 crore. Currently equity accounts for nearly 74 per cent of the fund while rest is invested in debt and less risky assets. 
It is followed by Mirae Asset Hybrid- Equity Fund with an AUM of around Rs 4,400 crore. The fund has been one of the top performers in the category in the last 12-months with returns of 19.5 per cent. It also has one of the best Sharpe Ratio in the industry.
Nippon India Balanced Advantage Fund is ranked number three thanks to its superior performance over the long term. 
Canara Robeco Equity Hybrid Fund also offers a good combination of short and long-term performance with a high Sharpe ratio.
It's best to follow a portfolio approach and divide your corpus in 3-4 different balanced funds rather put all your money in the top ranked fund.
How did we rank the funds?
These funds have done well both in the short-term – six months to a year, and even in the long-term – three years or more. These funds have been selected on the basis of the consistency in their returns since their inception. Our analysis only includes funds with assets under management (AUM) of Rs 100 crore or more currently. Data has been sourced from ICRA Analytics Mutual Fund India.
Also Read: How to calculate your net worth and use it to maximise financial gains?
To arrive at the list, we analysed the returns of all 32 open-ended balanced, hybrid or dynamic asset allocation funds that meet the AUM threshold. The returns were compared on six-months, 1-year, 3-year, 5-year basis since the fund's inception.
In the analysis we also looked at the variance in the fund returns in the short-term and medium term from the annualised returns delivered by the fund in the last five-years. We also looked at the standard deviation in the annualised returns delivered by the funds since its inception.
Lastly, we calculated the Sharpe Ratio for each based on the average yield on 10-year government bonds in the last five-year.
The final rank is the sum of ranks on all parameters – short and long-term returns, standard deviation and Sharpe Ratio.
Happy Investing.
(Advice: This article is for information purpose only. Readers are advised to consult a certified financial advisor before making investment in any of the funds or securities mentioned above.)
(Karan Deo Sharma is a Mumbai-based finance and equity markets specialist).
Also Read:  10 tips to buy stocks without taking undue risks