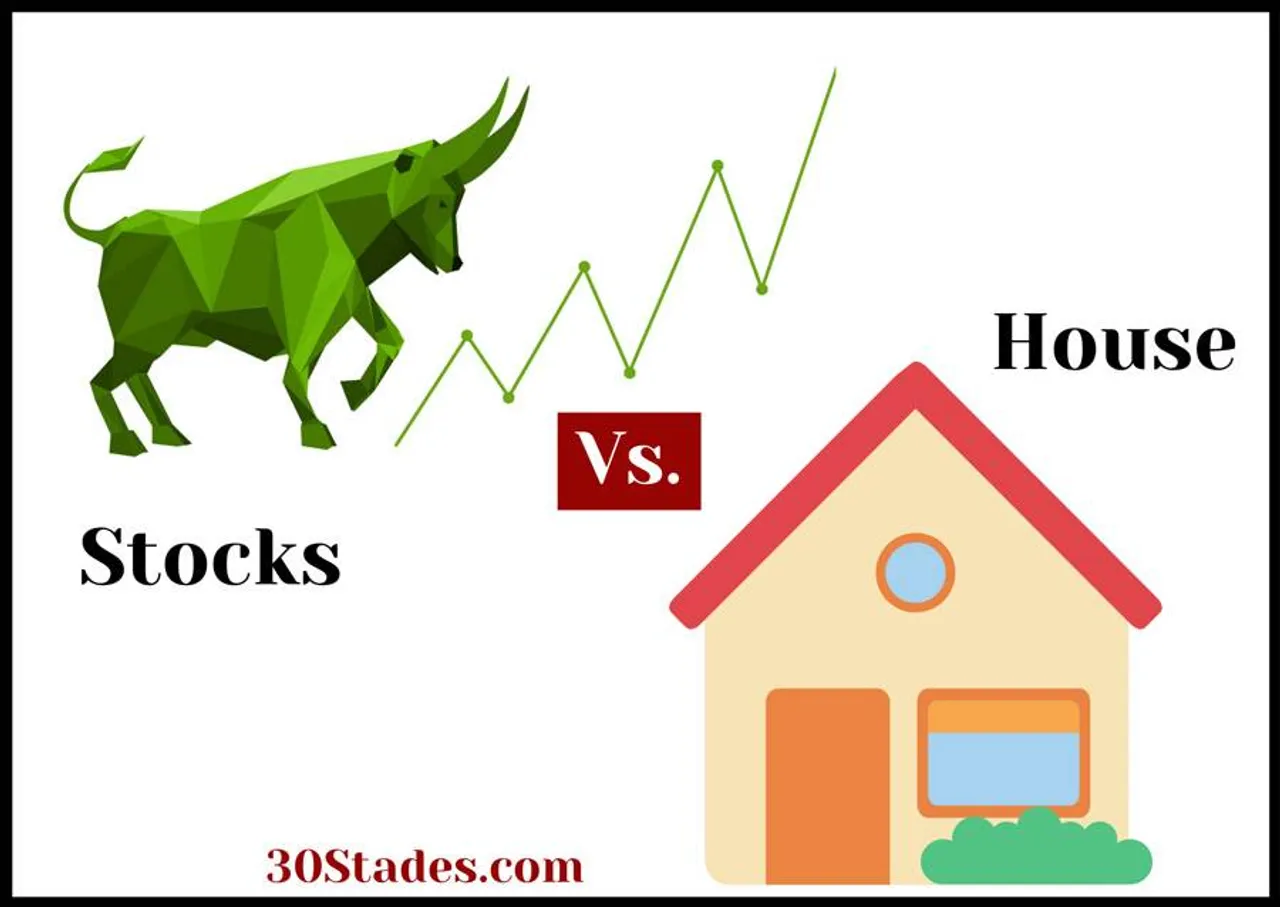 The Indian equity market is red hot right now. The benchmark BSE Sensex is up 36 percent in the last 12-months and has rallied nearly 80 percent since the end of March 2021. The investors in smaller companies have done even better. The BSE mid-cap index is up 56.5 percent since the end of August of last year and has rallied 117 percent since the end of March this year. 
In other words, many investors have doubled or even tripled money since March last year if they invested at the right time. This, coupled with the near mania in the primary or the IPO market where issues are being subscribed 50 or even a hundred times and most issues open with 40-50 listing gains, gives the impression that equity is the best asset class for savers and investors in India.
Also Read: It's time to book profits in mid and small-cap stocks & increase investment in large-caps
A deeper dig into data however suggests otherwise. Equity may be superior in the short term especially if investors managed to buy at the bottom and then sell just before the market overheated. And it's a matter of debate as to what proportion of equity investors in India get the timing right.
But the Indian equity market has done poorly in the long term. 
According to RBI house price Index (HPI), housing prices were up 203 percent between June 2010 and March this year on average at an all-India level against a 186 percent rise in the BSE Sensex during the period. 
Also See: Investing during market highs: does it work for long-term investors?
In other words, a house worth Rs 10 lakh in June 2010 was worth a little over Rs 30 lakh at the end of March this year. In the same period, an investment of Rs 10 lakh in a diversified portfolio that mirrors BSE Sensex is now worth around Rs 28.6 lakh.
So the risk or volatility adjusted returns from the house will be even superior to the equities.
Rental Yield Vs Dividend Yield
The housing market also beats equity in terms of yields on investment or dividend yield in equity market parlance. For example, a home worth around Rs 10 lakh in a major city would yield a monthly rental of at least Rs 4000 per month. This would translate into a rental yield of at least 3 percent net of maintenance and taxes.
Also Read: 7 tips if you are planning to buy a house during COVID-19
In comparison, BSE Sensex currently offers a dividend yield of around 1 percent. In other words, an investment of Rs 10 lakh in a portfolio that mirrors the index in composition will provide a dividend income of Rs10,000 in the first year.
In the Mumbai residential market, for example, rents usually rise at the rate of around 10 percent per annum. In comparison, annual dividend pay-out by the top 30 companies that are part of Sensex grew at a compounded annual rate (CAGR) of 6.6 percent in the last five years.
In the same period, an equity portfolio that yields an annual income of Rs 1 lakh in the first year will yield a dividend of Rs 1.9 lakh at the end of the tenth year.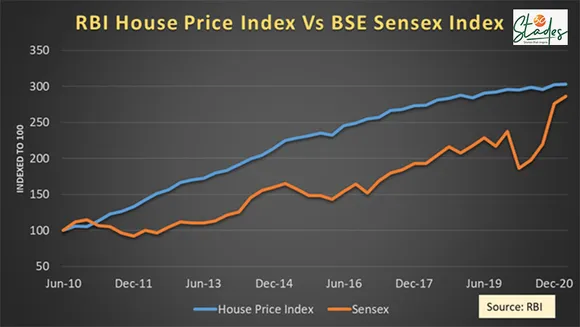 So over time, a house will potentially generate greater income and cash flows than equity. Of course, the picture may change if corporate earnings start growing in double-digits, leading to equally faster growth in annual dividend pay-out. But there is little hope of that occurring soon.
The housing market is however localised and returns on investment can vary greatly from one locality to another and from one city to the other.
Regional Markets
According to the RBI data, Lucknow has seen the maximum appreciation with house prices rising at an annualised rate of 14.6 percent followed by Kolkata (12.2 percent), Delhi (11.2 percent), Bangalore (11.2 percent) and Kochi (11.1 percent). Ahmedabad, Mumbai and Chennai market is in the middle with an annual appreciation of 10.7 percent, 10.3 percent and 9.5 percent respectively. 
Also Read: Rising inflation: Where should you invest your money as yields on FDs turn negative?
In contrast, Kanpur and Jaipur are at the bottom with an annual appreciation of 5.8 percent and 5.2 percent respectively.
So what are you thinking? You can consider investing in a house instead of stocks. This may be your best bet to create long-term wealth for yourself and your family.
Happy Investing!
(Advice: This article is for information purpose only. Readers are advised to consult a certified financial advisor before making investment in any of the funds or securities mentioned above.)
(Karan Deo Sharma is a Mumbai-based finance and equity markets specialist).
Also Read: Is it the right time to buy a house? Here's all you need to know