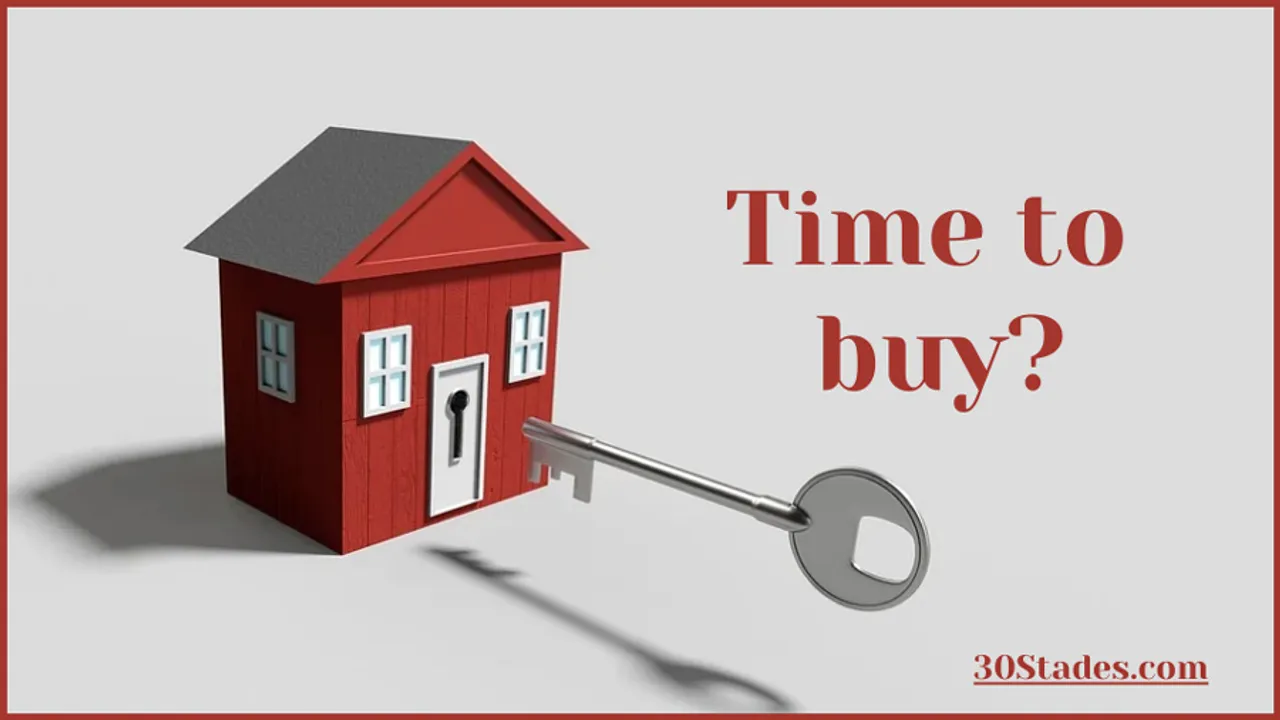 wp:html /
The housing market in India recovered faster than expected from the COVID19 shock. According to data from HDFC, a record number of new homes were bought in the second half of FY21, more than making up for the big dip in demand in the first half due to the lockdown.
The demand got a boost from record low interest rates on home loans and cut in registration and stamp duties by big states such as Maharashtra. Builders also chipped in with special offers and deals to clear their inventory.
While the cut in property taxes have expired, builders claim that buyer interest continues to be strong as work from home (WFH) becomes a norm and interest rates remain low.
Also Read: Housing turns into buyer's market; sales recover after COVID as discounts bring down prices by 15%
If you are wondering whether to buy a house or wait for some more time, here are a few things to consider:
1. Work from home is here to stay longer than we expect. The location of our workplace or office had the biggest influence on our home buying decision. The Coronavirus has completely changed the idea of work. Many people have been working remotely for nearly one-and-a-half years now and no one is sure when this will end.
Experts believe that even if we are able to control the pandemic through universal vaccination, offices may not go back to the old ways when everyone had to be physically present every day. Most companies are expected to provide flexible working options even in the post-pandemic environment.
Also Read: COVID-19: Builder discounts pull down housing prices by up to 20%
2. Interest rate right now is lower than inflation. In the last one-and-a-half years, interest rates on home loans have fallen so much they are now lower than the rate of inflation. In other words, mortgage rates are in the negative territory right now. What this means is that the replacement cost of homes due to the rising cost of raw material needed to build it in the first place is expected to grow much faster than the interest you pay on the home loan.
This is a great financial reason to buy a new house right now.
Also Read: Rising inflation: Where should you invest your money as yields on FDs turn negative?

3. Expect a further rise in home prices. The flip side of negative mortgage rates is that it leads to price appreciation. According to data from housing finance company HDFC, home prices were up 4 percent on average across India in FY21 despite nearly 8 percent decline in GDP last fiscal.
This means that you should hurry up your plans if you have the financial resources to invest in a new property. Home prices are also getting a boost from a decline in the inventory as there are fewer launches of new projects in the last one-and-a-half years due to the Coronavirus.
Also Read: 8 tips to reduce your loan burden post COVID19

4. The interest rates have bottomed out and could move up now. The mortgage rates and thus the equated monthly instalments (EMIs) on home loans are lowest ever. This means a higher affordability for people who managed to preserve or increase their income in the last 18 months.
But interest rates are now showing upward bias. For example, the yield on 10-year government bonds is up nearly 30 basis points in the last six-months despite rate hikes by the Reserve Bank of India or the US Federal Reserve. As the bond yields act as a benchmark for interest rates in the rest of the economy, it's a matter of time when borrowing costs rise for home finance companies. This means that you should be ready to pay higher EMIs on your loans at least two years from now. So if you are making financial plans for the home loan keep a buffer in mind.
Also Read: 6 ways to earn more on your savings & investments amid falling interest rates
5. Improve your Credit or CIBIL Score. Lenders now increasingly check Credit or CIBIL Score to determine how risky a borrower you are. This is over and above their usual enquiry about your income and cash flows. A borrower with a higher credit score is believed to be more reliable and can get loans faster and at lower interest rates.
You can check your credit score online by paying a small fee to credit bureaus such as CIBIL. Intermediaries such as PaisaBazaar and lenders like Bajaj Finance provide the score for free if you get loans from them. If your CIBIL score is low, say less than 600, start working on improving them. Begin by paying all your dues such as credit card dues and EMIs on personal loans on time. Take a few months and pay out existing debt and build a financial buffer. This will help you negotiate better rates from the lender and even the builders.
Also Read: Credit card: Hidden charges you must know about

6. Look at the total ownership cost rather than monthly EMIs on home loans. Buying a house is most often the biggest financial decision one makes. The total ownership cost of a home far exceeds the ticket price that you pay while buying the property. Post purchases you will have to spend money on society maintenance, regular repairs and renovations and property taxes. These extras would be as much as 20-25 per cent of the monthly EMIs on home loans depending on the amenities in your building.  So think through your long-term financial goals before deciding to commit your life-time savings for a home purchase.
Happy home hunting!
(Karan Deo Sharma is a Mumbai-based finance and equity markets specialist).
Also Read: 7 tips if you are planning to buy a house during COVID-19