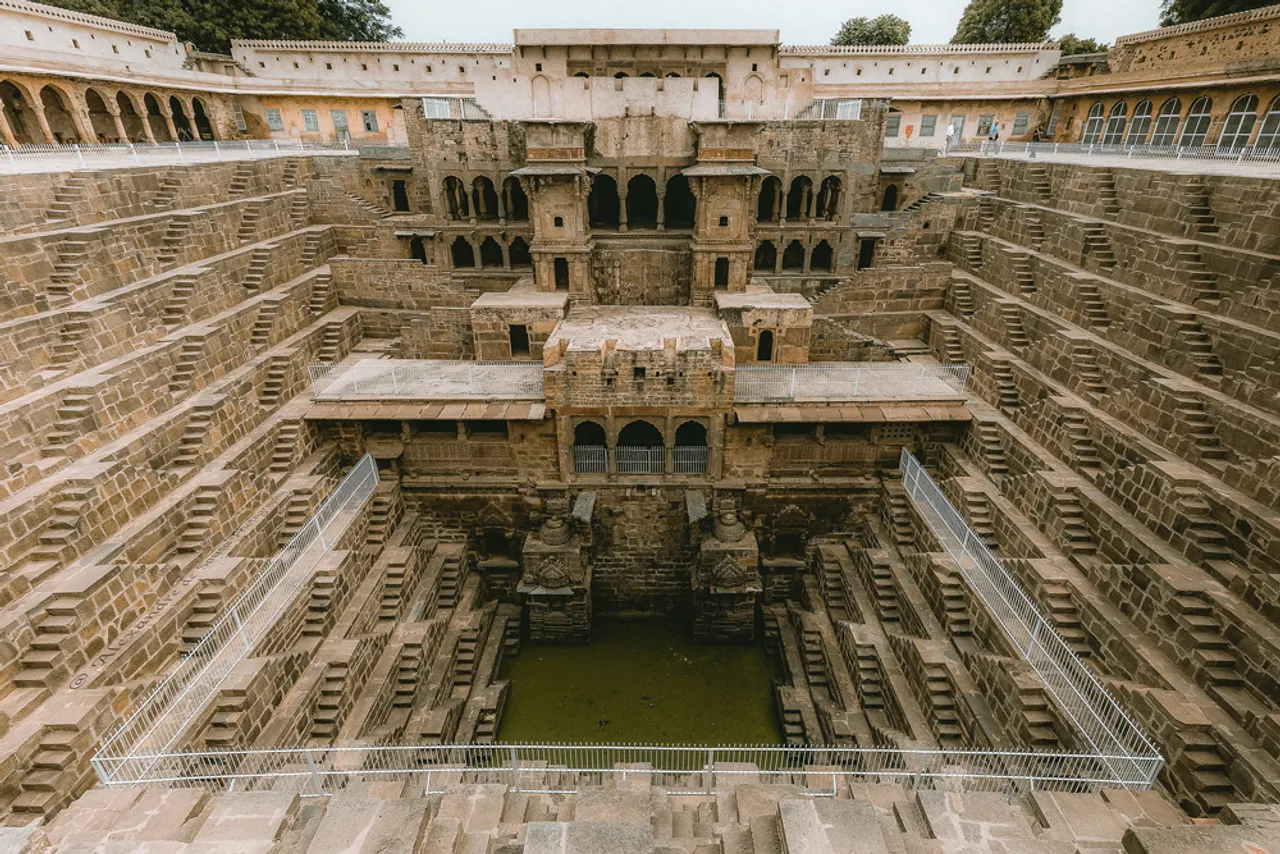 Abhaneri village, just about 100 km from Rajasthan's capital Jaipur, is home to India's largest and deepest stepwell – Chand Baori or Bawri. Built between the 9th and 10th centuries by King Chand Raja from the Gujara Pratihara clan, the stepwell in the Dausa district is an architectural as well as a mathematical marvel. 
Over 1200 years back, architects and masons had the vision to create this 13-floor stepwell where 3,500 symmetrical steps taper down to the well. So the structure resembles an upside-down pyramid and the steps form a maze, which shines in bright sunlight. 
Also See: A walk through Jaipur's Walled City: the UNESCO world heritage site where kings lived
Folklore has it that nobody has ever taken the same steps back for coming up as taken for going down.
Women would spend hot afternoons at the baori, where the temperature at the bottom is said to be 5 to 6 degrees Celsius lower than the surface. 
The steps encircle the water only on three sides. The fourth side has a three-storey pavilion with carved jharokhas, galleries supported on pillars and two balconies that have beautiful sculptures. 
There are sculptures of Lord Ganesha, Lord Vishnu and Goddess Mahishasur Mardini, an incarnation of Goddess Durga, among others. 
Also Read: How one family has taken India's 1,000-year-old temple architecture to the world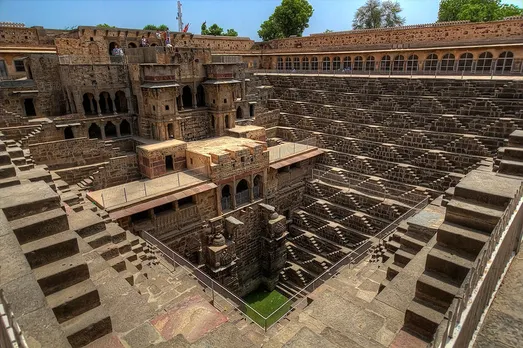 The 9th-century Chand Baori is an archaeological as well as a mathematical marvel for its unique design and symmetry. Pic: Flickr 
King Chand Raja, who claimed to be the descendant of Lord Rama's younger brother Lakshmana, built the stepwell to ensure a round-the-year water supply in the arid region. The boari is functional even today as it stores rainwater throughout the year but the entry to the main well is closed for the public. 
Also Read: Delhi water crisis: 5 historic forts from which India's capital can learn water harvesting & conservation
Just about 100 metres from the stepwell is the Harshat Mata temple. In the bygone era, devotees visited the temple after washing hands and feet at the stepwell. The temple is dedicated to Goddess Harshat, also known as Harsiddhi, who bestows happiness (harsh) on her devotees. The temple was built at around the same time as the stepwell in the 10th century. It underwent 
An annual fair is held at Abhaneri in Dausa during Autumn Navratri. More pictures of the baori and temple here: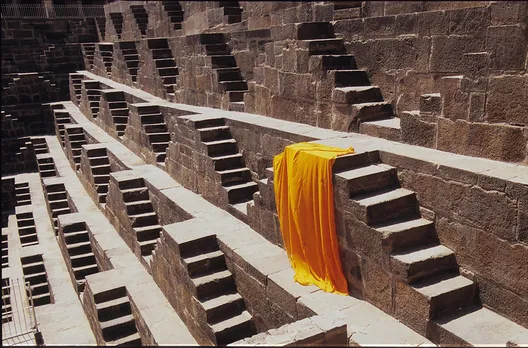 Folklore has it that nobody has ever taken the same steps back for coming up as taken for going down. Pic: Flickr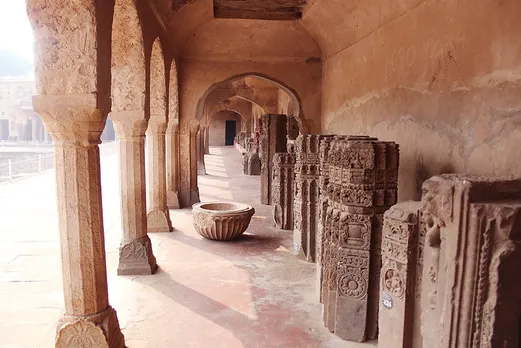 The pavilion has galleries supported on stone pillars. Pic: Flickr 
Also Read: Heritage walks help rediscover city histories, give fillip to conservation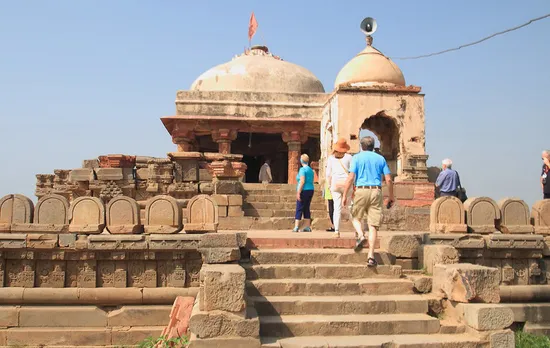 Harshat Mata is the Goddess of happiness. Her 10th-century temple is just 100 metres from the Chand Baori. Pic: Flickr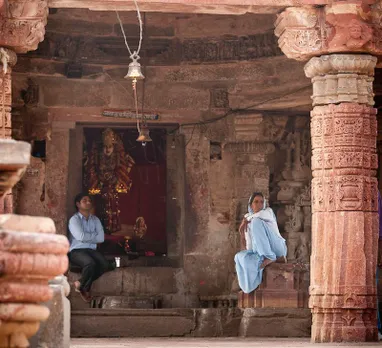 Goddess Harshat Mata at the temple, where elaborate ceremonies are held during the Autumn Navratri festival. Pic: Flickr 
Also See: In pictures: Morena's Chausath Yogini temple that inspired the Indian Parliament's design
Shivling at the Harshat Mata temple. Pic: Flickr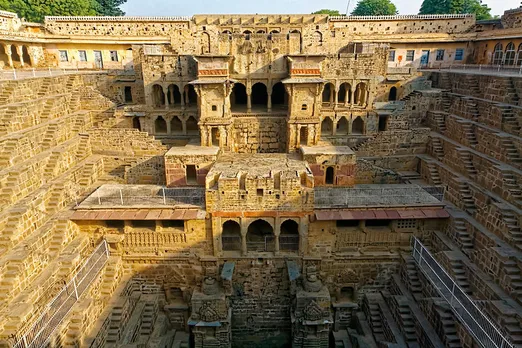 The temperature at the base of the baori is at least 5 to 6 degrees Celsius lower than the surface. Pic: Flickr 
Also See: Maluti: Jharkhand's 17th-century terracotta temples built by royal women to outdo each other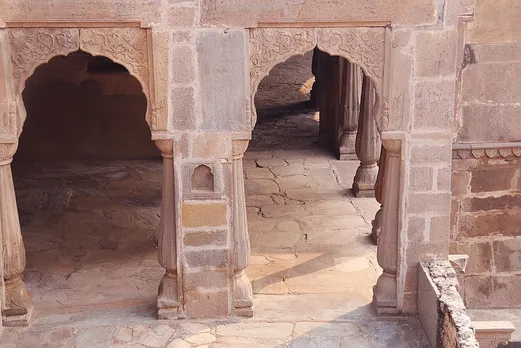 Pavilion at the Chand Baori. Pic: Flickr 
Also Read: How Nahargarh's 300-year-old water harvesting system beat the desert's water blues