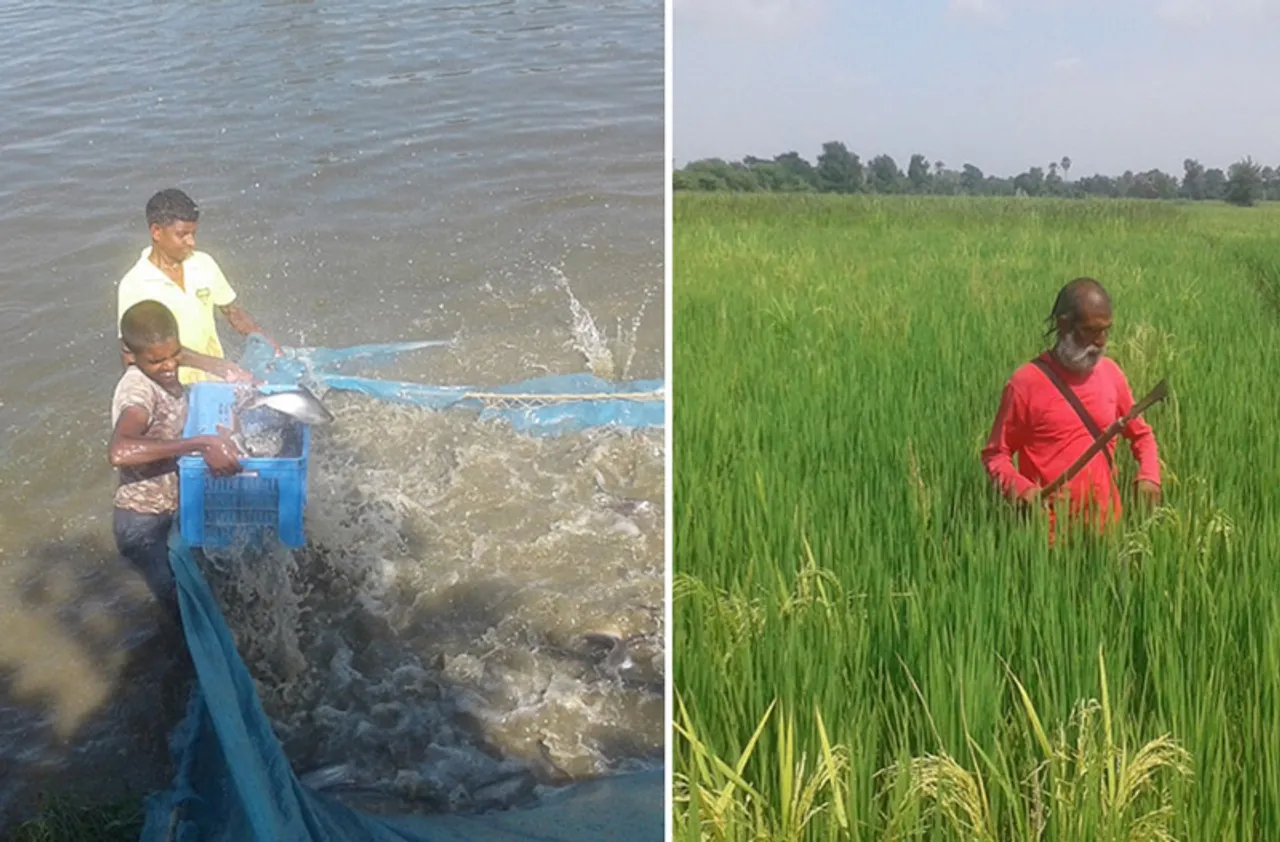 Surrounded by lush green paddy crops laden with golden grains, Parikshan Sao happily announces that fish is the reason behind his healthy plants and not any chemical fertiliser. 
Sao uses water from his fish pond to irrigate the paddy crops. Rich in beneficial bacteria, as well as potassium, phosphorus and nitrogen, the water works wonders for the crops. "This water is rich in nutrients and I owe the high rice yield to the fish pond," says Sao, a farmer from Mahadeopur village in Bihar.
With more than 90 percent of the 250 households in the village having their own ponds for breeding fish, Mahadeopur is now synonymous with bumper rice harvests. 
Also Read: Andhra farmer gets triple the market rates for mango & paddy with zero-cost natural farming
With the rising paddy output, the practice of creating fish ponds has caught on in the neighbouring villages, including Dighma, Jatichak, Puranchak, Dhanauti and Basaur. 
More than 225 fish ponds dot the villages in and around Mahadeopur now.
Digging ponds to breed fish as a livelihood is bringing multiple benefits to farmers. While harvesting fish for sale is bringing income, the nutrient-rich water does away with the need for using store-bought fertilizers, saving costs and generating organic produce.
Moreover, professionals and other workers who returned to villages during the COVID lockdown have stayed on after getting consistent income from fish farming and paddy cultivation.
Fish pond water for irrigation
About five years ago, Sao – who was working as a mason – arranged for some money and dug a pond measuring 1 bigha (0.62 acres) on leased land, so that he could breed fish for additional income. That's when he also learnt about using water from the fish pond to irrigate the crops. Since then, there has been no looking back for him.
Also Read: West Bengal: Lotus cultivation in Bankura lifts growers' fortunes as the national flower finds a global market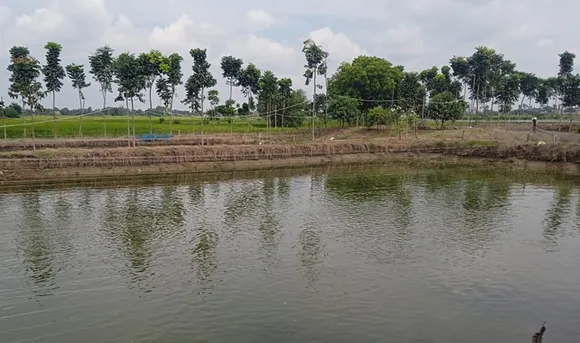 Rich in beneficial bacteria, as well as potassium, phosphorus and nitrogen, fish pond water works wonders for the crops. Pic: Mohd Imran Khan 
Santosh Kumar was the first farmer in the Mahadeopurvillage who dug up a pond for fish farming in 2014. He and his cousin Somparkash Singh decided to get into fish farming as they did not have a job. 
The duo's inspiration was Vipin Kumar, who lived in a nearby village and worked in the government fisheries department. He created a medium-sized pond to popularize fish farming and earned Rs 42,000 from the very first fish harvest.
Santosh Kumar recalls that it was by chance that they discovered the potential of the fish pond water. "We had collected the fish feed waste, etc. from our pond and threw it in a nearby farm. To our surprise it resulted in a bumper harvest," he says. Sao followed suit and he too was surprised by the results.
Integrating fish farming with rice cultivation has been in practice in China and other Asian countries for many years. While water from fish ponds is rich in nutrients, it also helps check pests.
Fish pond water replaces chemical fertilisers
Sao says that like the other farmers he also used to rely on chemical fertilisers and pesticides. But he does not use them anymore.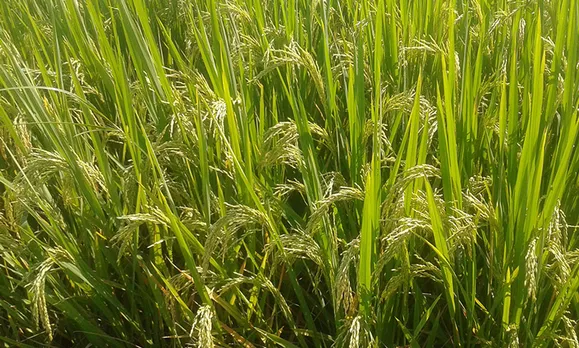 Using fish pond water for irrigation improves the quality as well as quantity of yield. Pic: Mohd Imran Khan 
Earlier farmers had to spray pesticides twice for a single crop of paddy. Now only a few of them use pesticides, that too just once or none at all. "The use of pesticides and insecticides has become a thing of the past after farmers started using water from the fish ponds," says Sao.
Also Read: Panzath: Kashmir village where a 900-year-old spring cleaning festival has conserved traditional water bodies
Somparkash Singh agrees as he also uses fewer fertilisers after creating a fish pond. "It's good for the environment and promotes organic farming," he says.
"Farmers who were using 8 to 10 kg of fertilisers per katha (about 1,360 sq ft) till a few years ago now use only 2 to 3 kg. Some of us are not using fertilisers at all," Singh says.
Ajay Kumar Paswan of Dhabauti – a village with more than 40 fish ponds – says his use of chemical fertilisers has drastically reduced, resulting in monetary savings.
Singh and Santhosh Kumar say that the fish pond water works wonders for the other crops as well like vegetables.
The trend that started in Mahadeopur has slowly spread to nearby villages. Farmers pump the water from the pond to the field at regular intervals varying from 15 days to a month depending on the crop. Then they replenish the pond by pumping water from the bore well or a nearby canal.

Santosh Kumar, the first farmer to create a fish pond in his paddy farm in Mahadeopur village, Bihar. Pic: Mohd Imran Khan 
Before 2013, there were hardly any ponds in the village. But now every farmer owns one. When a farmer does not have a pond to breed fish in, the other farmers happily share the water from their fish ponds.
Also Read: Seed conservation: This Madhya Pradesh farmer grows 115 native varieties of rice over just 2 acres; gives seeds free to other farmers 
A move towards sustainability
"It gave us confidence that we could do well despite challenges and so we dug up more than two dozen ponds in 2015 and our success has created a new opportunity in the village for livelihood and prosperity," says Singh.
Sanyasi Red, a sculptor-turned-organic farmer, is happy that water from his five ponds gives him good yields of different types of paddy and wheat.
"There's urea shortage. So the encouraging result of fish pond water motivates them to switch to organic farming," says Red.
As nitrogen and phosphorous are the common elements in commercial fertilisers and fish pond water has the same, it serves as an excellent organic fertiliser.
Farmers like Red are happy that they can practice organic farming at no cost and get better quality rice and wheat without worrying about procuring fertilisers on time.
Pullquote: Our fish ponds have become more than a source of livelihood
Reverse migration
Cultivating fish in ponds has reduced migration and also started a trend of reverse migration.
Pankaj Kumar Singh, who left his job in a large manufacturing company and returned to his village five years ago, earns a good income from his four ponds. He plans to dig a few more of them to increase his income.
Also See: In pictures: Empowered & financially independent Koli fisherwomen of Mumbai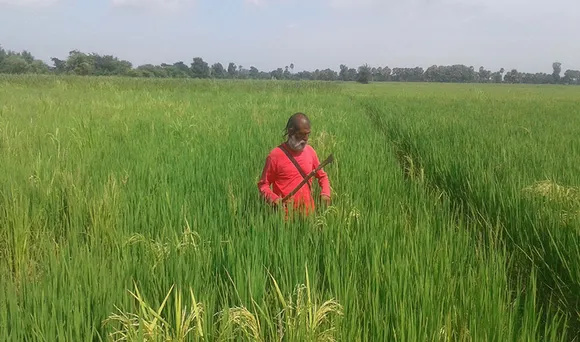 Farmers like Sanyasi Red find it easy to practice organic farming as they can use fish pond water for irrigation and don't need to use chemicals. Pic: Mohd Imran Khan 
Bunty Singh, who was working in Pune after completing his MBA, is back in his village harvesting fish. Even skilled workers and professionals who were forced to return to their native place during the Covid-19 lockdown have dug ponds for fish farming. They have stayed on in their village even after the lockdown was lifted.
Most of the villagers say that the fish ponds have also helped improve the groundwater level they help in rainwater harvesting and groundwater recharge.
"Our fish ponds have become more than a source of livelihood," says Santosh Kumar.
(The lead image shows farmers fishing in their pond and farmer Sanyasi Red in his farm. Photos by Mohd Imran Khan)
(Mohd Imran Khan is a Patna-based developmental journalist who reports on environmental issues, climate change, livelihoods and sustainable development.)
(This story first appeared in Village Square)
Also Read: Ornamental fish farming emerges as a source of income for women in Kultali-Sundarbans