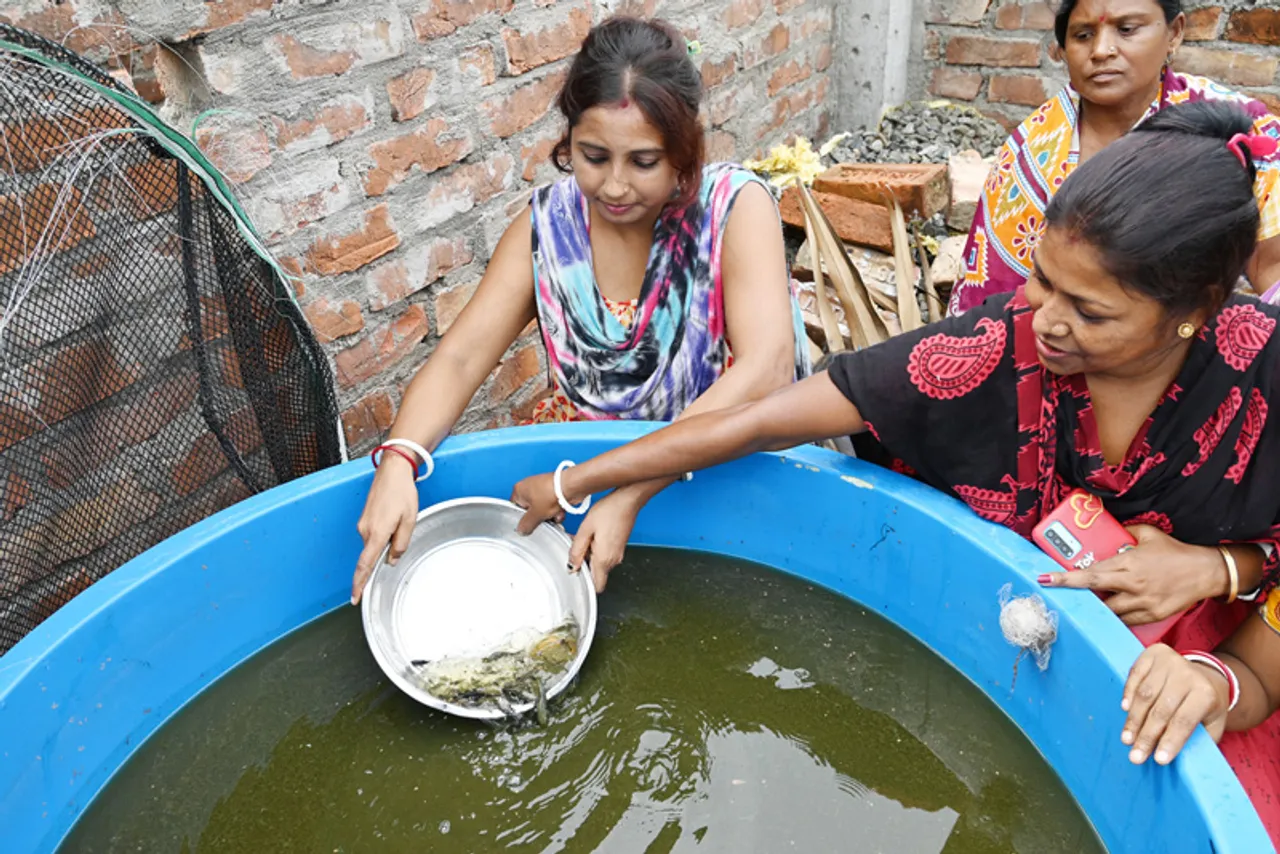 Babli Mondal is a 30-year-old homemaker in the hamlet of Kultali, one of the largest islands in the Sundarbans mangrove forests about 75 km from Kolkata. Her husband earns a meagre income from farming and fisheries. With help from Central Inland Fisheries Research Institute (ICAR-CIFRI), Babli started rearing ornamental fish that has brought her much-needed income.
Babli brought some ornamental fish from CIFRI in November 2021 and started rearing them on her terrace. "I received 20 decorative fish and in a few months, they multiplied to about 500," says Babli, who made around Rs 1500 profit by selling some of them at the local market.
"I will make more money as I sell more fish in the coming days. Supporting my family's finances makes me very happy," she says with a smile. 
Fish farmers can sell the fish at about Rs 100 to Rs 150 per kg.
In the last six months, ICAR-CIFRI's programme has helped each fish-rearing household in Kultali to sell 100-150 kg of fish for Rs 10,000-15,000.
Ornamental fish farming entails rearing various types of colourful fishes in tanks, aquariums and other confined aquatic systems.
Also Read: Sundarini: the organic milk revolution by women of Sundarbans
Ornamental fish cultivation is a fast-growing sector. India exported ornamental fish worth Rs 10.84 crore in 2019-2020.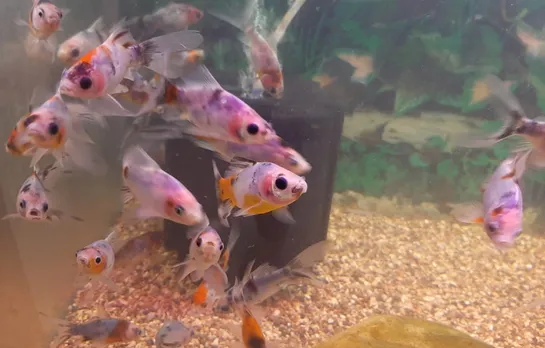 India exported ornamental fish worth Rs 10.84 crore in 2019-2020. Pic: Partho Burman 
According to the Department of Fisheries, India's share in the global ornamental fish export is a meagre 0.4 percent whereas Singapore is the largest exporter.
Aquarium fishes are of two types – those that lay eggs and livebearers. The egg layers lay eggs on the glass wall or aquarium plants. On the other hand, livebearer fish deliver their young in batches and are relatively easy to breed.
The women in Kultali are provided training for rearing fish and water quality management as the creatures are sensitive to temperature and pH.
Empowering rural women
Ornamental fish farming has led to the betterment of the socio-economic conditions in the hamlet of Kultali where nearly 85 percent of the population lives in abject poverty. The men here make a living by cultivating some crops, tiger prawn farming, vegetable peddling or working as daily wagers. Their average monthly income is between Rs 6000 and Rs 8000.
Also Read: Sundarbans residents turn homes into homestays as tourists look for authentic Bengal experience
These rural women from SC, ST and other backward castes raise decorative fish in an FRP (Fibre-reinforced Plastic) tank in their backyard or rooftop.
ICAR-CIFRI in Barrackpore has provided FRP tanks, ornamental fish seeds, feed, lime and other necessary accessories to 500 beneficiaries, including women. These women from remote areas have also received technical guidance and support through on-field training in ornamental fish farming.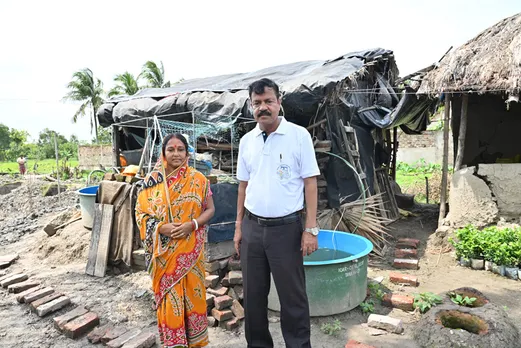 Dr Basanta Kumar Das, Director of ICAR-CIFRI with a beneficiary Anima Kayal at Kultali, Sundarbans. Pic: Partho Burman 
Women have been distributed a variety of species, including live-bearer and egg-laying ones. Species such as Goldfish, Angel and Koi carp are egg layers while Molly, Guppy and Swordtail are livebearers that deliver direct hatchlings.
The first three months are crucial for rearing. Following that, the growers can start making good money by selling fish.
Fish rearing
Dr Sherya Bhattacharya, a Research Associate at CIFRI who is in charge of giving these rural women on-field training in ornamental fish, explained that the goal of the programme is to improve the beneficiaries' knowledge through theoretical concepts, live demonstrations, video footage and hands-on experience.
Also Read: Pune: Mitti Ke Rang connects rural women entrepreneurs with customers across India; triples their incomes
The training programme is aimed at supporting women to start an ornamental fisheries business.
"We held a 5-day training course where we taught the participants about fish rearing, sexual identification, breeding, aquarium construction, feed preparation and preventative measures for the fish disease. We primarily focus on the self-empowerment and livelihood development components," shares Dr Shreya.
She says that their team advises the women to syphon the fish tank every 3 to 4 days. "Villagers in the Sundarban region mostly use pond water, and we advise them to maintain the pH level regularly. We primarily monitor and perform water quality checks for them. They take care of the remaining water temperature work," she added.
Also Read: Abira: Pune's all-women enterprise where slum dwellers handcraft ecofriendly products for global brands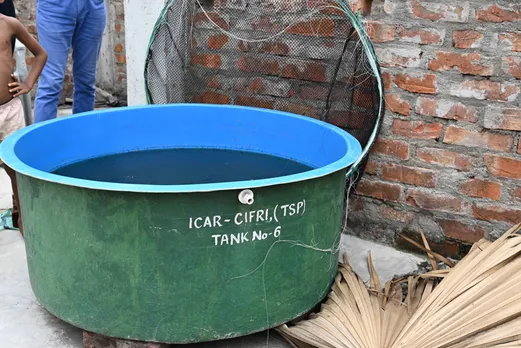 Fish cultivation tanks, seeds, feed, lime and other materials are provided by ICAR-CIFRI. Pic: Partho Burman 
Another resident from Kultali, 35-year-old Anima Kayal, says the fish she received delivered hatchlings, which multiplied significantly after she followed the CIFRI's instructions.
"It takes little time and little money; we only need a small space."
"We seek advice from the others who are doing fish farming if something goes wrong," she says.
"The demand for decorative fish has increased in the town as people try to decorate their homes with them. I sold ornamental fish worth Rs 1000 on the first occasion, and I'm getting ready to sell another 100 pieces shortly. My economic status has improved as a result of CIFRI's effort," adds Anima.
Also see: Gujarat's Pabiben Rabari: from a daily wager to a millionaire entrepreneur
A role model
The population of Sundarban suffers economic hardship because of the region's susceptibility to cyclones. Agriculture is dependent on the monsoon due to the almost non-availability of non-saline water for irrigation. In the years following Covid, CIFRI used Kultali as a role model to inspire women to start ornamental fish farms as a secondary source of income.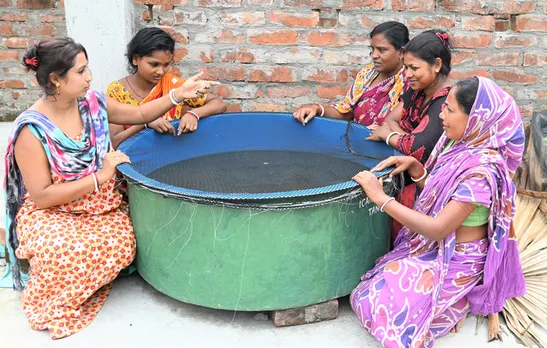 Women can earn through ornamental fish cultivation by putting up tanks in their backyards or rooftops. Pic: Partho Burman 
According to Dr Basanta Kumar Das, Director of ICAR-CIFRI, the Central government has started this initiative to improve the lives of SC and ST communities.
"Women can earn while staying at home and do not have to migrate to other cities for labour," Dr Das says.
"This CIFRI programme will surely be a tool for executing the Pradhan Mantri Matsya Sampada Yojna (PMMSY), which aims to double farmers' incomes, and will help to build clusters for ornamental fish," he says.
Under the PMMSY, five to seven village households are selected to work together to rear or breed fish so they may sell their large-scale seeds in the urban market.
"We have included Sundarbans as a cluster in the plan. In Kultali, some 55 women beneficiaries received ornamental fish as well as the required equipment and training. We assist them in connecting with marketing channels," says Dr Das.
Also Read: 5 women entrepreneurs with successful startups that combine innovation with tradition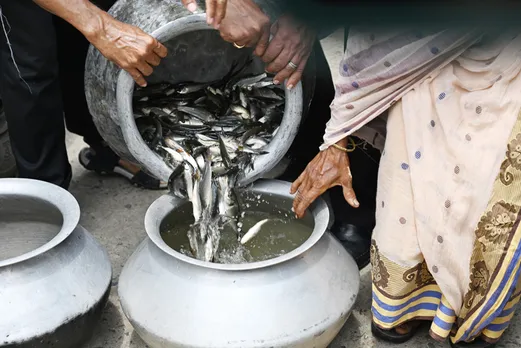 ICAI-CIFRI is now trying to provide better market linkages to improve incomes of fish farmers. Pic: Partho Burman 
Arpita Mondal, a 27-year-old inhabitant of Kutali, voiced her displeasure about the relative market price of ornamental fish, noting that it was substantially more in the market in Kolkata than it was in Kultali. Recently, she sold some fish but at a lesser price than she had anticipated. "This is because we don't have a reliable marketing channel," rues Arpita.
Dr Das acknowledges that there are additional issues, including marketing. "We are dealing with everything gradually. However, the women have developed self-reliance, and this form of subsistence has benefitted 270 people from places like Bengal, Odisha, Assam and Jharkhand."
Lokman Molla, President of the NGO Kultali Milon Tirtha Society says the women are selling the fish in the local market but they are not being compensated fairly.
"We are collaborating with CIFRI to provide them with the appropriate marketing channels so they may boost their revenue."
The Kultali Milon Tirtha Society is in charge of selecting women from the underrepresented sector and providing their names to CIFRI. They have also urged the authorities to make aquarium technology available to these women so they may supplement their current model with additional money.
(Partho Burman is a Kolkata-based award-winning journalist. He writes inspiring human interest and motivational stories.)
Also Read: Man-animal conflict: Tiger attack survivors in Sundarbans share their stories