wp:html /
Being an entrepreneur is liberating, but it's definitely not easy. From arranging finances to marketing the products and generating profits, entrepreneurship is not a game for the faint-hearted. 
And women entrepreneurship is an even bigger challenge given that most women have to manage home along with work amid an uncertain business environment. There is no certainty that a product or idea will take off; that it will get a dedicated customer base and that there will be enough to meet the costs and yet make some profits. 
Some women, however, have taken multiple challenges head-on, not only creating successful businesses but also a customer base that looks nowhere else for their purchases.
All of them use organic, eco-friendly raw materials to create sustainable products that do not harm the environment. And alongside, they have empowered other women by giving them employment and a sustainable source of income.
Their clients are across the world; some of them work from the comforts of their home and all of them have more orders than they can execute. Above all, they are an inspiration for lakhs of others. On Women's Day, here are five Indian women entrepreneurs running their successful startups:
1. Pabiben Rabari: This gutsy entrepreneur was just five when her father passed away. She could only study till class 4 due as she had to help her mother support the family and take care of her two younger sisters. Pabiben and her mother were paid only a rupee for doing odd jobs like fetching water from the well in the arid Kutch region.
Alongside, Pabiben began to learn embroidery, which girls of her Dhebariya Rabari community did to prepare dowry for their weddings. Their traditional embroidery was heavy and time-consuming and in the 1990s, their community decided to stop this personal embroidery. 
Pabiben realised the time-consuming nature of the embroidery and decided to introduce an alternative technique now well known as 'Hari Jari'. In Hari Jari, women stitch readymade designs, ribbons and patterns on the cloth, which look exactly like hand embroidery. Pabiben began making bags and gave them as return gifts to some of the foreign tourists who happened to attend her wedding. The word spread, orders began to pour in; Pabiben set up her own website and now sells across the globe.
Read Pabiben's Rabari's detailed success story here: Gujarat's Pabiben Rabari: from a daily wager to a millionaire entrepreneur
2. Deepika Velmurugan: Kolam, the geometrical line drawings made with rice flour or chalk at the entrance of homes in Tamil Nadu, Kerala and other southern states to invite prosperity, led to a flourishing business for Deepika Velmurugan in Srirangam. 
In 2019, she found a cradle separator – used for keeping apart the two ends of a cloth cradle – while cleaning her house. She drew a Kolam on it using white paint and that was the beginning. Soon she began painting Kolam designs on household items, put them on Instagram and began receiving orders for her products.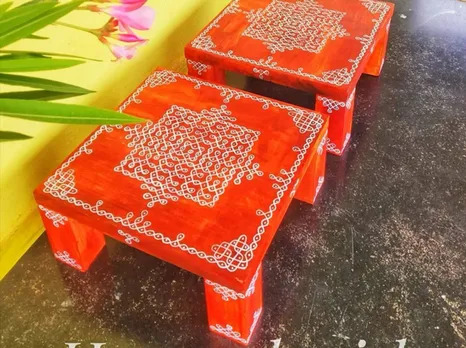 What started as a hobby for the homemaker-cum-art enthusiast has now turned into a full-time business with her items being shipped all over the world including Australia, Norway, Germany, UK and France. Her products are priced between Rs1600 and Rs20,000 depending on the work and customisation required. 
Read her story of entrepreneurship here: Tamil Nadu: How Deepika Velmurugan set up a successful home business by taking Kolam from doorstep to drawing room
3. Tage Rita: After working for 17 years in Arunachal Pradesh's Rural Works Department as an engineer, Tage Rita decided to try her hands at what she had learned during her college days – making wine. Having grown up seeing farms and fruits around, she was familiar with fruits and berries.
Tage Rita approached a bank with a project report to get finance for buying vats, machinery and other infrastructure for her winery. She also took some funding from family and friends besides putting in personal savings and the winery was inaugurated on January 1, 2016.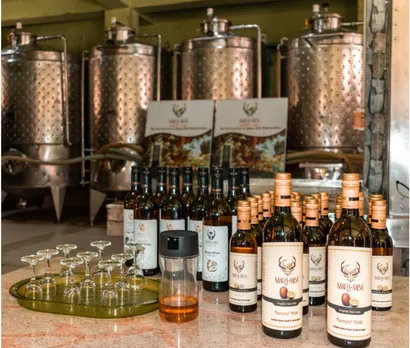 It was branded as Naara Aaba. Today, she also makes plum, pear, peach and wild apple wines. It produces 60,000 litres per batch. Priced at Rs 1200 per bottle, a 750ml bottle contains 13 percent alcohol.
Everything about her wines and winery here: Tage Rita: Arunachal woman entrepreneur making India's first organic kiwi wine Naara Aaba
4. Vidya Sam: A former IT professional, Vidya Sam once looked up the internet to style over 15 varieties of ornamental plants on her balcony. That's when she stumbled upon a video on making plant hangers using the art of macramé, which appears in the carvings of Babylonia and Assyria about 4,000 years ago. 
"I used to post pictures of my work on Instagram which led to people enquiring me about where I bought them from. At that time, not many macramé plant hangers were available online. It was not a ready-to-buy product," she says.
And she started getting orders even before she launched her brand – The Vineyard Planter. Starting her small home business with an investment of Rs 10,000, she now receives orders from across the world. Her prices range between Rs400 and Rs30,000. Now, along with plant hangers, she makes earrings, key chains, wall hangings, coasters, table mats, rainbows and many other products according to the requirements of her customers.
The story of this successful home business is here: One knot at a time: Chennai's Vidya Sam sets up successful home business using age-old macramé art in household décor
5. Mithra Lewis: For many generations, women from four households in Tamil Nadu would use natural fibres like jute, palm leaves and river grass to make Thamboolam bags, which are traditionally given as return gifts on weddings. When Mithra Lewis saw the handmade bags, she decided to give them a larger platform.
"We saw that the wedding industry has a great potential; so we decided to sell handcrafted wedding hampers to customers beyond Tamil Nadu. The range expanded over time and the work now provides round-the-year employment to these artisans," Mithra says.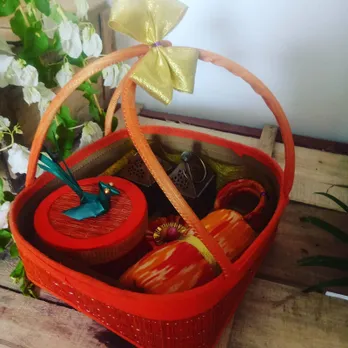 Today, Kottanz, popularly known as Gifts of India, works with over a thousand artisans and the majority of them are women. The eco-friendly products are priced between Rs150 and Rs1,500. Most of its customers are from the US, UK and Singapore. Kottanz connects them over video calls to understand their requirements. 
Read more about Mithra Lewis' sustainable startup & her women artisans here: Bengaluru's Kottanz contemporizes traditional gifting with eco-luxury products handcrafted by rural women