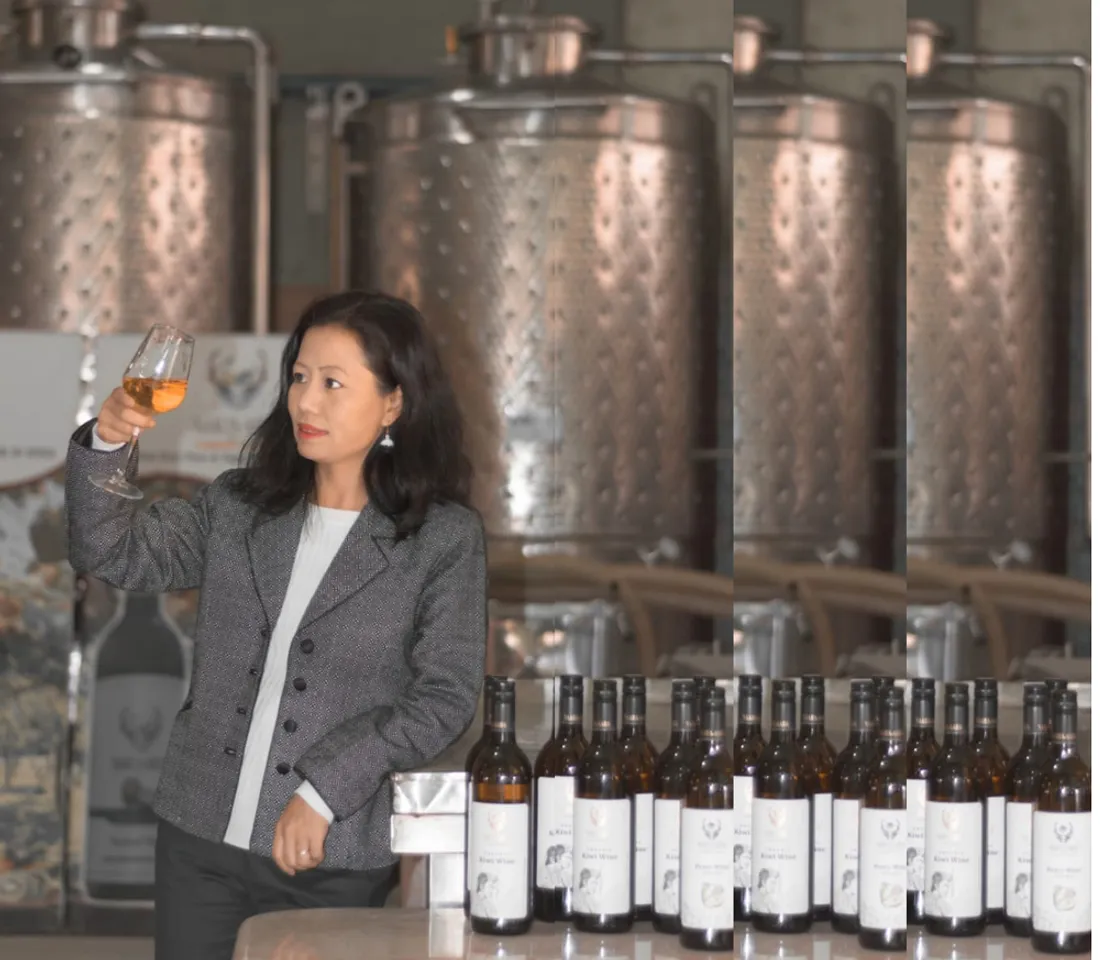 How well can an agricultural engineer brew wine? Very well! Because agro engineers know the fruits and berries, are familiar with the processes of production and packaging and understand the applied science. So after working for 17 years in Arunachal Pradesh's Rural Works Department as an engineer, Tage Rita decided to try her hands at what she had learned during her college days – making wine.
With the brand name 'Naara Aaba', (that's how her children addressed her late father-in-law), Rita's kiwi wine is one of India's best alcoholic beverages made from organic fruit while retaining all its vitamins and minerals.
Also Read: Kashmir's women entrepreneurs combine innovation with social media to run successful start-ups
Lambu-Subu Food, the company which owns the Naara Aaba brand, started with kiwi but now also makes plum, pear, peach and wild apple wines. It produces 60,000 litres per batch. Priced at Rs 1200 per bottle, a 750ml bottle contains 13 percent alcohol.
Realising a dream
Hailing from Hong village, Rita is a farmer's daughter belonging to the Apatani community, which is well known for its sustainable social forestry system.
While working at the Rural Works Department as an engineer, she felt restricted and unable to realise her potential. It was during 2015 that the State Wine Policy was introduced offering support to local entrepreneurs who ventured into winemaking.
Also Read: Triguni Eze Eats: How 79-year-old Radha Daga's ready-to-eat meals travelled the world with Indigo airline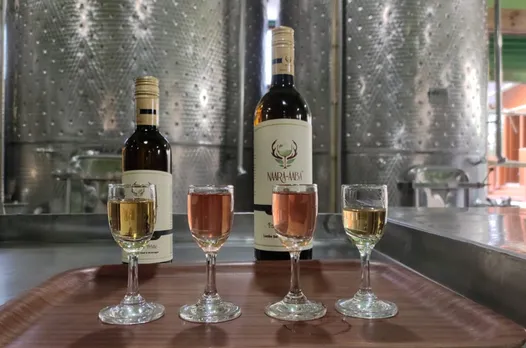 "Takhe Tamo, my husband, actually wanted to start a winery. He loves wine. He would educate me too on wines. I was a bit apprehensive as I knew the process would be difficult," confesses the 40-year-old.
She says being in a government job gave security and made her complacent. Turning into an entrepreneur would be tedious and a back-breaking process. On top of it, they didn't have the resources and had four small kids to look after.
The couple discussed the idea for two years before finally deciding to set up a winery. They approached a bank with a project report to get finance for buying vats, machinery and other infrastructure.
They inaugurated the winery on January 1, 2016.
Kiwi is an exotic fruit that was brought into Arunachal Pradesh by the Department of Horticulture around 20 years ago. It grew abundantly because of the fertile soil and suitable climate. Unfortunately, it did not have many buyers. So the farmers started withdrawing it from their gardens due to a lack of market linkages. The fruits often had to be dumped after collection.
Also Read: Kashmir's Sabira Mattoo: Pickling her way to success through home business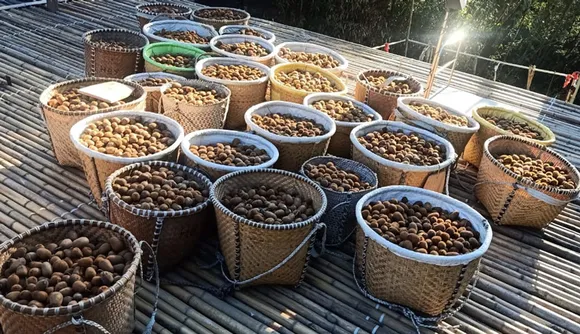 Rita and her husband purchased around 20 metric tons (20,000kg) of kiwi fruit for their winery in the first year to produce the first-ever pure organic kiwi wine.
How kiwi wine is made
Naara Aaba is a certified organic wine. Every ingredient used is certified organic, including fruits, yeast and sugar. It starts with manual work of collecting the fruits and bringing them to the winery where sorting, cleaning and grading are done.
Also Read: Tamil Nadu: How Deepika Velmurugan set up a successful home business by taking Kolam from doorstep to drawing room
After cleaning the kiwi, the fructose level of the fruit is checked, ingredients are measured and the temperature is set. The winery has a small laboratory for testing basic parameters. Based on these calculations yeast and sugar are added.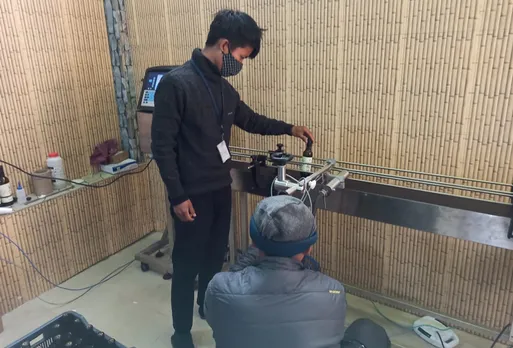 The overripe stage of the fruit is the best for winemaking. A winemaking unit cannot succeed without a chilling plant as it keeps the wine at the right temperature.
Any kind of microbes or harmful bacteria has the potential to harm the wine and the cold stabilization helps in its elimination. The wine is then filtered using membrane and cartridge filters, which add a glow to the beverage.
It is then bottled and capped. Good capping is important else it can lead to leakage, increasing chances of oxidization. If oxidization takes place, the fermentation will begin and spoil the wine.
Also Read: How a Manipur mother's hand-knitted shoes found global market
"I want people to be responsible. Drink less but drink sensibly," she adds.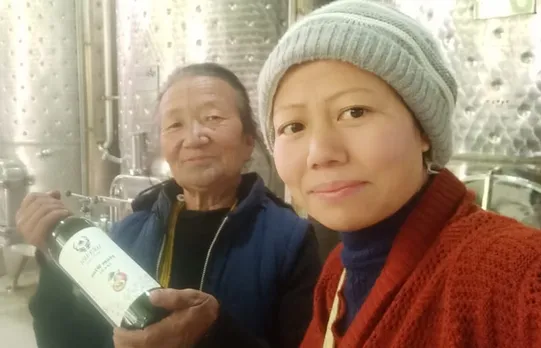 At the initial stage, the winery had a capacity of 20,000 litres per batch, which has now increased to 60,000 litres. The winery has 16 tanks with a storage capacity of 1,000 to 8,000 litres.
Challenges of the wine market
Rita says the alcohol market is dominated by syndicates who are in league with influential people. In the last four years, her wine brand has been boycotted in the state. Only two distributors out of 25-30 distributors promote her wine.
Also Read: GreenKraft: taking banana bark baskets made in Madurai to Sweden's IKEA & beyond
"How many people purchase the local products? How many distributors shelf local wine?" she asks, underlining the need for more robust distribution and marketing  support from the government.
Some locals do support her and she has a lot of loyal customers, especially defence personnel posted here. The Indian Army, CRPF jawans and Air Force often visit her winery. Domestic and foreign tourists also come. "Their demand is what keeps me going," she admits.
Rita is all praise for the Agricultural Produce Export Development Authority (APEDA) under the Ministry of Trade and Industry which got her the exporter license.
They connected them to buyers and helped undertake other promotional activities. APEDA is ready to give infrastructural support to make cold storage and refrigerator van. Arunachal doesn't have a cold storage facility. 
Also Read: Bengaluru's Kottanz contemporizes traditional gifting with eco-luxury products handcrafted by rural women
"I am very grateful to APEDA. When we started, they took our wine for a couple of international exhibitions in Shanghai and Greece, which was received very well. I even got leads from people, who were interested and they connected me over emails.
She rues that she has not been able to export consignment.
"Exporting wine is so difficult. Even if I get an order, it fizzles out without any reasons. I even give free samples. But there are so many loopholes in exporting. Sending samples to other countries is also expensive," says Rita.
Giving back to society
Rita has employed local school or college dropout boys and girls. They learned how to make wine and handle wine machines. Around 25 staff is employed on a regular basis and the numbers get higher during the fruits ripening season.
Also Read: Abira: Pune's all-women enterprise where slum dwellers handcraft ecofriendly products for global brands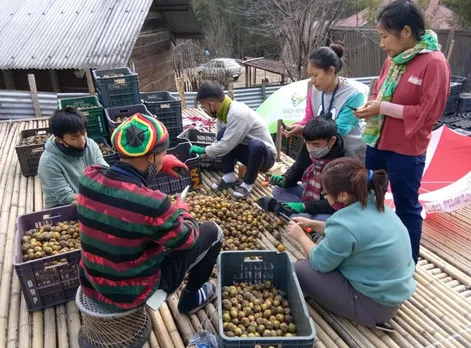 For sorting, cleaning and grading till processing, the entire neighbourhood, especially the elderly, is employed.
For her remarkable contribution to society, Rita was honoured with the 'Women Transforming India Award' by Niti Aayog in collaboration with the United Nations in 2018.
Also Read: How woman detective Akriti Khatri made a mark in the male-dominated world of spying
The former Governor of Arunachal Pradesh felicitated her with a citation in 2018. The Department of Women and Child Development, Arunachal Pradesh presented her with a Certificate of Appreciation in 2020.
Rita is planning to expand the winery and establish a state-of-the-art world-class winery along with a wine academy to teach locals the skill and become empowered.
"It's not simply making wine; it's me inside. I am representing my state Arunachal Pradesh," she says.
(Partho Burman is a Kolkata-based award-winning journalist. He writes inspiring human interest and motivational stories.)
Also Read: Once a vegetable vendor, how this Manipur woman turned entrepreneur by making silk cocoon ornaments