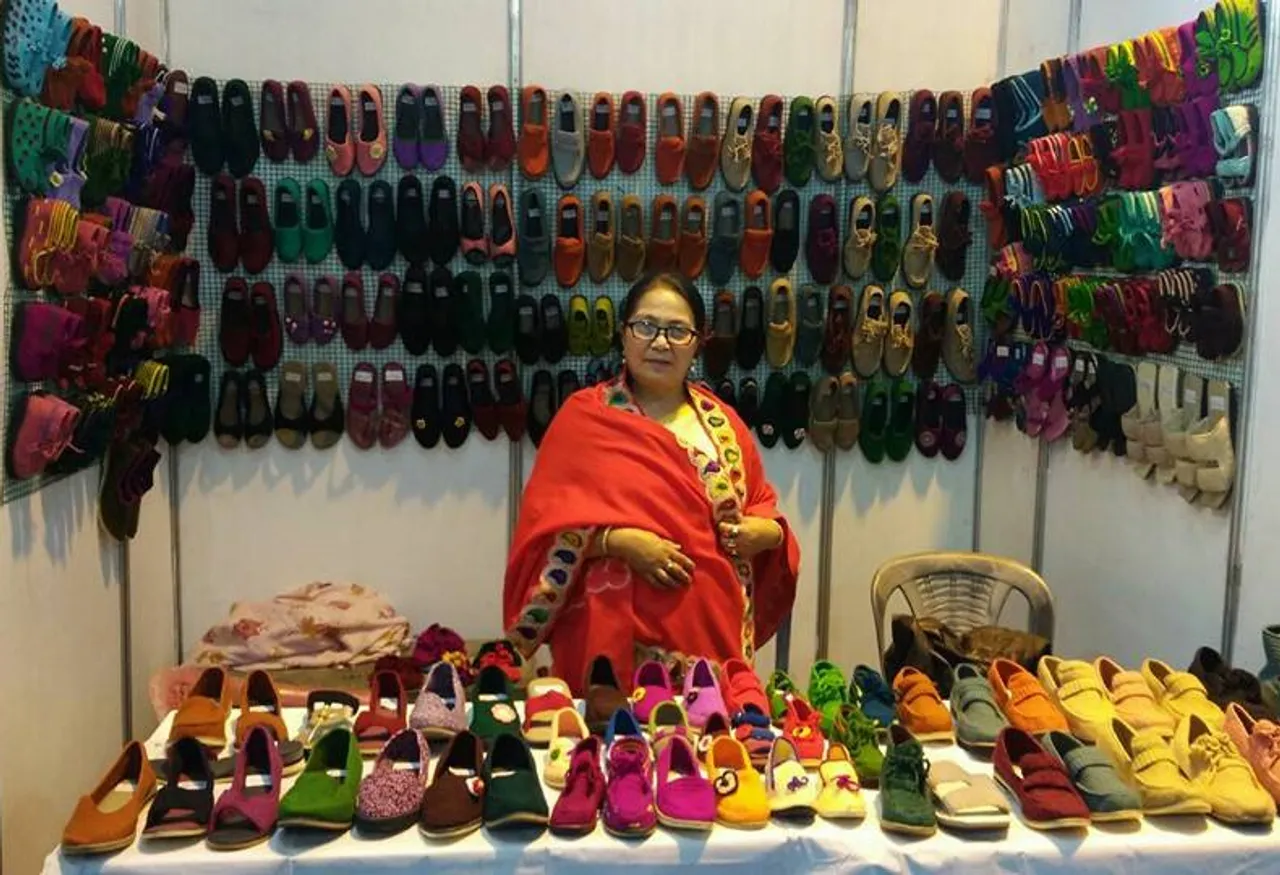 A pair of woollen shoes knitted for her school-going daughter launched Manipur-based Moirangthem Muktamani Devi's entrepreneurial journey, with the colourful handcrafted shoes spreading their footprint not only in India but also abroad.
In 1980, Muktamani, now 61 years, faced a severe financial crunch. Her husband didn't work leaving the family of six with no source of income. She had been married at 16 years and life had been a constant struggle.
Also Read: LifeCraft: empowering Jharkhand's Kuiani women through fabric hand dyeing
Muktamani did not let adversity defeat her and used her artistic skills to knit a pair of woollen shoes on an old worn sole. 
Her three-year-old daughter K. Ashima Devi wore them hesitantly, fearing she would be rebuked by her teacher as they were not the shoes that were part of the uniform. However, her teacher showed interest in the shoes and asked where she had bought them as she wanted to get a pair for her daughter.
Shoes that travelled far and wide
Slowly, people in Imphal got to know about the woollen shoes and Muktamani started receiving orders from the neighbourhood. By 1991, she had set up Mukta Shoes Industry – her venture specialising in hand-knitted sandals, bellies, shoes, flats and other footwear - and turned a successful women entrepreneur.
With their wide presence in the trade fairs, Muktamani Shoes also began receiving international bulk orders from Australia, Japan, and Mexico besides other countries.
Also Read: GreenKraft: taking banana bark baskets made in Madurai to Sweden's IKEA & beyond
These woollen shoes protect the feet from heat and work like magic to prevent feet odour. They are lightweight and easily washable.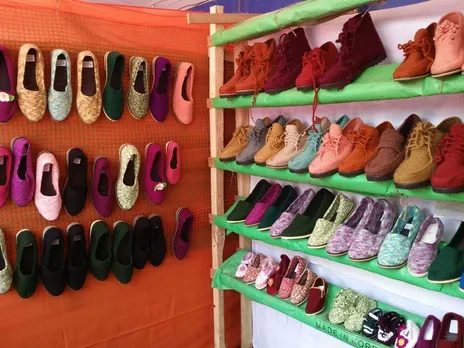 Muktamani has emerged as one of the most sought after shoe designers in Imphal.
Initially, she displayed a collection of 18 pairs of woollen shoes at a trade fair in Imphal which received a positive response. She garnered appreciation from the then industrial minister and chairman of the trade fair. Since then Muktamani has participated in multiple trade fairs to exhibit her shoe collection.
India has a rich tradition of handmade shoes. Punjab, Haryana and Rajasthan's mojaris or juttis are longish shoes made using tanned leather with the end curled upward.
Also Read: Kashmir's Sabira Mattoo: Pickling her way to success through home business
How are woollen shoes made?
Shoemaking is a laborious task. It takes around three days to complete a pair. Muktamani says she sources the wool from the local markets of Kakhulong and other neighbourhoods in Imphal where traders bring it from Ludhiana.
"I was not very satisfied with the quality of the raw materials available in the local markets, but the small capital didn't allow me to invest in buying soles from Kolkata or wool from Guwahati. That would have further increased the price of these shoes," she says.
Also Read: Tamil Nadu: How Deepika Velmurugan set up a successful home business by taking Kolam from doorstep to drawing room
She also trains people to make shoes and those who complete the training are welcomed to work with her upon completion of the training period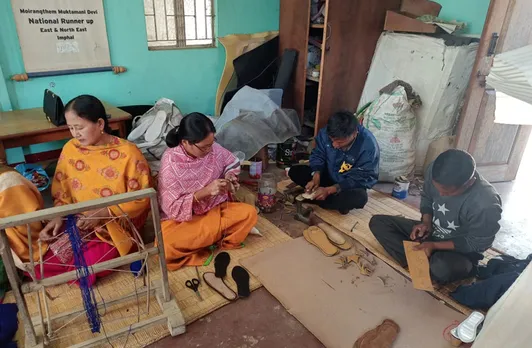 The shoes are made in parts, with different people working on the base and the upper part etc. They are paid based on the amount and nature of work.
A person can easily cut around 100-150 soles in a day and is paid Rs50 per sole whereas the ones who stitch the knitted body onto the sole are paid around Rs 30-35 per piece.
Also Read: Hyundai's CSR Project spawns women entrepreneurs in Kanchipuram Village
"Knitting takes the maximum time. We have women coming in to do the knitting work. They are paid Rs500 per day," says Muktamani's son, Kshetrimayum Devdutta Singh. Mukta Shoes Industry creates 10 pairs of shoes per day with 10 people at work.
Along with the designs, the pricing has also changed over the years.
Muktamani does the designing. She takes inspiration from the shoe collections available in the market and comes up with her version of woollen shoes. She deals in more than 20 designs including sandals, high heels, boots and flats for men, women, and kids.
Stumbling blocks in footprint expansion
Devdutta says they have partnered with several online platforms and receive orders from across India. They also sell their products locally through the army canteens and their workshop.
Also Read: Bengaluru's Kottanz contemporizes traditional gifting with eco-luxury products handcrafted by rural women
And being based in a landlocked state with lack of skilled manpower and inadequate funds has affected their plans for going big internationally. "We received an order for 1,000 shoes from Australia but we faced multiple problems while exporting the product due to communication gap. The orders were exported from Delhi by a middleman, who did not ship on time," says Singh.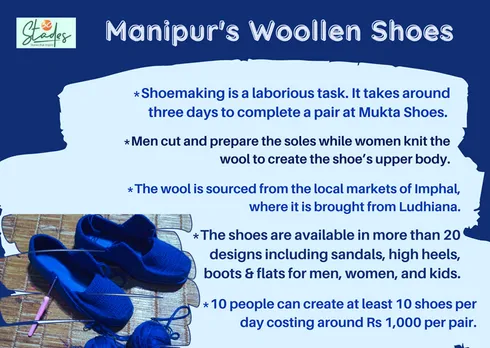 Moreover, small enterprises face challenges in expanding their business due to a lack of raw material availability and investor interest. Often trade fairs and loans are not very helpful in giving a fillip to the business.
Muktamani, who has seen hard days and toiled to climb the ladder of success, is now giving back to society through her free training programme where she teaches design and knitting.
Also Read: Phool: where women turn temple flowers into incense, bio-thermocol & vegan leather
"Anyone who wants to learn is always welcome. We train people at our house and even have a tie-up with the government," she says.
It takes 3-4 months for a person to master the art of shoemaking, they are either hired by Muktamani or they start their micro-business of shoemaking. Muktamani, who started her training sessions with 10 people, has now trained over 2000 people including underprivileged women.
Muktamani won several accolades at the national and international level for her work and innovation in the shoemaking business. She was awarded the Micro, Small and Medium Enterprise (MSME) Prize in 2006 and 2009. In 2010, she received the state award for her exemplary work in design and handicraft.
(Rishika Agarwal is a Patna-based writer specialising in art, culture and human interest stories)
Also Read: Abira: Pune's all-women enterprise where slum dwellers handcraft ecofriendly products for global brands